Of course, every housewife knows about this summer rolls appetizer with eggplant. This dish can be prepared in a customary day for lunch for the family and also can bring to the holiday table. Rolls with eggplant look beautiful, delicious, tasty and easy to prepare three-in-one.
Now we will share with you the tips that will help make the perfect rolls.
The success of the meals appropriately selected eggplant and a delicious filling.
For rolls it is best to take the eggplant medium size - so they will be convenient to wrap and they will be nice and neat shape. It is important that the eggplant was young and lethargic. Slice the eggplant should be cut into slices no thicker than half an inch. Surrender good chopped salt and leave for an hour or two to have with out bitterness. For best results within two hours, you can salt and rinse the eggplant with water several times. Fry in sufficient oil for three minutes on each side, only the main thing not to overdo, then it will be harder to twist the rolls. After frying to remove excess oil using paper towels.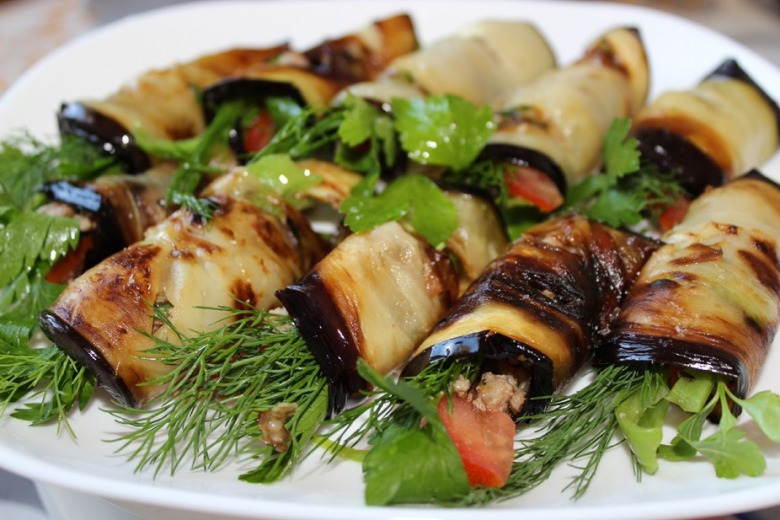 The filling for baklazhanovy rolls, you can use any, all depends on your taste. Very often make the filling based on cheese with the addition of mayonnaise, garlic and herbs. But you can also use chicken, mushrooms, or melted cheese, tomatoes - all these products go well with eggplant. The main advice - do not make the stuffing too runny, as it will leak when you twist the roll. It is best to do the filling the consistency of pate or paste, then roll will be good to keep the form.
If you make the stuffing ingredients one of which is cheese, before serving, put the rolls for 5 minutes in the oven, then melted cheese and a snack will be even more spectacular and delicious.Lock twisted can roll with a toothpick or skewers. If you want to be more original - cover roll pen green onions or garlic. The dish looked beautifully put it on a plate covered with lettuce, and on top you can decorate with olives or cherry tomatoes. Rolls separately to submit sauce, better suited for yogurt-based with the addition of greenery.