Description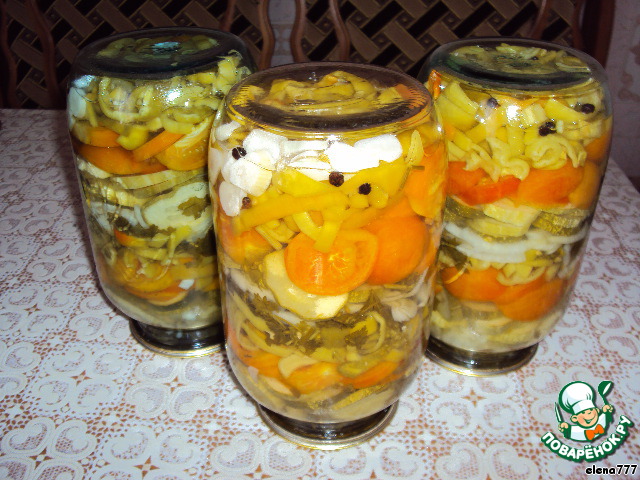 Delicious vegetable salad in jelly for the winter. In the cold of winter to open a jar... crunchy vegetables, and instead of brine - vkusnie jelly... and under rubashechka... beautiful! And the guests-how happy!
Ingredients
1 kg

1 kg

1 kg

4 piece

1 coup

6 tooth

18 piece

2 l

6 Tbsp

4 Tbsp

3 Tbsp

6 Tbsp

80 g
//= Yii::t('app', 'Total calories: ') . $recipe['ingredients']['total_calories'] ?>
Cooking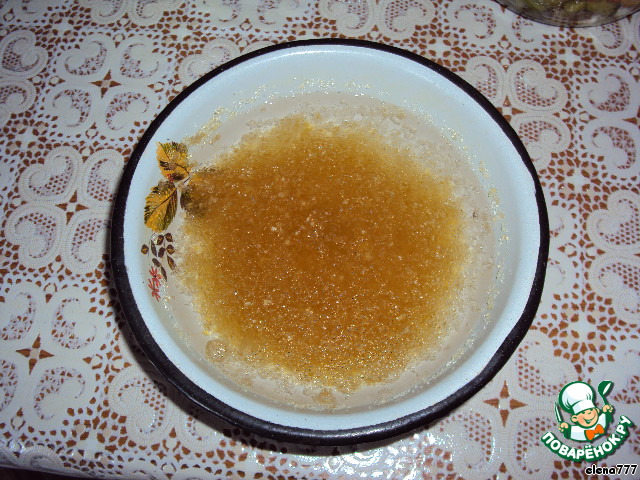 Just want to tell you that the weight of the vegetables I have written about, can be put in cans of something bigger, something smaller. But the amount of brine on this 3-liter jars. So, let's start: first boil the water, 2n, of this amount take 1 Cup of water and let it cool in the fridge. Then soak gelatin in it.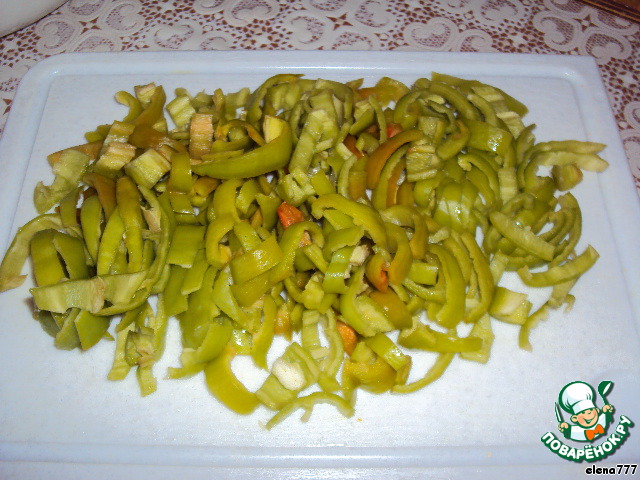 In the rest of the water dissolve the salt and sugar, boil 5 minutes. Now let the brine waiting their turn. Cut vegetables: bell pepper strips.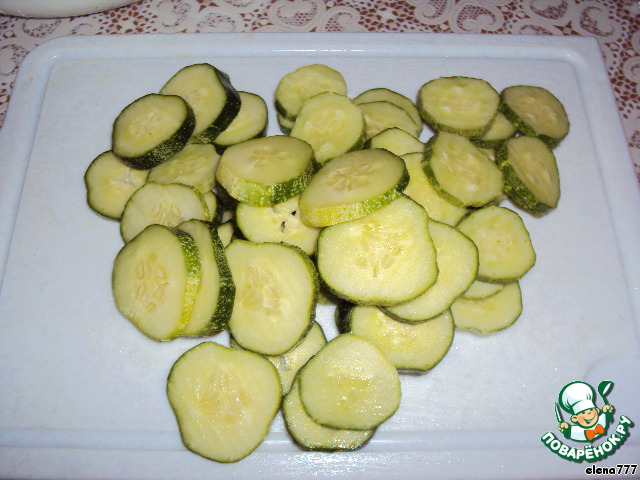 Cucumbers cut into rings.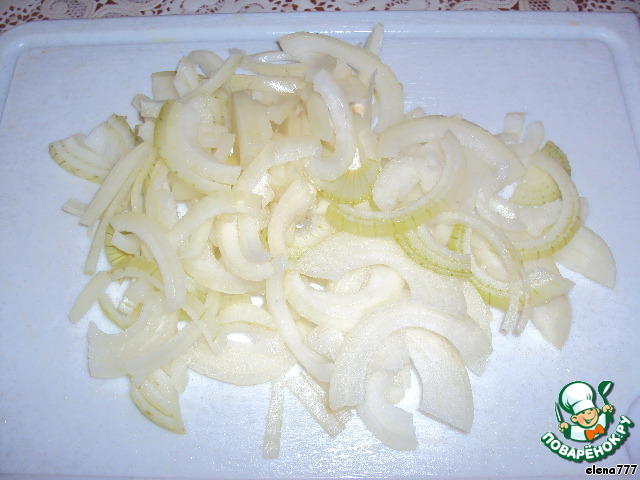 Onion - straws.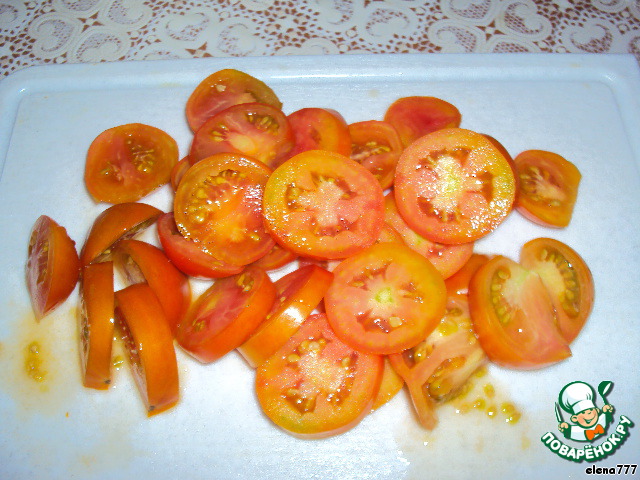 Tomatoes cut into slices.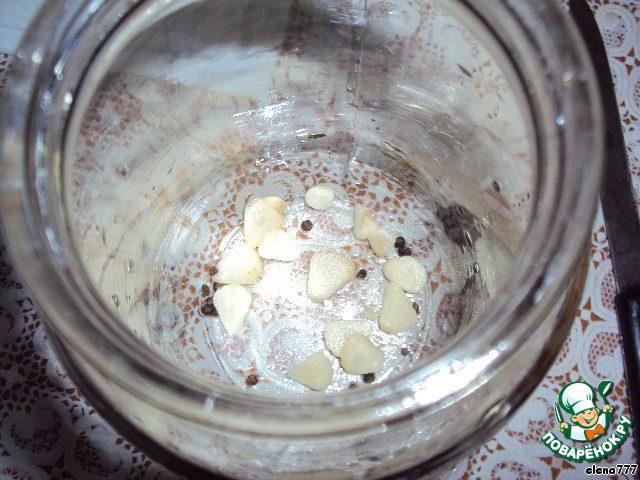 At the bottom of a 1.5 litre cans (total of 3 pieces) and add 5-6 peas of black pepper, and 2 cloves of chopped garlic.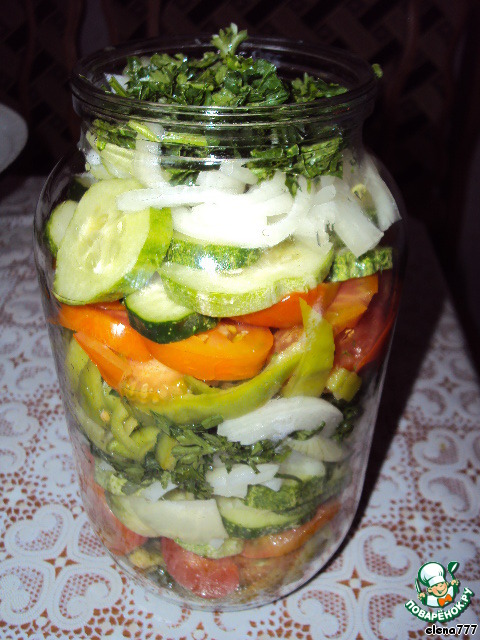 Stacked layers of vegetables - peppers, tomatoes, cucumbers, onions and chopped parsley. Each vegetable will have two layers.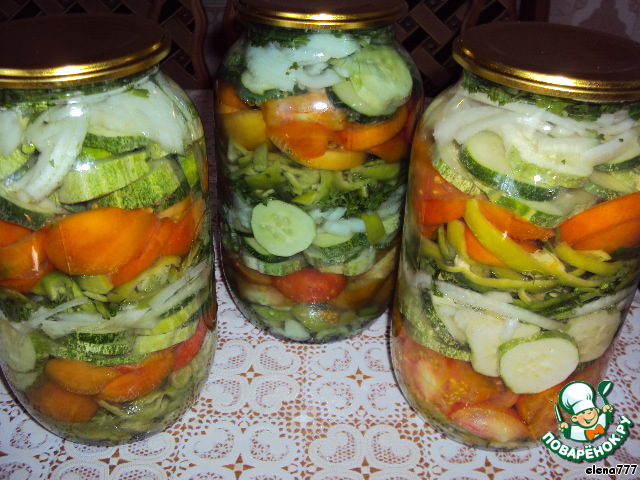 Dissolve on the fire, swollen gelatin, but do not bring to a boil, pour this mixture into the brine and stir. In each jar pour 1st. L. vinegar and 2st. L. vegetable oil, pour brine.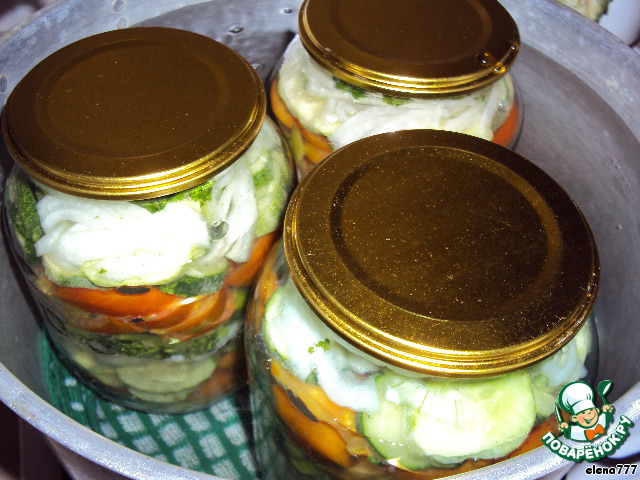 Banks cover with lids and put them in a large pot, the bottom of which lay a towel. Banks pour water on the shoulders. Bring water in saucepan to 80-85 degrees, cover the pan with a lid and sterilize for 15-20 minutes.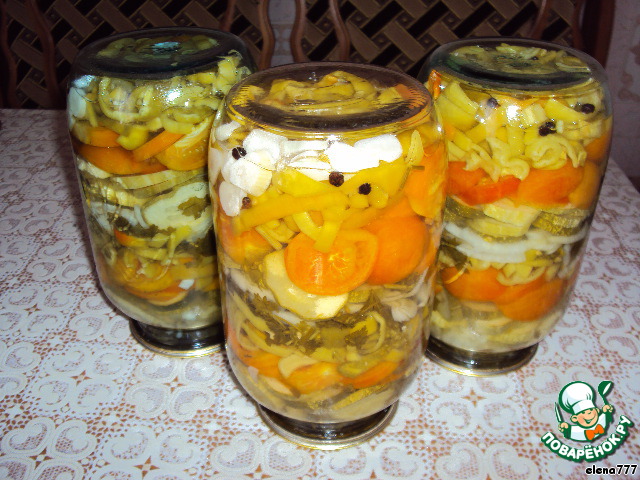 Then finish the salad, remove, roll, flip and wrap. Try to health. Nice hibernation!