Description
And as a child my sister and I called this vkusneishee-delicate cake "Time for school!", as my mother always baked it for 1 September. Can try, and your kids he will sweeten the end of the holidays!!! The competition "School time".
Ingredients
2 Tbsp

1 cup

3 piece

50 g

5 Tbsp

1 Tbsp

300 g

2 Tbsp

4 Tbsp

3 Tbsp

3 Tbsp

3 Tbsp
Cooking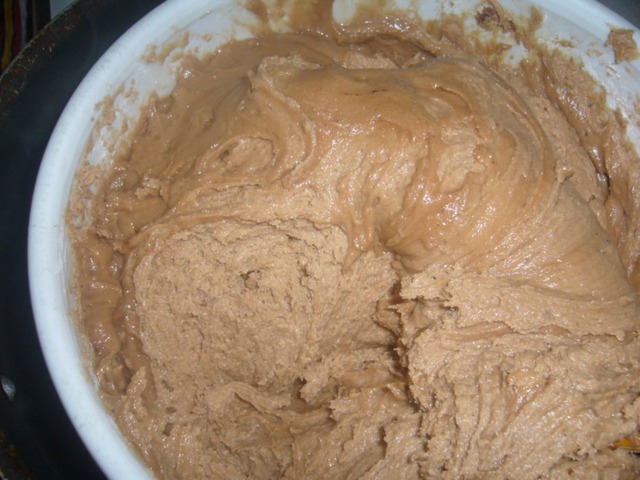 The egg grind with a glass of sugar. Also add 6 tablespoons of milk, honey, margarine, cocoa - all grind (you can mixer). Also add the baking powder, 450 g flour, all mix well and cook, stirring, on a steam bath until the first bubble - about 10-15 minutes. The dough will become elastic, dark - so ready.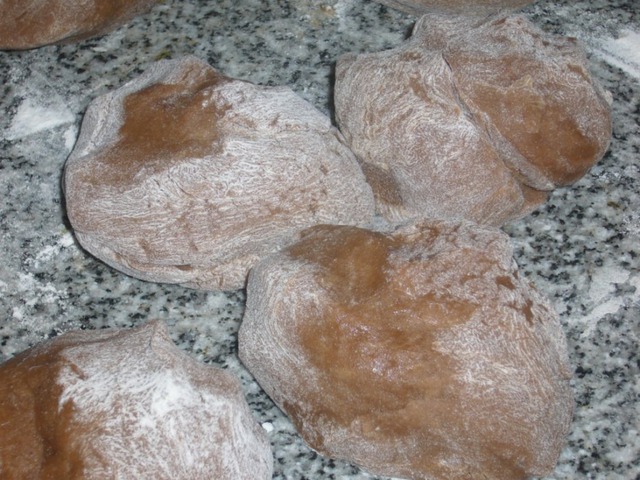 On a floured surface lay out podostyvshimi the dough, divide into pieces and roll out thinly. I have trays large - poluchaetsya about 6-7 layers - so I rolled right in Protvino - the dough is very elastic and easy to flatten to the corners of the hands.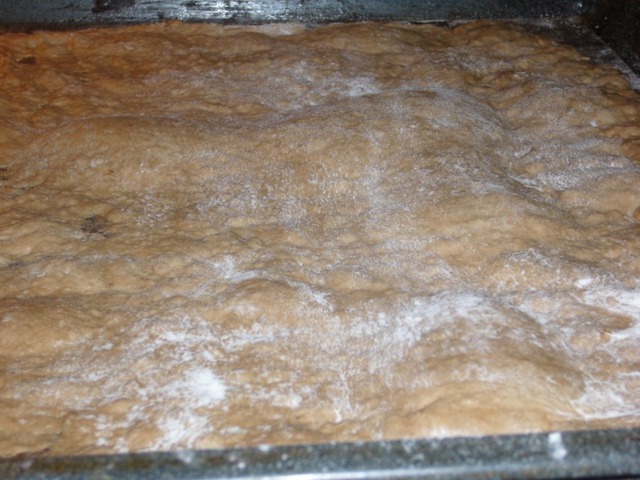 Preheat the oven to maximum temperature. Bake the cakes for 3-5 minutes until drying.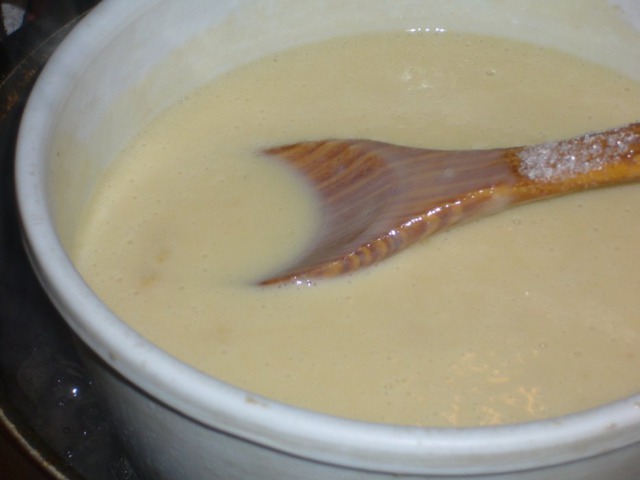 While the cakes are cooling, prepare the cream. 2 eggs well whipped with 4 tablespoons sugar, add 2 tablespoons flour and whisk. Pour half a liter of boiled milk, mix well and cook on steam бане7-10 minutes, stirring constantly. leave it to cool down.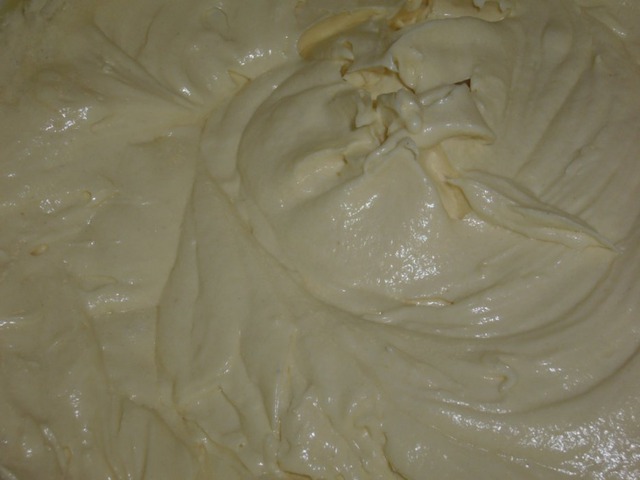 When brewed the mass has cooled, add 300 g soft butter and beat the lush cream.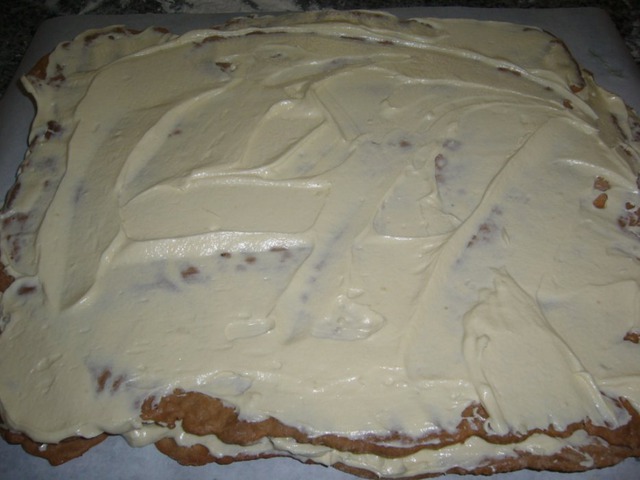 Smeared all the cakes, stacking them on top of each other. The top smear is not necessary. Leave on for 1-1,5 hours for impregnation. Cut off the uneven edges.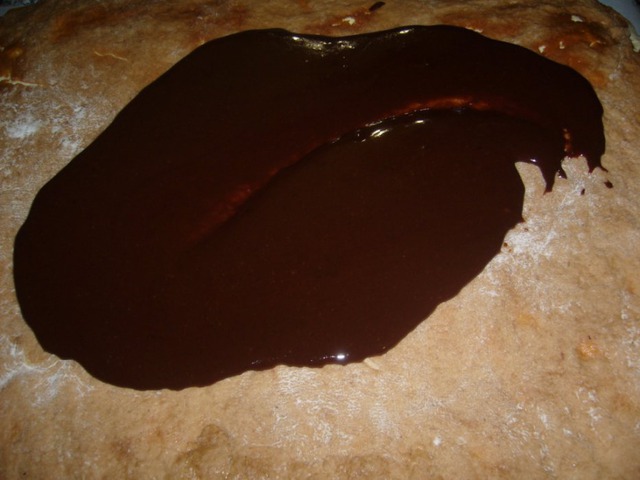 While the cake soaked, prepare the chocolate glaze. In a small bowl put 3 tablespoons of powdered sugar, 3 tbsp thick cream, 3 tablespoons butter, 3 tablespoons cocoa. Put on minimal heat and bring to the first sociatelly bubbles, stirring constantly. Pour chocolate icing on all the cakes and well leveled.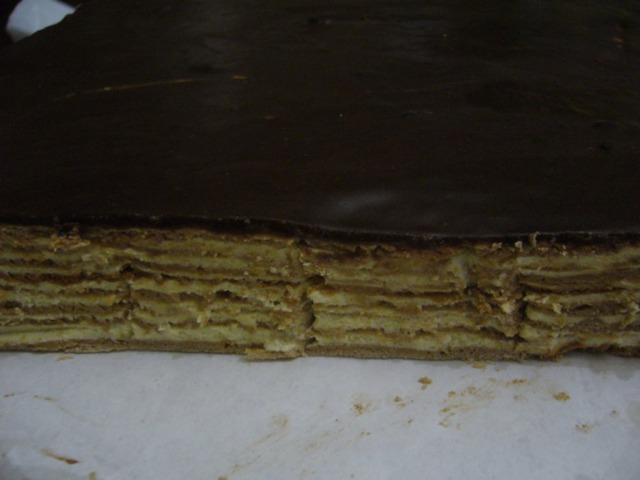 My daughter suggested a great idea how to make when smearing warm chocolate cream cake will not melt is to put the cake for 15-20 minutes in the freezer, and when he prioritise slightly, pour it still warm chocolate and quickly-quickly to level. Then the glaze turns shiny, smooth and very tasty.
This cake can be kept long. I do it 2-3 days before the arrival of the guests (if there are planned many) - just put the finished cake in the freezer and 2 hours before serving take out. The cake is tender, simply divine and very easy to prepare - it's only a long description.