Description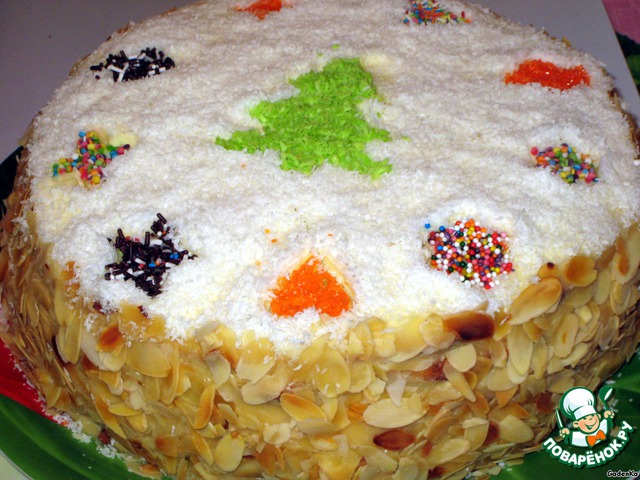 The name says, made for a birthday, and printed in the New Year ))) the Recipe was born spontaneously, wanted to make a "heavy" cake, like Napoleon or sand-smeshannymi shortcakes, these "men", but turned out the opposite of desire ))) Delicate thin cakes that do not need long and hard to roll out, without a gram of oil, with a mild cheese flavor, after impregnation, simply melt in the mouth. Cream milk-coconut, too delicate and not cloying, diluted with whole milk-mouth-watering masterpiece fresh acidity of pineapple and the crunch of roasted almonds. To write longer, and did it in two stages, so that in fact is not difficult, although the puff cakes take clearly more time than a biscuit, but the result exceeds all expectations. Want to experience the real fun – go, see, think, do, enjoy... )))
Ingredients
650 g

200 g

3 piece

1 cup

2 tsp

0.5 tsp

2 Tbsp

4 Tbsp

500 ml

1 cup

300 g

1 Tbsp

2 Tbsp

1 cup

0.66 cup
Cooking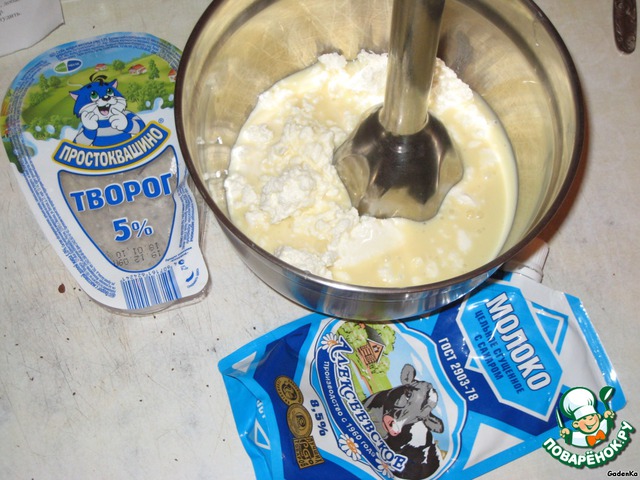 250 g of condensed milk with curd grind in a blender into a homogeneous mass.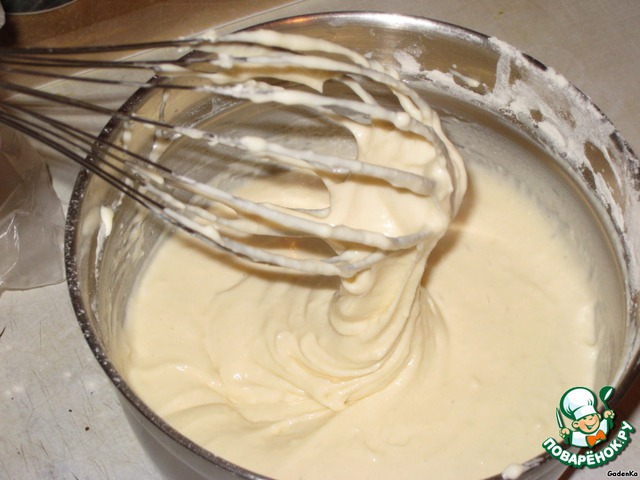 Beat the 2 eggs with 1 tablespoon of sugar and a pinch of salt in white foam. Mix cheese mixture with eggs, add vanilla. Soda repay lemon juice and add to mixture, mix well. Sift flour with baking powder and whisk to knead the dough, the consistency of test knitting, but not too thick when putting on the sheet is not spread in different directions. A Cup with the dough cover and let it stand for 20-30 minutes.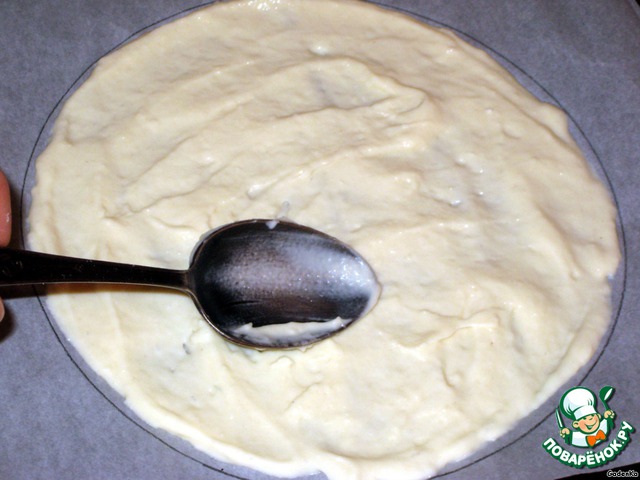 This time, preparing. Parchment paper will take as much as cakes. With a pencil, outline the desired shape on the sheet. I have a plate of 19-20 cm in diameter, was exactly 7 layers. Preheat the oven to 170-180 C. the Paper roll with a pencil on the sheet, so in the event that the stylus was not in the test ))) Paper lubricated with a thin layer of butter. Because I have never had a problem, I boldly drew circles and while I baked the first cake, I managed to spread two more, well at least so... in General the dough is firmly stuck to the paper. I certainly came out of the situation, but it is also not the case, spent was time and a little nerves ))) After coating the paper with oil, everything went "like clockwork" ))) but if you stick to it, what should I do first do not panic and do not throw, this is delicious, and secondly to flip the cake on the grill (or dry surface) paper up, wet a rag, only a little squeeze to her dripping and to grease the cake on top of paper, so she had a little soak, wait 2-3 minutes, then quietly remove it. Generally I sin on paper, the quality is disgusting, it even oily products stick, horror, it's never happened before, that's what it means to chase so cheap, I saw a yellow price tag, almost twice lower than that normally take, that's the result ))) as they say, the avaricious pays twice will be a lesson to me ))) the Layers are thin, cool quickly, fall off there is nothing, so nothing will happen, but forcibly pry not worth it, they do suffer ))) With a spoon spread the dough on the contour in thin layer.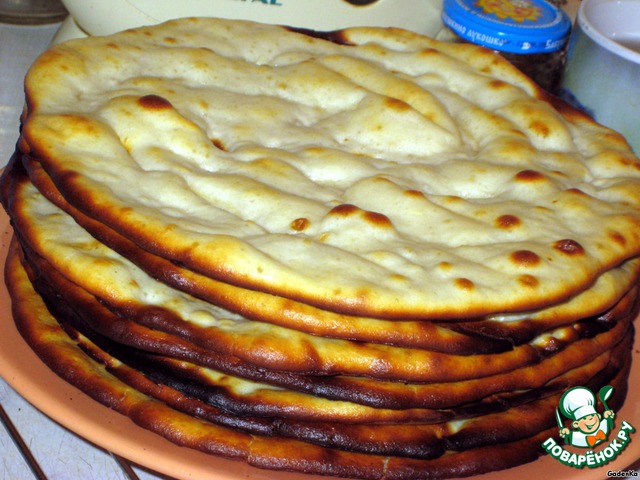 Bake until lightly Golden, do not wait when it is browned, the edges are slightly Golden, the middle generally can remain only slightly creamy, almost white. Cakes baked for 3 days to build, with them nothing happened. After cooling folded on each other in the package and on the window sill to wait in the wings )))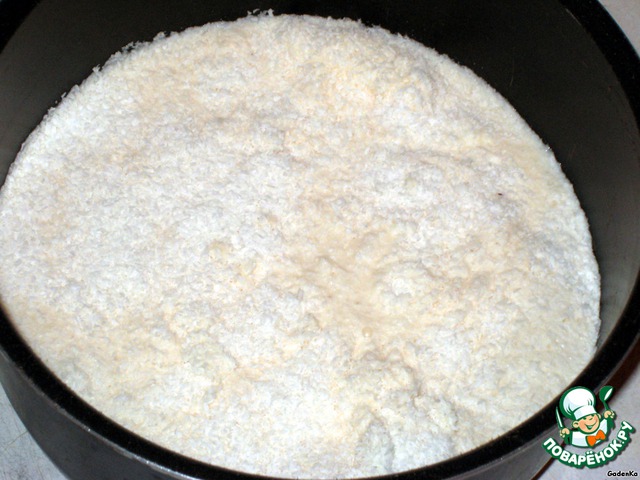 Cream ghee milk and 350-400 g of condensed milk, coconut mix and put on fire, bring to boil and cook on medium heat for 15-20 minutes. Coconut I fell asleep on purpose, so she softened and rode on teeth, constantly getting stuck. After cooking it became soft and gave its full flavor to the cream, which was very rich coconut. Baked milk is picked solely on the consideration that it is much softer and softer than with ordinary milk. The taste of baked milk is not felt, so you can easily replace cream 10%, or even regular milk, but melted all the same more pleasant )))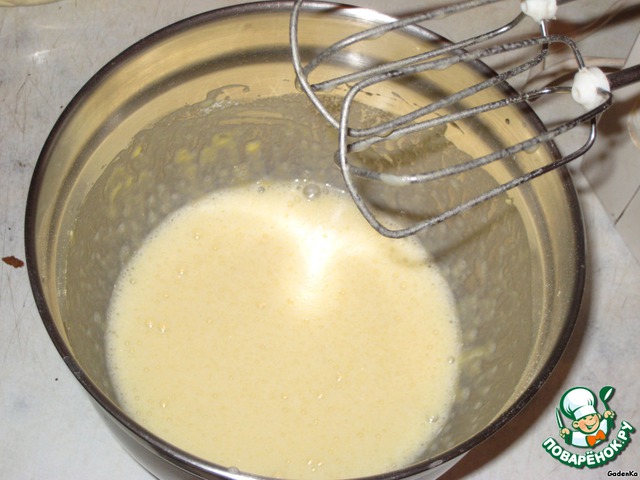 Towards the end of cooking the egg thoroughly, beat the 3 tablespoons of sugar, add a spoonful of starch and vanillin, to mix.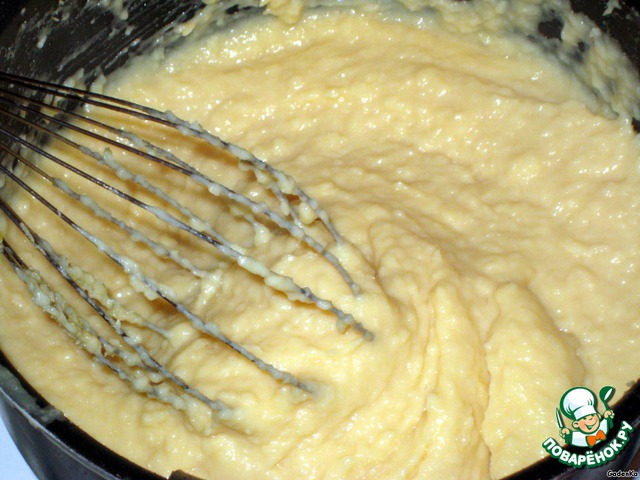 Now you can ladle to scoop the boiling milk-coconut weight and with constant stirring with a whisk to mix together with the beaten egg. Then this mixture gently, while stirring pour in the bulk boiling milk-coconut mass and not stopping to prevent thickening, the fire to do very little. Roughly speaking bring to the first bubble, while stirring with a whisk in the cream leave a mark. Cream cool.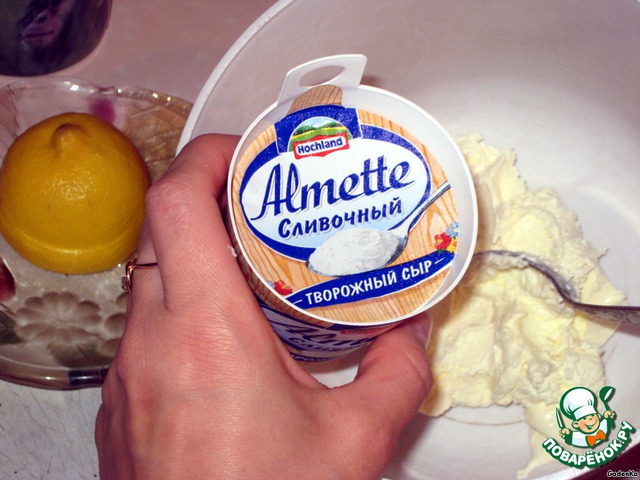 Now 1/3 of the coconut cream to postpone it and put it in the fridge Cheese of any suitable creamy (Mascarpone, Philadelphia cream Bonjour...). I usually take the Almette cream or yogurt. 150 g cream cheese whip with remaining coconut cream, gradually add the lemon juice, if desired, and flavor you can add a spoonful of any liquor, will be especially relevant rum or cream liqueur. Cream visually divide into 6 parts.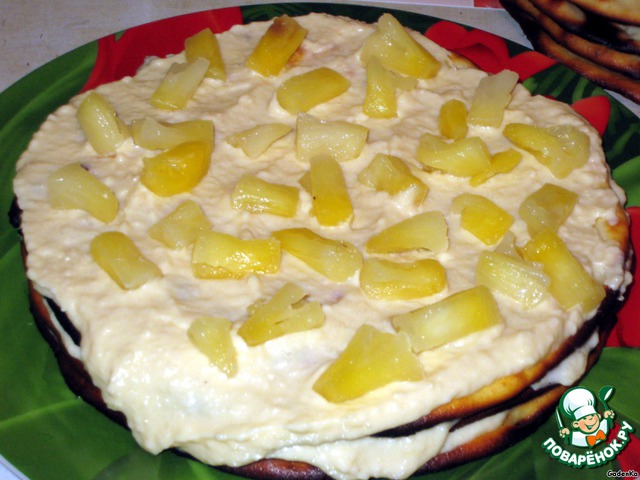 Now collect. The cake fluff cream, put the second cake, spread with cream and put half of the chopped pineapple. Pineapple and almonds are strictly optional. I have in the freezer lay fresh frozen pineapple, also were almonds, I washed and roasted, I drank, but my insane love of nuts have destroyed about a third. Pineapple thawed out and stood out a little of the juice that I soaked cakes, but this is optional, they won't dry.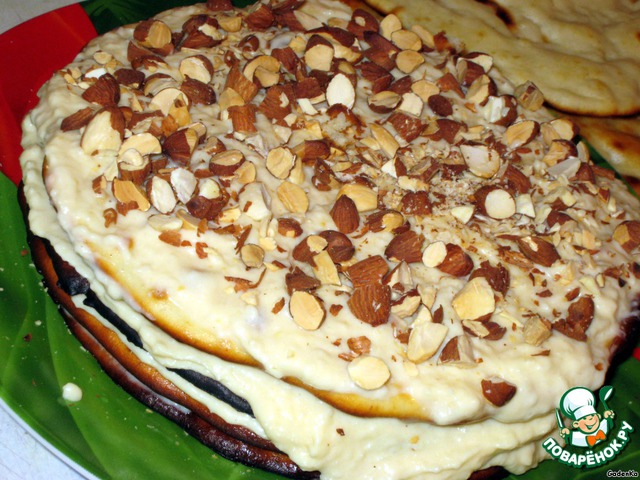 Cover with the third cake layer, brush with cream and sprinkle with coarsely chopped roasted almonds, cover with fourth cake layer. Oil cream and put the remaining pineapple and the fifth layer. The fifth smear the cake with the remaining cream and cover the sixth, the level ))) Now give our cake stand for an hour or two at room temperature.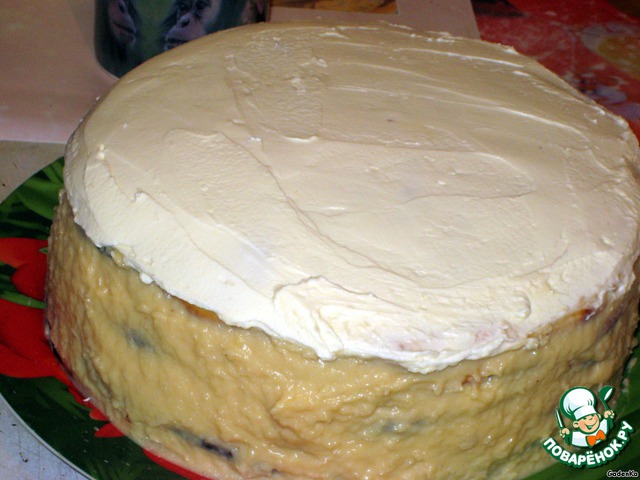 It's time to get out of the refrigerator pending 1/3 of the cream and coat the sides. Also we still have 150 g cream cheese 1-2 tbsp powdered sugar unused. Mix them and beat with a mixer until the consistency of whipped cream. Powdered sugar to taste, enough for me, and 1 tbsp spoons, who likes sweeter, put two, and it is better to try. To place the fondant on top of cake to level.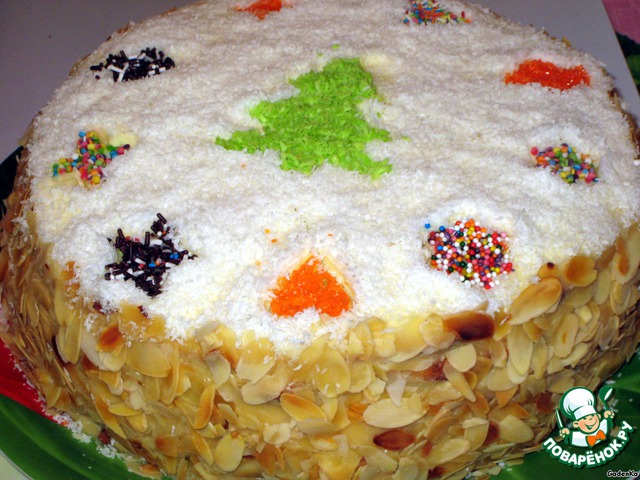 That's all, almost, not counting the fact that he needs the night to stand in the fridge and what to decorate to your taste. I Boca sprinkled with almond petals, the top is thickly sprinkled with coconut and decorated with colored powder.