Description
Want to congratulate you with spring! And give a wonderful, delicious casserole-pie! Cottage cheese-cherry-delicate flavor! A piece on the cut are very beautiful and delicious, Lacy! Only 10 minutes to prepare, and everything else will make our helper oven! And we (girls) will have more time to devote to it. In the end, all will be satisfied and happy! Be sure to try! Very tasty, unusual and beautiful!
Ingredients
1 piece

500 g

4 piece

250 g

200 g

2 Tbsp

4 Tbsp

1 tsp

1 tsp
//= Yii::t('app', 'Total calories: ') . $recipe['ingredients']['total_calories'] ?>
Cooking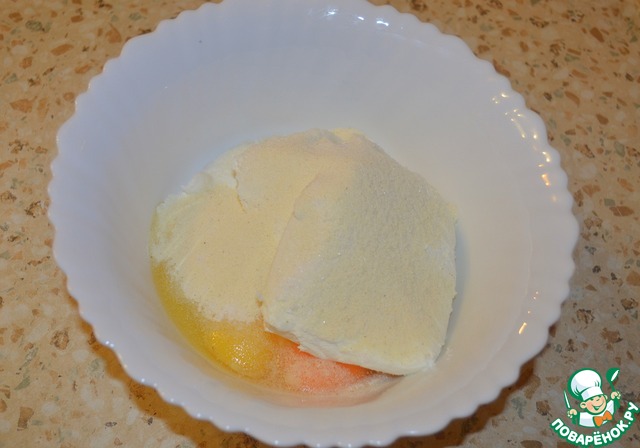 Make filling - cheese, 2 eggs, 2 tablespoons sugar, semolina and vanilla sugar mix.
That's the consistency it turns out, trying to carefully RUB the cottage cheese to avoid lumps.
Take the pita bread, open it, I used 1 sheet of thin pita bread the size is about 40x50, spread all the stuffing and coat all over the sheet evenly, including the edges.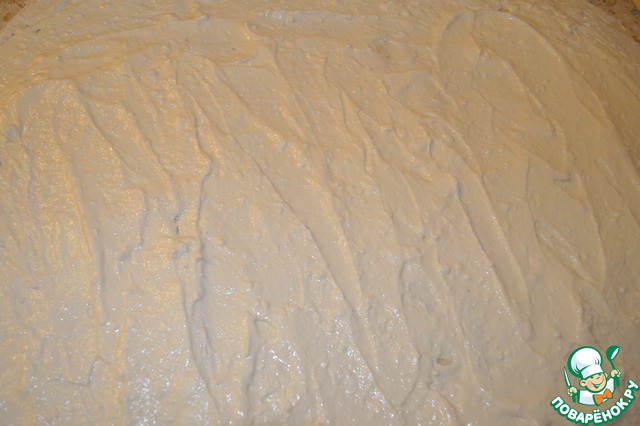 So, as in the photo.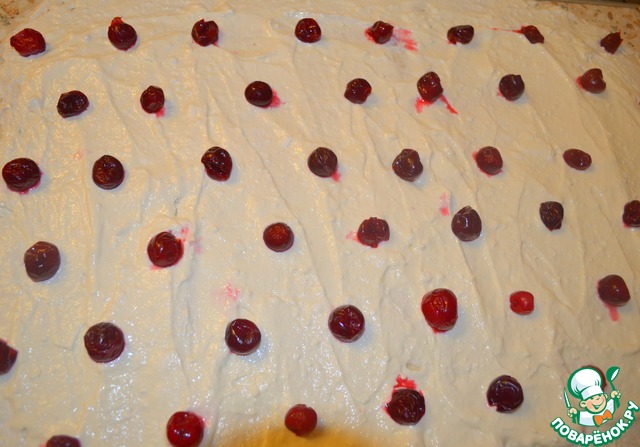 Pre-thawed cherries, spread on top of cheese in a checkerboard pattern and turn tightly in a roll, I fold on the long side, in the end, I'm getting a roll of diameter 10 cm, length 50 cm the roll didn't take a picture of, got distracted, sorry.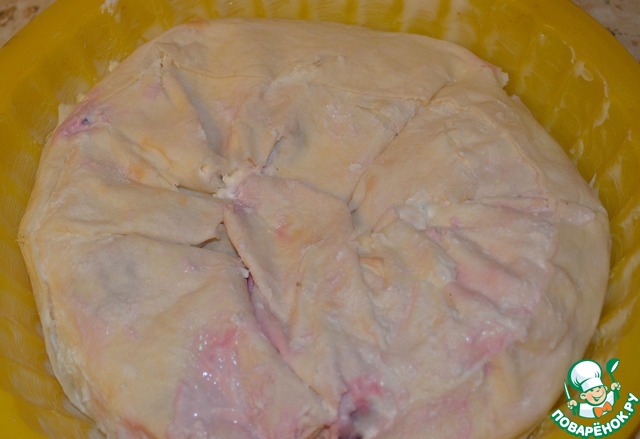 In a form with high sides (7cm), diameter 25 cm, greased with butter, spread our rolls a snail, gently pressing it so it has distributed throughout the form.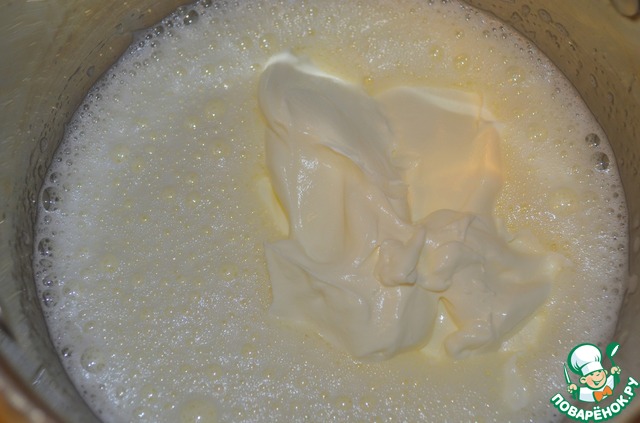 Now prepare the sauce that will make our pudding-pie, smooth and creamy. 2 eggs, beat with 2 tablespoons sugar until whitening, place the sour cream, stir.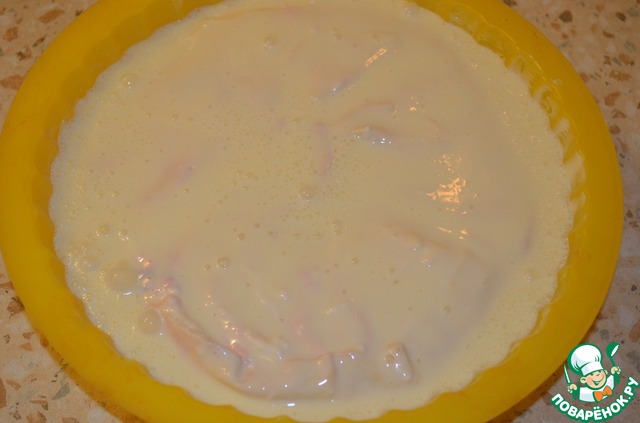 Fill our "snail", clutching a spoon roll, so it was all in the casting. Put in hot oven and bake for about 40 minutes at a temperature of 180 degrees, as is Golden, watch your oven, turn off and leave for 5 minutes to "rest in the oven."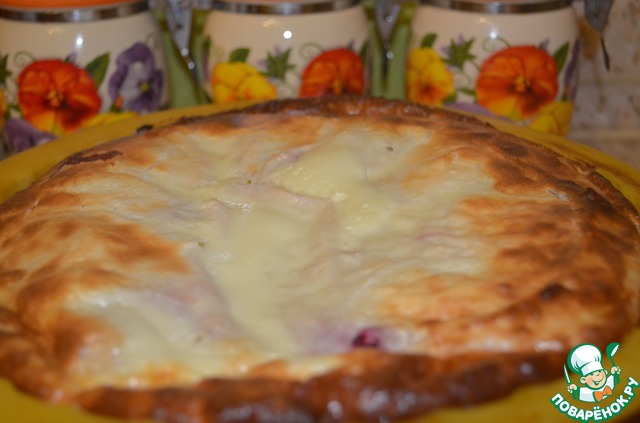 Take out and leave to cool at least half an hour. Then get out of shape.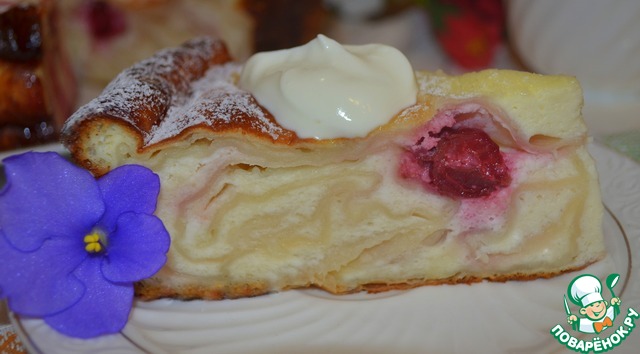 Cut into pieces, slice, just fantastically beautiful, lace patterns!!! Eat with sour cream...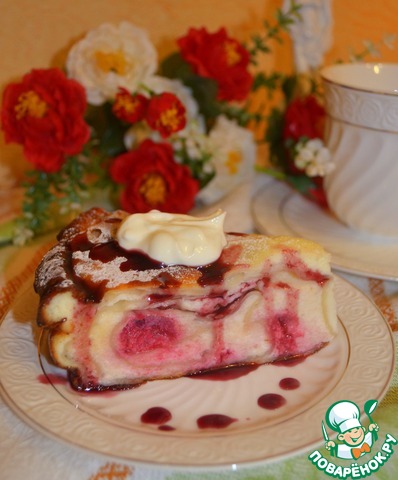 ... and, you can pour the cherry jam or sauce!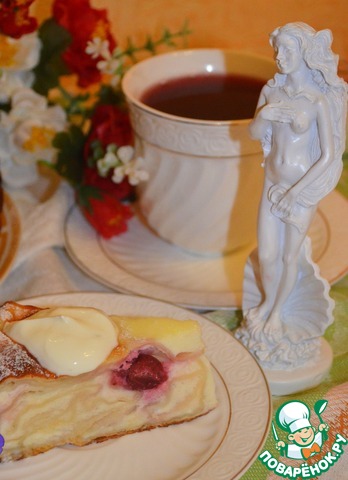 Enjoy the creamy curd soft... mmm!!!
Here's a lace razrezik, after complete cooling, standing in the refrigerator the night, took pictures this morning... be Sure to try this wonderful, fast, very beautiful and delicious cake! I recommend!)))