Description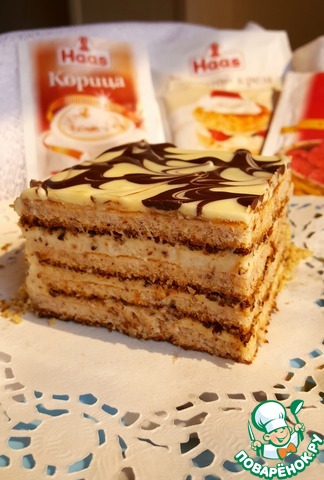 Almond-chocolate cake, popular in Hungary, Austria and Germany. Named after the Hungarian diplomat PAL Antal esterházy, who served as Minister of foreign Affairs of Hungary during the revolution of 1848-1849. Today in the Internet there are many variations of the recipe of this wonderful cake. Try my version!
Ingredients
6 piece

200 ml

300 ml

75 g

3 Tbsp

1 pinch

120 g

300 ml

100 g

0.5 tsp

100 g

30 g

3 Tbsp
Cooking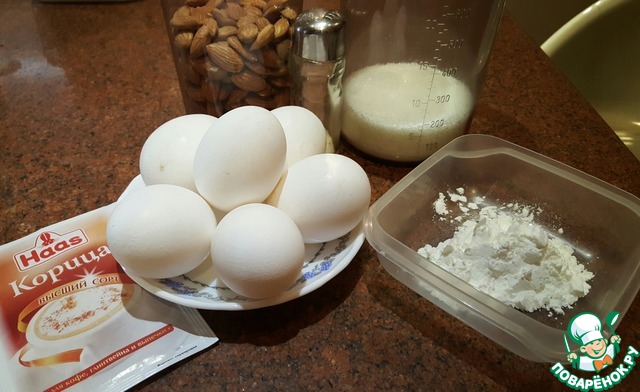 Classic cake Esterhazy cakes are baked without flour or starch, but currently there are many recipes for this wonderful cake using flour or starch. I decided to bake cakes with corn starch, because not relied too heavily on your blender.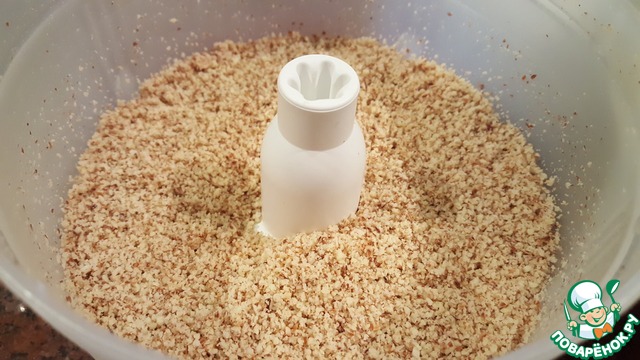 First thing, even better in advance, lightly fry in a dry pan or in the oven almonds. Cool. Grind to a state of fine crumbs.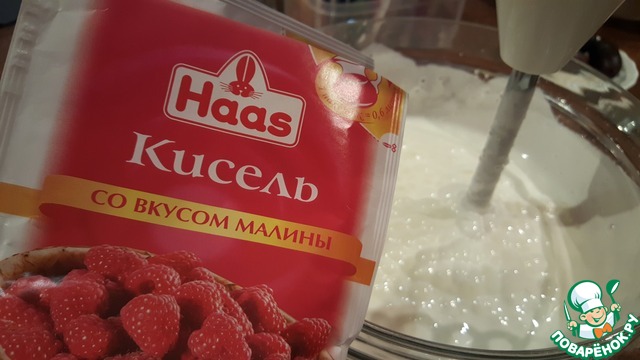 Separate the whites from the yolks. Beat egg whites with a pinch of salt until thick foam, still whisking gradually add the sugar and continue to beat until stable peaks. Since my blender in any did not want to whisk the egg whites to the desired state, I decided in addition to corn starch to add a package of pudding. I really liked the result. Cakes bought a light raspberry flavor and aroma, and dough for cakes turned out quite thick.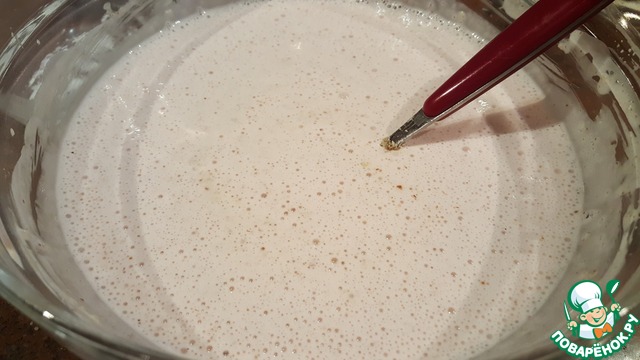 Add the almond crumbs and mix gently.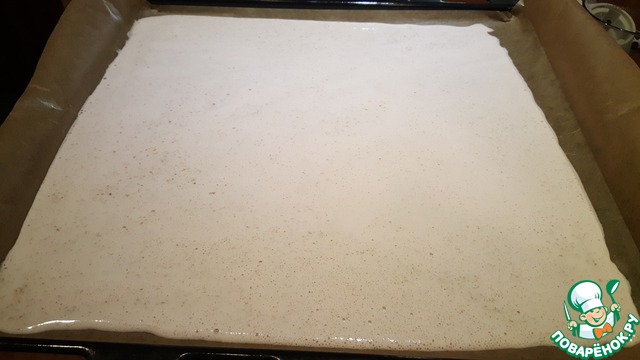 Protein spread almond paste on the baking tray lined with baking paper. Baking paper, lightly grease with oil. Send a baking sheet in a preheated 165-180° oven and bake crust until dry kindling, about 20 minutes. Be guided by Your oven!
My oven... not my strength... I burned the edges and well browned bottom. Out of the corner of course, I cut... a delicious cake turned out to taste like a cool macaroons with a light raspberry flavor. So, the cake out onto the grill, remove the baking paper. Then cut the cake into 4 or 6 pieces. I cut into 4 pieces. (to be honest, I got a little carried away removing the samples and has done a decent marginalia)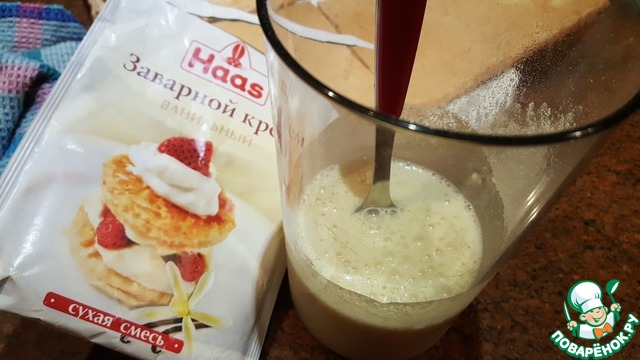 While the cake is dried, make cream. Though I sometimes cook the custard itself, but every time terribly afraid of anything to spoil... So, after the first sample the Custard with vanilla flavor from Haas, I realized that this custard is a delicious stick wand to save time and effort and a great result.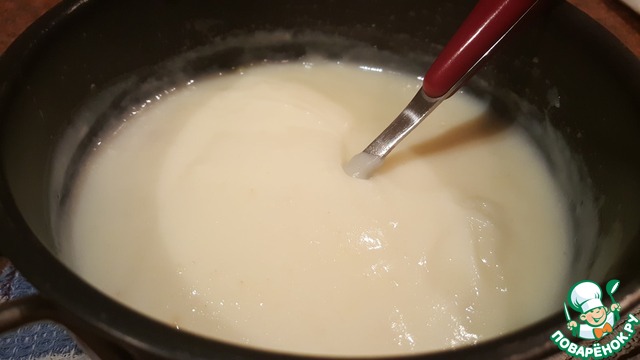 So, to prepare the custard according to the instructions on the package.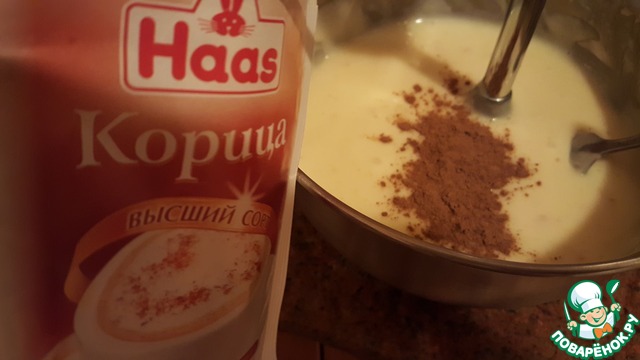 In the classic recipe for pastry cream added the softened butter. I added it to the cooled custard cream to the butter and cinnamon and whipped in a blender. Cinnamon is the highest grade from Haas has a wonderfully delicious aroma!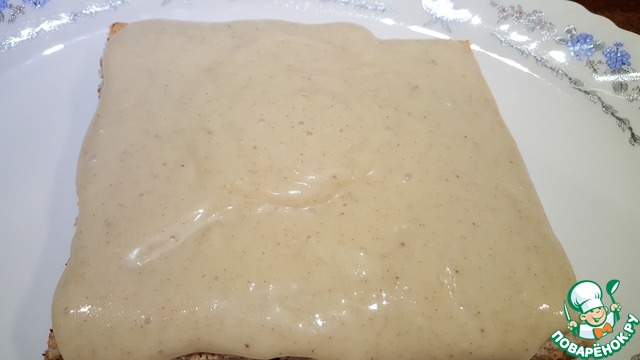 Fluff cakes liberally with cream. To assemble the cake. Fluff cream side. Upper fluff layer of apricot jam. Jam chocolate will go better.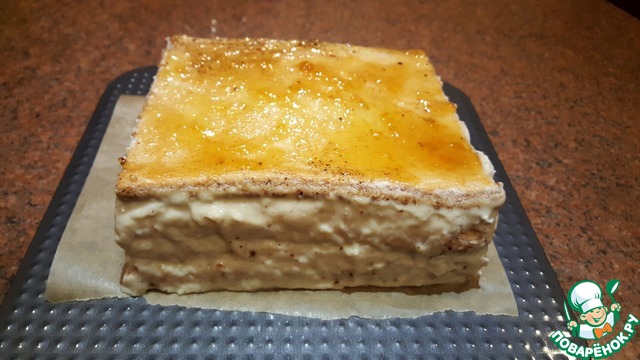 To remove the cake in the fridge for impregnation. If the cream is a little watery and slightly drained, it does not matter, after another hour or so pozastavit it and shovel it easily can be put back into sides of cake. If You have a thick cream first, we can immediately frost the cake.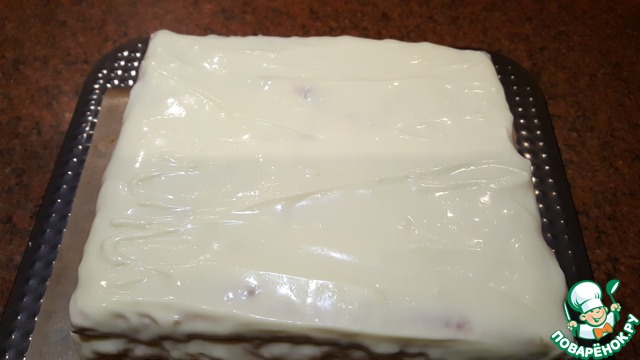 Glaze. I decorated the cake with pure chocolate and, after hardening of the top to get a solid chocolate layer. If You want a softer frosting, you can add a little cream when melting the chocolate. I melted the white chocolate in a water bath and covered the top of the cake and a little side.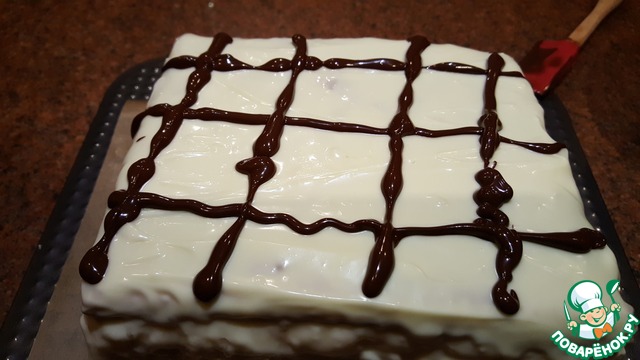 Further, in a water bath melt dark chocolate. Using a handy gadget, or how I use the bag from baking paper to draw a dark chocolate bar or the spiral. I really wanted to draw a mesh.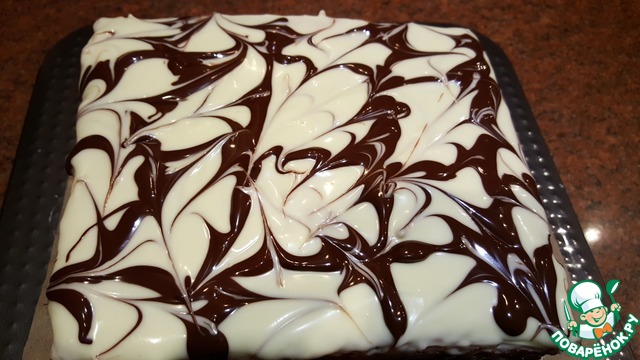 Now the magic begins, take a toothpick or skewer and draw the patterns. Just pulls a strip of dark chocolate, as if taking her white. Such patterns turn out... I loved the process...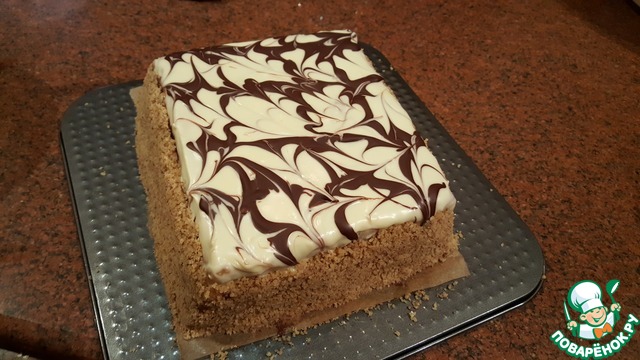 And the last step is to sides of cake. Ideal would be almond petals or almond baby... but almonds I ran out and I lightly roasted and crushed walnuts. Sprinkled with silicone blade spoon and sides of the cake and sent the cake back in the fridge, now for the night.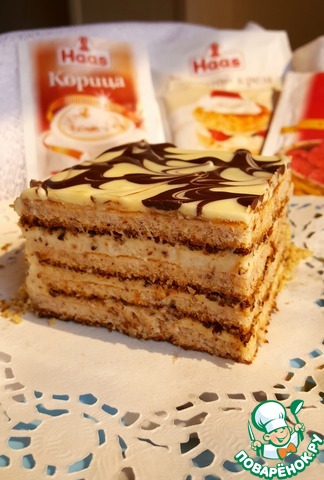 Bon appetit! Tasty, sweet but not sickly and very beautiful...