Description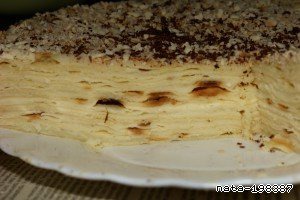 the response to the crisis)))) - very simple and delicious recipe, a Real Napoleon turns out only 1 hour)))
Ingredients
5 cup

200 g

1 Tbsp

0.5 tsp

4 piece

0.8 l

5 Tbsp

0.75 cup

5 Tbsp
Cooking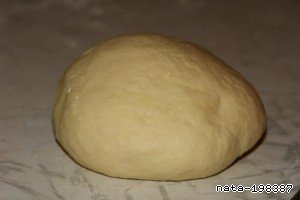 A knife to chop the margarine with the flour until obtaining butter crumbles. Add 3/4 Cup cold water, vinegar, baking soda, egg. Knead the dough, it should be elastic.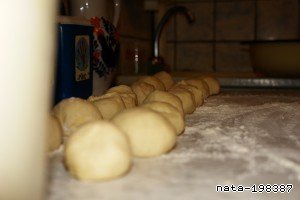 Divide the dough into 20-24 small balls.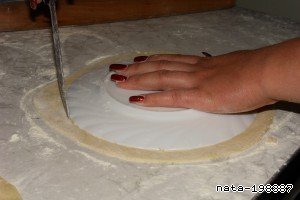 Roll out the dough should be very thin. I take the right size of the pan plate and cut out the cakes.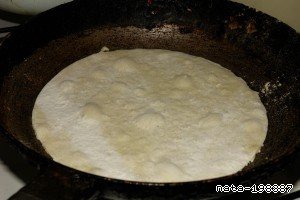 Our fry cakes until slightly rosy color (it is necessary that they were pale)be sure when you put the cake in the pan prick it with a fork to avoid puffing. Trimming and the last two need a good cake to roast and use as breadcrumbs (I break them and knead with a rolling pin into small crumbs - as raskatyvaete the dough exactly the same way and baked cakes to roll out, and they very quickly turn into a homogeneous crumb)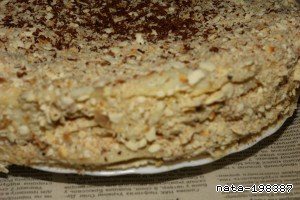 Cream : to heat 800 ml of milk, can be more (the remains of cream I enjoy eating))) when it is hot enough but not boiling!!!!! add mixed with 5 tablespoons sugar and 5 tablespoons of flour 3-4 eggs.Stirring constantly bring to a boil and stirring to give writing a rolling boil for 3-5 minutes (it thickens very quickly and if not stirred will burn) Cream I prepare before starting to knead the dough, so he managed to cool down. This cream liberally lubricated our cakes, so that when pressed into cake namnoo climbs the cream that you spoon neatly smear the edges. Need cake and coat the top and edges so that the crumbs are eliminated. Sprinkle with crumbs and grated chocolate)))) And infuse well, at least a couple of hours))) the Cake is ready!!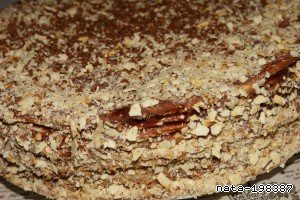 From these ingredients I get 2 cakes. One classic I do - ie peremeshivayu only cream, and the second experiment - you can mix cream, any jam or berries...I have after I baked the cake Hut is left of the syrup from cherry jam, it tastes like cherries, here it is, I added to the custard cream!!!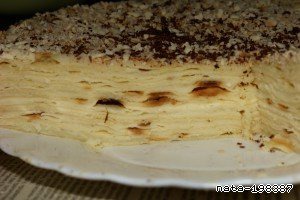 And that he's only in section)))