Description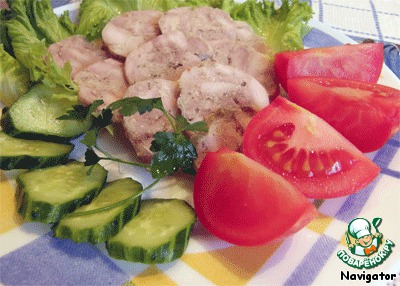 After the horror stories in the programs "Environment" no longer any desire to buy sausage in stores. I tried different recipes, including our website (the most wonderful), but came to its most rapid and requires no special equipment for cooking. Time to beef - 40 minutes to bake in the oven for 1 hour. Another recipe from the "For those who have no time". Help yourself.
Ingredients
1 kg

8 tooth

1 tsp

0.5 tsp

0.5 tsp

2 Tbsp

15 g
Cooking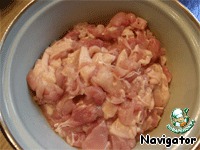 Chicken chopped with skin into cubes of 1.5 - 2 cm (not very finely). I for speed buy already cut chicken thighs boneless.

Take spices and condiments. That's all we need.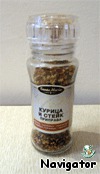 I would also like to describe spices for chicken and steak. This is the most successful of all the spices that I have ever bought. They give any meat dish a unique charm. Just in case, describe the composition of sea salt, onion, paprika, tomatoes, coriander, white pepper, chilli, mustard seeds, the turmeric.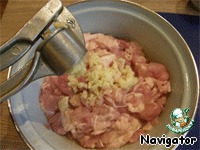 Add in the mince and salt and garlic.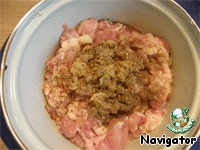 Add black pepper and seasoning for chicken and steak.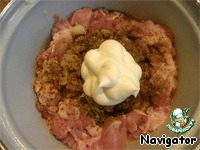 Add 2 tablespoons of mayonnaise and mix thoroughly minced. Then in minced meat add 15 g gelatin and stir again.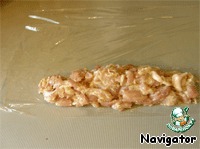 Begin making sausages. From this amount of mince obtained 4 small sausages. Spread 1/4 of the sausage meat on plastic wrap.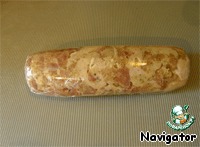 Fold in the sausage.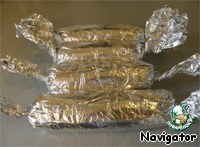 Then on top wrap in foil "candy".
And put into the oven for 1 hour at a temperature of 180 degrees.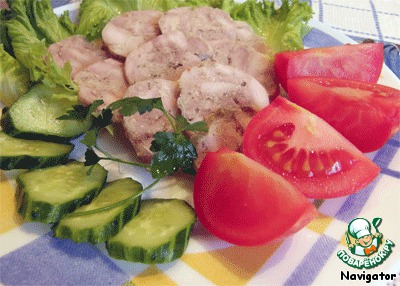 When sausage has cooled, place in the refrigerator until morning. In the morning You have Breakfast is wonderful, tender and very tasty sausage! Bon appetit!