Description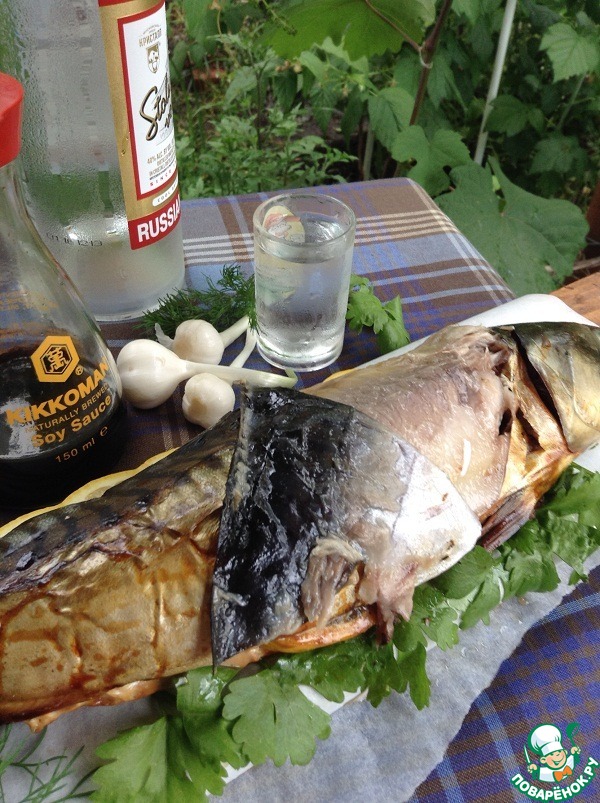 Smoked fish without special tools, and liquid smoke. This is a very simple recipe. Upload uncomfortable. But, as practice shows, that simple recipes are more in demand. All my guests saw this method of cooking, very surprised, although so simple. This option of Smoking I saw many years ago in cooking gear. Only there was smoked chicken. So this recipe is ideal for fish and chicken. Come, I will show you a very simple and delicious option for Smoking.
Ingredients
1 piece

4 tsp

1 tsp

1 tsp
Cooking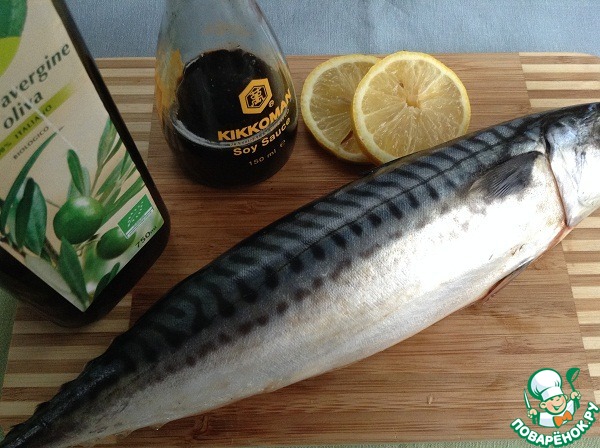 So. Take the fish. The fish take any what you like. I have mackerel. I had it washed, cut the abdomen and removed the entrails. Of course, you can smoke and not gutted fish, but I do not like. And gutted the fish better absorbs the marinade. If you take a piece of fish (catfish, perch, etc.), then it is better to tie up with twine for reliability (not to pieces). Or take a chicken. In whole or in part )). Next, the marinade. I cook like this for 3 tsp of soy sauce add 1 tsp of olive oil and 1 tsp of lemon juice. Marinate at least an hour. Better, of course, for the night, but an hour later will turn out very tasty. I'm still in the abdomen put a slice of lemon, a sprig of dill and a clove of crushed garlic, but this step is optional - on request. For the chicken marinade the same.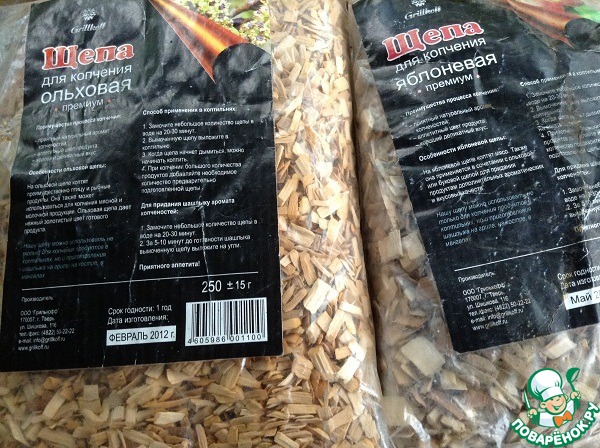 Next. I use ready-made chips. It is sold in construction, garden or other superstores (Leroy Merlin, Auchan, OBI) in the Department, where there are barbecues. The cost (last year) 40-60 rubles a pack. Chips can take different trees, I have an alder and Apple. Of course, you can use their chips (to make some of their trees))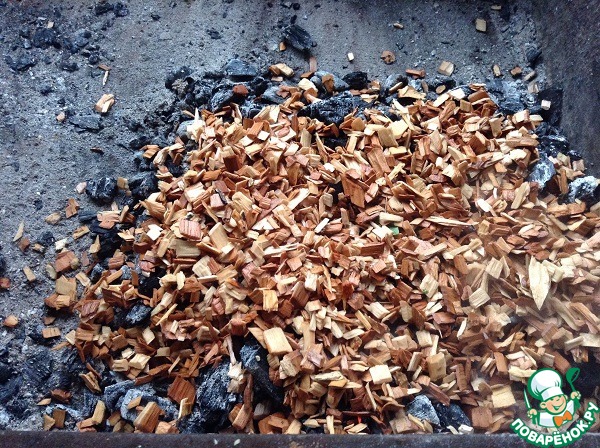 Wood chips should be soaked in water for 20 minutes. Then squeeze well to water it is not raining, otherwise the fire will pour)). Post it on the grill on very hot coals.
Put on top of the grill grate on the grill and place the fish (or chicken, or part of it)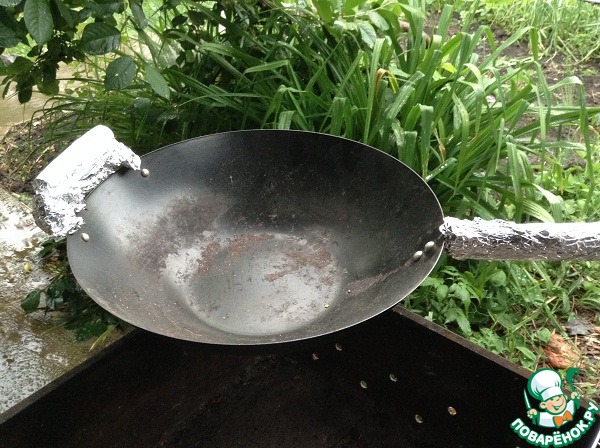 Next. We need a pan. I have an old bad (thin) VOG. Or rather a parody of it. Wooden handles need to wrap the foil to avoid burning. You can use absolutely any pan of the right size - she's not much zacopride, laundered quite easily.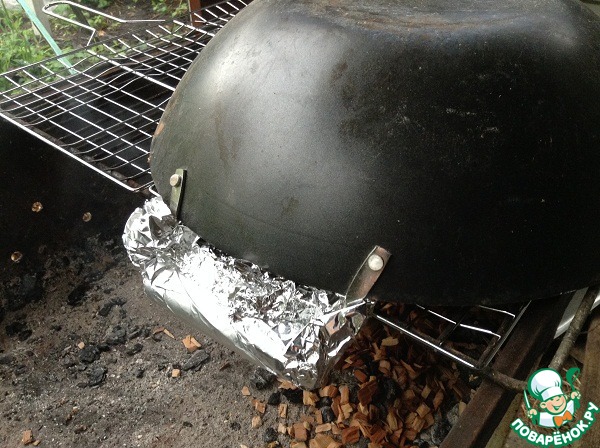 And cover the top of the fish. Now wet wood chips will smolder and smoke the fish.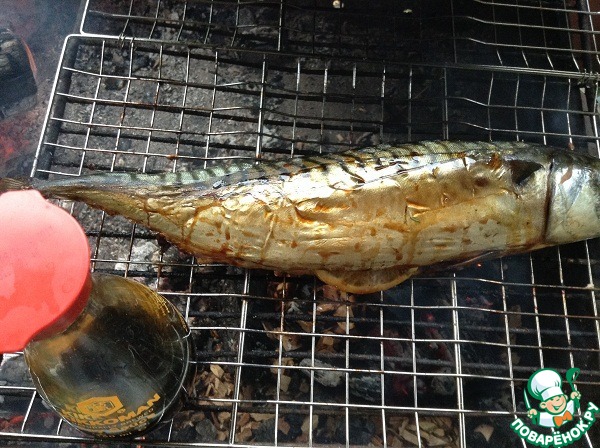 Preparing fish, of course, different - depends on the heat and fish. I have a fever was average, and she was about 25-30 minutes. The whole chicken will be ready in 45-50 minutes. You can remove the pot and watch (the first time). Well, if you have removed the pan, oil additionally, the fish soy sauce on top. Although this is not a mandatory step. And so it is a good zacopride.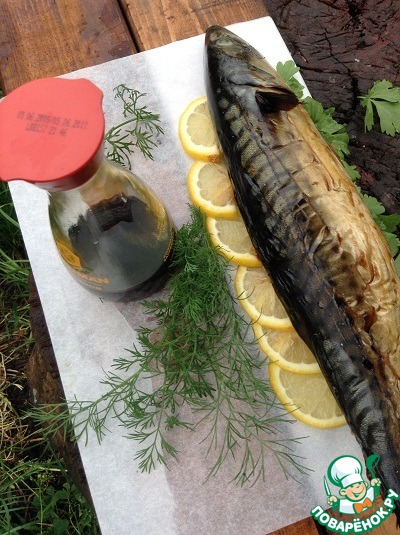 Well here she is, our beauty.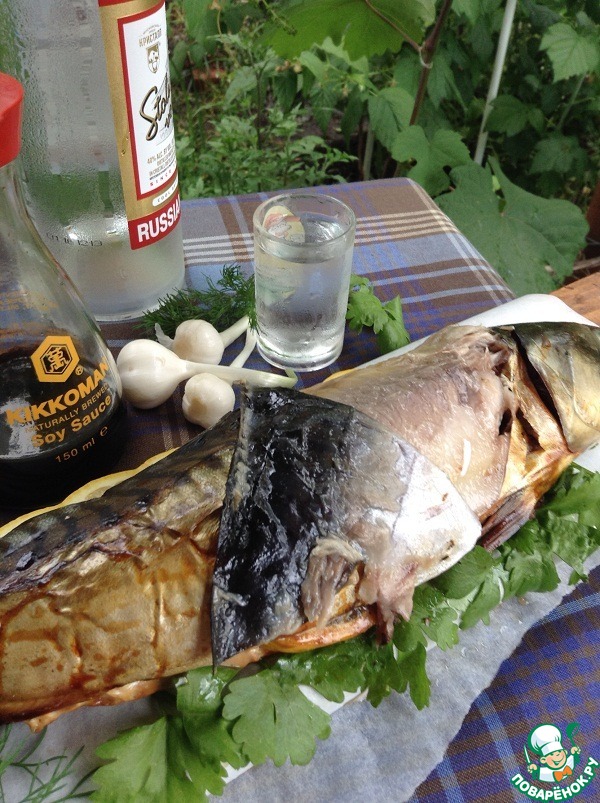 We ate it immediately hot. See how easy to remove the skin, and underneath a lovely layer of shiny, mouth-watering fat. The fish is so tender... can't Even tell you only need to try. Of course, you can eat it cold and (if you will), but I still like hot more. My husband and I love it. - you see "still life"?! Says no sweaty glasses well, not the same picture )). So, I very highly recommend to try this method of cooking fish. And try the mackerel - it's fabulous as well!