Description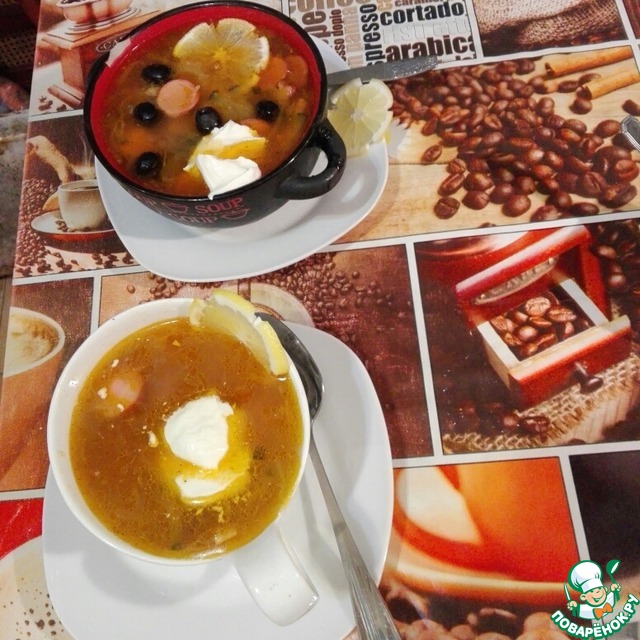 Was once on the TV channel "home" such transfer culinary "World in your plate" (at the end of the last century). That's where I spied this recipe soups, neither before nor after nowhere with him not "crossed", my family and friends do not recognize since any soups, except for this one. It has its own nuances. Start? Just specify Solyanka - Time, Patience and Mood! without these "ingredients" to even get to her is pointless, do not get anything worthwhile. So, armed with three secret ingredients and get to cooking!
Ingredients
500 g

800 g

2 piece

400 g

5 piece

3 piece

4 piece

6 piece

2 Tbsp

6 piece

4 piece
Cooking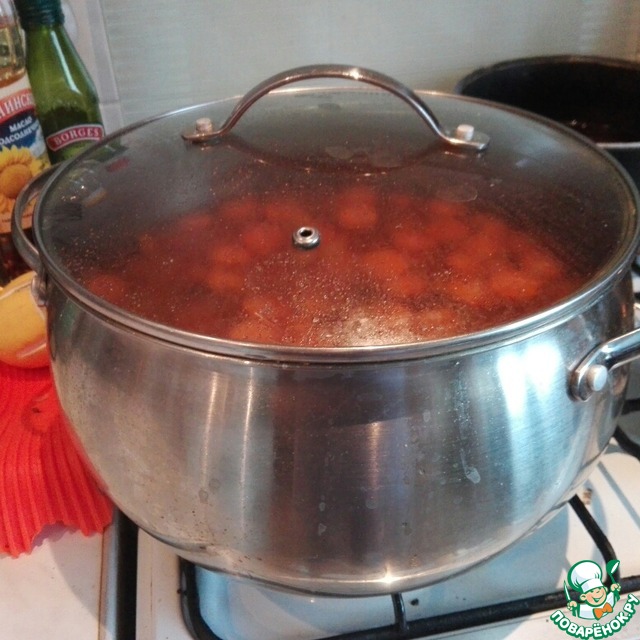 In advance, boil the broth. It does not add anything but onions and spices, Lavrushka, pepper. Cook meat until fully cooked (beef ribs, so that it from the bones retreated entirely, remove the bones, liberating the meat from the ribs and fat left till "tomorrow." I the broth is not salted, as much and as salty components. "To mind" will bring at the last moment. Pot take the largest available, I have 8.5 liters of "saucepan". 25 years make of this hodgepodge, and never the less I failed. Tried starting with the 3 liter pot, the cooking result - a pile of dirty pots and 8.5 litres legitimate halophytes. Better to let it be not quite full pot than a full kitchen of dirty dishes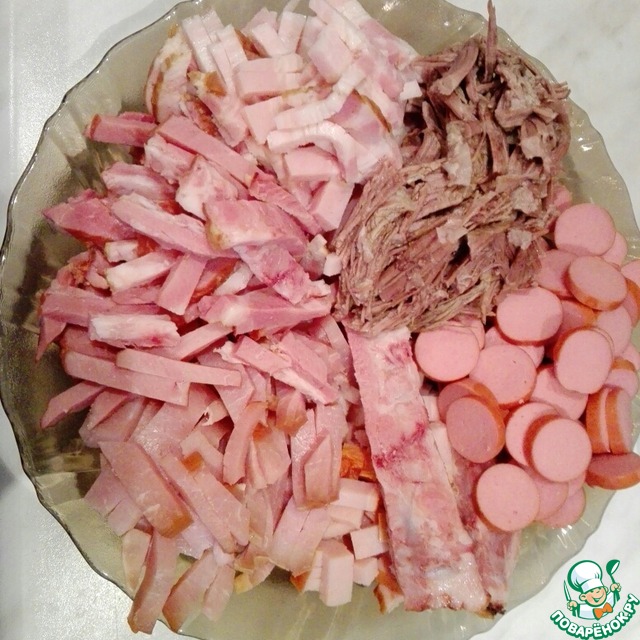 The next day, take out of soup meat, it is raspalas to state that cutting it is not necessary, simply dismantle into pieces. Smoked Prime rib cut of meat, take all our meat parts and cut into cubes, sausage slices, put the broth to warm up and throws him pork ribs, slowly let your taste give. after boiling, remove the spark -to "below average", that there was active boiling, lightly "was poulkovo"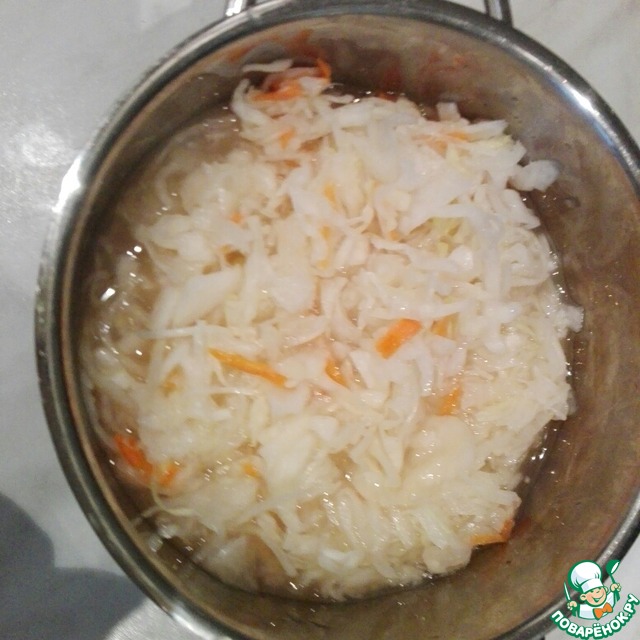 Finely chop sauerkraut, fill it with brine and put to stew in a SEPARATE pan. Brine should not be much that the cabbage is not cooked, and it was extinguished. I prefer to take the cabbage sourer, but here on taste and color, choose what more like himself. Simmer the cabbage until soft, 30-35 minutes for milyuzina the light, looking to get fried. If the pickle is enough, you can add Hot boiled water
Cut onion into feathers,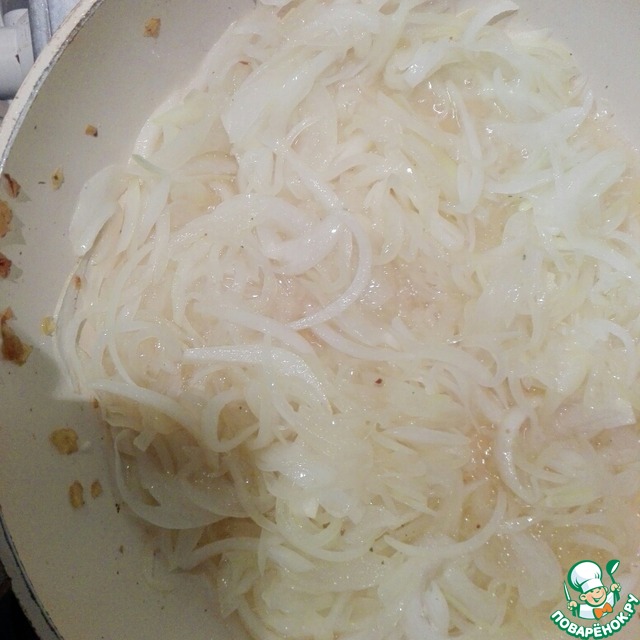 Sent to the pan with the minimum amount of oil, just to slightly greased the bottom was enough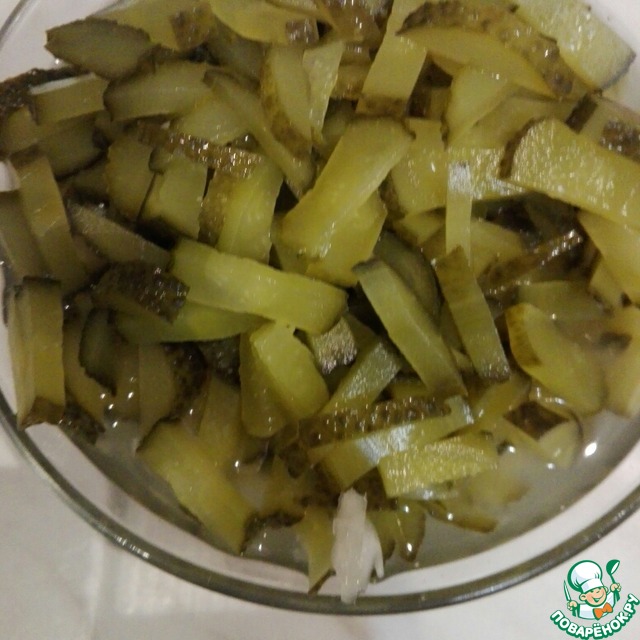 Cut cucumbers into strips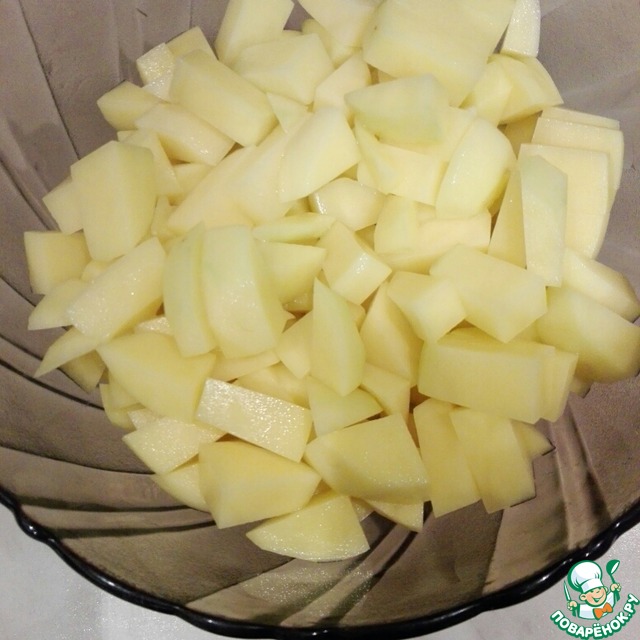 Potatoes medium dice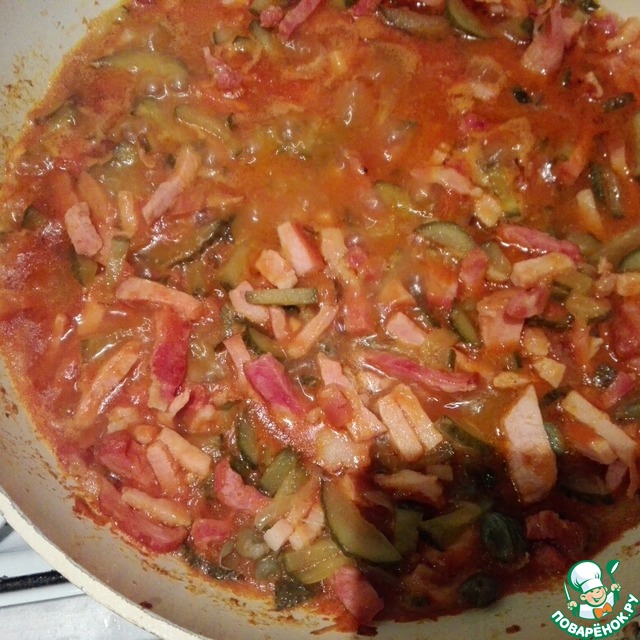 Tomatoes peel them, split in a blender to a pulp, Collect our frying pan: add to the onions all meat except beef and boiled sausages, warmed for 5 minutes, then the cucumbers, pour the brine and another 5 minutes warm, then tomatoes and capers I try and rassolka hook from the jar, he spetsificheskii taste has again gray. At the same time put in the broth, the potatoes, let them boil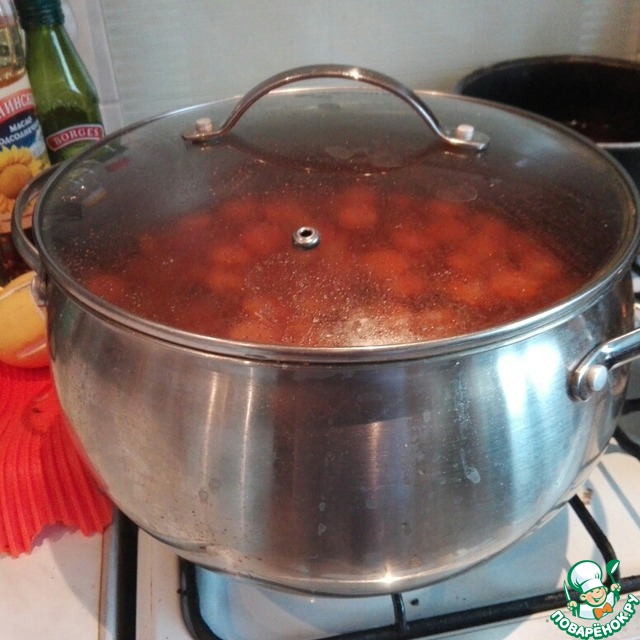 When the potatoes are almost ready, NOT BEFORE! spread in lightly boiling broth, beef, sausages, cabbage stew, the contents of the pan is added ( if desired) sliced black olives, you can add them in the dish (I do so), maybe not everyone loves them (I don't like and actively), taste for salt, if necessary doselevel, I don't add salt and pepper, also to taste. Allow to simmer for a few minutes, turn off heat and allow to infuse for our the bag a minimum of half an hour.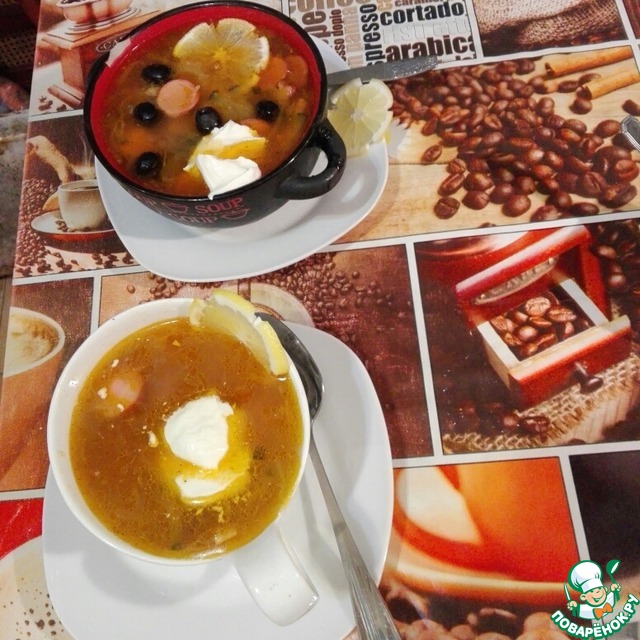 If you want you can add chopped herbs and chopped garlic, add the olives (whole) sour cream and lemon. Solyanka should be very hot and sooo thick. To the table to invite anybody not already on the ground and knock the long spoons. Great, if the add-on will be homemade cakes. We "run away" pies with potatoes and bacon dough, Moldavian layer pie with salty cheese with herbs and garlic puff unleavened dough. Usually one soup for lunch enough, many even refuse from dinner, so you are spared from having to cook and even the second. Bon appetit to all who ventured out