Description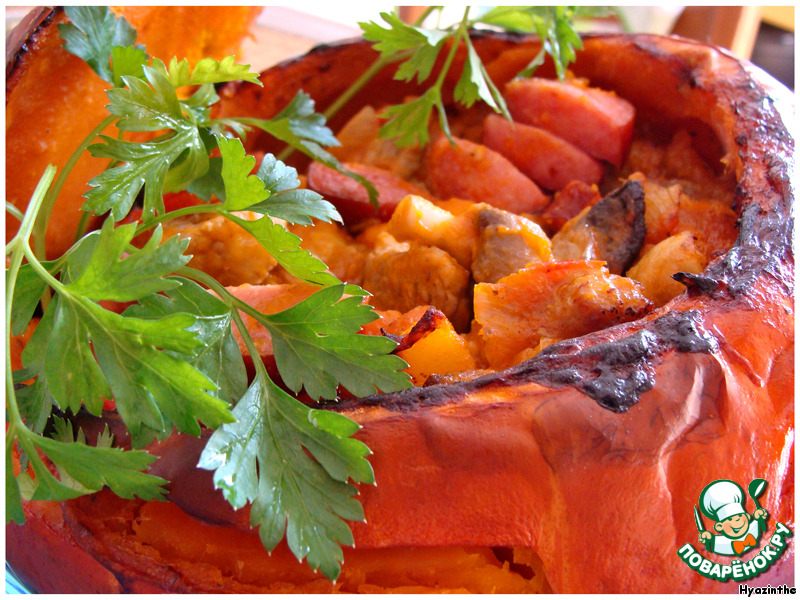 ... cooking in grills. Cooked goulash for lunch, the idea to use the pumpkin instead of the pan in the convection oven came in during cooking. This dish can be cooked also in the oven. Garnish eat "pan"...
Ingredients
2 kg

150 g

600 g

3 Tbsp

1 piece

200 g

1 tsp

2 Tbsp

1 Tbsp

1 piece

1 piece
//= Yii::t('app', 'Total calories: ') . $recipe['ingredients']['total_calories'] ?>
Cooking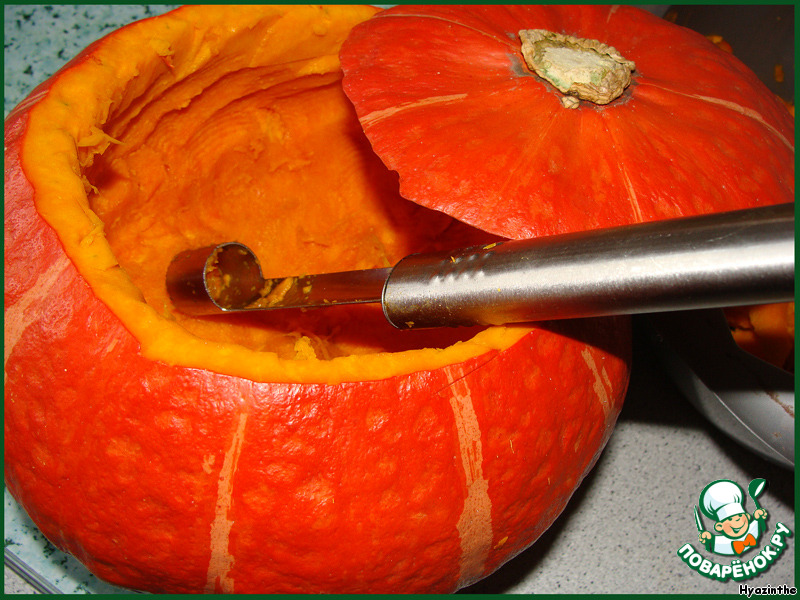 Prepare the first "pan": to wash outside of pumpkin, cut a lid, remove seeds, cut out pulp, leaving a wall of flesh about 1 cm. I did use the notch Apple in the middle, very convenient :)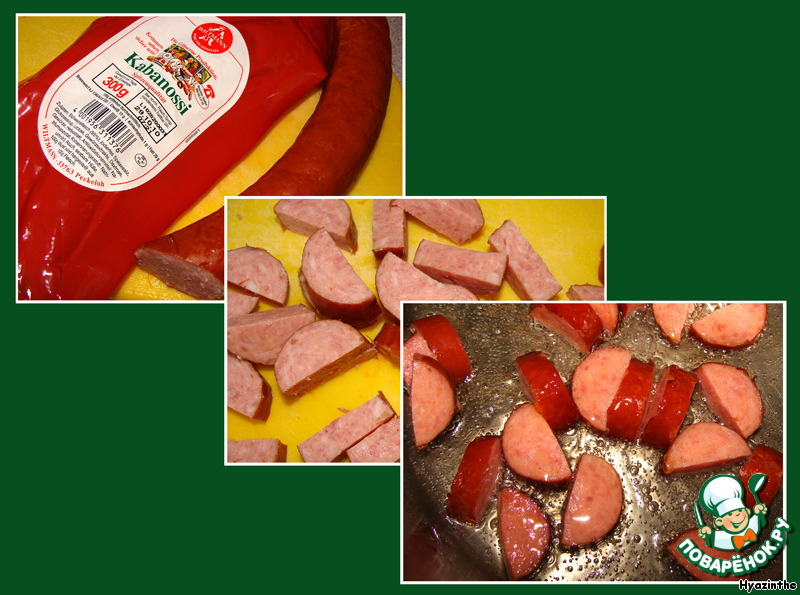 Sausage cut into fairly thick slices and again in half each circle. Heat the butter in a saucepan with a thick bottom, fry the sausage (but don't fry!) By the way, first met the use of sausages in goulash. Fried sausage, remove and set aside until.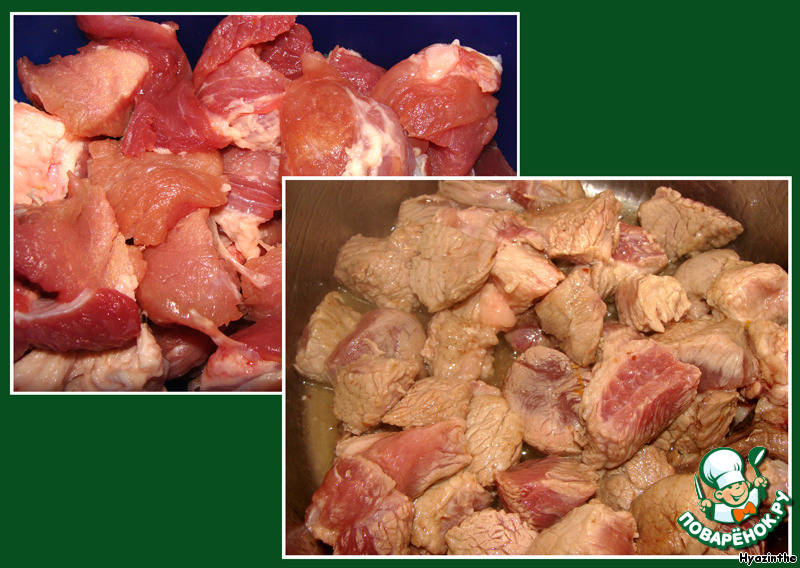 And in the oil fry the meat cut into pieces (1x1 cm) when the meat pieces turn white on all sides...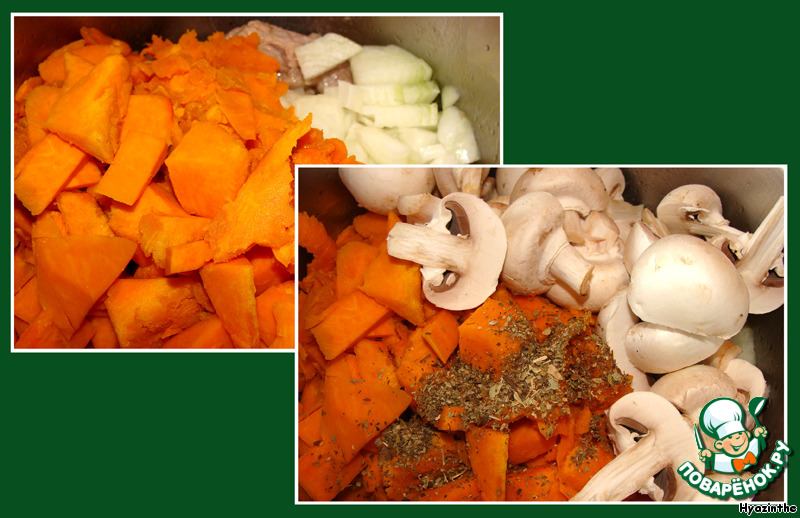 ... add the chopped pumpkin flesh and onions, then mushrooms (small whole, large cut into 2-4 pieces) and oregano. Stir, close the pan with a lid.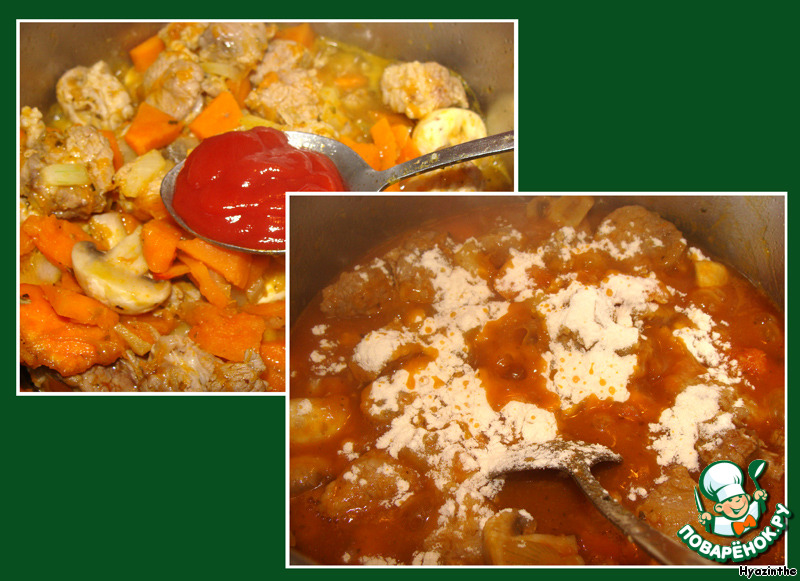 As soon as the mushrooms will give the juice, add the tomato paste and flour. Mix well.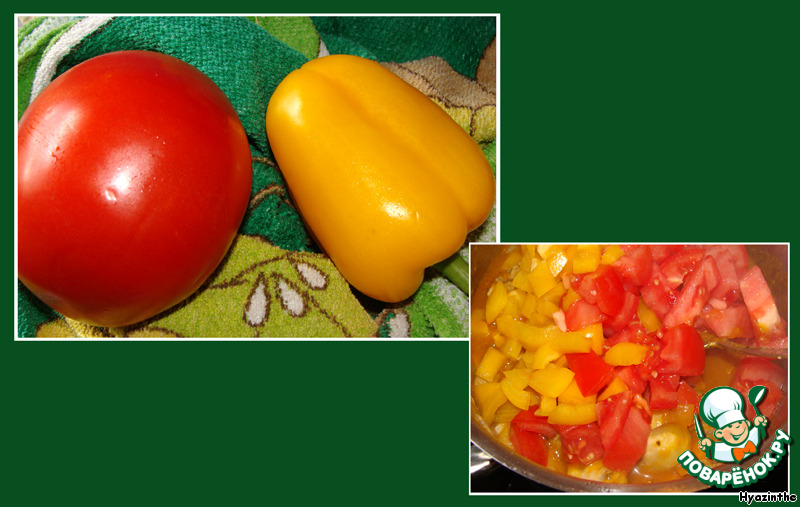 Cut the peppers and diced tomato, do not forget to periodically stir the contents of the pan, add, stir, remove from heat.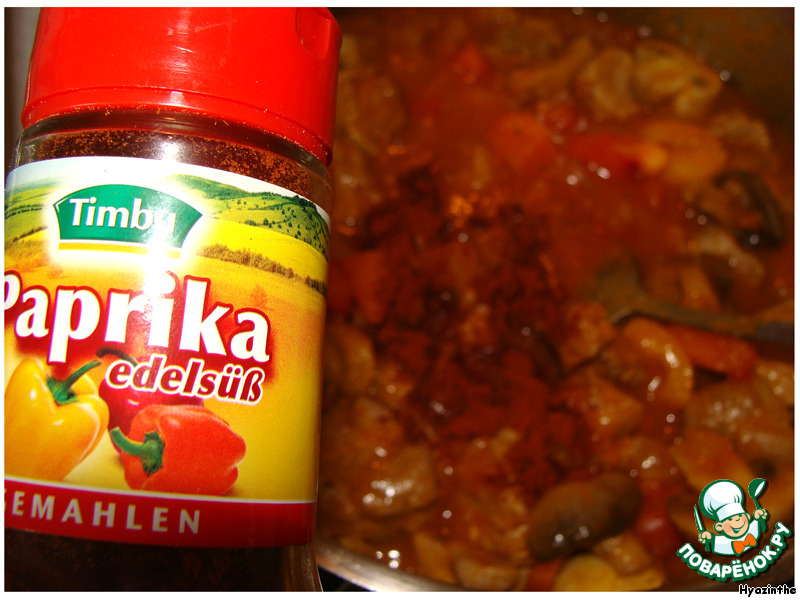 Salt, pepper, add ground sweet paprika - all to taste.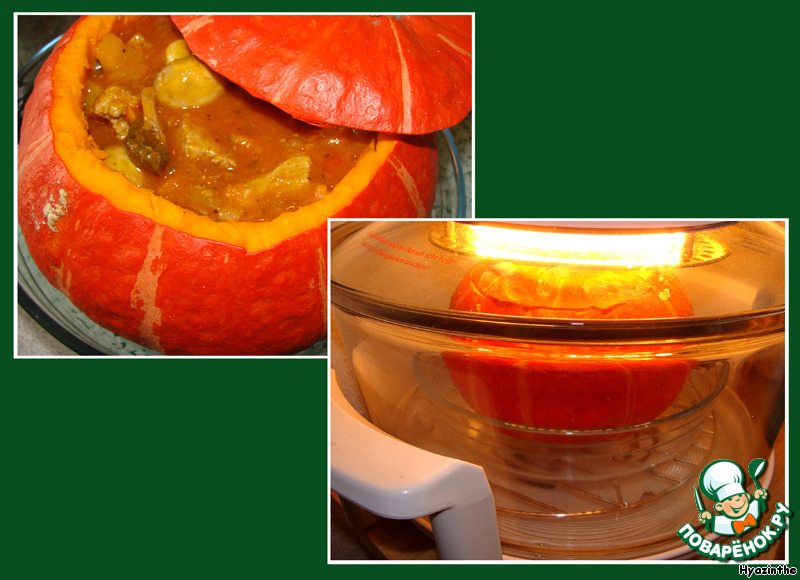 Pumpkin "pot" sprinkle with salt inside and put the meat with vegetables. Put on top of the cut lid. Liquid I was added, it was enough. The pumpkin is placed in the appropriate form and put in aerogrill (or in the oven). In aerogrill baked it for 1.5 hours - 150*C, the speed is high.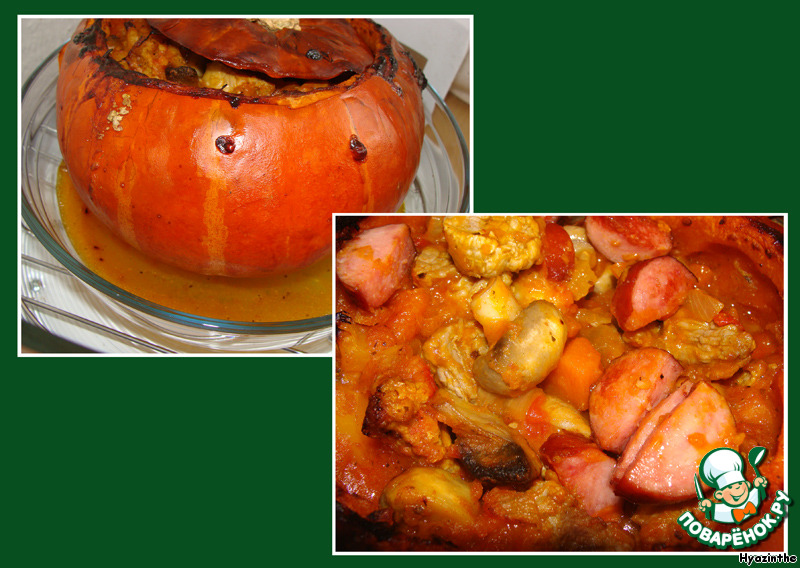 After disabling aerogrill remove the lid from the pumpkin, spread fried sausage, mixed with meat and vegetables, close the lid of convection oven (turned off!) and leave it in the pumpkin for another 10 minutes.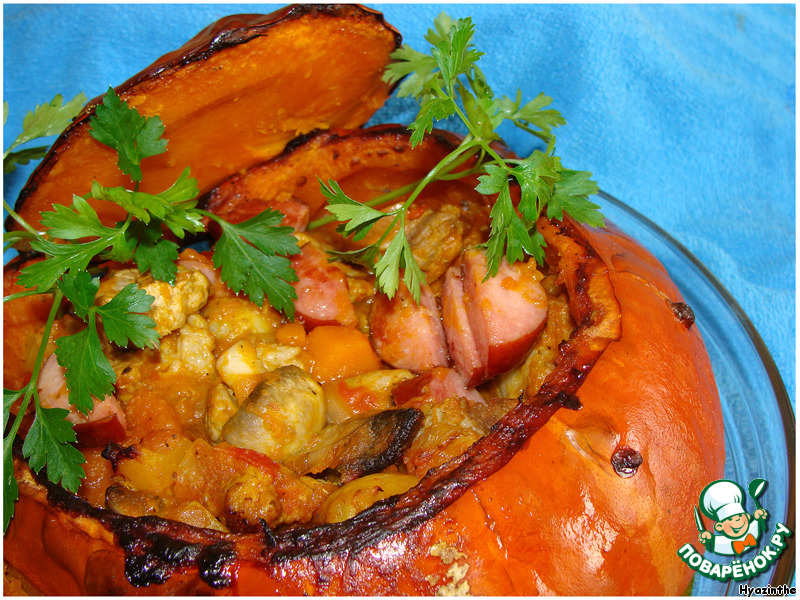 Now all is ready. Decorate and serve (and everyone's already banging spoons :) )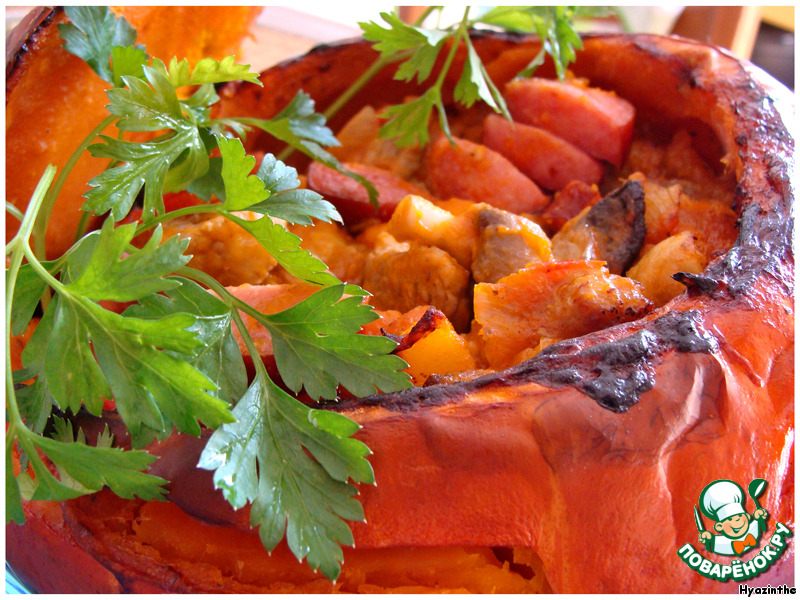 The photo clearly shows that the wall of the pumpkin is cooked (it shrinks). Special side dish is not needed, it perfectly replaces the pulp from the walls of the pumpkin, soaked in the broth. Cut the pumpkin into 4-6 pieces and place on a plate a slice of pumpkin along with the stew. From pumpkin-"pots" was only a thin skin, everything else was eaten :)