Description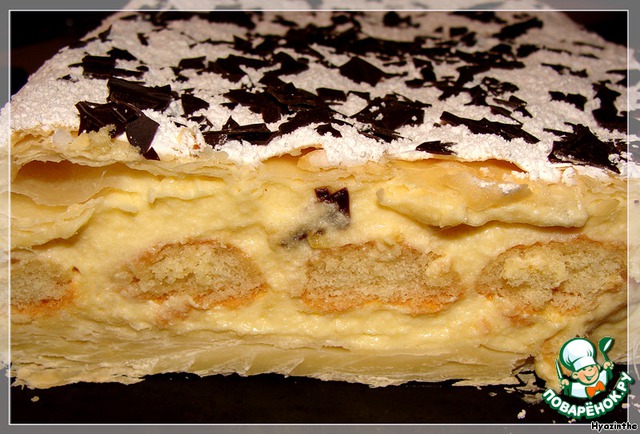 Cake for my son's birthday. A diplomat, he's not going to be, but the cake he liked. Delicate, airy, does not require a lot of effort and time to prepare. And I found this cake on the website chefkoch. de
Ingredients
The dough is flaky unleavened

500 g

2 pack

100 g

400 ml

500 ml

7 Tbsp

120 g
Cooking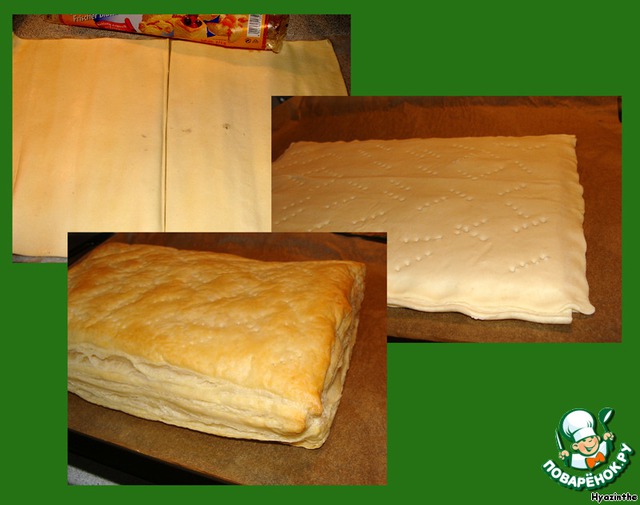 I had 2 rolls of puff pastry the size of 40х25 cm, cut them in half, get 4 layer 25х20 see the Layers folded on each other, fluff the edges with water. Edges pressed tight and the batter a lot of times pinned with a fork. To the puff pastry when baking evenly risen, it's got a couple of hours soak at room temperature (i.e. not straight from the fridge and the stove :) ) Put sheet in preheated to 200*C oven and bake for 15 minutes (see how the dough rises and browned). Take out, let cool, cut into 2 layers. I think these 2 layer separated immediately and bake, then cut anything not necessary (well, it's the future...)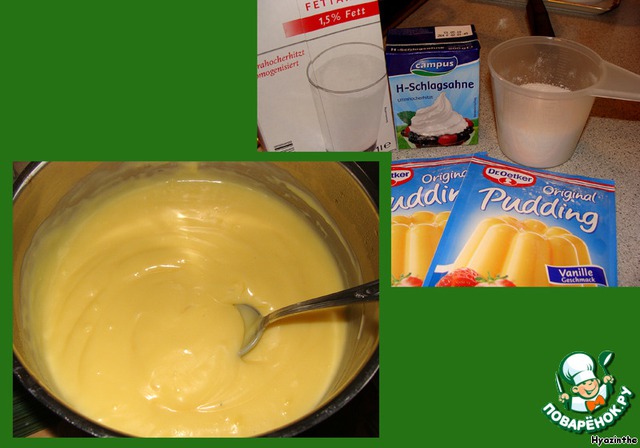 While "cake" is baked and cooled down, we make the cream. Put on fire a saucepan with milk, bring to the boil. To the powder of the two packs of pudding, add the sugar and 200ml cream, then pour this into the boiling milk. Stir until thick, remove from heat, let cool (I don't cover the pudding with foil, just occasionally it is stirred and cooled faster, and the film is not formed).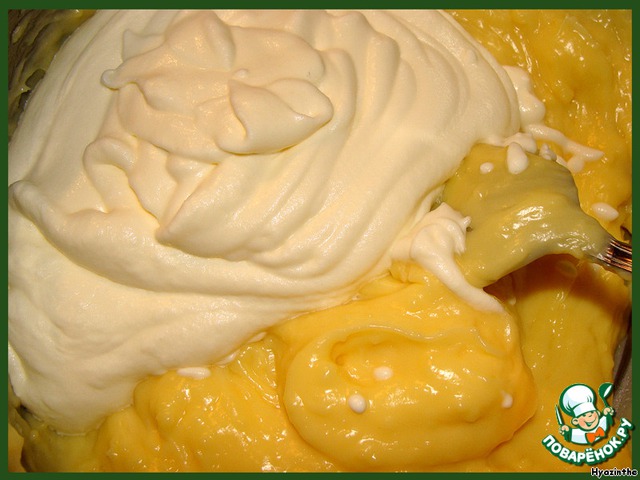 The remaining 200 ml cream beat until peaks, add to the cooled pudding,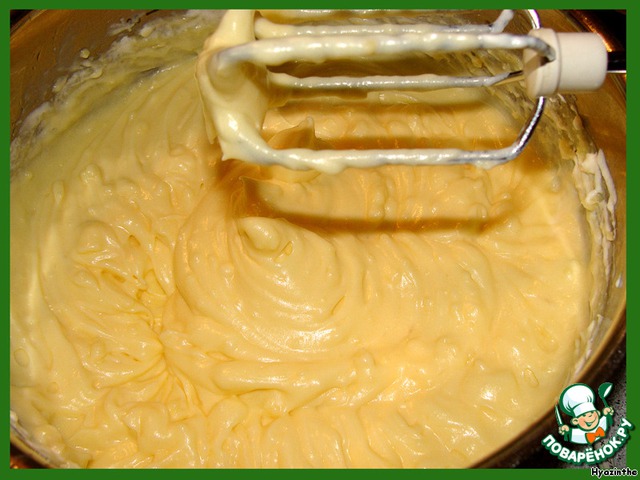 There pour 4 tbsp rum and whisk it again until smooth.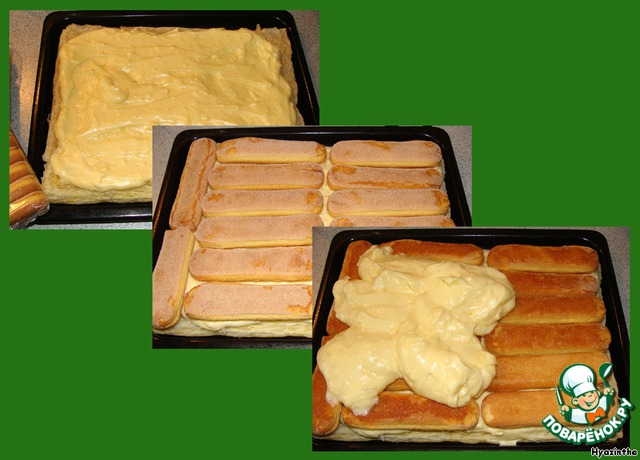 1/2 of the cream spread on the bottom half of the puff pastry "crust", cream on some biscuits, pour the remaining rum and spread second half of cream.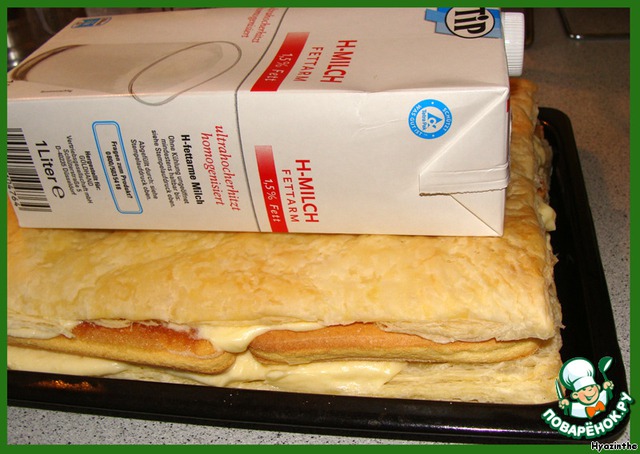 Cover with a second "layer" and put some very heavy load (I have a stack with 0.5 l of milk :) ), leave for a couple of hours.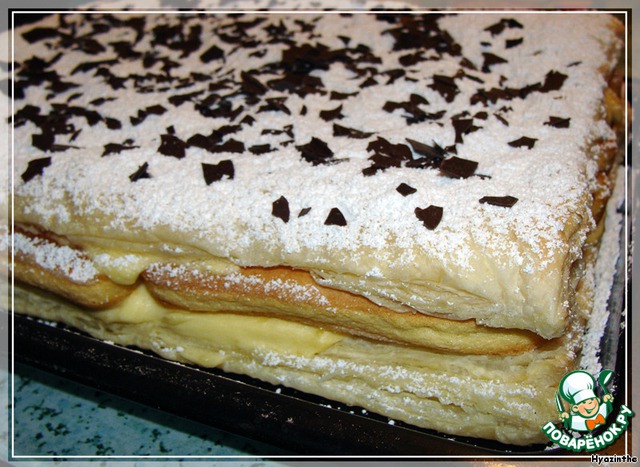 Then it only remains to sprinkle the cake with powdered sugar and chocolate chips (or decorate at will).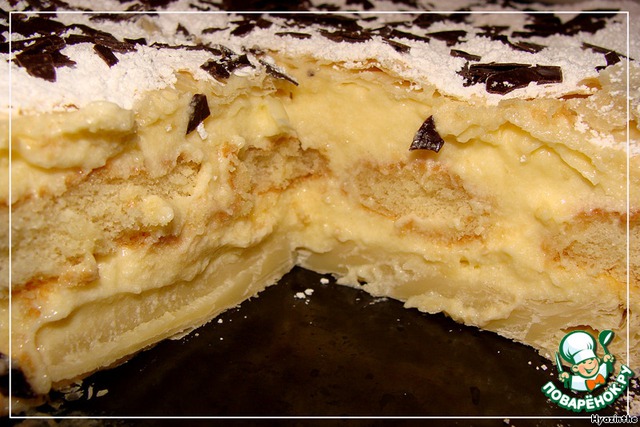 And that's what we have: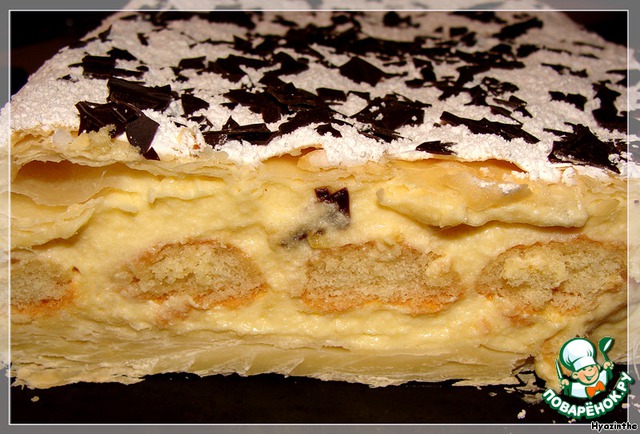 Gentle, airy, fragrant, DELICIOUS!