Description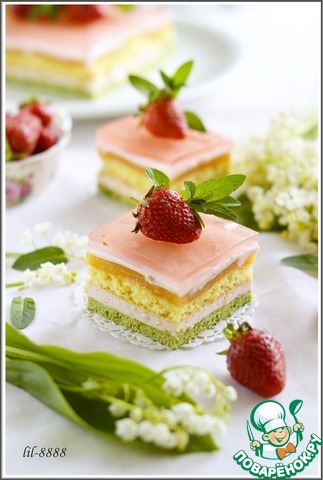 Delicate cake, fragrant, light, refreshing.
Ingredients
5 piece

150 g

130 g

100 g

50 g

0.5 tsp

0.5 tsp

0.5 tsp

500 g

160 g

30 g

550 ml

200 g

100 ml

1 tsp

250 g

200 ml

2 piece

2 Tbsp
Cooking
1. Mint biscuit. Mint, I took the leaves together with twigs to put in the bowl of a blender, add 1 tbsp. a spoonful of sugar. To break into a puree.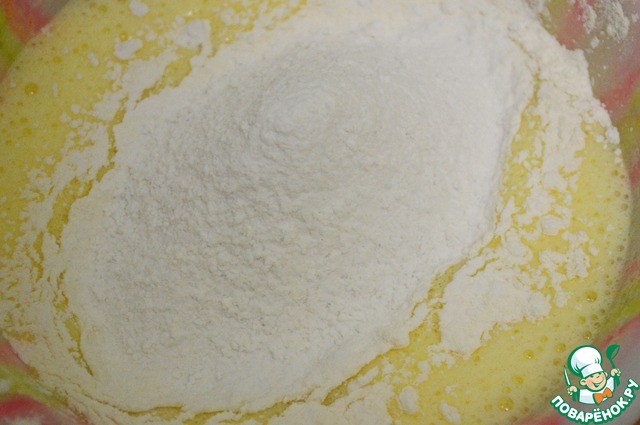 2. Beat eggs with sugar and vanilla sugar to increase in volume 3 times. Sift the flour with starch. Gently combine egg and flour mixture.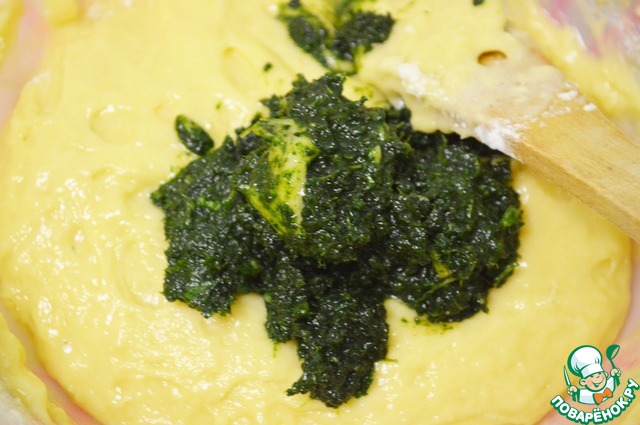 3. Add the mint, mix well. Baking tray lay a parchment, pour the batter and bake in a preheated 180C oven until done, about 15 minutes.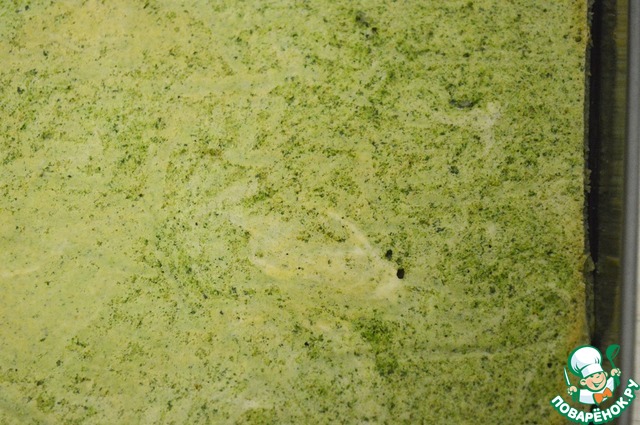 4. Then the sponge cake to cool and cut the cake 24*24 cm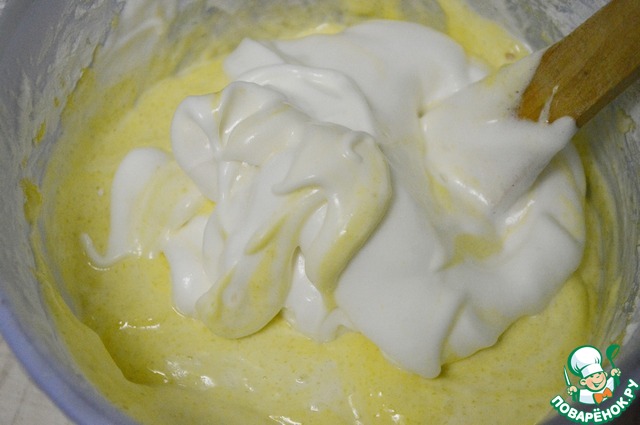 5. Starch sponge cake. In proteins add 2 tablespoons sugar and beat until strong peaks. Beat the yolks with the rest of the white sugar, adding the peel. In the yolks to enter the starch sifted with baking powder. Then carefully enter the proteins.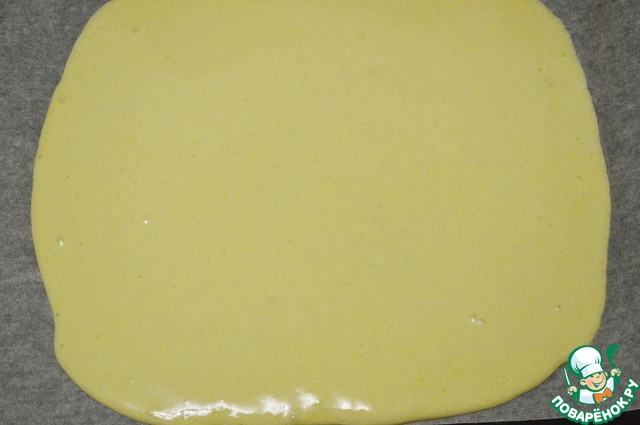 6. Pour the batter on the laid parchment baking sheet and bake in a preheated 180C the oven until cooked approximately 15 minutes.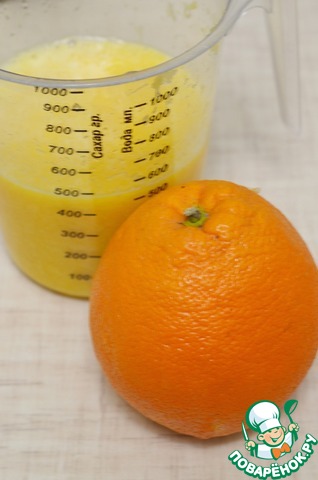 7. Orange jelly. Gelatin to dissolve in water, add in the orange puree.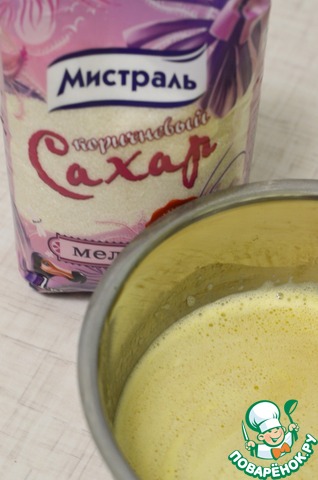 8. Add brown sugar, mix well. Pour the jelly into shape, covered with cling film and put into the refrigerator until cool.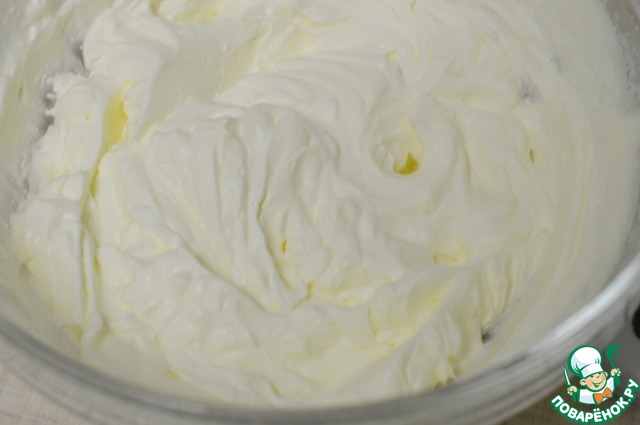 9. Mousse. Gelatin to dissolve in orange Frosch. Cream vzbit in a lush cream.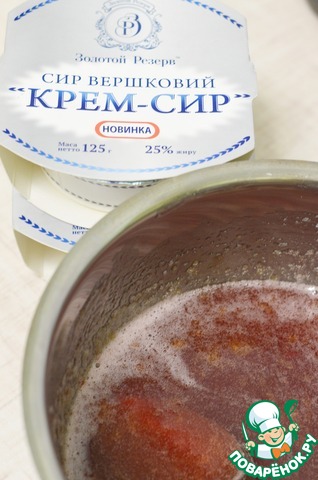 10. Add sugar to strawberry puree, gelatin, add the cream cheese and whip.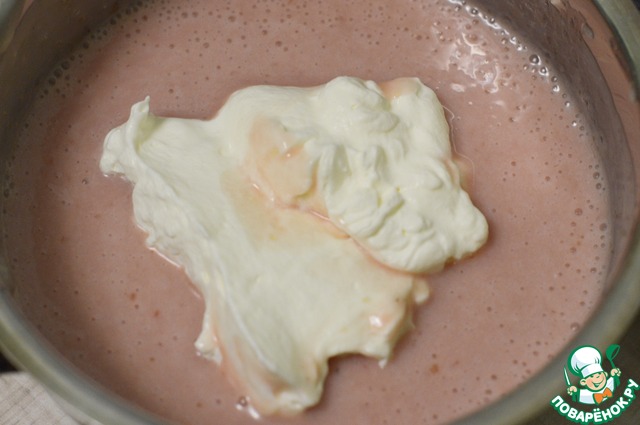 11. Then gently introduce the cream.
12. Shape cover with cling film. On the bottom lay a mint biscuit. Biscuit to impregnate fresh. On top put half of the mousse. Put into the refrigerator so the mousse has set.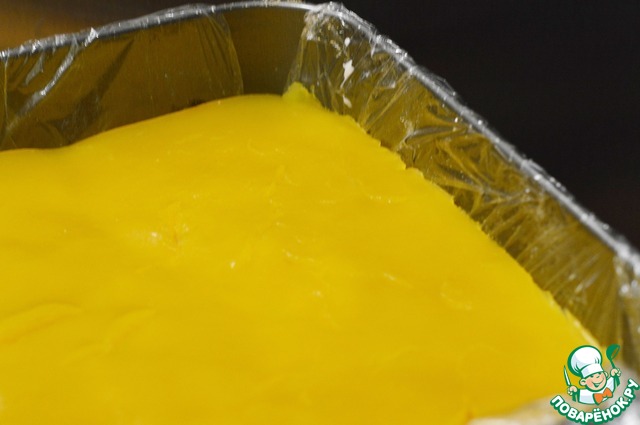 13. Then put the second cake, impregnate, then jelly, then remaining mousse. To remove the cake in the fridge to full hardening.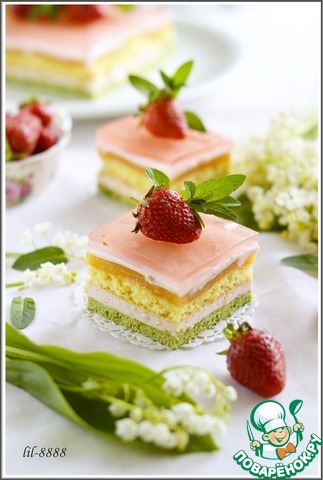 14. Fill. Sugar mix in a saucepan with the jelly to fill the cake. Water mixed with jam, pour into a saucepan, bring to a boil. boil for 1 minute. Cool slightly, pour on cake and remove in the refrigerator. Then slice the cake into squares and enjoy. Bon appetit!