Description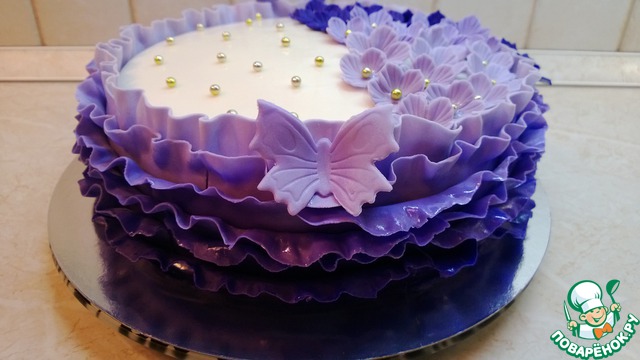 Cake decorated with fondant.
Ingredients
5 g

600 g
//= Yii::t('app', 'Total calories: ') . $recipe['ingredients']['total_calories'] ?>
Cooking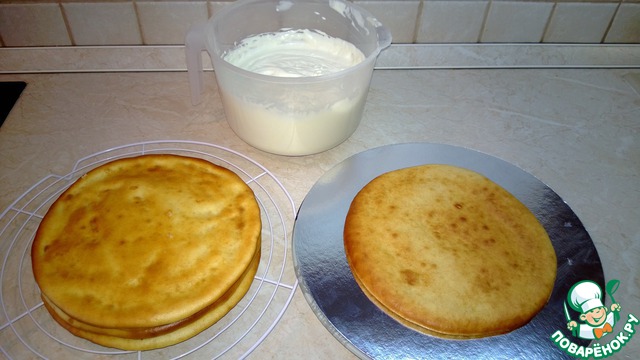 The basis - cake "Milk girl". Dough: - 2 eggs - 1 Bank of condensed milk - 1стакан flour 1 tsp. soda slaked 1 tablespoon vinegar cakes for the cake. Beat with mixer 2 eggs. Continuing to whisk, a thin stream add the condensed milk, slaked soda, sifted flour, beat well. The batter should be like thick cream. Preheat the oven at 180 degrees. On parchment paper draw a circle with a diameter of 21 cm to Do these 5 rounds. Spread 3 tbsp of dough and spread them inside the drawn circle. Bake in the oven for 5-7 minutes. Pull out, remove the parchment and leave to cool on the grill Cream. - 350 g of sour cream 25 % - 350 gr cream 33% - powdered sugar to taste, about a half-full glass. Sour cream beat with a mixer with half of the powdered sugar. In a separate bowl, whip the cream with the second half of powdered sugar. Carefully connect these masses.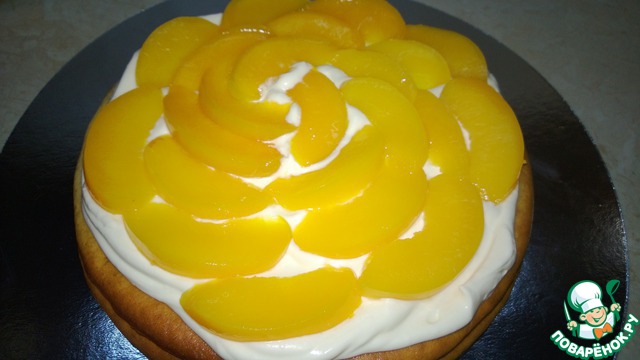 You can also add peaches or any fruit.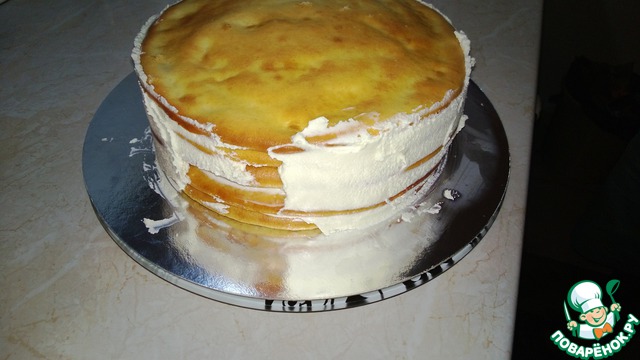 Cream under mastic (cream may not all be necessary). - 200 g butter - 200 g condensed milk Beat the butter at room temperature with a mixer incandescent. Not stopping to whisk, add the condensed milk.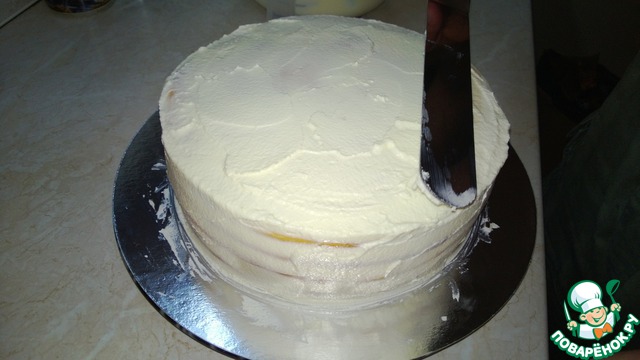 Cover the cake with butter cream. And put in the refrigerator to cream froze.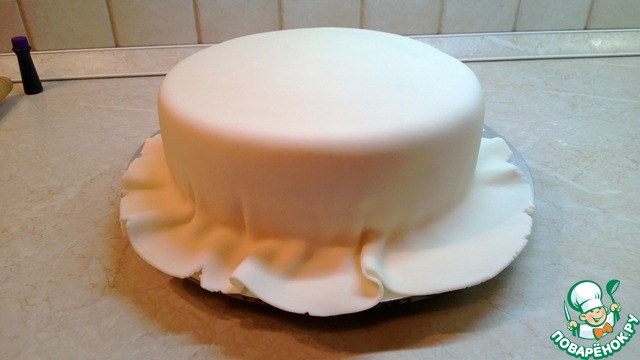 Mastic is a laborious process. I have the following recipe: 100 gr. marshmallow, 1st L. drain. oil to put in the microwave for 30 seconds, then gradually add 250 gr. icing sugar and knead the mass to a state of detachment from the owner. Put the prepared mixture in the fridge for a couple of hours. Remove from refrigerator and knead again to room temperature. Working with fondant, sprinkle table and hands with cornstarch.
Cover the cake with fondant white, align and smooths with hands or special plate.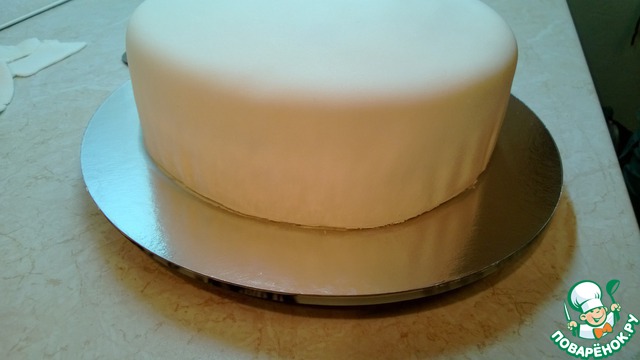 Cut the excess. And put the cake in the fridge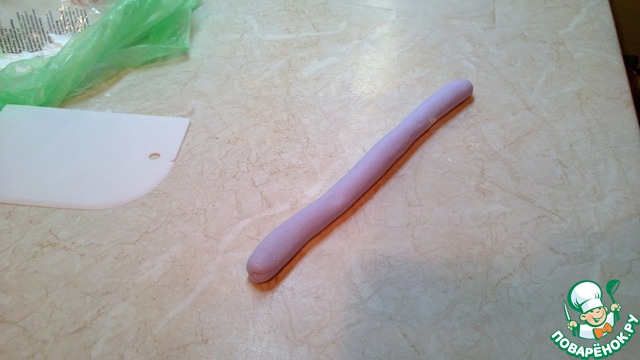 Mastic paint in the lavender color and roll out a sausage. Carry out a rolling pin and make strips measuring 25 cm in length and 3 cm in width.
And start to make the ruffles.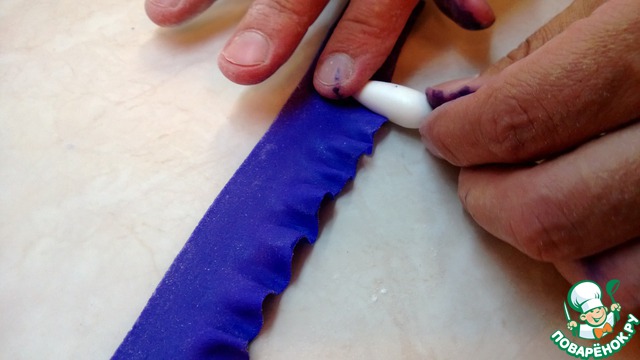 You need to take a pen to the base of the handle was smooth. On the edge strips, pressing down, making the shuttlecock.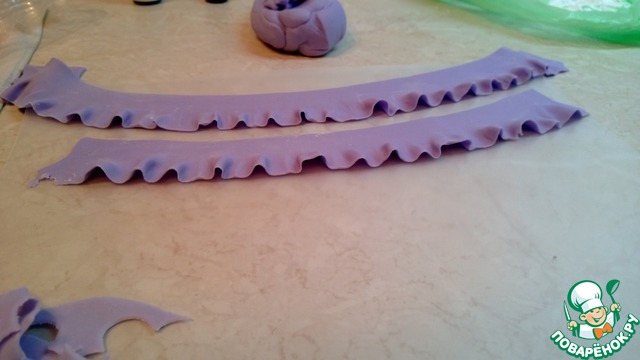 These are the ruffle work.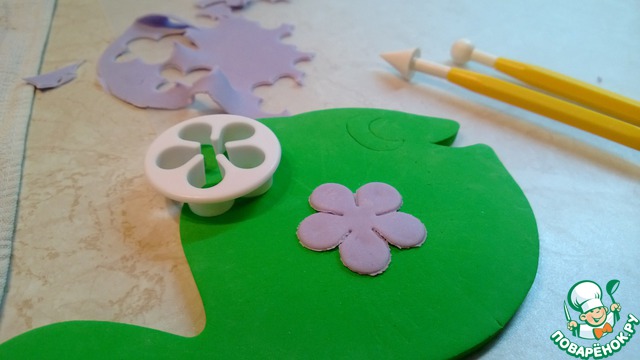 Do the flowers. Molds cut flower.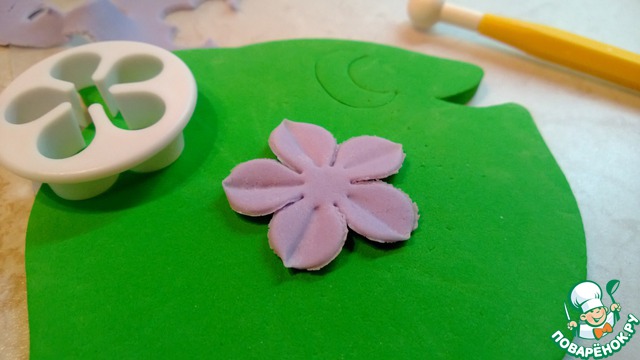 Make it structural. This can be done with a toothpick.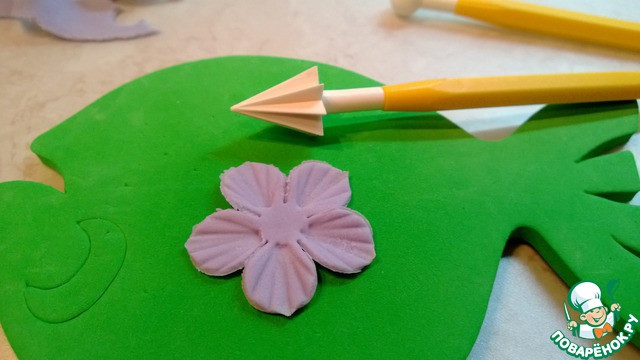 I have here a tool for structure.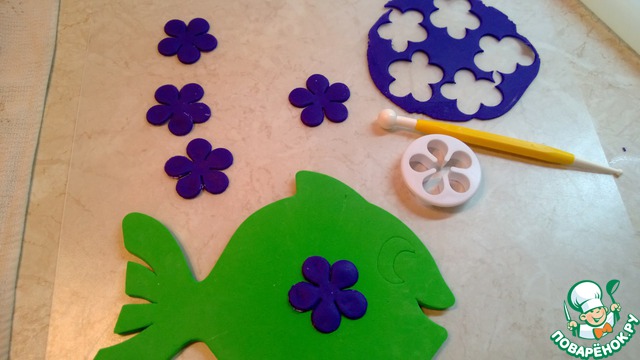 Add the dye and make the flowers darker.
Dried flowers for 3 hours. I use the trays from quail eggs.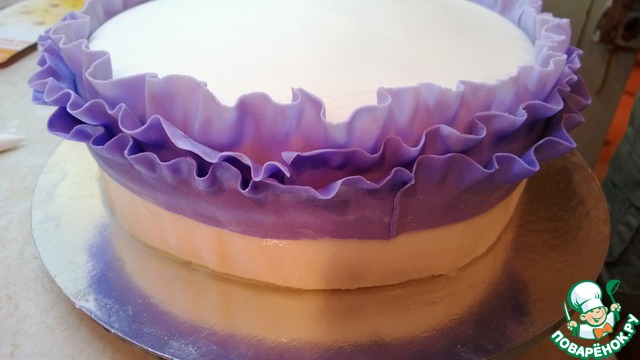 Before you apply the ruffle, grease paste with a solution of: water + honey. Apply the ruffle, starting at the top. Making the first circle. Again put in the refrigerator. Then add to the fondant dye to get a darker tone following a series of ruffles. This procedure will be repeated several times.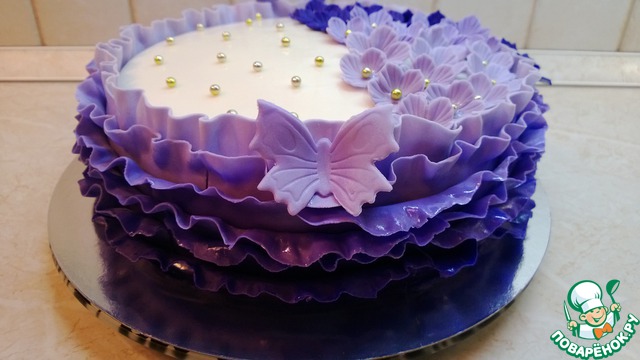 Top place our dried flowers. And decorate with beads. Put butterflies.