Description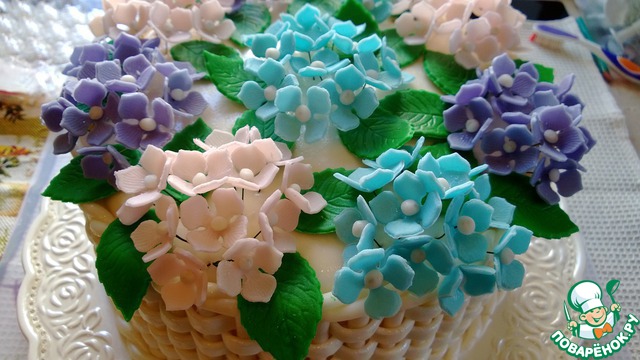 Here's a cake I gave my beloved Malacca. Spread MK this cake. Mastic.
Ingredients
700 g

10 g
//= Yii::t('app', 'Total calories: ') . $recipe['ingredients']['total_calories'] ?>
Cooking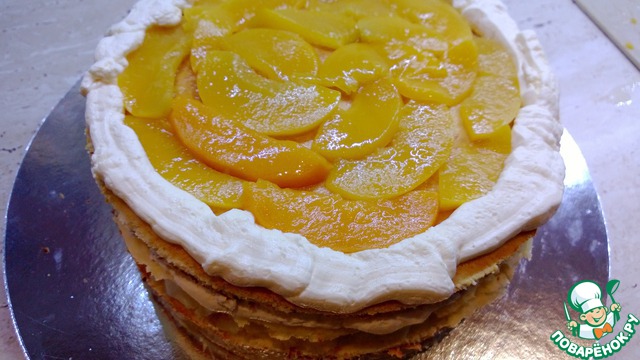 The base for the cake. 4 eggs 2 cups of sugar 150 grams of butter 1 Cup of unsalted soda water 3 cups flour 1 packet of baking powder 1 tsp baking soda top with vanilla so, beat 2 cups sugar 4 eggs, melt butter in microwave, add to the eggs with the sugar, continuing to whisk. Further reduce the capacity of the mixer, pour in the carbonated water Then pours into a Cup of flour, add vanilla, soda, baking powder, sent to the mix. mix with mixer, then add the remaining 2 cups of flour. All the dough is ready as sour cream turns thick. Next, take the form (26 cm), put baking paper, pour the dough and put in preheated oven at 180 degrees for about 30-40 mins Cream. Cream 33% 350 g whipping until stiff peaks One jar of 500 GRS Mascarpone. mash with 1 Cup of powdered sugar and mix with cream.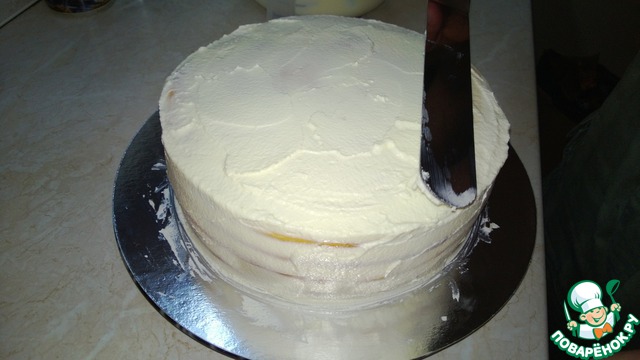 Cream under mastic (cream may not all be necessary). - 200 g butter - 200 g condensed milk Beat the butter at room temperature with a mixer incandescent. Not stopping to whisk, add the condensed milk. Cover the cake with butter cream. And put in the refrigerator to cream froze.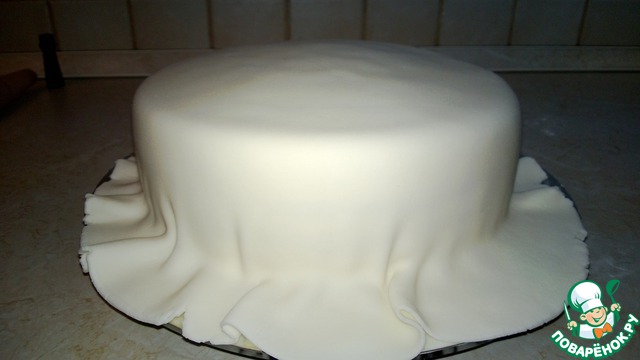 To prepare the sugar mastic we will need: 100 g marshmallows, 1tbsp spoon of butter put in microwave for 30 sec., then gradually add 250 grams of powdered sugar and knead the mass to a state of detachment from the owner. Put the prepared mixture in the fridge for a couple of hours. Remove from refrigerator and knead again to room temperature. Working with fondant, sprinkle table and hands with cornstarch. Cover the cake with fondant. Mastic leveling and trim off the excess around the perimeter.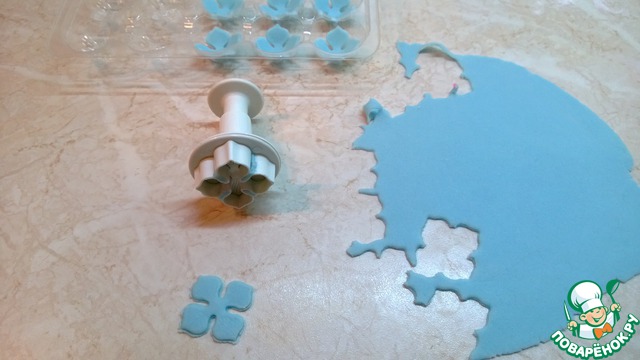 Fondant of different colors of cut flowers.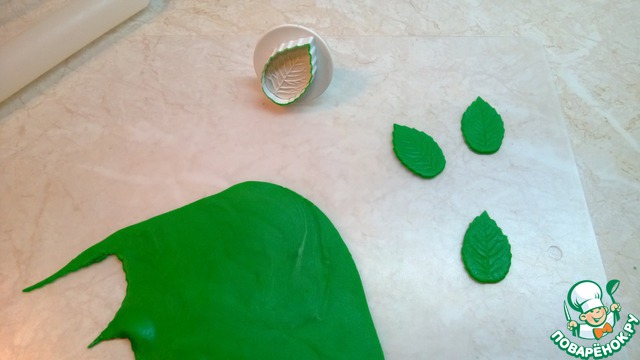 Also, we need leaves.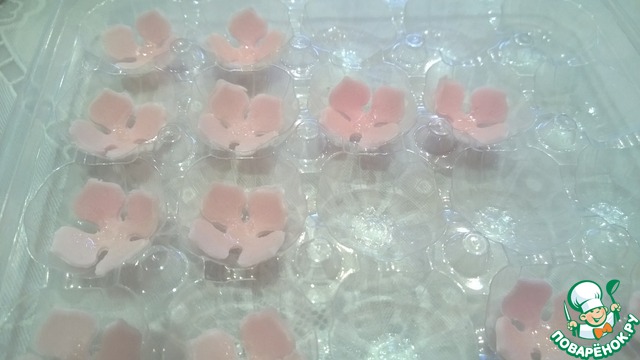 The dried flowers. I dry in the cells (packing from quail eggs)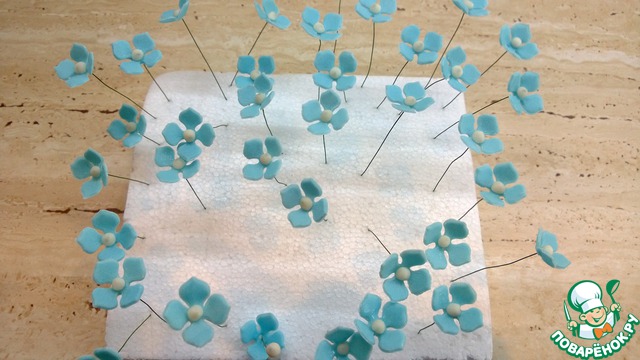 Dress up on a special wire flower. I bought the wire in a candy store. On the wire in advance to make white mastic bead. With the help of wire to make the center of the flower and a hole to thread the wire through the flower. Flower work with white middle.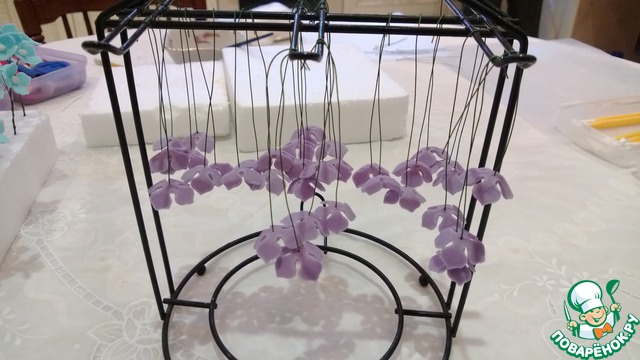 We dry our flowers.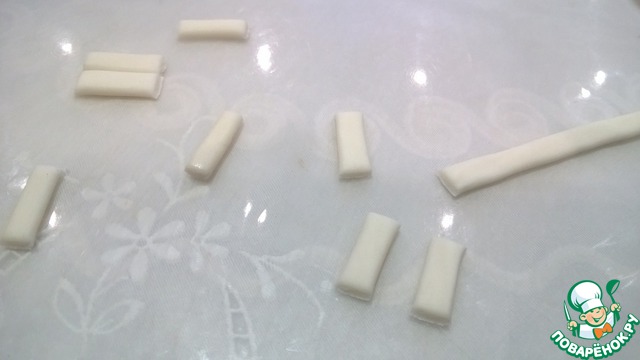 For the basket make the parts the same size. Size is equal to the distance between the bundles.
Cake (with a brush) at the mastic to coat with syrup - honey and water 1:1 Do the harnesses and fasten around the perimeter of the cake. Begin braiding. Small parts in one circle is inserted between the bundles. It turns out the weave.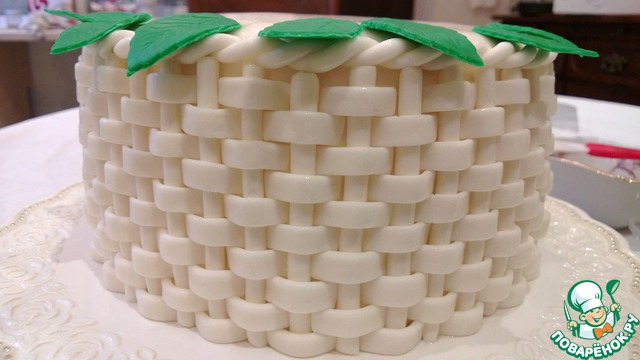 Cover the cake khandurina (dry paint with glitter) dry brush on the weave. On top decorate with leaves.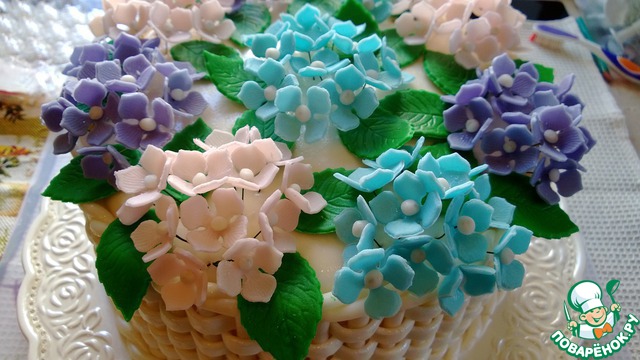 Placed on the cake flowers. Our cake is ready. Good luck!