Description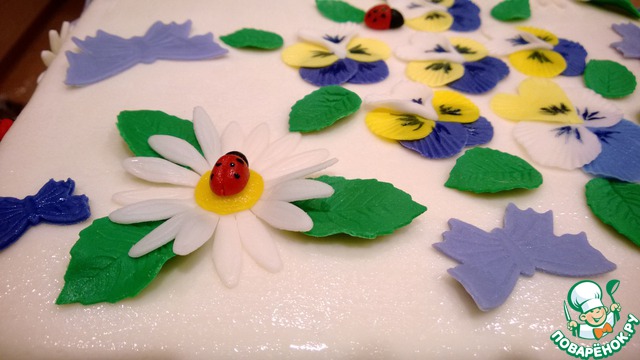 Dear cooks! Here's a cake I made for my aunt's birthday. She loves flowers, daisies and pansies. Outside the window the autumn, and I wanted to make a cake of the summer. Spread the MK cake.
Ingredients
1400 g

20 g
//= Yii::t('app', 'Total calories: ') . $recipe['ingredients']['total_calories'] ?>
Cooking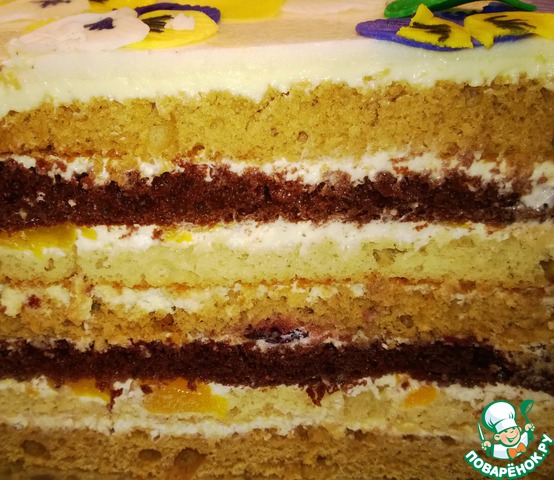 The base for the cake. I must say, I had a big cake. Cakes baked on a large cookie sheet size 35х40 see the Cake wonderfully tender and tasty. Melts in your mouth. Cakes prepared quickly and easily. The first cake: CARAMEL 2 eggs +1 tbsp. sugar + half a tin of condensed milk a Cup of sour cream 20%, 2 cups flour, 1 tablespoon of baking soda, slaked vinegar. Mix everything and bake. Second cake: CHOCOLATE 2 eggs+1 tbsp. sugar+ half a tin of condensed milk a Cup of sour cream. 1,5 tbsp. flour 50 g cocoa 1 tbsp. soda, slaked vinegar. Mix everything and bake. The third layer: MILK 2 eggs +1 tbsp. sugar+ 0.5 cans of condensed milk+ 1 tbsp. sour cream 2 tbsp. flour 1 tbsp. soda, slaked vinegar. Bake. at 170*C for 15 minutes Cream: Whipped cream with sour cream (it took me 1.5 liter of cream+500 grams of sour cream 30%), sugar (to taste). I have soaked the cakes compote from canned peaches and liqueur Baileys. Added sliced peaches and cherries between the layers. Cream under mastic. - 200 g butter - 200 g condensed milk Beat the butter at room temperature with a mixer incandescent. Not stopping to whisk, add the condensed milk. May need more cream. Cover the cake with butter cream. And put in the refrigerator to cream froze.
For this cake you need three servings of mastic. The recipe is for one serving. To prepare the sugar mastic we need: 100 grams marshmallows and 1 tbsp. butter put in microwave for 30 seconds, then gradually add 250 grams of powdered sugar and knead the mass to a state of detachment from the owner. Put the prepared mixture in the fridge for a couple of hours. Remove from refrigerator and knead again to room temperature. Working with fondant, sprinkle table and hands with cornstarch. Cover the cake with fondant. Mastic leveling and trim off the excess around the perimeter of the cake.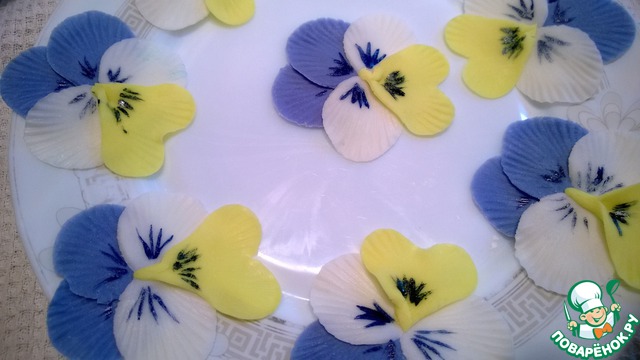 Of mastic different flowers produce flowers. For pansies, we need purple, yellow and white palette. Cut out the circles with a toothpick and make a relief on the petal. Connect two purple, two white and one yellow (cut out heart). Interconnectable. Allow the flowers to dry. Draw a brush the middle of the flower.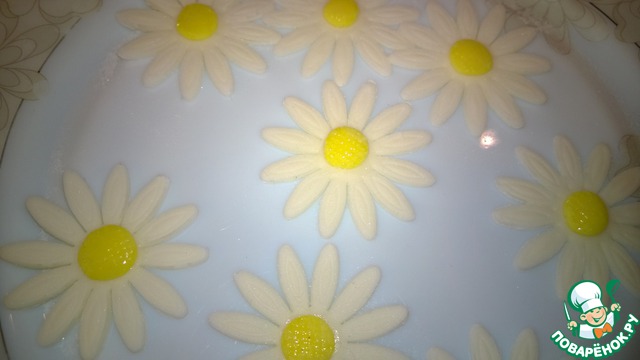 Plunger cut out daisies and a yellow center make corrugated, with the help of colander. Allow the flowers to dry.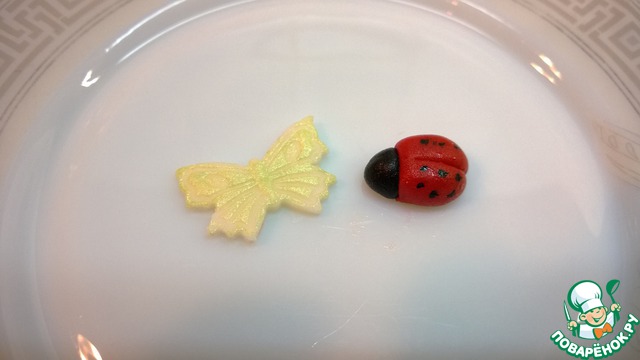 Do red and black mastic ladybug. Black dye, apply dots to the ladybug. Plunger make butterflies of different colors.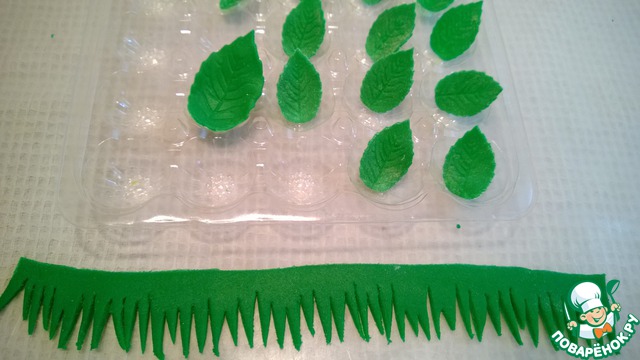 Pot be done by means of scissors or knife. The leaves with the plunger.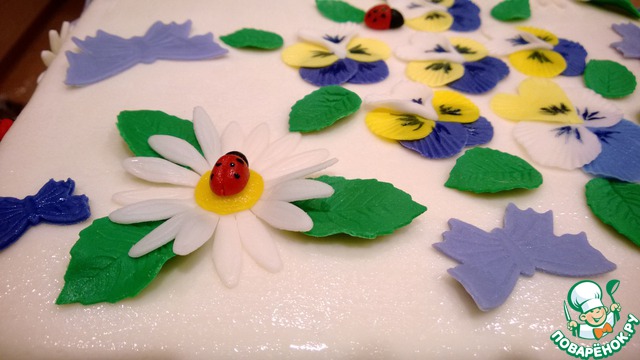 Decorate the cake with sugar products.