Description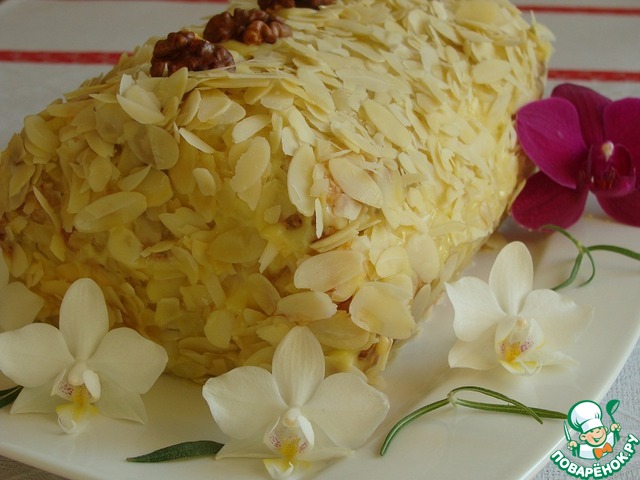 You want home-made cake and don't want long to bother with him? Then this recipe is for You. Quick, a little expensive, but very tasty cake. A real taste of home. Prepares quickly in the kitchen you will stay no more than 30 minutes, will only have to be patient and give the cake to infuse.
Ingredients
750 g

100 g

1 l

4 Tbsp

4 piece

0.75 cup

1 pack

150 g

4 Tbsp

1 piece
//= Yii::t('app', 'Total calories: ') . $recipe['ingredients']['total_calories'] ?>
Cooking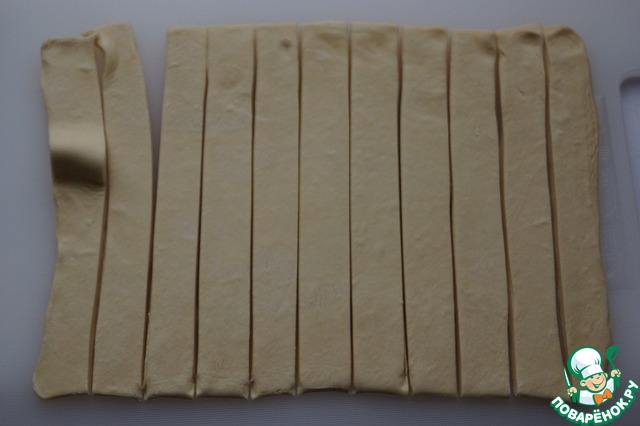 Puff puff dough is rolled and cut into strips with a thickness of about 1.5-2 cm Spread on a baking tray, greased (I have a silicone Mat). Put in a preheated 180 degree oven for about 12 minutes. "Logs" have a good Zabolotets.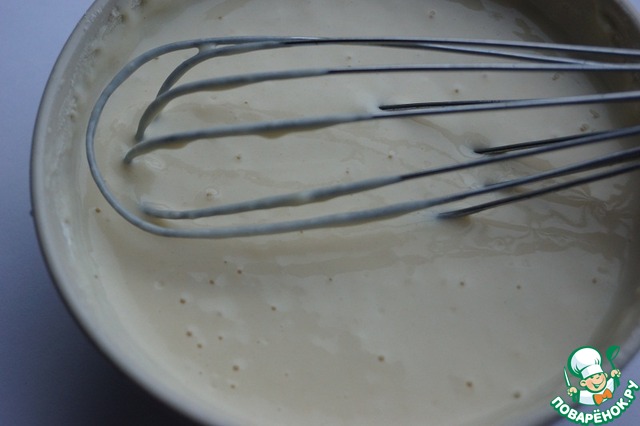 Meanwhile, make the custard. You can make your favorite recipe or to cook a very simple cream mix condensed milk with butter. Or boiled condensed milk with butter - also very tasty. For the custard, I first in a bowl pour the flour and then in a thin stream, constantly stirring, pour in milk (took a part from the total volume 1 liter). I do so to avoid lumps. The mass was similar to thick cream, add the yolks of eggs, mix thoroughly.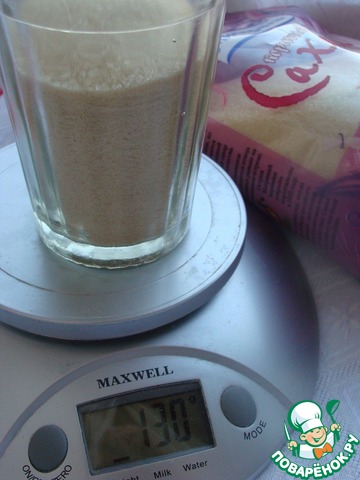 And add sugar 0.75 Cup - 130 grams. Who like really sweet cream, add the full Cup of sugar.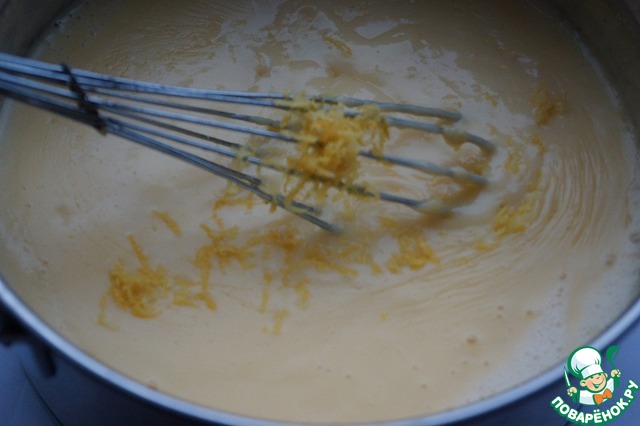 Put the remaining milk on the stove, gently pour the mixture into it, stirring constantly to avoid lumps. And mix cream, without leaving him even for a minute, until it is thick. The cream almost to a boil but do not boil. Cream remove from heat, cool to room temperature (I put the pan in a bowl of cold water), add the butter at room temperature and carefully to knock with a mixer. Add the zest (lemon or orange), vanilla sugar and condensed milk. I love the cream taste of condensed milk, although it is there not necessarily. So if you want can add. The cream is ready.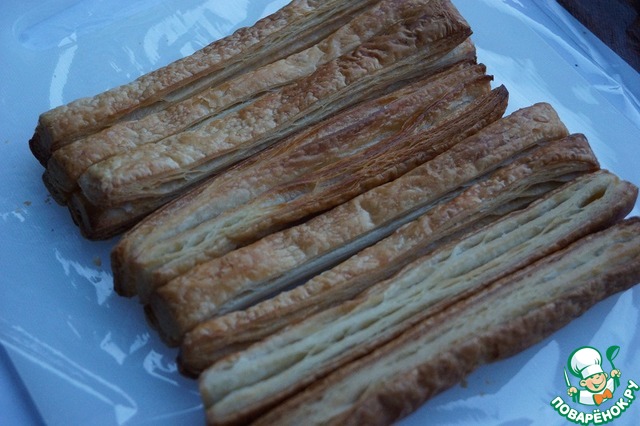 Got ready logs from the oven. When rolling out the dough I was in a hurry and not roll the dough - you see, I have a bit of a tall happened. The taste is not affected, just to soak the cake will be a little longer. So roll out the dough thinner, to approximately 3 mm.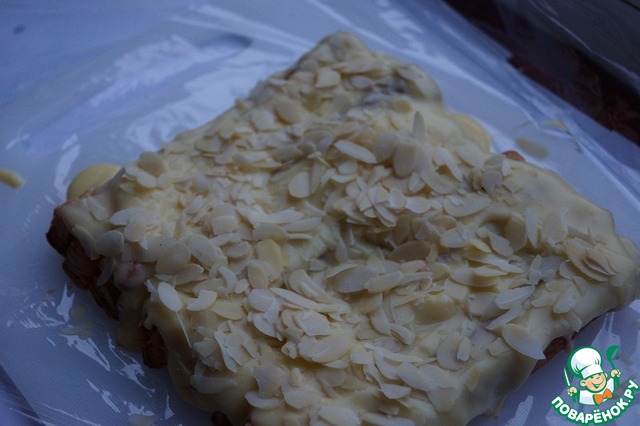 Take plastic wrap, put on it a number of logs, the top profusely pour cream (cream not regret, he must leave all) and generously sprinkle with almond petals. Almond plays a major role, so it is not advised to save.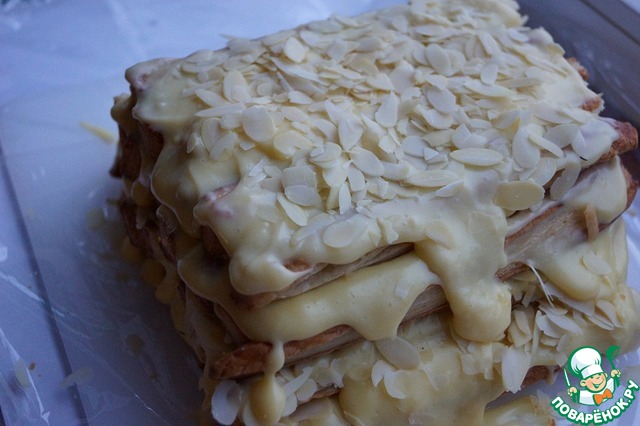 On the first row of the second spread, as well the lubricated cream and sprinkle with almonds. Do not be afraid that the cream "poured", it is then completely absorbed into the dough.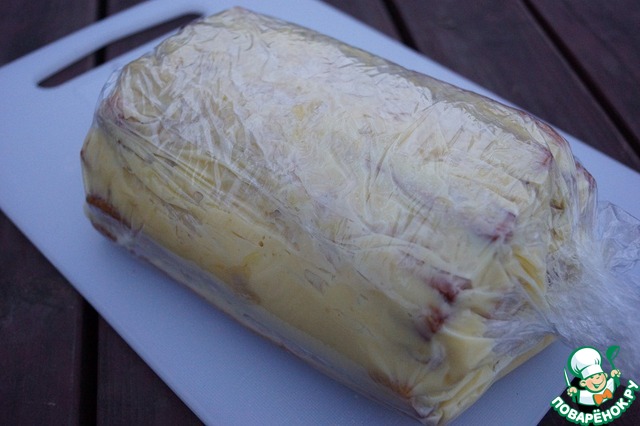 The cake was collected, spun the piece of wood tightly with foil (tightly). Hands give the cake the shape of the log and leave to infuse. The first hour I keep it at room temperature, then put into the fridge. Best on the night.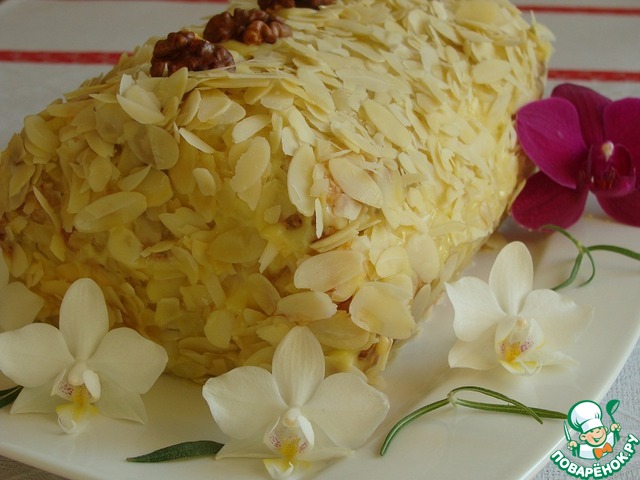 The present took the cake, sprinkled the top with almonds, and calls all to the table. Tender, moist, moderately sweet cake. Almonds, filled with cream, making its touch and slightly tingling. Delicious. And not troublesome. Help yourself! Recipe peeped on the website of HP the user Lerele and not once tested me in different variations of cream and various guests. Always causes a storm of positive emotions. So You all recommend to prepare!