Description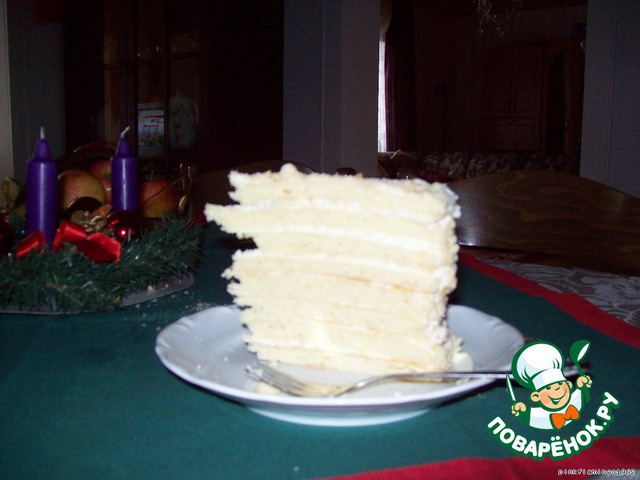 I know you will say - there are already so many recipes "sour cream". Yes, I agree with You. But my recipe is completely different. The cake just melts in your mouth in the literal sense of the word. Very gentle, not cloying.
Ingredients
800 g

3 piece

3 Tbsp

6 Tbsp

2 pack

0.5 tsp

7 cup

4 can

1 pack
//= Yii::t('app', 'Total calories: ') . $recipe['ingredients']['total_calories'] ?>
Cooking
It's the ingredients we'll need for the test.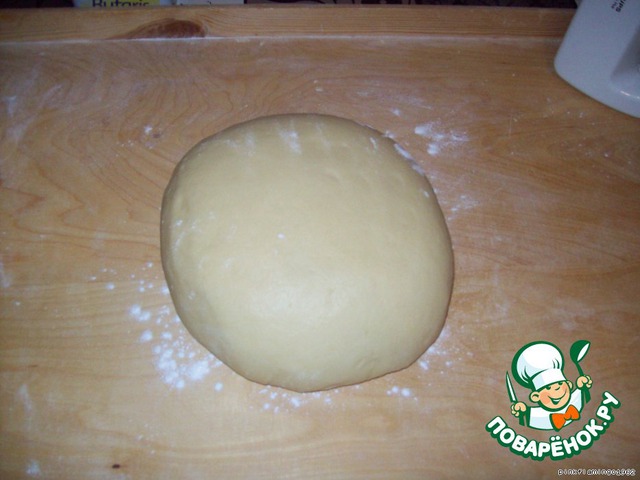 In the Cup, where we will knead the dough, spread the sour cream. Add 2 sachets of baking powder and mix (the baking powder is extinguished as soda). Then add eggs, vegetable oil and ghee, stir, add sugar, knead it and start gradually, stirring, pour the flour. The dough should be soft, pliable, to be able to roll out thin cakes. Not stick to hands. The finished dough to rest for 30 minutes to rest. After resting divide the dough into parts - I do it 8 parts. Each piece roll out into a thin layer about 5-7 mm. And bake in a preheated 200град. oven until light brown, do not overdry it, otherwise it will be hard, cares not for long. I put a sheet of baking paper, rather, I directly on paper roll dough. As soon as you pulled the finished cake out of the oven, cut a stencil - I have a plate, round, trim folding in a Cup, you will need it later.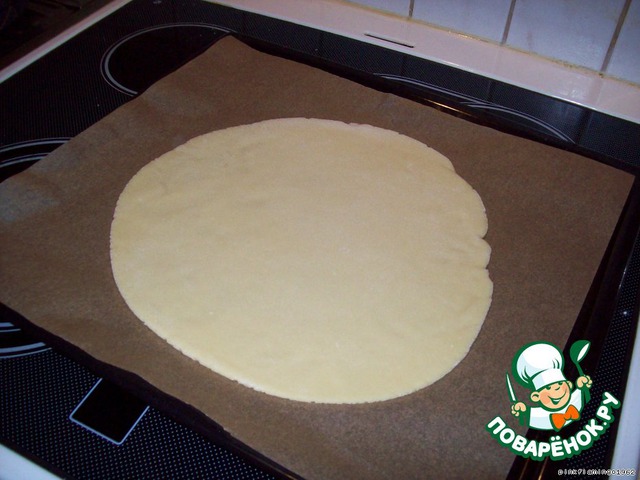 Here are the cakes I rolled out.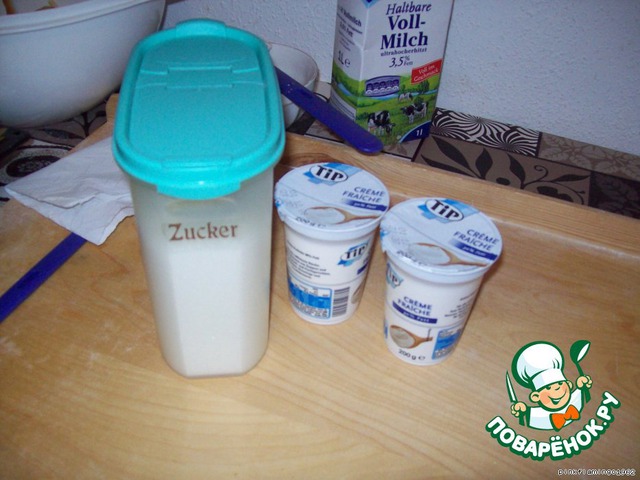 These are included in our cream. Here I only have 2 jars of sour cream, but this amount of cake have 4, I had to do the cream again, not enough.
Sour cream put in a Cup and start whipping with a mixer, powdering sugar. Whisk until fluffy and stable mass, you can add the vanilla sugar, forgot to take a picture.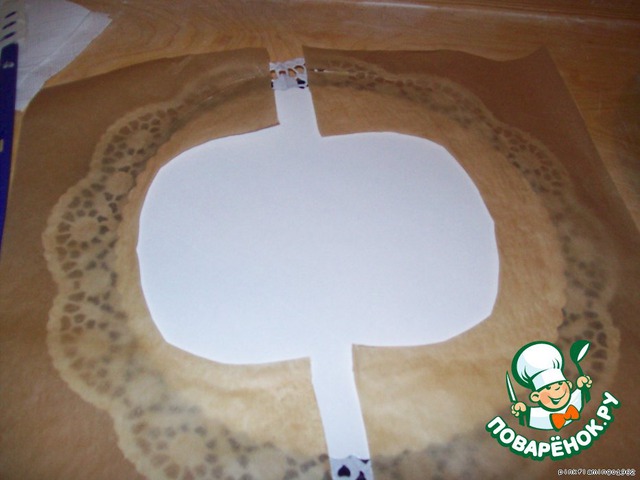 I always cover the cake directly on the cake stand, so you do not suffer it to pass. And so our stand was clean, I cut a piece of baking paper, fold it in half and cut in the middle of a circle, small. Then the resulting frame is cut in the middle into 2 halves. Put the paper on the stand so that it was closed - its edge.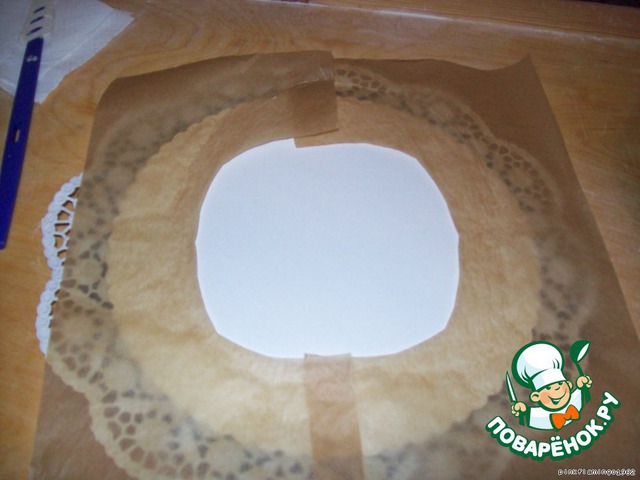 So. Put the cake on top, cover with cream, another cake - cream - and so until all the cakes are not greased. Of this amount, the test is better to do 2 cakes for 4 layers each. I did this time, one high and regretted. Better 2 not such high. But this, of course, at your discretion.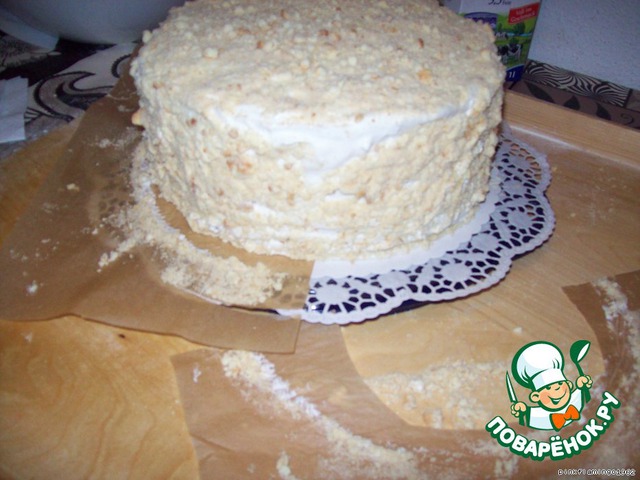 All cakes covered with cream. Now proceed to the sprinkles. Trimming grind in a blender or meat grinder or whatever you like and throw the cake top and sides. You can now remove the paper, which is underlain by the cake stand was clean.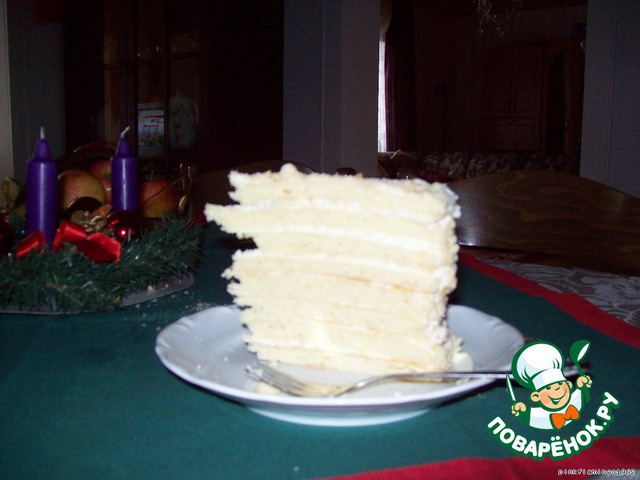 This is a cake to cut. Me and all my friends and family this cake very much. It really melts in your mouth when you eat it with tea or coffee. I wish you all a pleasant tea or coffee!!!