Description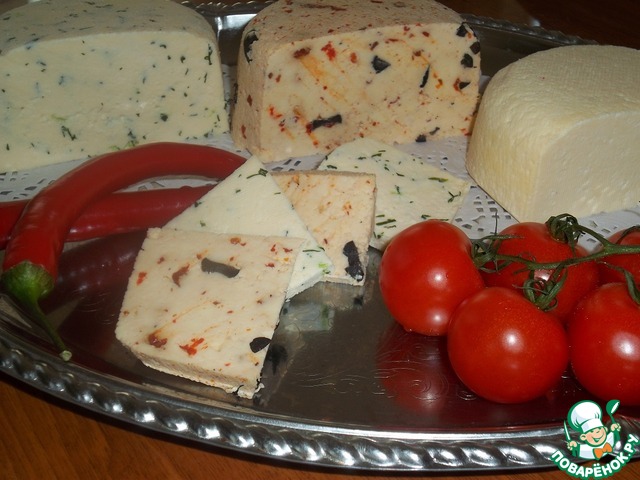 As they say – "it was evening, there was nothing"... Sitting at the computer, the wife is at work, kiddo eats a cheese sandwich... and I came up with the bright idea – that's more than was not engaged in its long and nasty life – so it's cheese-making... Well – all sorts of petty and ricotta did not interest me, but the cheese home – a good thing! As a result of several experiments brought a recipe that suited my family. Of course it's not cheese - but delicious! And easy! And fast! Although the whole process takes about a day, but "real" time You will spend no more than 2 hours...
Ingredients
1.5 l

300 g

4 piece

40 g
//= Yii::t('app', 'Total calories: ') . $recipe['ingredients']['total_calories'] ?>
Cooking
1,5 l milk poured into about 2.5-3 quart saucepan and boil over low heat, stirring frequently. As soon as it started to boil (follow the bubbles), add salt. Stir constantly...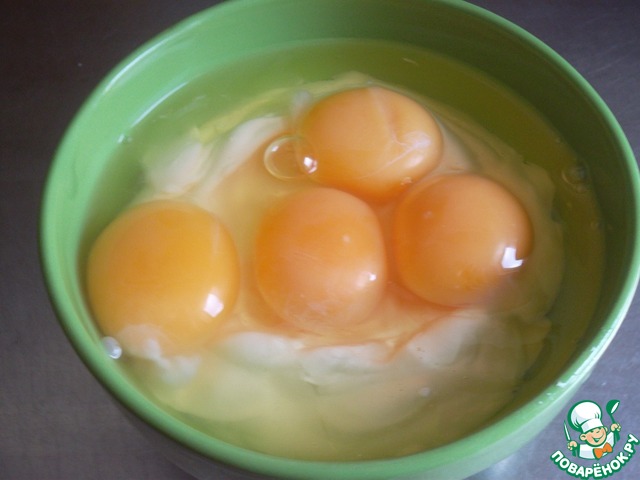 In a separate bowl put 300g of sour cream and beat 4 eggs...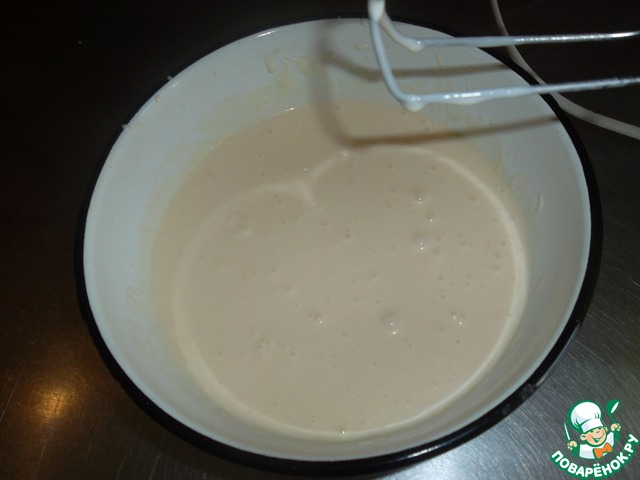 Lightly whisk the sour cream with the eggs with a mixer or whisk – someone like that...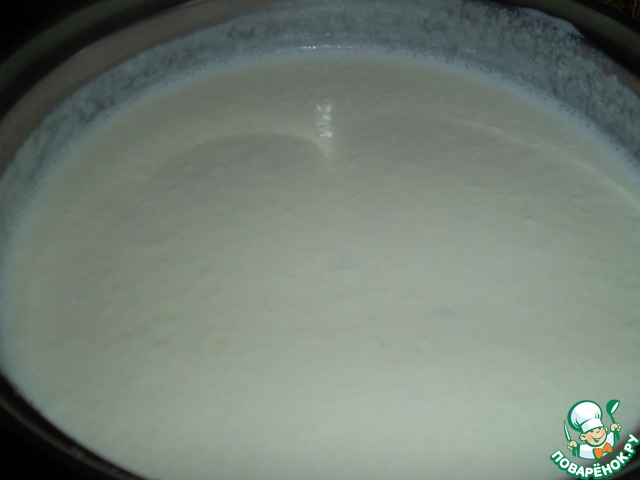 Pour the mixture into a little "bubbling" of the milk, boil 5...10...15 minutes. The time of boiling depends on several factors, so I have adapted to determine this case on the appearance of milk and cleanliness of the spoons.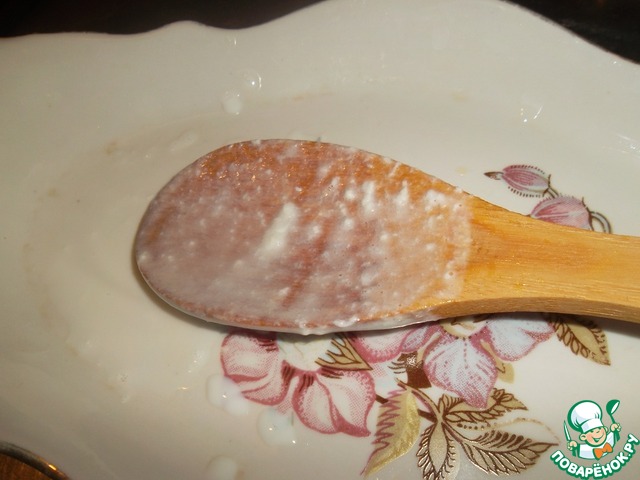 The residue on the spoon - it's not ready...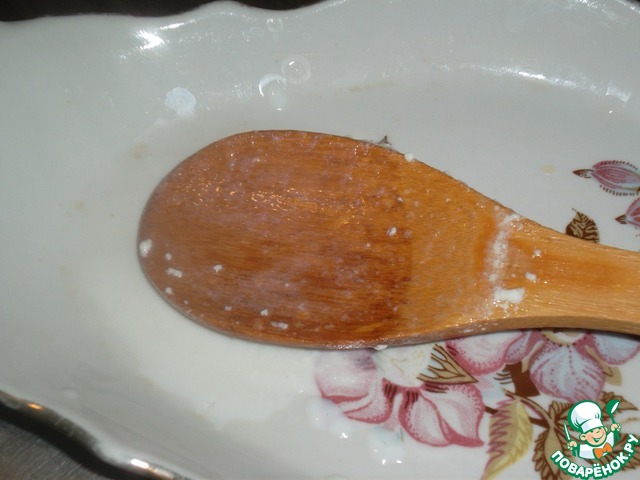 And that is what we need...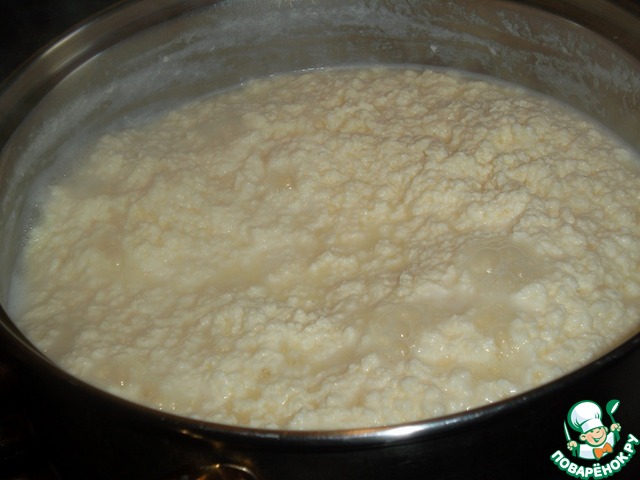 That's about as...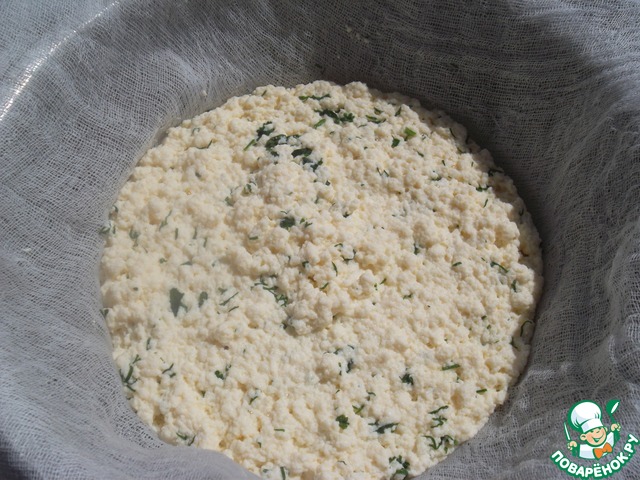 A large sieve covered with gauze two to three layers. Express. When the mass has cooled down a bit – hung it in cheesecloth for an hour or 3...4 on a thread of a vessel that the glass would be extra fluid...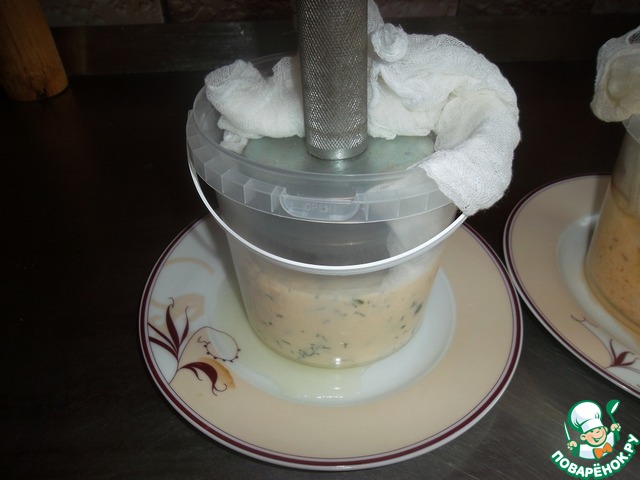 Send opressovka. Right in the gauze. For this you can apply some thread form of the type of screen, you can simply spin into a cheesecloth and put between two dosochki. I did so – liter plastic jedrysek cut out the bottom and got a perfect "form". About the press more than the weight of the press – the denser cheese. For us (optimum) choice press weight – 2 kg (can be put 3). Adapted for this purpose, the conventional dumbbell. And the size of it to my homemade forms are suitable. Stand under pressure for about 12 hours, and then another 5...6 hours in the fridge...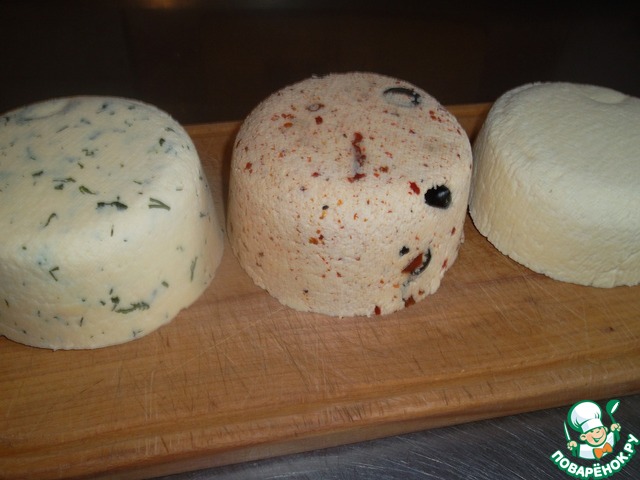 Here is the result. In this photo - 3 "heads" of cheese, 500 g each (approximately). This is from 4.5 l of milk...
Now about "fillers". Here opens a boundless space for Your imagination. I did a "clean" cheese, made with herbs and made with olives and spices, made with mushrooms and is planning to cheese with shrimp ... the Essence here in what: when boiling milk with sour cream and eggs after mass "has storoies", somewhere around 2 minutes before the end of the process you need to add "filler", be it herbs, olives or something else, mix well, stand in the fire and drain... Option 1 will Take a bit of your favorite fresh greens (I dill and cilantro) – 30 g. Wash, dry, chop. Add in weight for a couple of minutes until tender... Option 2 will Get 7...9 black olives without a stone (27...30g), cut them in rings, wash and dry. The spices I added are (1.5 tsp.): sweet pepper dried (flakes) – 2 parts Cayenne pepper (finely ground) – 1 piece, tomato dried (flakes) – 2 parts... just add it all in a couple of minutes to uzivanie... Option 3 Mushrooms bake on a sheet in the oven. It will bake! Cut to medium dice and add 30...35 g two minutes before "off the fire"...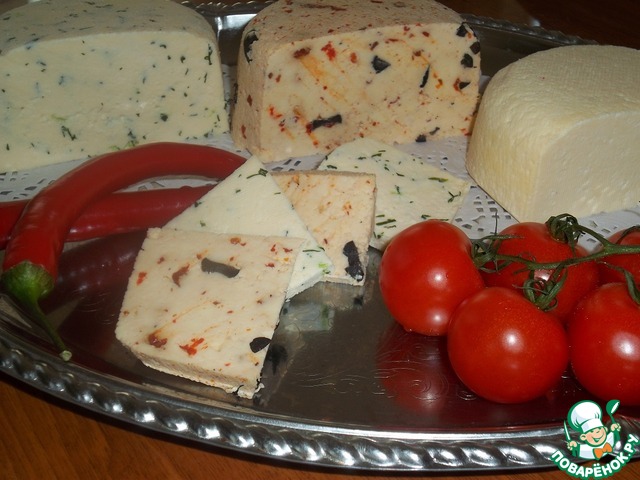 That's the whole recipe. Cook health!!!