Description
FETA cheese can be made at home. The recipe has long looked after on the Internet, so I made it. The resulting cheese I liked more than the shops. He is fatter and the salinity can be adjusted by yourself.
Ingredients
1 kg

1.5 l

150 g

1 tsp

0.5 tsp

7 piece
//= Yii::t('app', 'Total calories: ') . $recipe['ingredients']['total_calories'] ?>
Cooking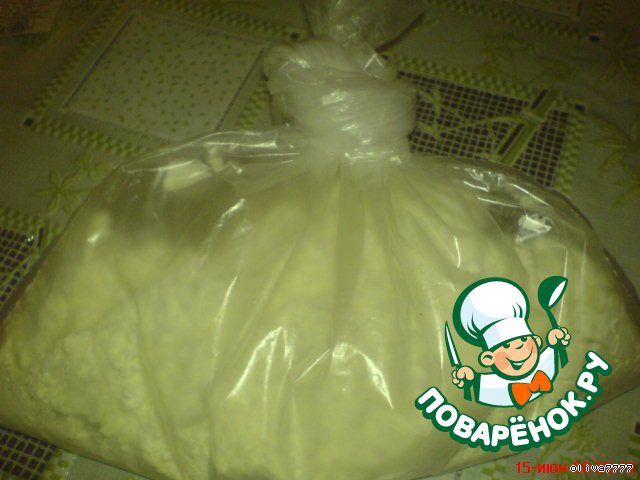 This was the original recipe, but I think that every woman brings to any recipe changes. I thought cheese would be delicious, and took other proportions.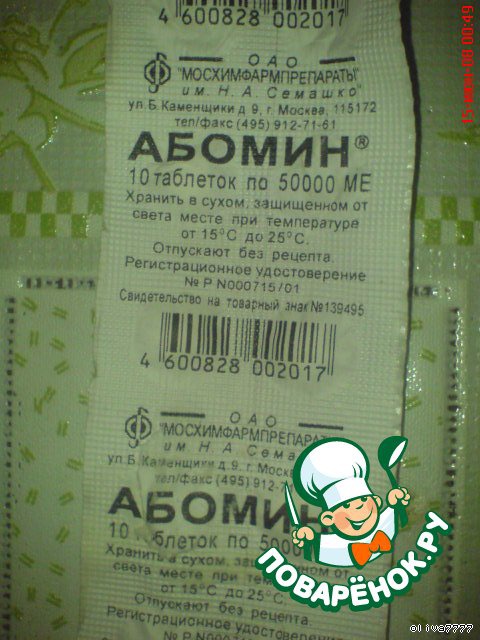 600 ml of boiled water cooled, it was slightly warm (35 degrees). Dissolved in 400 g of powdered milk. Stirred with a whisk to avoid lumps. Then added 100 grams of sour cream, and again quickly prevented with a whisk (not electric). Rennet tablets I took 3 pieces and pre-dissolve them in boiled cool water (no hot). Now in this milk mixture, I added dissolved tablets and intensively stirred. Then added 0.5 tsp of vinegar and again, very quickly stir the milk mixture. All components should be ready and on hand to to produce quickly and to milk mixture was a little warm. http://www.recipe.ru/docs/ls/index.php?action=descr-drug-table&drugid=2953&type=iname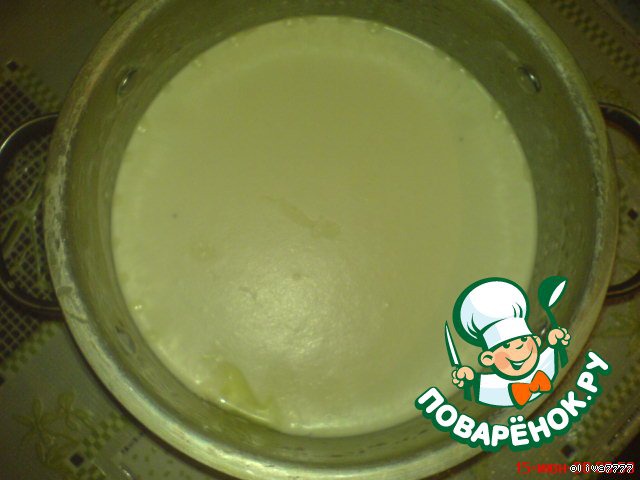 Now the saucepan, in which everything was mixed, I wrapped the quilt and need to leave in a warm place, but I couldn't find, and I left on 12 hours just wrapped in the duvet. After 12 hours of aging, my cheese had to look like this: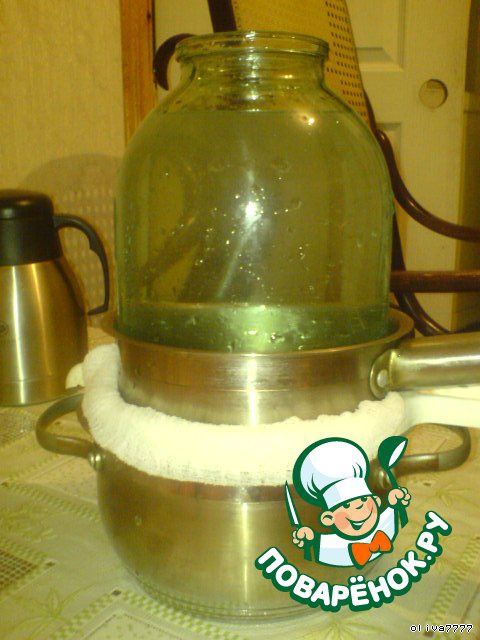 Now I had to press the whey from it. I put on a plastic colander cheesecloth, folded in half, it posted a cheese. The colander I installed it on the same pan. On top of the cheese, I put another pan of smaller diameter. And in this pan I placed a three-liter jar with water, for oppression. At this time, the cheese can be any shape, not afraid if it will break.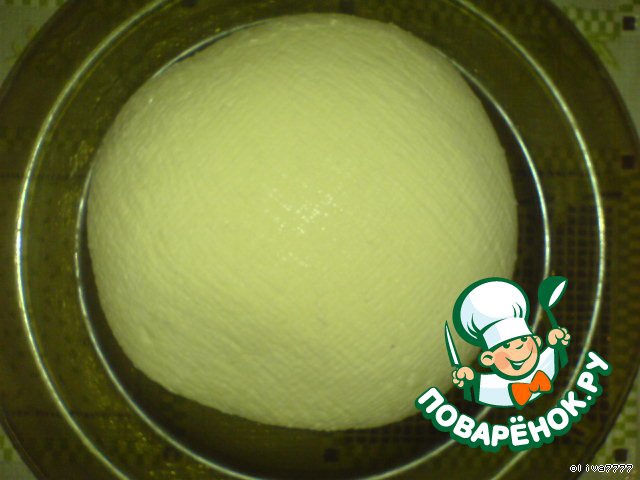 The original recipe says to keep under the load takes 5-6 hours. I lasted 10-11 hours. Put it on a plate, and I have had to look like this: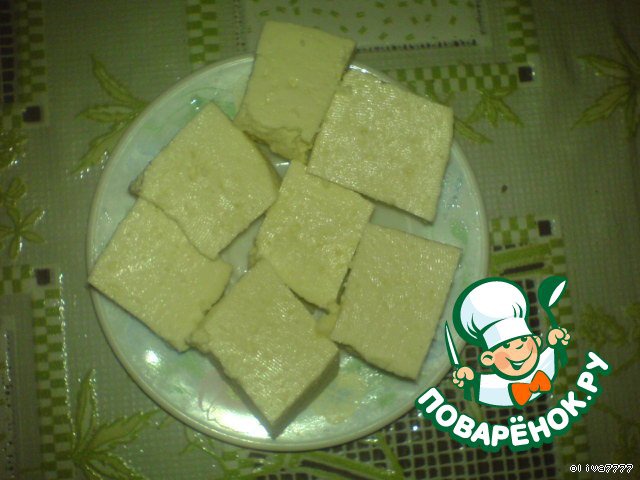 Cut with a knife into pieces. In the recipe warned that every time a knife dipped in water, so the cheese did not stick to it. In my case this did not happen, I think for two reasons: 1) more laid rennet tablets 2) more controlled, respectively, more serum was separated. And separated by approximately 2 cups.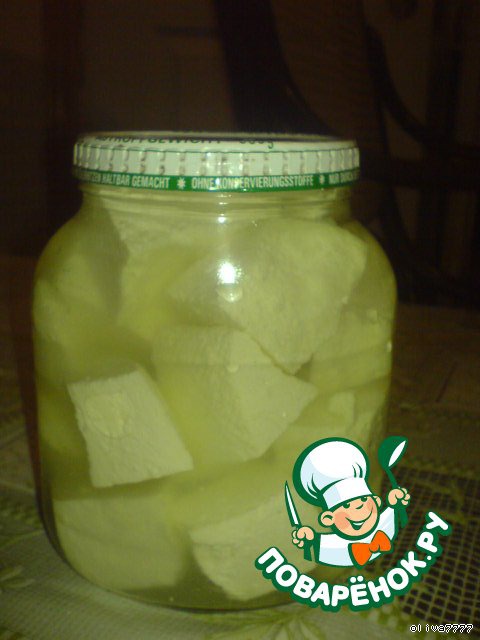 Boiled water, cooled and added salt to your taste ( the original offer salt solution to check the egg if it did, then any solution ). Put cheese slices in a clean jar (750 ml ), and carefully filled with a solution. It is said that this cheese needs to soak in brine for one week. The longer he stays in the brine, the tastier it will be.
After 10 minutes, I tried cheese. I didn't think he would be so tasty on this and did a small portion. And then put the water to boil for another serving ( good milk and sour cream left ).
The cheese turned out spongy, yellow, fatty. It is not long lay in the brine, so the chocolate was top salty and tender inside. Honestly didn't expect it to be so, and therefore delayed the preparation of it. Now I'll be able to cook Khachapuri, Ossetian pies, Greek salads and vertuty with cheese.
I WAS VERY PLEASED WITH THE RECIPE FOR THIS CHEESE!!! AND THANKS TO THE AUTHOR IT!!! I THINK THIS CHEESE WILL NOT BE TRANSLATED IN MY FRIDGE!!! FROM ONE KILO OF POWDERED MILK, IT TURNS OUT TWO KILOGRAMS OF CHEESE!!!