Description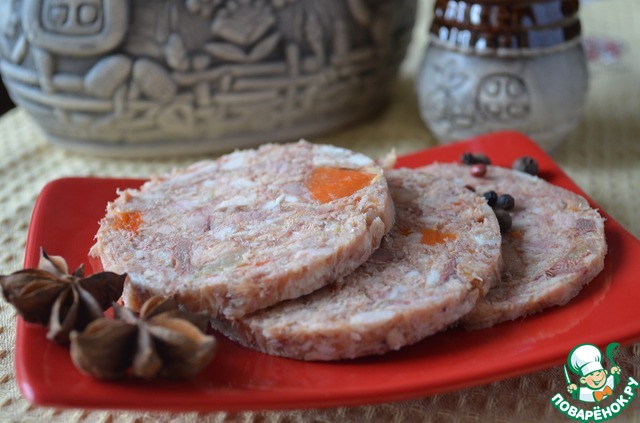 Dear Cooks, today I want to share with You the recipe for a great homemade ham which with ease will help prepare multivarka Vitek VT-4210ВК. This ham is much tastier than store bought, and most importantly - You will know what she cooked. This beauty can be prepared without little helpers - on the stove or in the oven.
Ingredients
3 piece

600 g

1 piece

1 piece

0.5 piece

30 g

3 tsp

6 tooth
//= Yii::t('app', 'Total calories: ') . $recipe['ingredients']['total_calories'] ?>
Cooking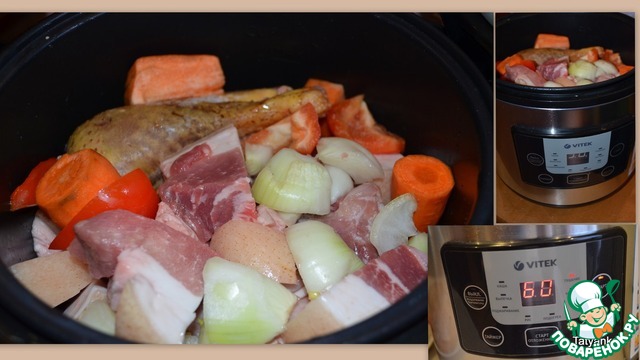 Meat and leg quarters cut into large pieces. Onion, pepper into quarters. Carrots - leave whole (or cut in half). Add salt and 1.5 tsp salt. Fill with water (I have about a liter). Almost all the broth You'll find, so try not to pour a lot of water. Turn on the program "Quenching" for 2 hours (in my slow cooker Vitek VT-4210ВК the maximum step on the program "Quenching" is 1 hour, I've used the program twice in a row).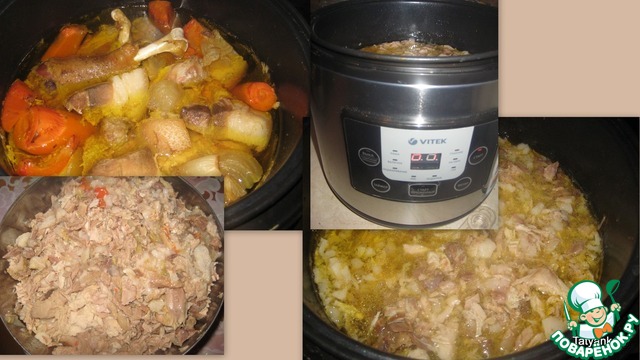 Remove the meat from the slow cooker. Remove the skin and bones, cut into small pieces and return to slow cooker bowl (vegetables and broth to remain in the bowl). Turn on the program "Quenching" for 1 hour. If you prepare without a slow cooker, simply simmer the meat on low heat. I understand the meaning of the program "Quenching" in multicookings is low heat and constant temperature. Two hours later, if the meat is not reached (although the chicken should cook quickly enough), I suggest to put in hot 200-220 deg. the oven and simmer for there's probably another 1.5 hours. But the effect of your meat will be-both from the Russian stove! Vkusnota!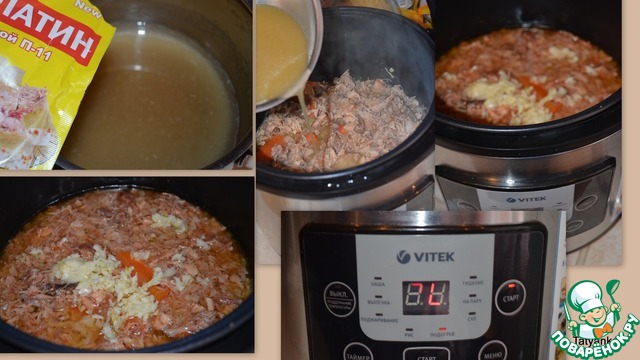 Upon completion of the program the broth drain. Put in a bowl back the meat, add soaked in water (30 g gelatin not more than 100ml of water), a little broth, stir well. Add the chopped garlic, spices to taste. And turn on for 10 minutes programme "heating".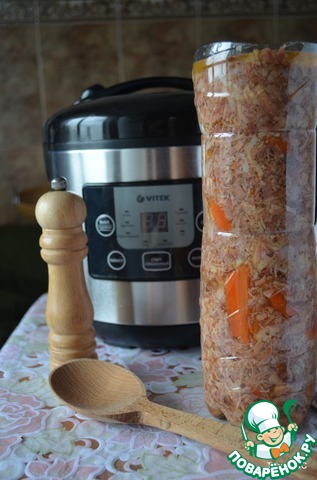 Prepare a 1.5 litre plastic bottle (or box of juice with the foil inside). Top cut, wash and dry. Will shift the future of ham in the form (bottle or box). At this point, you it needs more salt, add pickles or olives (to taste). If you want to use carrot - cut it into slices or sticks. Put the meat into the bottle, firmly tamp. If you want the meat more dense consistency - put under pressure. And in the cold for 4-5hours.
When the mixture has cooled, cut the pack or bottle scissors and remove the ham. Three hours later on the balcony I got a good ham, but cut it just large chunks.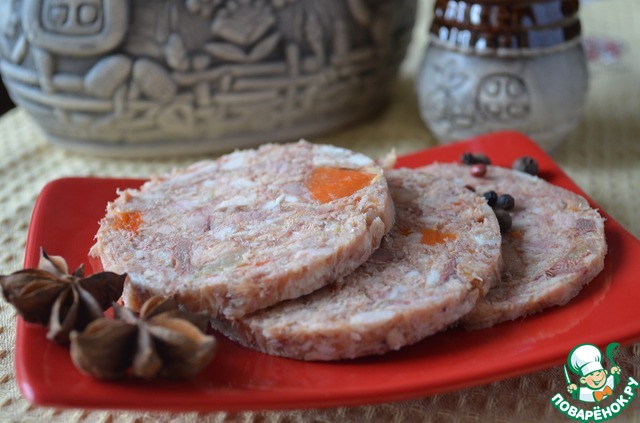 An hour in the fridge did the trick - ham cut fine, delicate slices.