Description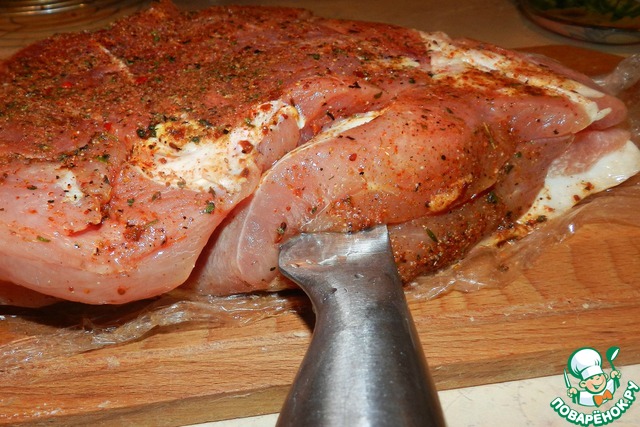 Continuing their experimentation "substitute m" industrial sausages and meat delicacies. This ham turns out very tasty, with a light spicy aroma, with the desired salinity is not wealth alone, eaten up quickly! Done, very simple, and the result will please you.
Ingredients
1.3 kg

9 Tbsp

1 Tbsp

1 l

2 piece

3 piece

4 piece

2 tooth

1 tsp

3 tsp

2 Tbsp
//= Yii::t('app', 'Total calories: ') . $recipe['ingredients']['total_calories'] ?>
Cooking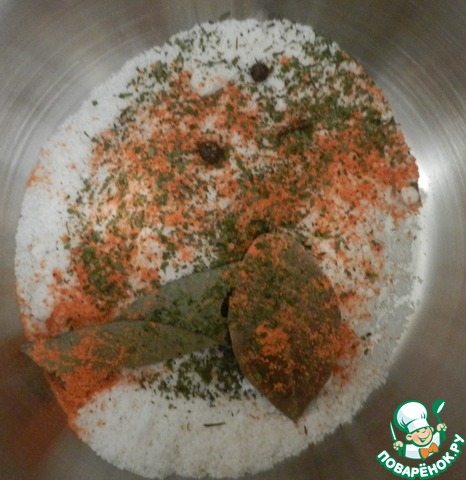 So, for the preparation of the ham we need to prepare the brine: salt, fennel, spicy paprika, sweet paprika - 1 tsp., garlic, cloves, allspice and Bay leaf, pour a liter of water and boil, after boiling, cook for another 5-10 minutes on low heat and let cool.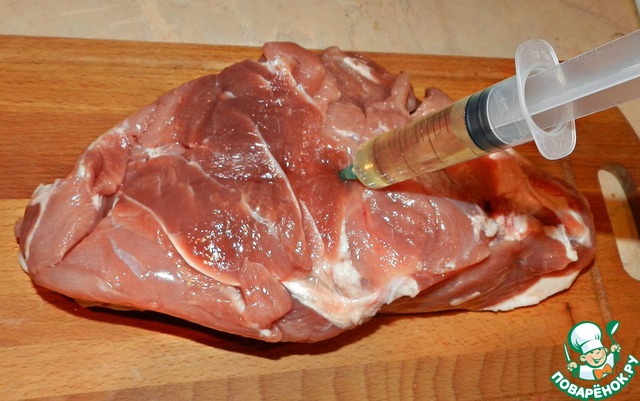 Once the brine has cooled to room temperature, take out the meat, take 20 waste syringes (the ones from the drugstore) - it took me 4 pieces and start to cut away the meat with brine. Alkalive very abundant on all sides and the sides without hesitation and fear!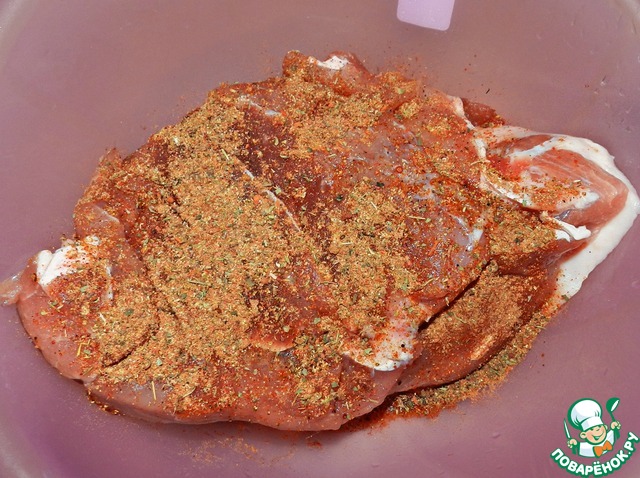 Shot up the meat sprinkle with spices for meat, I added 1 more. tsp sweet paprika already coarsely ground and thoroughly coat it on all sides.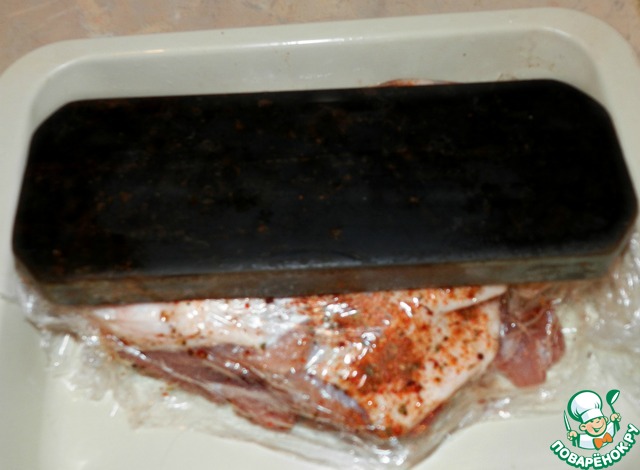 Spread the meat in a container with sides - I'm not a big baking pan, cover the top with cling film and put under pressure. Separately, about the oppression on my photo is a piece of railway rail, weight of 5 kg.: -) specially at work my husband I have cut 2 of such oppression, the whole shop was lost in conjectures on the Fig it home?! And ordered they are under galantine of chicken, a few pieces which, as payment for the work was communicated to the colleagues of her husband - approved, and promised to saw again :-) So here's the meat under the weight put into the fridge for a period of days to three. I had 3 days, only once a day drain the separated juice from the pan.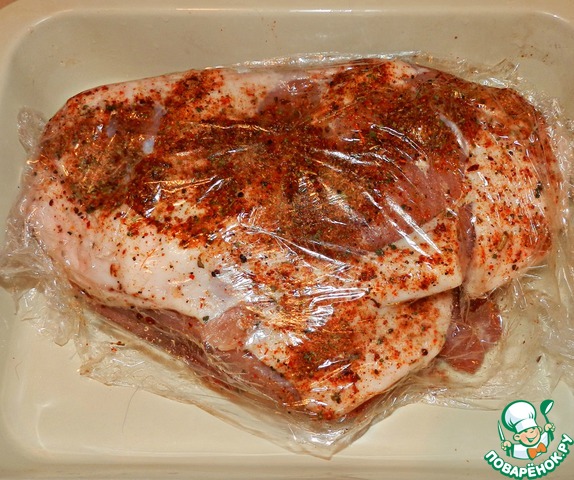 After some time, take out the meat from the refrigerator, remove oppression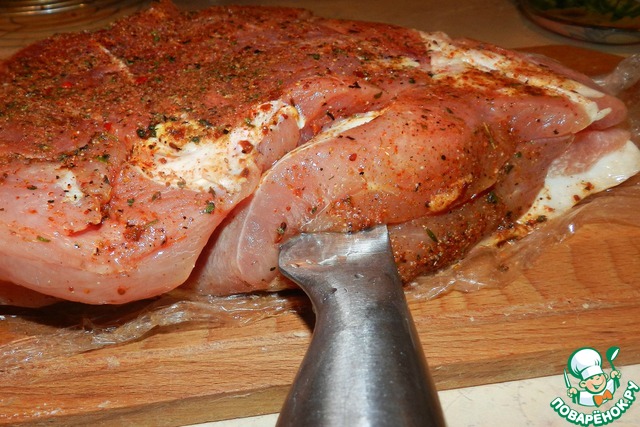 Begin to cut meat, to roll it into a roll. If you have a thick piece, as I then proceed as follows: 1/3 of the thickness of the meat make the cut, but not until the end that the meat would be opened by the owner. Next, turn the meat 180 degrees and make another cut, also not fully - and the result have a long layer of meat that is easy to roll. Turn the meat into a tight roll, tight drag twine, zamatyvaem in plastic shrink wrap, which can withstand temperatures of 120 degrees, if not, then the same but with a sleeve for baking and send it for 45 minutes in the slow cooker on mode "Stewing". I multivarka-cooker, and cooking time 45 minutes if you have a regular, not less than 1.30 hours in a normal saucepan - 2 hours and then simmer on a slow fire, without boiling intense. Bon appetit!