Description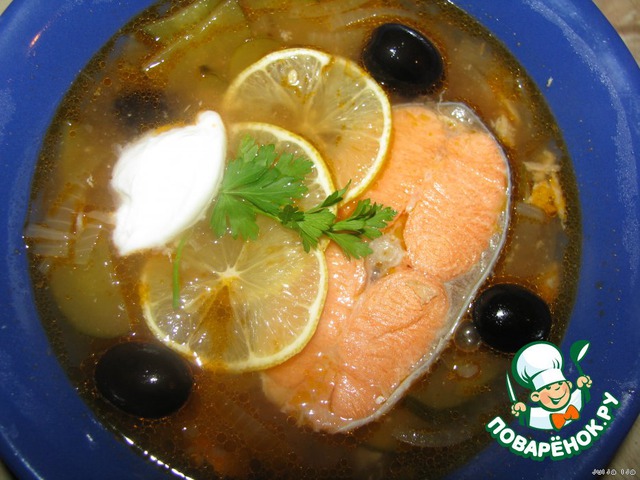 I belong to a small number of strange people who don't like soup. Well I do not like it, you can eat, but fun to me is not delivered. The only ear in my life that I ate with pleasure, had cooked on the fire. This backstory is told to what I was really afraid to cook fish hodgepodge. And me about her so many nice things to say. Well, decided... to my Delight there was no limit! I just fell in love with this dish with a spoon.
Ingredients
1 cup

3 piece

2 piece

3 piece

1 piece
//= Yii::t('app', 'Total calories: ') . $recipe['ingredients']['total_calories'] ?>
Cooking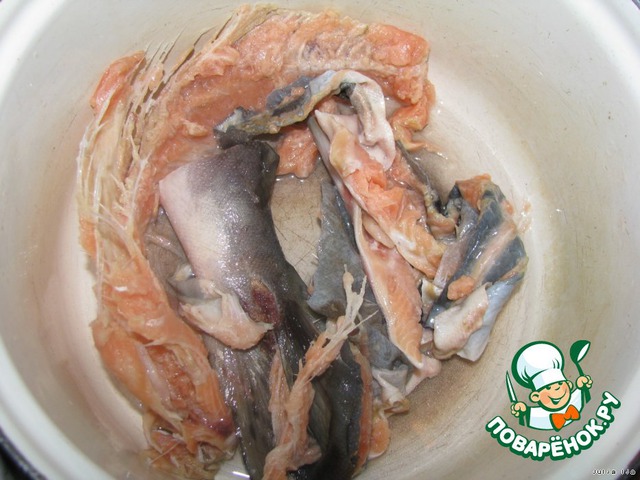 I had the remains of salmon after removing the fillet. Fillet I was not carefully separating the meat from the bones (specifically). These balances I filled it with cold water (3 litres) and put to cook on slow fire. After boiling, removed the foam, a little salt (not much is, as the cucumbers will also add salt).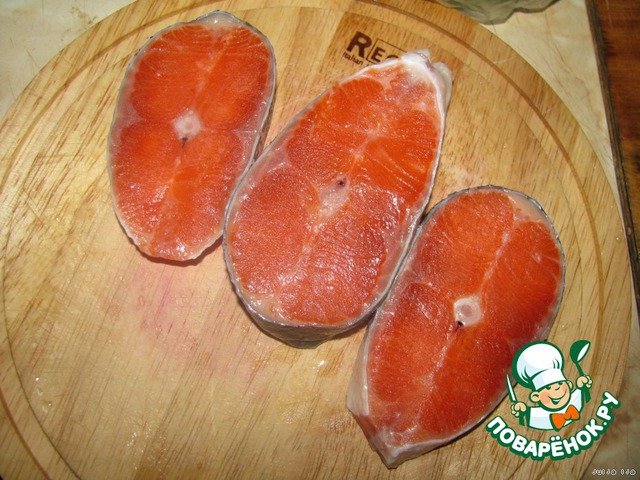 When the broth is cooked, I took out all the bones, tail, broth strained through cheesecloth, returned to the fire and put the steaks trout (I - the number of consumers, the pieces were small, left tail section from trout).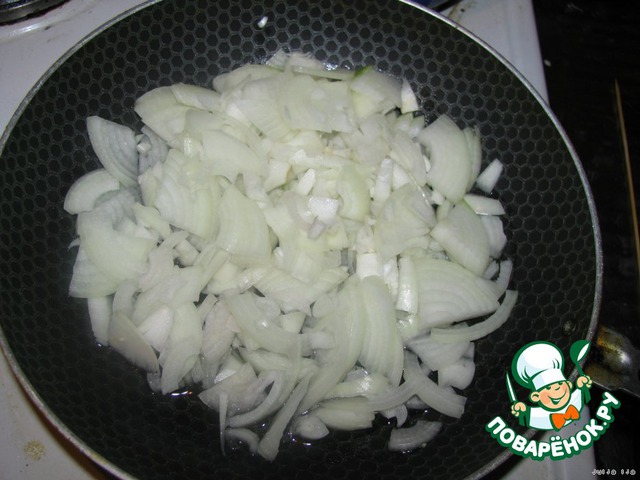 While the trout was cooked, I sliced julienne two onions and fried them in vegetable oil (no smell). Onion, lightly sprinkled with sugar, it is better browned and will taste better.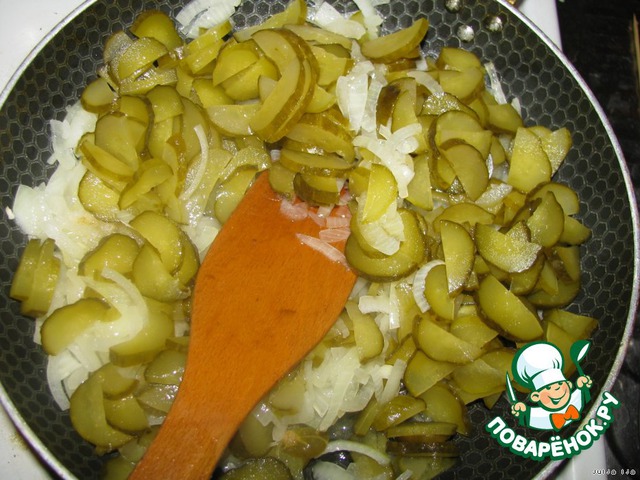 Added to the onions sliced thin polyolefine pickles (I cask).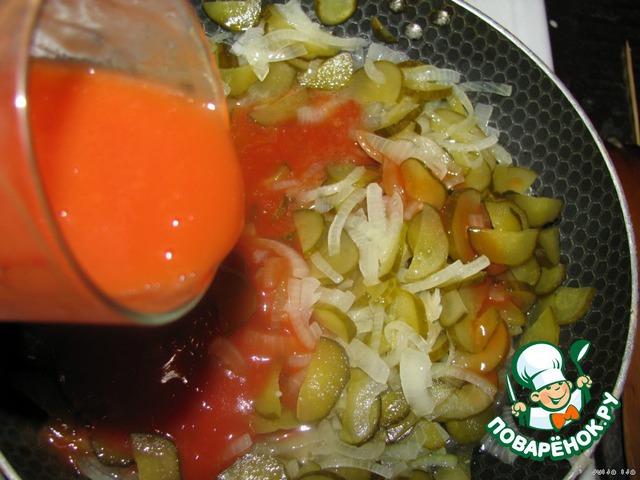 A little put out and poured the tomato juice. Saute for 5 minutes. Can a little pepper to taste and add spices. I was just peppered, spice me here seemed odd and I was not wrong. But it is a good choice.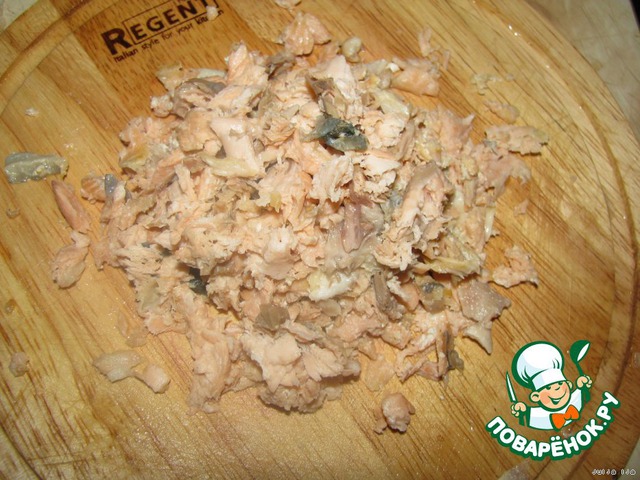 I had the tail and the backbone of the salmon (which was cooked broth), which was quite a lot of meat. I carefully separated from the bones, finely cut and sent to the soup.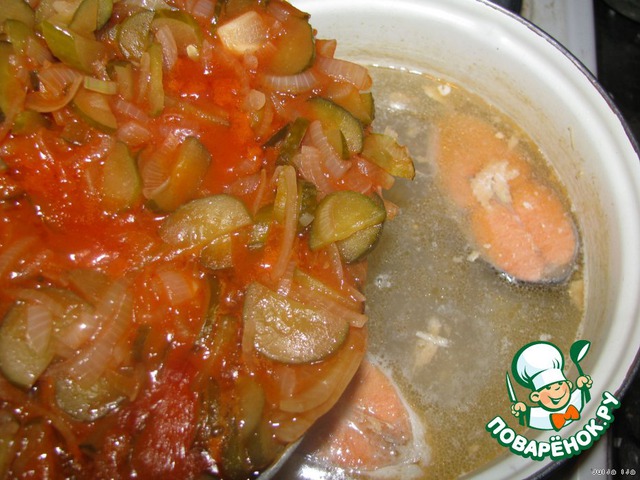 Then added the onion with cucumber and tomato juice. Brought to a boil and all!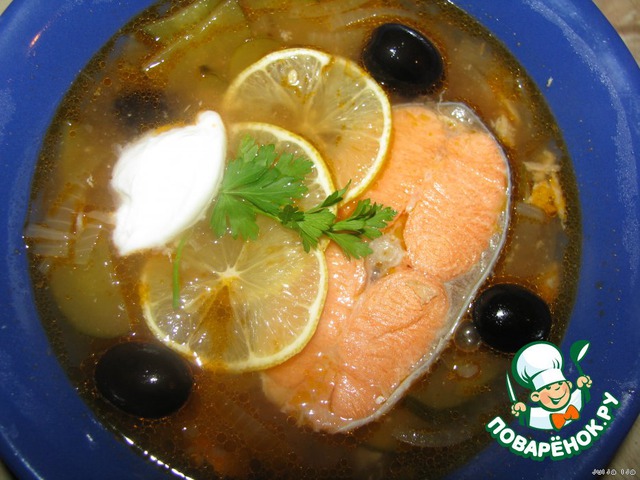 When serving in a bowl place the lemon slices, olives and sour cream. Bon appétit!