Description
Transparent and crunchy, hence the name "CRUNCH-AL". That is the exact proportions to give such a delicious result.
Ingredients
1 kg

1 Tbsp

0.333 Tbsp

3 piece

1 tsp

1 tsp

1 Tbsp

1 piece
Cooking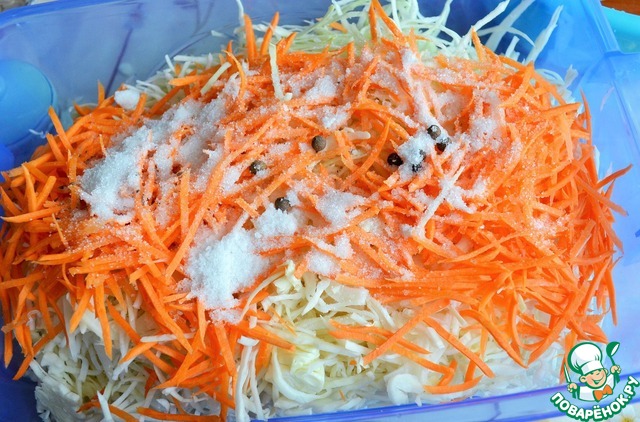 So, take a strong, dense head of cabbage, green leaves, remove (spare, remove the white, otherwise you are pickling they are grey and soft). Top, clean sheets can then be used in another dish. Will Nachinaem cabbage finely, but long. I think now all the chopping, so that it will not be difficult. Carrots grate on "Korean" grater.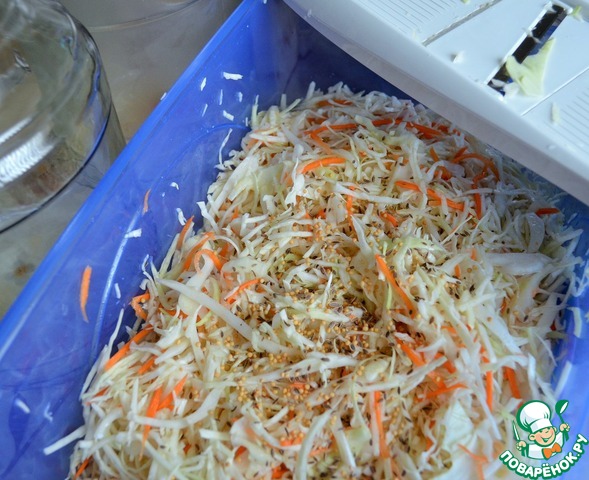 Combine all, stir and gently triturated. To make it easier on a tray or in a shallow but wide bowl, peppered with salt and sugar. 3-liter jar need, on average, a 3.8 - 4 kg of cabbage.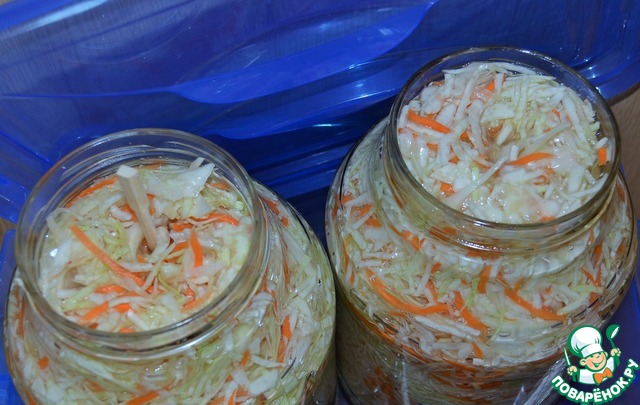 Put in a jar tightly. Leave at room temperature for 3 days. Banks put under the pan, because during fermentation there's lots of juice, it is possible to "escape" from cans. When there is insufficient secretion of the juice (which is rare) pour boiled cooled water.
Pierce several times a day with a wooden stick, for discharging the gases of fermentation. After 3 days, pour in a jar of vodka and put it on the cold. Vodka is a preservative, its addition to the fermentation stops. After 2 - 3 hours it absolutely is not felt. A day or two the sprouts are ready.