Description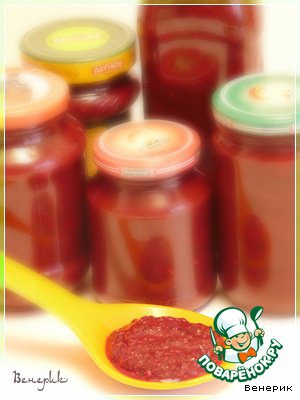 Today made the first time Tkemali recipe Nonlinearity (21179 ) with cook, and not doing step-by-step photos, as it was not going to put. The sauce turned out so delicious that I must share with you the recipe. Recipes Asparagus a lot, and all are preparing in different ways, and on the website we also have, but this one is especially good!!! Sour, slightly tangy taste to the meat of it!!! So prepare this sauce in Western Georgia, in Kobuleti.
Ingredients
3 kg

2 cup

250 g

300 g

250 g
Cooking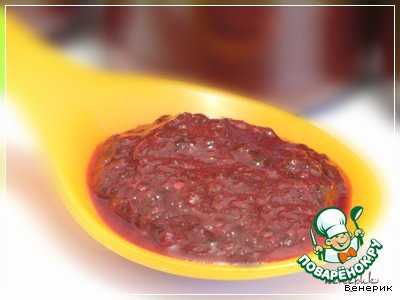 Plum wash, cover in a large kettle, cover with water, and put on gas cooking. When berry to soft after boiling, mash all through a colander, and the seeds remaining in the strainer throw. Put in sauce overripe dill (tied with string in bundles), hot pepper and salt. Keep in mind:spicy chilli is the only thing that should be dry (if sobiraetes to prepare for the future). The rest of the FRESH herbs! Next:boil the mass for 30 minutes on low heat. At this time grind all the herbs and garlic in a blender. Take out dill and discarded. Add the greens to the sauce, cook for another 15 minutes and all the sauce is ready! Allow to cool. Pour Tkemali in bottles, or jars (sterilized), on top add a drop of sunflower oil to tighten the lids (too sterile) if you long to keep. Store in a dry, dark, cool place.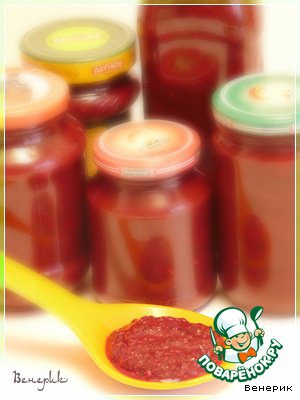 That is the amount of sauce I got. Four jars, and a half-liter bottle.