Description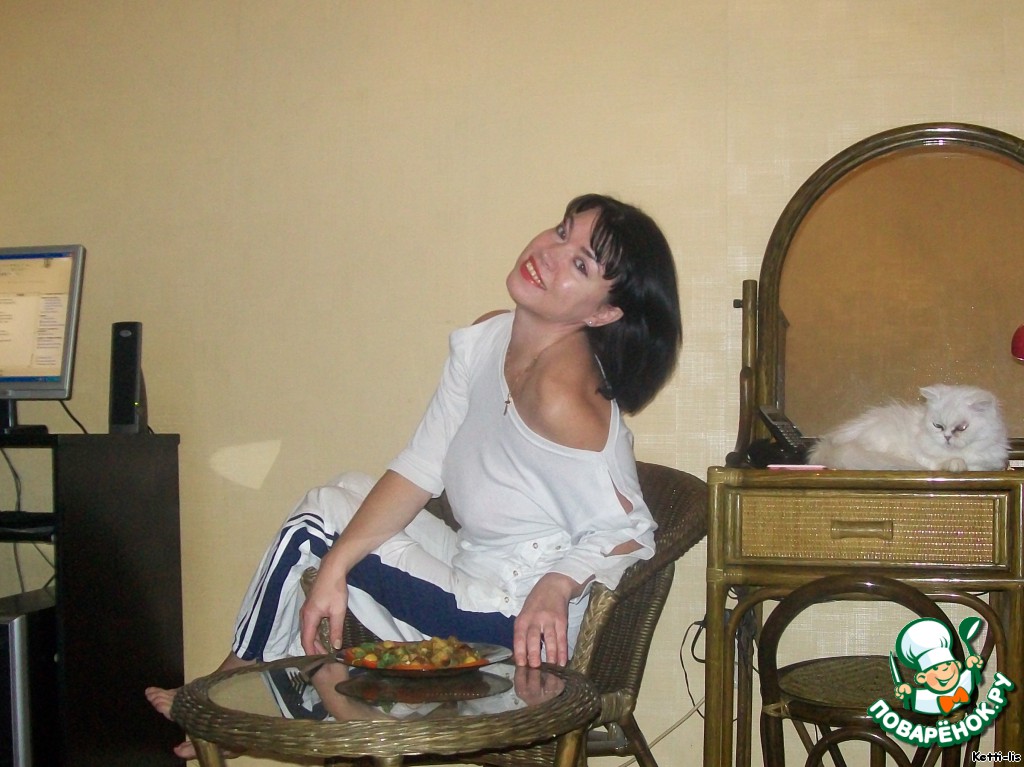 I didn't intend this recipe to post on the website. All just too much. But when once again the guests asked the question: "what do you cook such delicious fries?", then I decided. The fact of the matter is that I don't fry. And these just an hour and a half rest. She is fried. And I, for example, can safely go for a walk with the dog in the Park. Cooking monitor is not necessary. Most importantly, the time to detect. And with this method of cooking it is lower in calories, I think. But if it is viewed not as a side dish to something cold and delicious on its own, then reduce to a minimum the risk of adding extra unwanted pounds. And, more importantly, it is not necessary then to wash the pan and scrub the stove or from the oven with oil spray. After all, there are certain tweaks to get exactly as I have. So, I spread.
Ingredients
1 kg

1 piece

1 piece

1 piece

2 Tbsp

1 Tbsp
//= Yii::t('app', 'Total calories: ') . $recipe['ingredients']['total_calories'] ?>
Cooking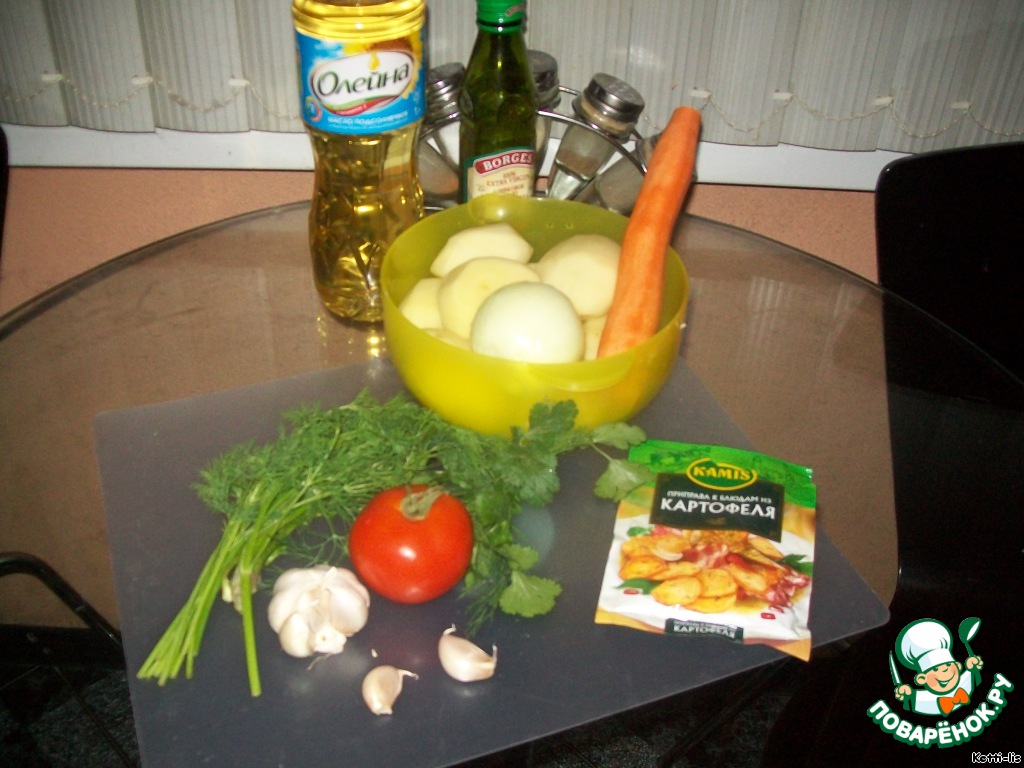 Basic products for simple and delicious meals. I think there's people who wouldn't love fried potatoes.
Potatoes cut as you want, but not thin strips. Otherwise, it is likely that the porridge will become, and we don't need. Onions cut thin half-rings. Carrot - cubes long, so just get prettier. Tomatoes to RUB on a grater and add to the potatoes. It will give richness to compensate for the amount of oil. All folded up in a bowl. Add seasoning. If seasoning with salt, then salt is all you need. Then add the vegetable oil. One kilo of potatoes I have exactly one tablespoon of everything. That's enough. If fried on a skillet, that amount is unlikely to be done. Mix well.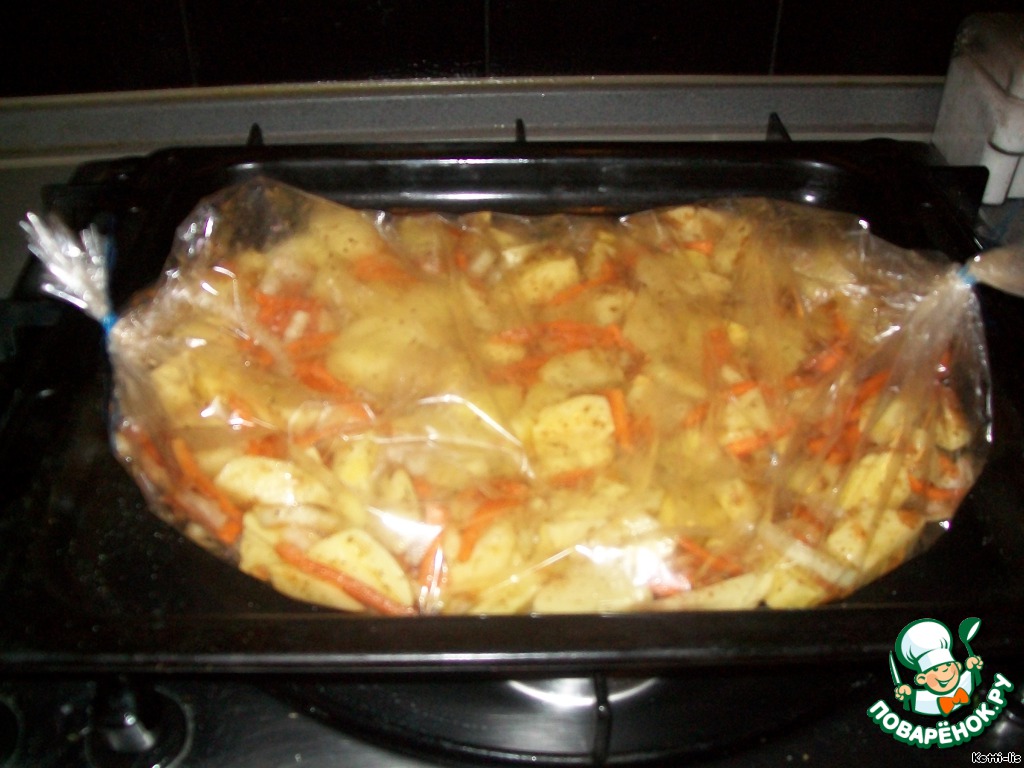 All packaged in a sleeve for baking, put in oven, note the time and... available! A kilogram of potatoes I have at 180 degrees and baked for exactly an hour and a half. The oven, of course, everyone is different and cooking time every woman must decide itself, it is enough once to cook and will know exactly how much time You'll need. When you cook for the first time, in any case not to go "the dog walk" :). For the first time as in first class - it is necessary to be in control. You never know... Then, when the cooking goes on "automatic", though it is possible for a manicure to go.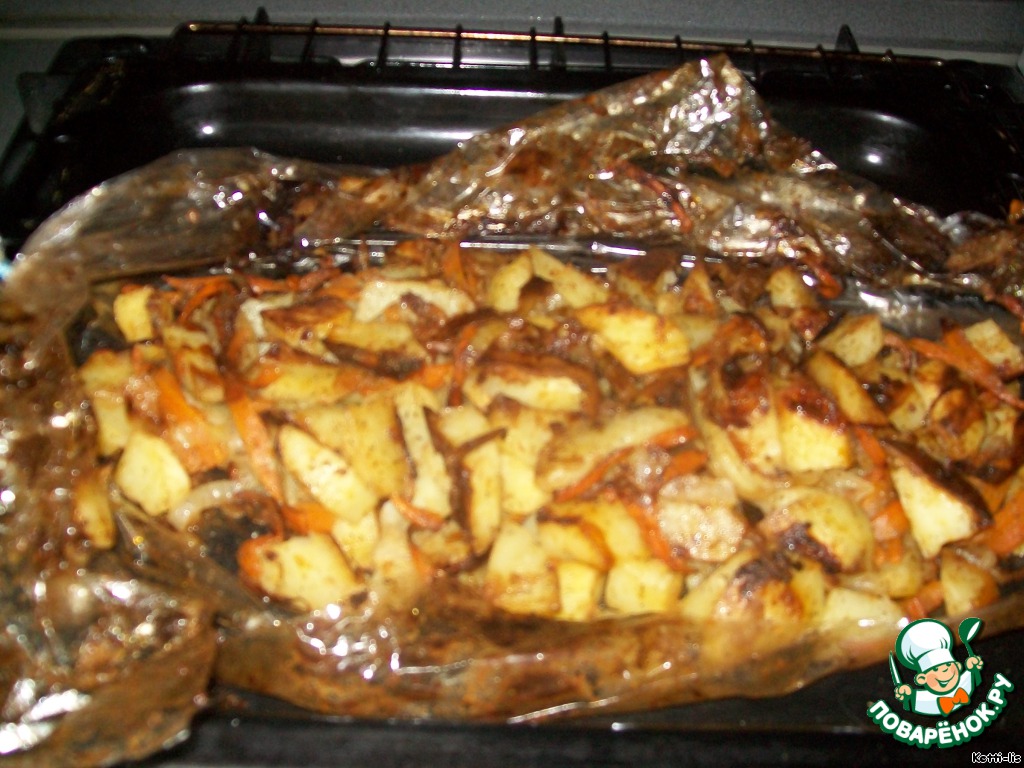 The potatoes are ready, cut the film, here's a look at what is beautiful.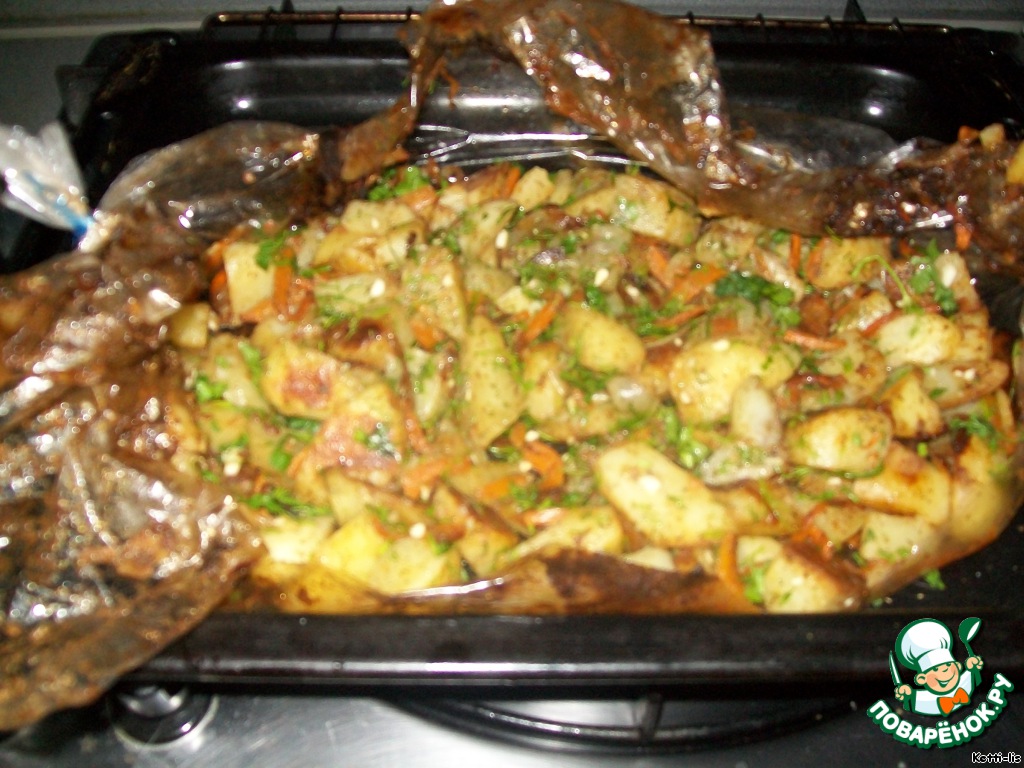 Then cut small herbs and garlic added to the potatoes, cover with foil and let them infused and saturated with aromas of five minutes.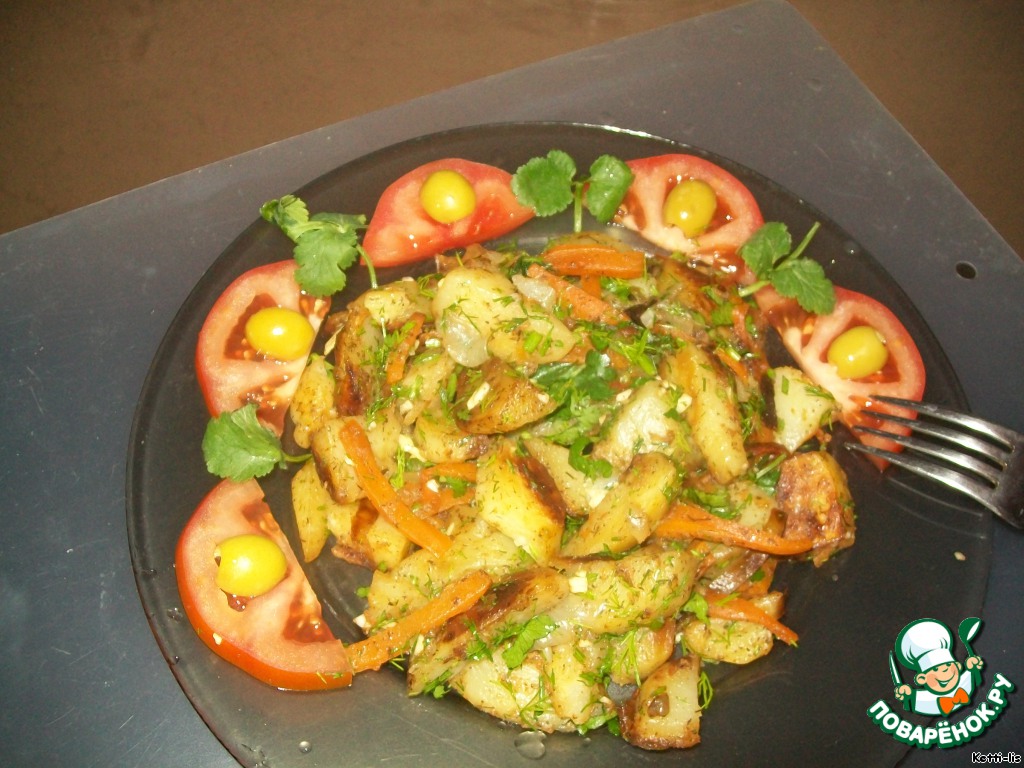 Then spread on the plates. We got absolutely fried natural chips, in the pan, just oil once in three or four smaller and problems too. And not so dried, just like on the baking sheet. And no need to follow when you feel the recipe. Vkustno!!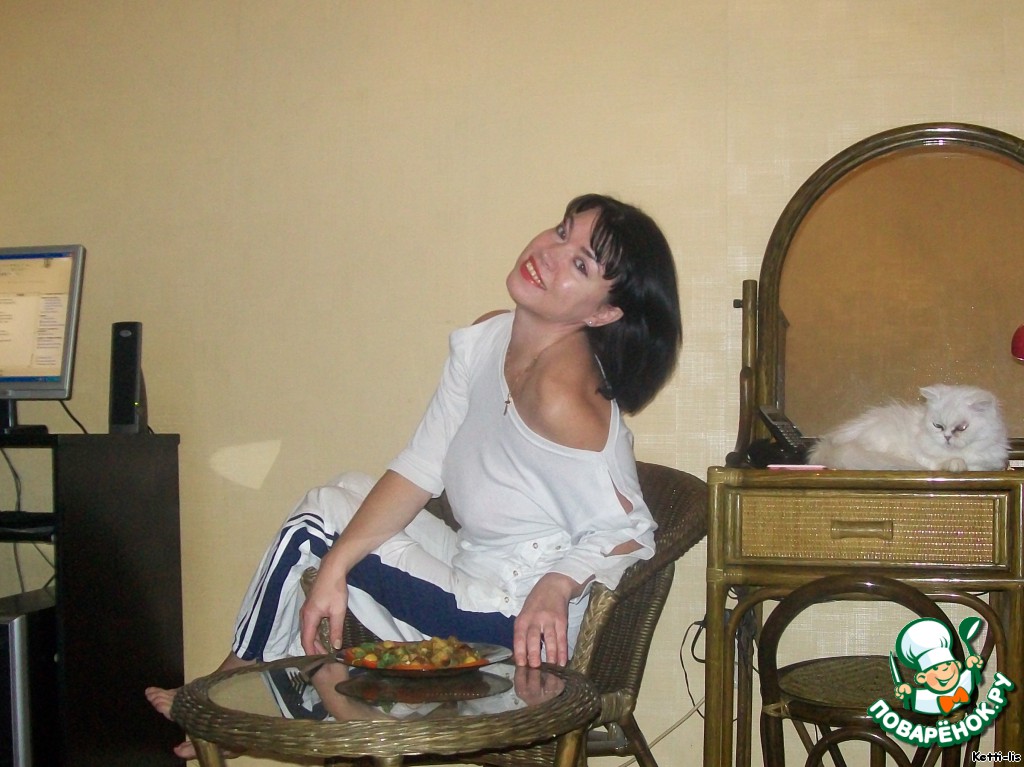 Well, as always, at the end of my photo with the dish. All cook and take pictures online :). Good luck and inspiration to You in the kitchen. Your Katie Fox.