Description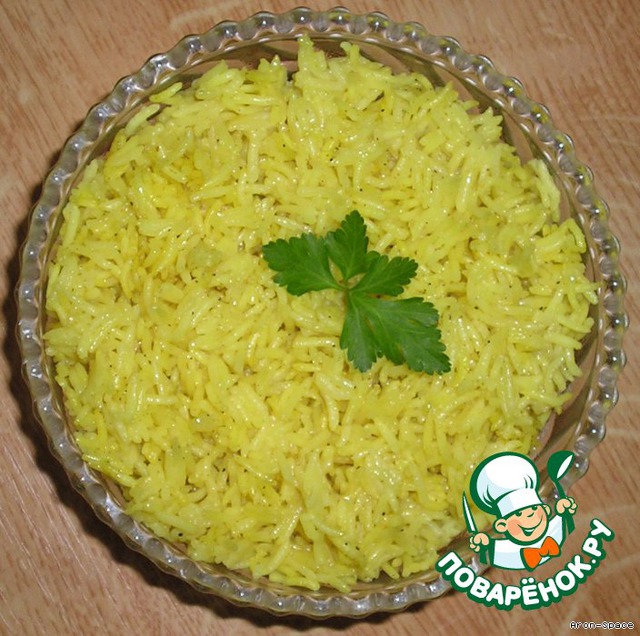 Did you know that regular rice can be a true delicacy if properly prepared? Perhaps some of you will object and say: "Yeah, what's cook - flooded with water, cooks and ready!". But, no! Properly cooked, the rice exudes a wonderful, natural aroma, has a unique taste and looks amazing. In India where rice is cooked almost every day, has learned all its intricacies, and revealed all its secrets. These "mysteries" I want to share with you today.
Ingredients
1 cup

0.5 tsp

0.5 tsp

0.125 tsp

0.25 tsp

2 cup
//= Yii::t('app', 'Total calories: ') . $recipe['ingredients']['total_calories'] ?>
Cooking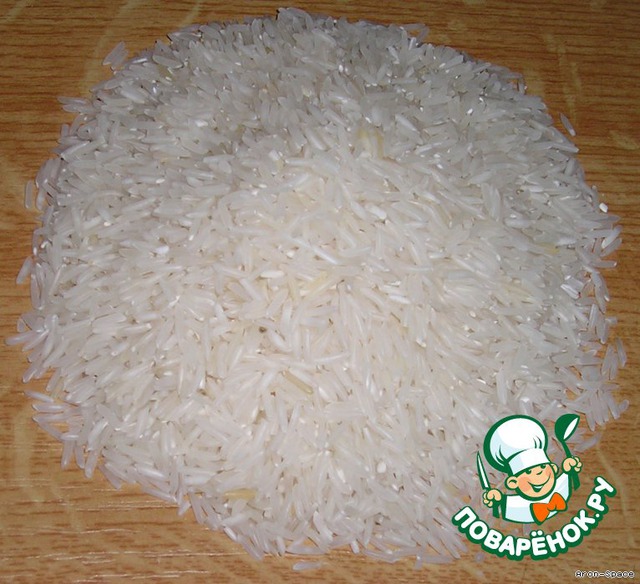 Here he is, our protagonist - the basmati rice! In Hindi, "Basmati" means "fragrant." This unique variety of rice with a wonderful aroma that persists even after cooking has been used in India and Pakistan for many centuries. Try "Basmati" at least once and you never give up!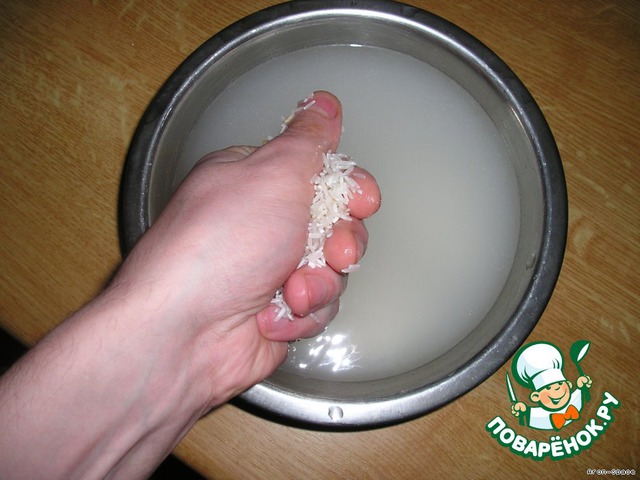 So, it all starts with washing the rice. Wash it need only cold water, rubbing between fingers and palm. In the pictures I pulled my hand out of the cups to show how it's done, but actually, the hand should be in the bowl or under running water.
Change the water several times and repeat the process until it becomes as pure as on the pictures. Rinsing the rice allows you to remove from the surface particles of rice flour, the remains of the husks and grains of debris, if any. Rinse the rice always, even if it is the most expensive and high quality. Next, the rice should be a little dry.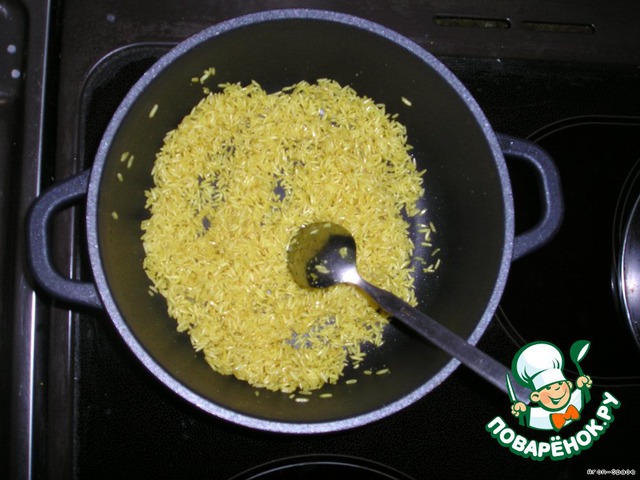 Now boil in a separate pan or kettle water. And while it is boiling, melt the butter in a thick-walled saucepan, stir in salt, spices, rice and slightly fry it with continuous stirring. The secret here is that with careful mixing, every piece of rice is covered with oil and when cooked they remain separate, which ultimately allows you to get a wonderful crisp rice. When the roasting process has two stages - first the rice becomes transparent, and then become a milky color. At this stage you have to stop and go to the next step.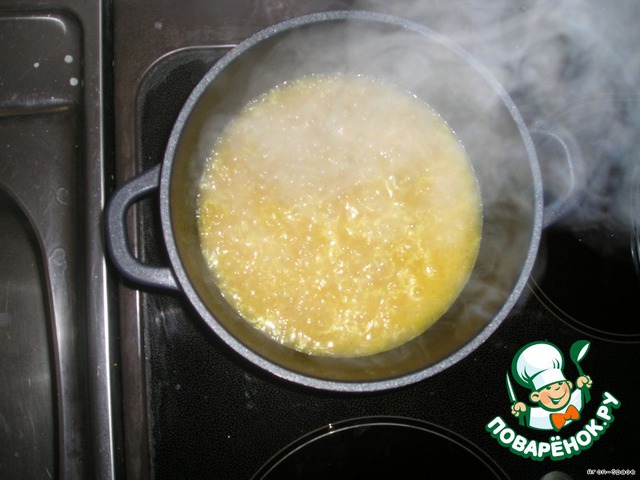 Once the rice turns white, pour in it boiling water, reduce heat to low and cover.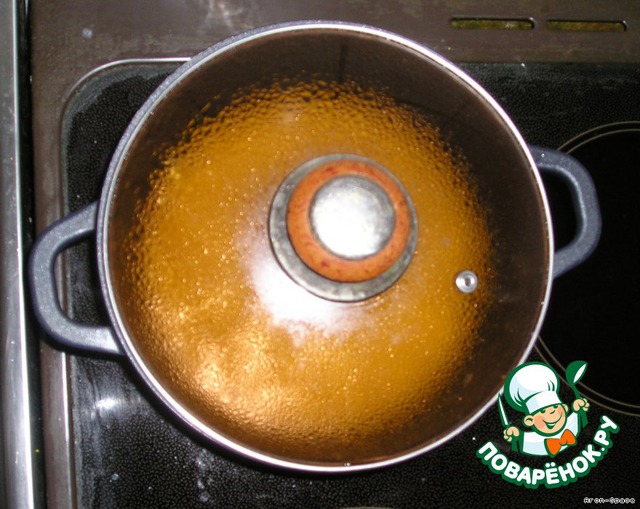 Now it is very important not to open the lid and not touch the rice until it is cooked. It will take 10-15 minutes.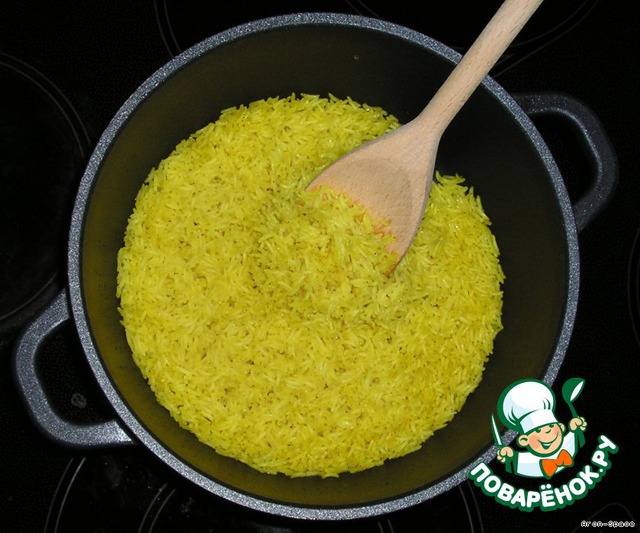 Well, our rice is ready! It remains to add that putting the rice in the bowl a wooden spoon, so as not to damage the grains of rice and not to spoil their appearance.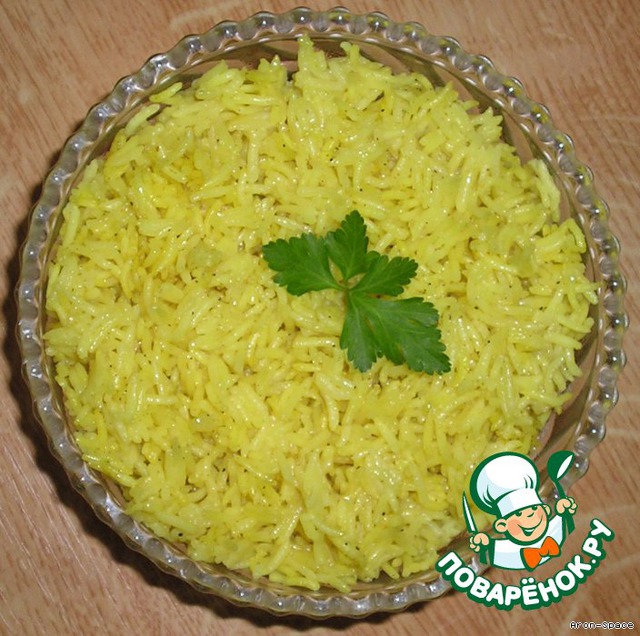 Hope you liked it. You were Aron-Space. Bon appetit!