Description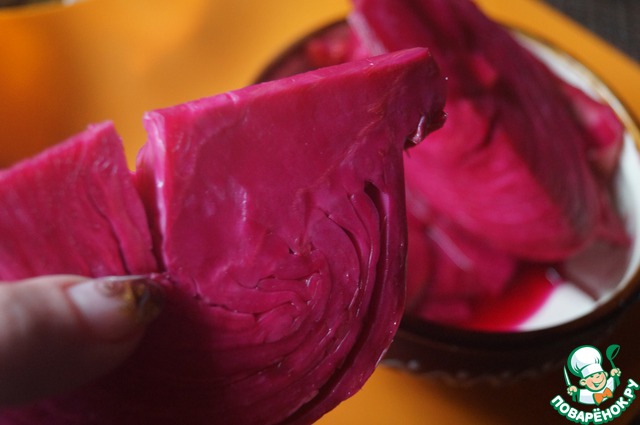 Reviewed all these recipes here. This is definitely not. Perhaps this is the recipe from that series, when the real secrets are only know. More than 25 years ago taught me to cook cabbage, my mother-in-law, lived all his life in Georgia. I declare absolutely responsibly: this delicious cabbage pickles just do not happen! And most importantly - it's very simple and nothing extra in the ingredients: no oils, vinegar and other things... is Prepared quickly, eaten even faster. However, life is prepared "by eye"...
Ingredients
3 kg

1.5 kg

3 piece

2 piece

2 coup

3 Tbsp

2 l
Cooking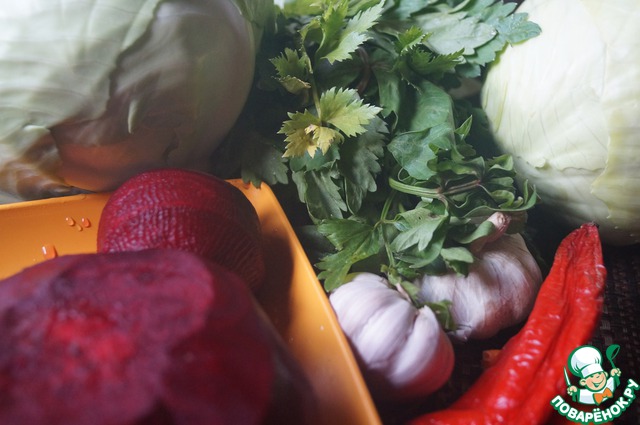 Let's start with the selection of vegetables. This is important. The cabbage should be small. Can and great to use, but it will crumble, and the beauty of this salting - in pieces. Beets should be bright and sweet, should be well painted. Greens - ONLY celery! Do not add anything extra, at least for the first time.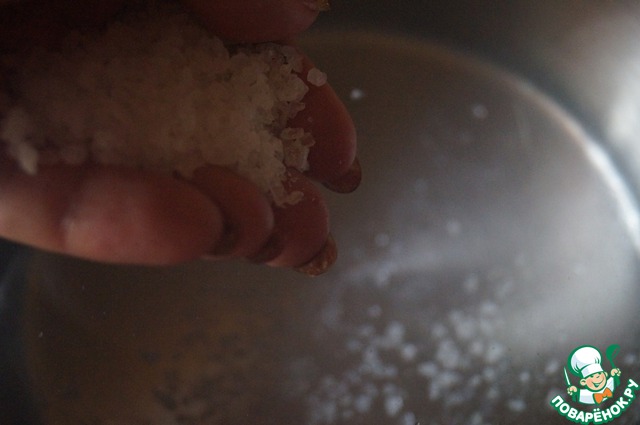 Now the brine. It needs to be cold, so prepare it in advance. Boil in a saucepan with water and dissolve in it the salt. Should get the taste of salty sea water. I used sea salt, can be any. Cool completely. The amount of salt written starting. Most likely, then have to add in the pickling: cabbage quickly picks up salt.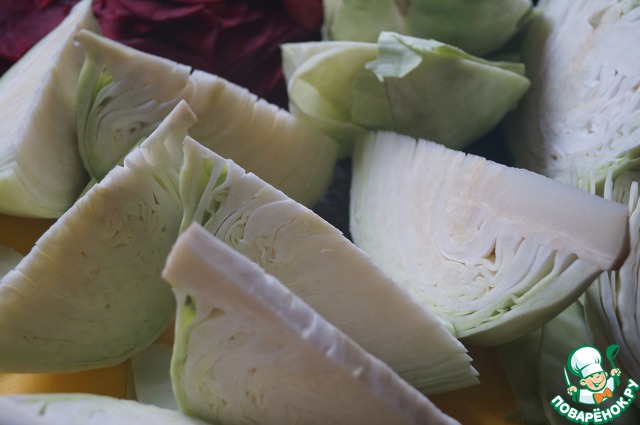 Cabbage cut into small slices, along with the cob. Small heads of cabbage I cut in half and then each half into 3 parts. You can cut and bigger, but the cabbage should be well prokrastsya, and big pieces is harder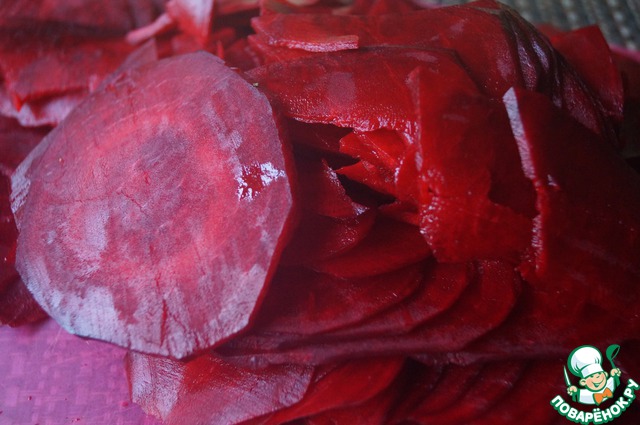 Cut the beetroot into thin slices. I do it on a grater.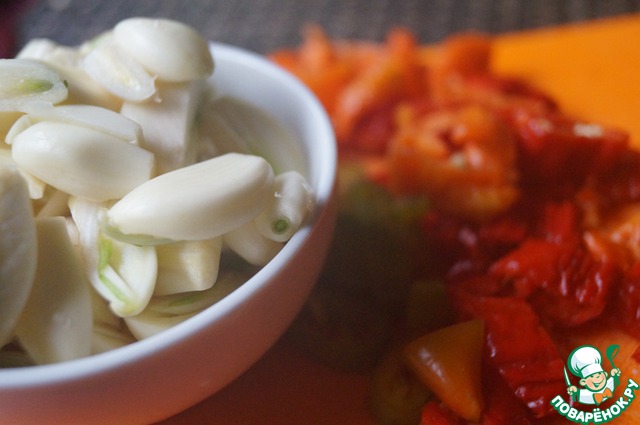 Peel the garlic, cut the segments into 2 or more parts. So he will give more flavor. Pepper clean and cut into rings. For the first time, residents of Russia, not the Caucasus, may add less pepper, you never know...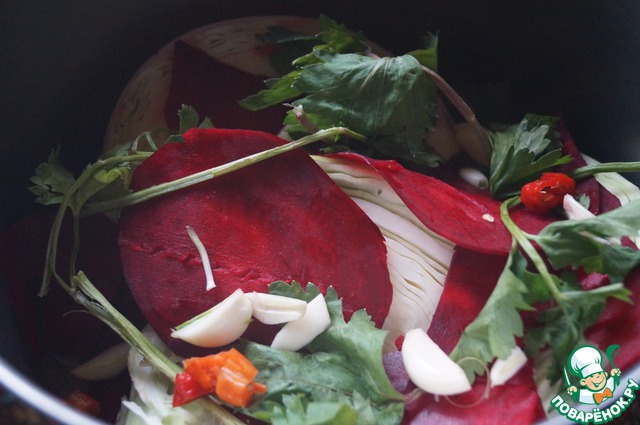 Take a deep capacity for the pickles, I take banks and large pan. We spread our billet layers: a little beet on the bottom, cabbage, beets, sprinkle with garlic, pepper rings, lay crumpled in the hands of celery (a few sprigs)...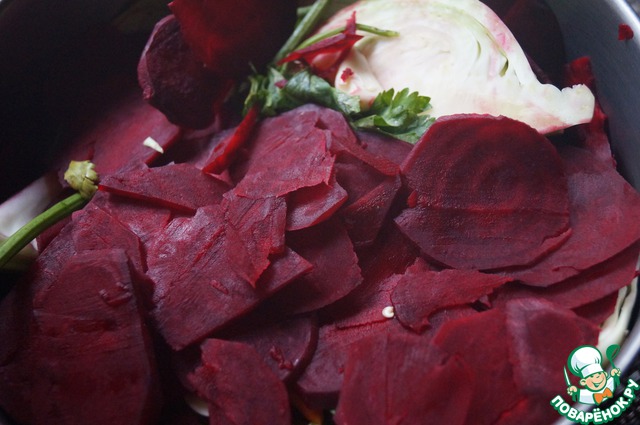 So fill up the pot. Top beets.
Fill with cold brine, to bedspreads. Close the lid and forget for three days. If possible. Guarantee permanent lid and dipping your fingers in the brine. By the way, since fingers still dunk... the Solution becomes less salty. Pour a little salt right on top into the brine and stir with your finger. Cabbage is just standing in the kitchen.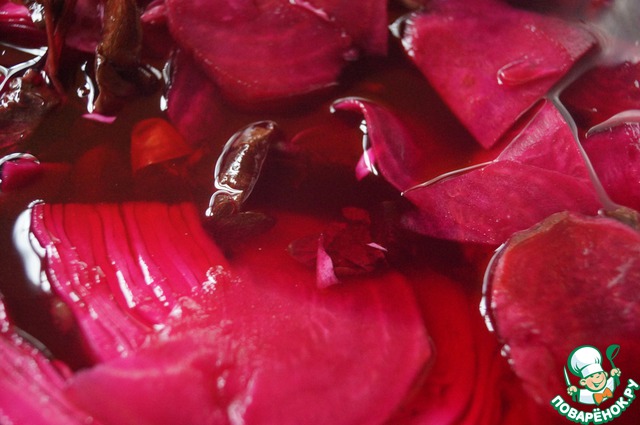 The cabbage almost 5 days. Brine brightest! You can already try. And at the same time to clean the refrigerator. All delicious - and a cabbage and beet, and pepper, and garlic... So slow prokalivanie facilitates perfect blending of different flavors.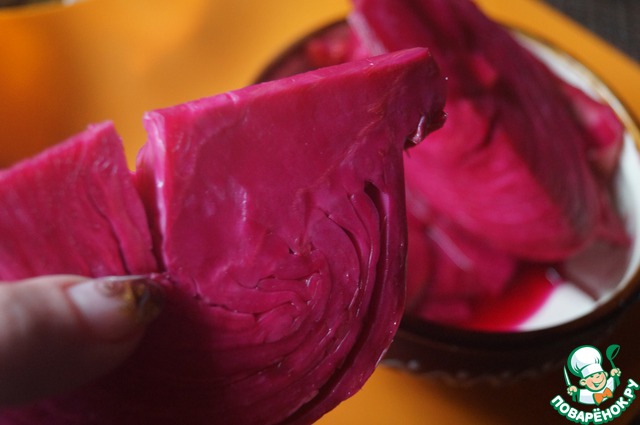 For supplying the cabbage just spread on a plate. Can be cut into smaller pieces. And some finely cut and pour oil. But the special charm - here is the way it is. With potatoes, mmmmmmm, and just... It's Sooooo delicious!