Description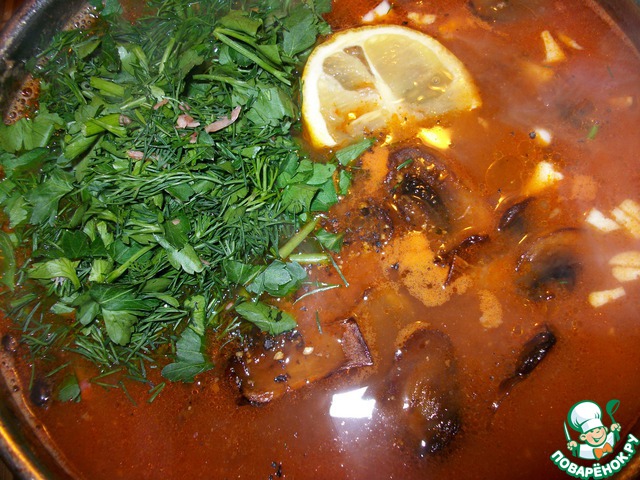 As a child I was a book - a collection of tales of the peoples of the world. The most favorite of them was the tale about the old woman who lived on the coast with my son and was so poor that every day they have on the table was just a pot of beans with... attention... MEAT!!! But at the time (I was 5) I read this story not because I felt sorry for the old lady, but because with 4 years I went to professional ballet. I eat unsalted rice and the same chicken, and a pot of beans and meat made me desire to become a ballerina and a chef. With ballet I'm done in 20 years, cook did not, but since cooking for me is the best rest. Meals mainly lean (habit to lose weight...), This bag is a favorite dish of all my family and friends.
Ingredients
1 cup

0.5 piece

1 piece

1 piece

4 piece

3 Tbsp

1 piece

5 tooth

1 tsp

6 slice

1 coup

3 Tbsp

3 piece

1 cup

200 g
//= Yii::t('app', 'Total calories: ') . $recipe['ingredients']['total_calories'] ?>
Cooking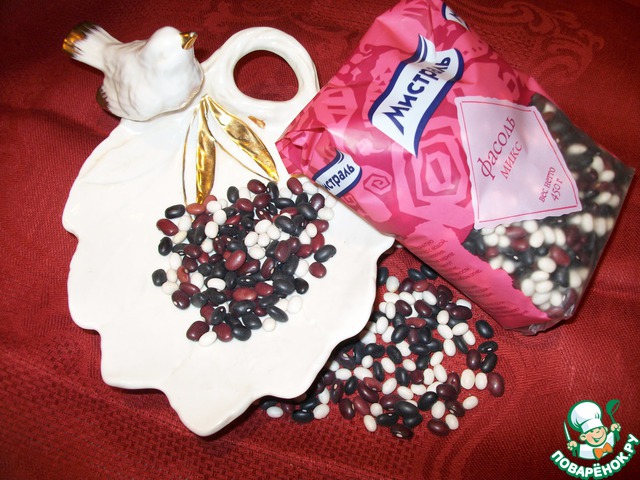 Take the beans "Mistral" (I use mix). By the way, this beans I love and competition, and without competition - she decided color when cooked, almost never loses, convenient packaging and delicious, last but not least :D View - how beautiful! Similar to beads or on wet pebbles.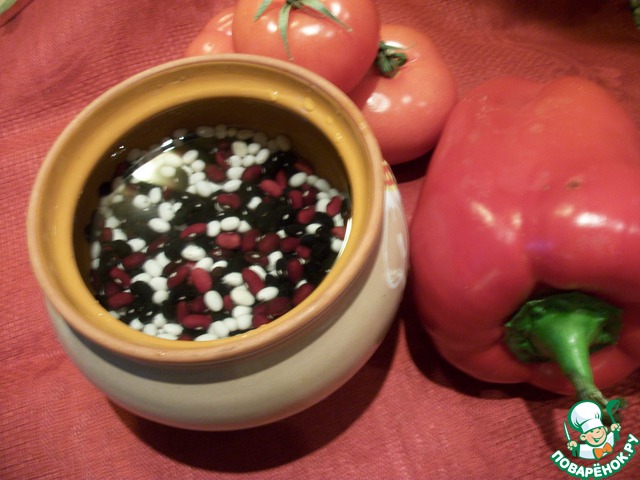 Soak, cook according to instructions...
And get a wonderful base for many dishes and a self-contained snack that has one big drawback: it ends very quickly, sometimes before the age of the final version. Today - went in to get the camera out of the kitchen and, returning, found her husband with eyes of the cat from Shrek, eats my beans. Had to repeat the previous step for the next day. Now prepare the remaining ingredients. Magic picture. Yet, fasting is not only a great test for the spirit, but also great joy. Just treat it not as drudgery, but as inseparable from the Russian soul and traditions.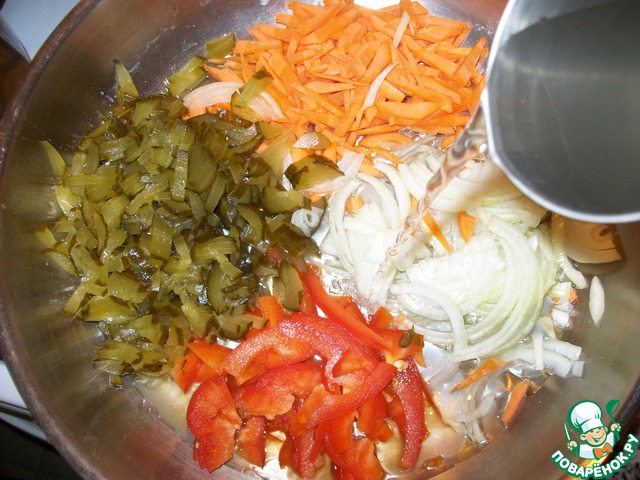 The beans are again soaked, cooked and this time hid from her husband. Seen enough of the vegetables, start to cut. Pepper, carrots, and pickles - strips, onion half rings, sent it all into the pan, where it is already warmed up olive oil. There also pour the Cup of brine (also desirable from her husband's stash).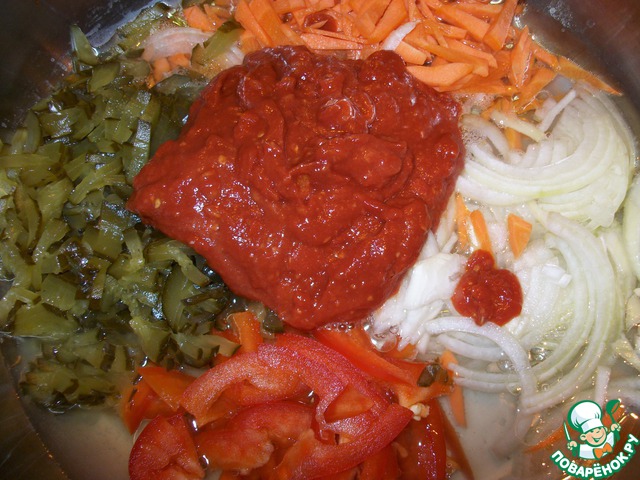 Meanwhile, in blender or in any other way turn into a puree large tomatoes, tomato paste, and garlic (not all), all this stuff is sent in the same pan...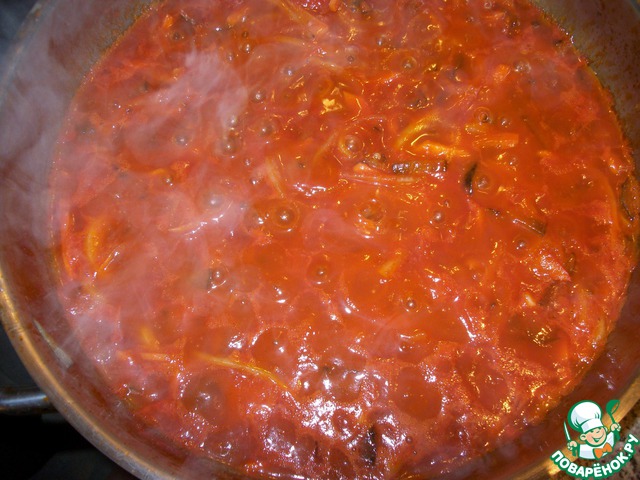 Stir and after 15 minutes of stewing swam-swam around the kitchen a crazy smell, which ran her husband and began to threaten all this beauty with a spoon and a piece of bread. I defended.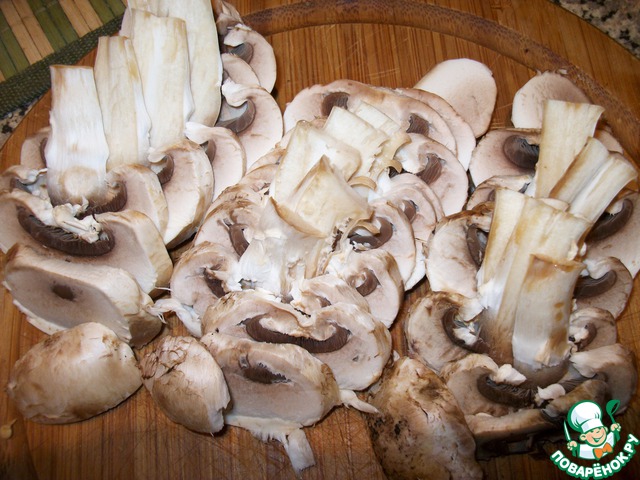 Remove from heat, let wait queue. Cut mushrooms. But not anyhow, but beautiful kolechkami, so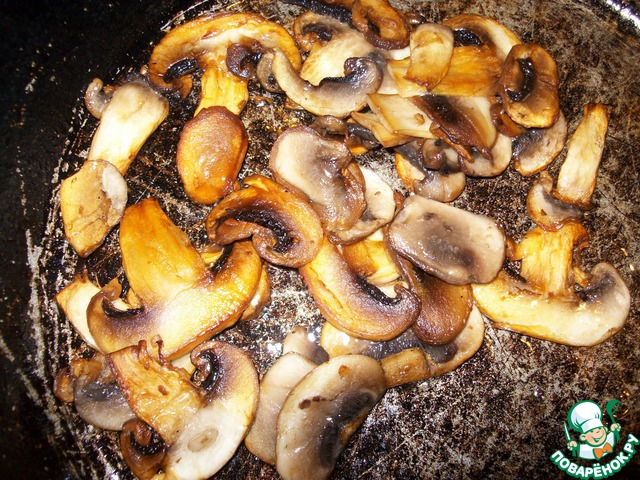 Fry them on high heat in olive oil until Golden brown and try not to devour immediately. Very tasty.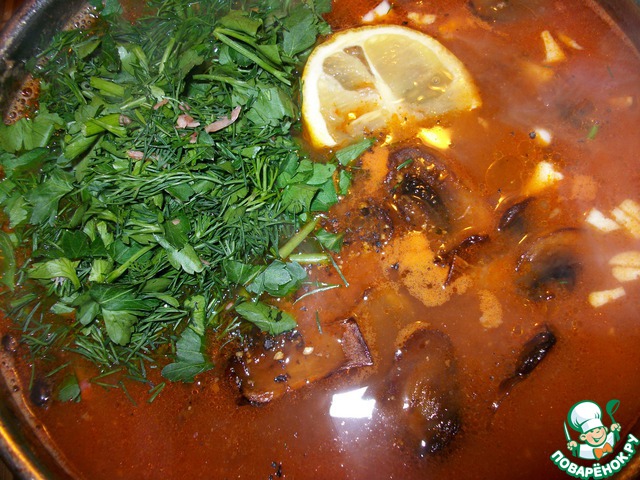 Put in a pot of boiled beans, cleaned and cut in cubes potatoes, green beans, sweet pepper, fill all water (in the perilous days of the broth), cook until cooked potatoes. Then there is the vegetable dressing, mushrooms, bring to a boil and all... the idea is that the greens, olives and, if no post - add the sour cream directly into the dish, but I added straight to the pot, for 6 servings is a 5 - husband and 1 for me.