Description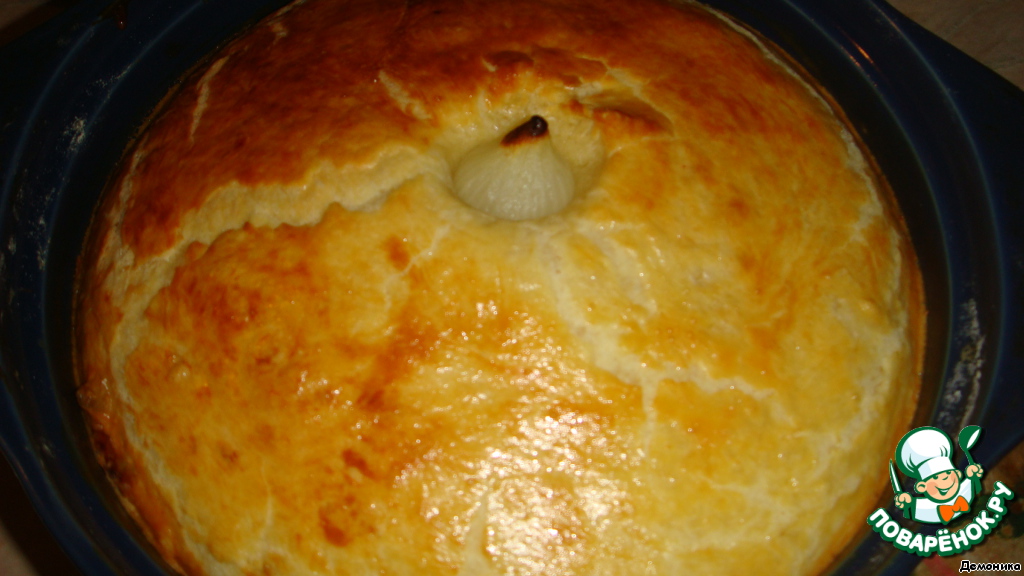 When you ask a question at home, what to cook, know the answer in advance. He is always the same: kubeta or another Tatar pie with meat and potatoes. Frankly, long doubted whether to put this recipe. Like already there are a couple of similar, but different dough, and other details and, in General, I spent years doing this cake that secrets just "ate a dog". Actually they want to share and tell everything in detail. And to cook my recipe or another, that's how your heart will tell. One thing I can say: the result will not disappoint you. It's really very tasty!
Ingredients
150 ml

3 piece

1 piece

500 g

2 piece

3 cup

1 Tbsp

200 g

0.5 cup

0.5 cup
//= Yii::t('app', 'Total calories: ') . $recipe['ingredients']['total_calories'] ?>
Cooking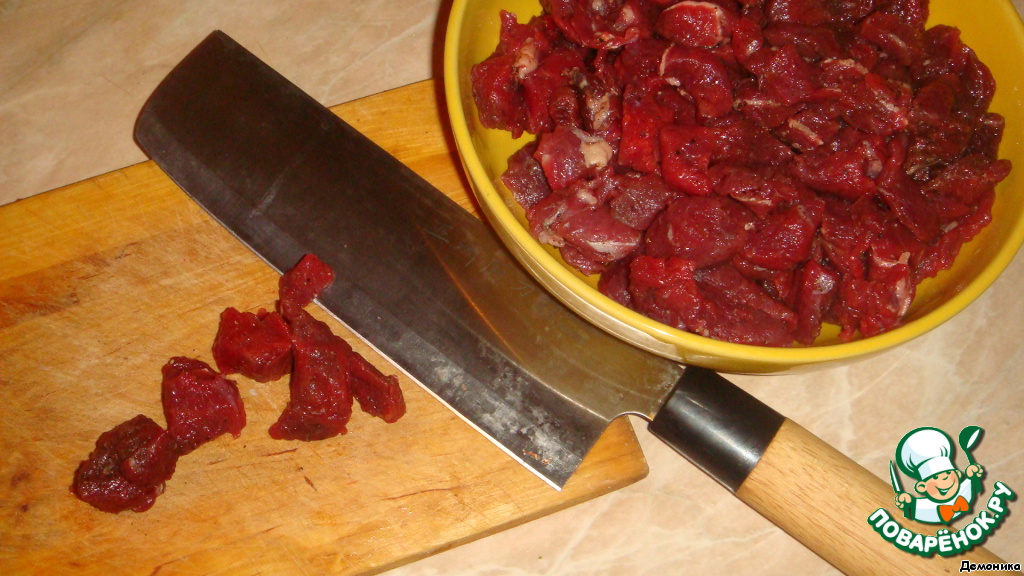 I usually start with the meat. It can be anything like. Is delicious with chicken and pork and lamb... But in the original and most delicious when it's beef. I take lean, as don't really like fatty meat. Meat should be fairly finely chopped, not to fanaticism. Season with salt and pepper. And leave in the fridge for a few hours to Mature. The filling needs to Mature, Yes, so our cake will taste better.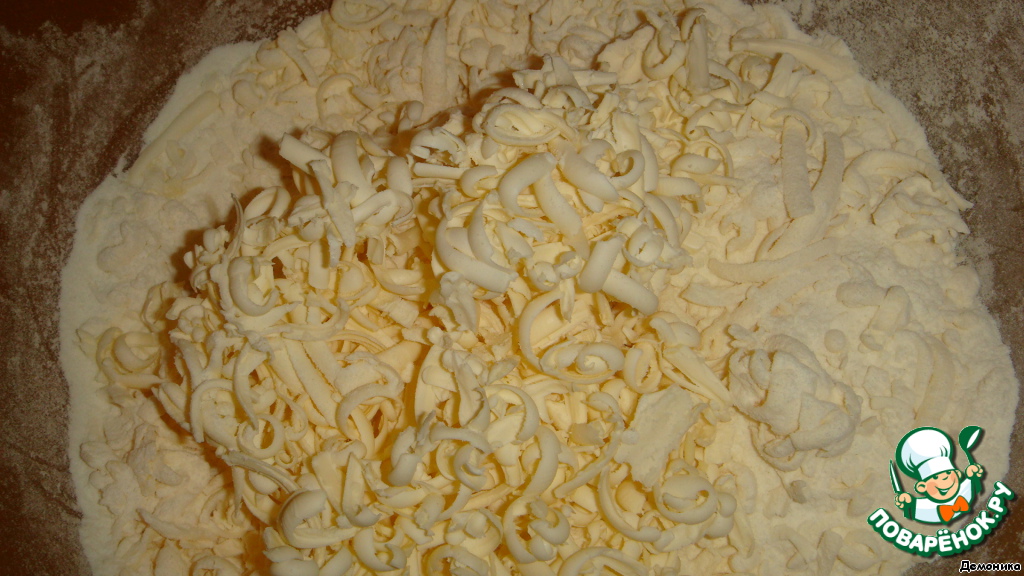 Now for the test. It is done quickly, but also takes time to stand up. So, pour in a bowl for kneading 2 cups flour and grate the frozen margarine in advance, dipping it in flour. Aesthetes can use butter. I would argue that with a proven margarine is not worse.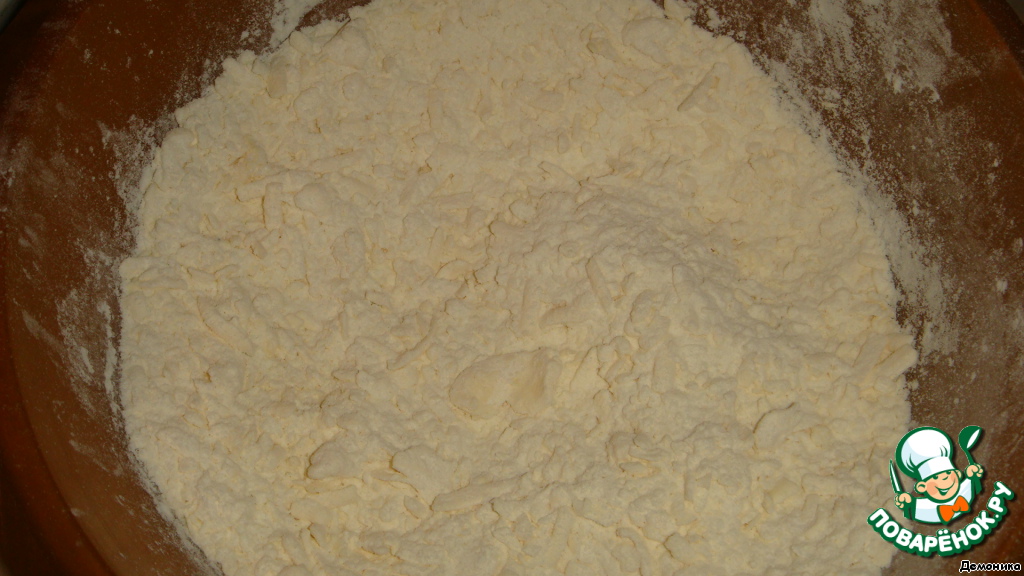 Grind margarine with flour until crumbs with your fingers.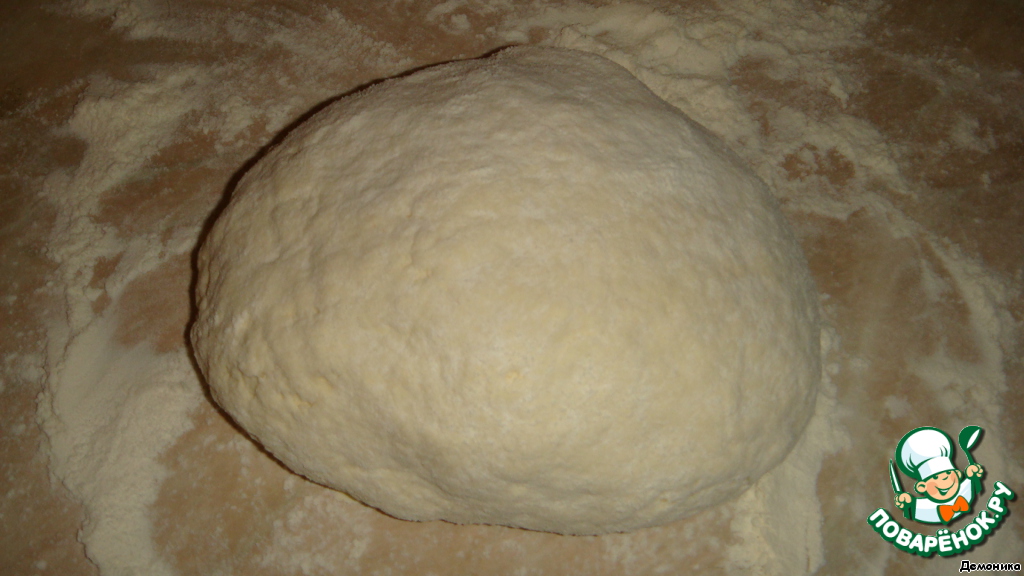 The dough need to add milk and sour cream half a Cup, that is, along a glass. Not to bother with measuring, I take a measuring Cup, pour into it the appropriate amount of milk and add to top of sour cream. All this poured into crumbs, there add the vinegar and knead the dough. At first it crumbles in his hands, but quickly coalesces into a ball. While kneading add more flour, about a Cup. After kneading the dough seems heterogeneous, with grains, let this not discourage you. Roll the dough into a ball and put into the fridge for an hour.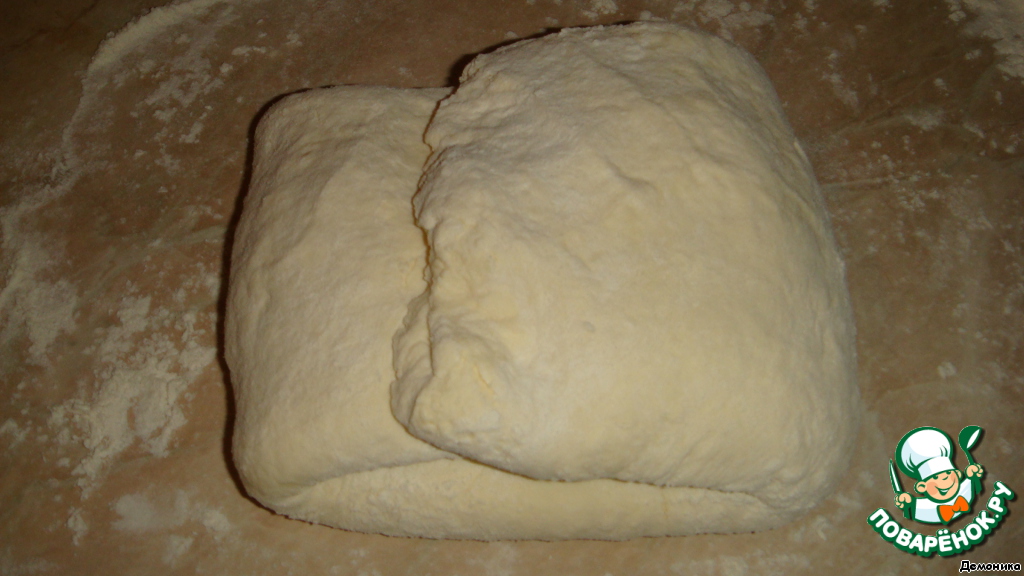 Theoretically, after standing the dough can be used as is, but if you want to create a masterpiece - it is necessary to produce with some manipulation that in the end it turned out to be layered. So, 20 minutes later take the dough and roll out into a circle. You noticed it was soft and homogeneous? And as a pleasure to work with him? Fold the dough envelope again and put into the fridge. This procedure can be repeated several times.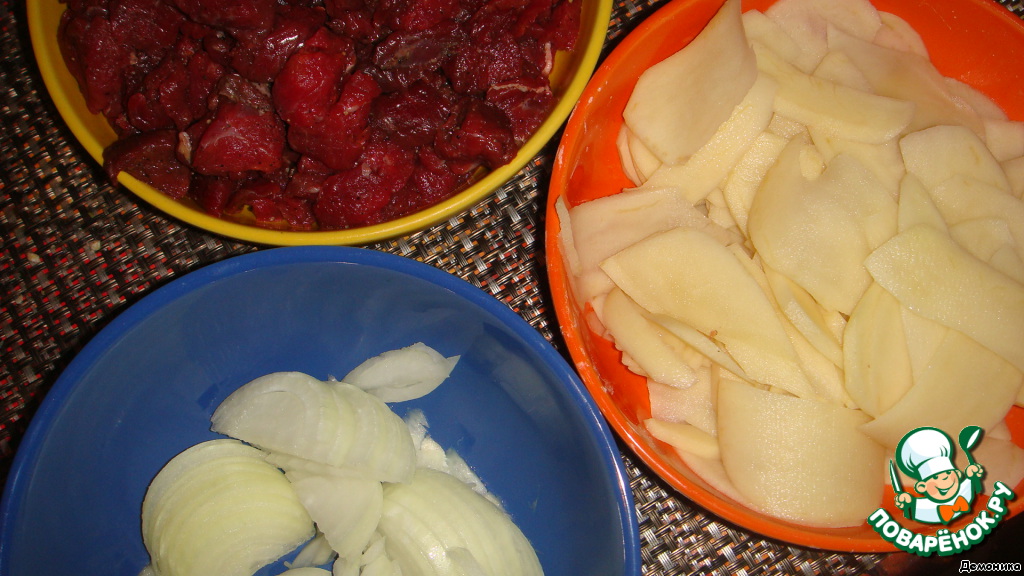 While the dough "rests", prepare the filling. This is our meat. Thin slices of the sliced potatoes, the thinner the better. I chopped the potato). Half rings or rings cut onions. Interestingly, even those who do not like raw onion cakes, pot pie eat it with pleasure. In fact, when eating cake, it somehow did not notice.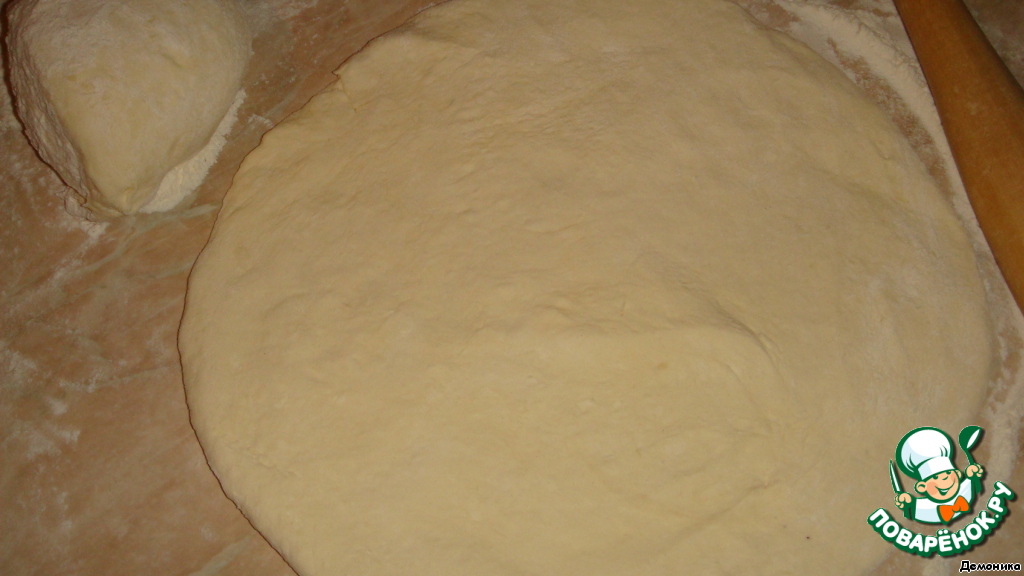 To separate two thirds of the dough and roll out into a circle greater in diameter than the form in which you will bake the pie.
The form is better to take deep, her coat a bit. We spread our dough, forming high sides.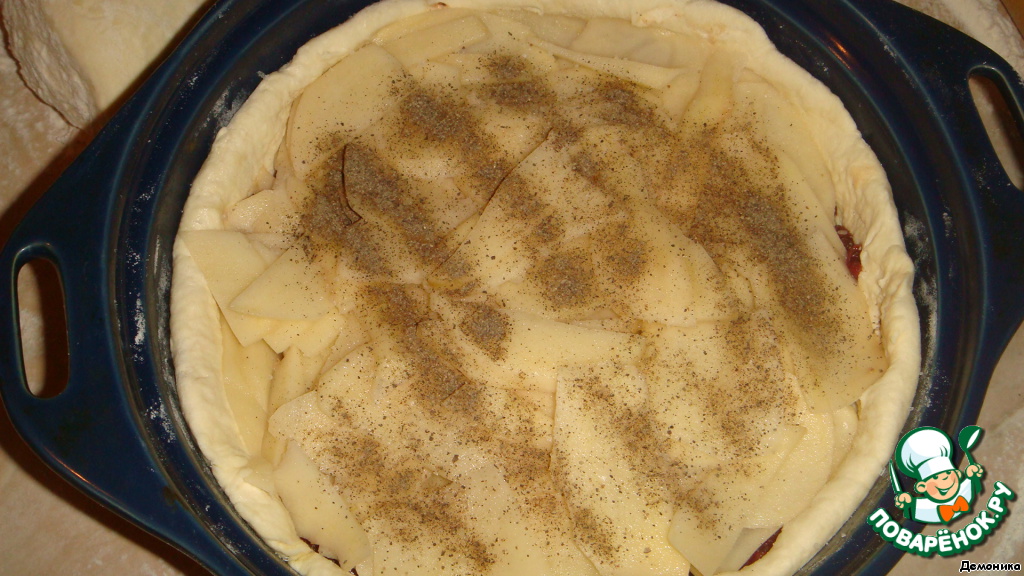 On the dough spread a layer of all the meat, crush the palm. Meat and plates of potatoes, sprinkle with salt and pepper on top.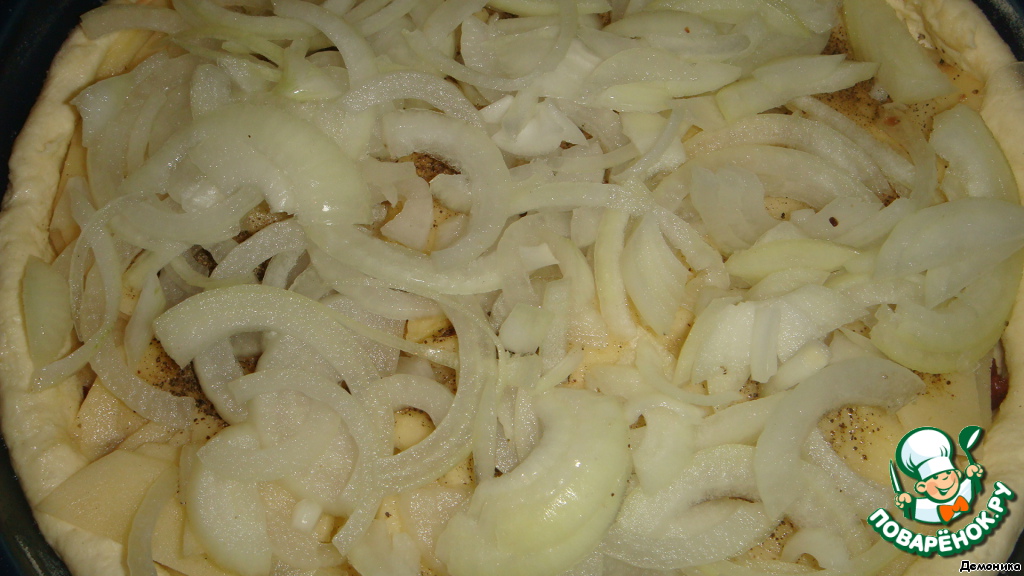 Next, arrange the onion. If the meat was just too lean or you have a fillet of poultry, you can put a few pieces of butter.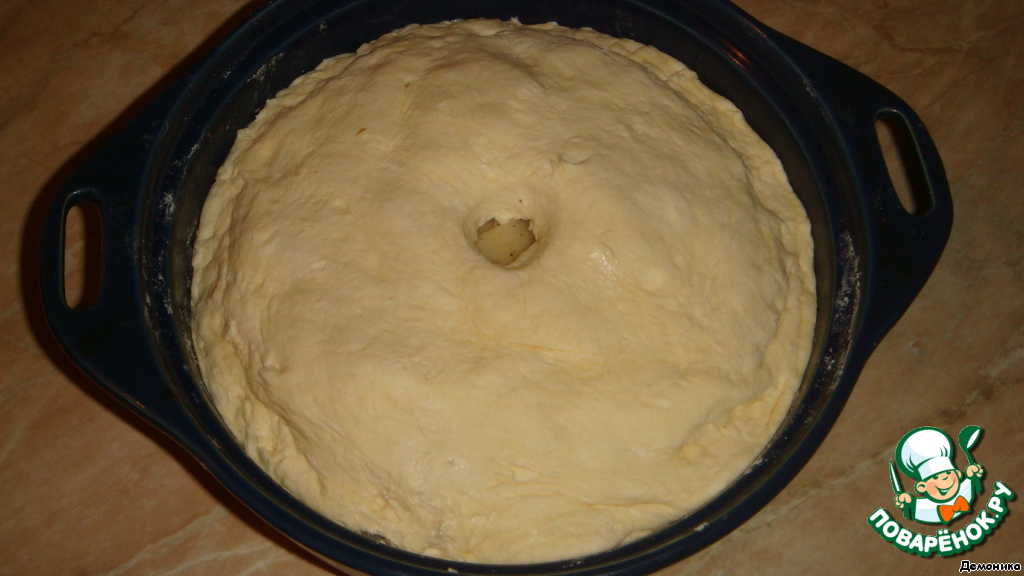 Roll out the remaining dough, put on top and zasiyaet region. Doing the finger in the middle hole.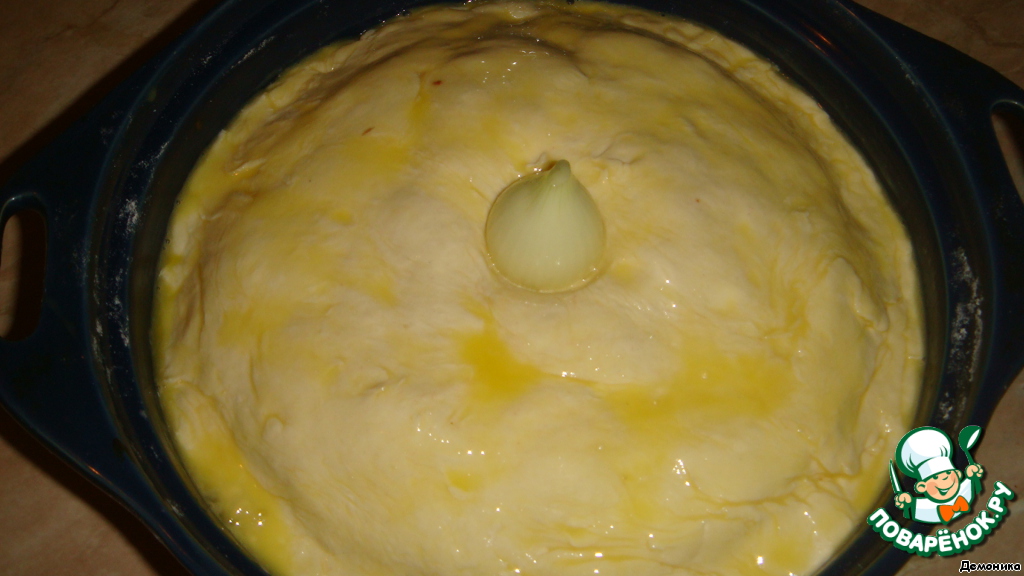 Rasputyvat yolk and grease on top of our cake. Hole plug onion. And put in a well (200 degree) preheated oven. 20 minutes take out the pie and pour in the hole of 50-70 grams of broth (any, up to made of bricks). Just pour some water. I think my version tastes better. Half an hour later the operation is repeated. Do not forget to close again the hole with onion. Pour the broth generously, not scary, if a little dribbles out the top. This will give the cake richness and help the potatoes to stay moist.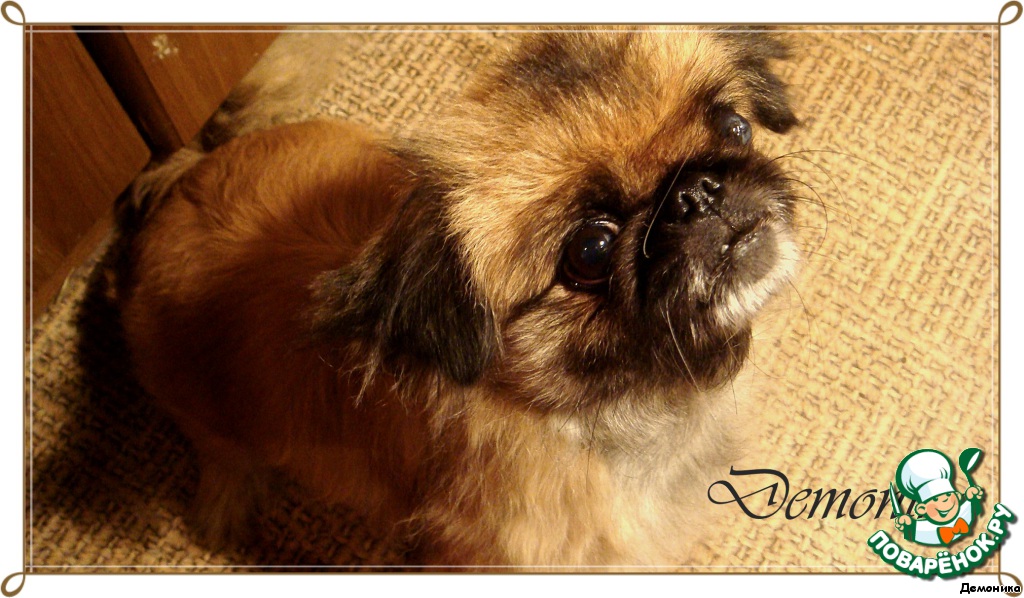 Theoretically, after an hour the cake should be ready. He will have ruddy and appetizing. But... then you can wait for treachery from the potatoes: it can stay damp. Pull out the pie, through a hole wychowania bite of potato and try. Most often you want to check the pie in the oven. Not to burn - reduce heat and cover with foil. Add more broth - potato "will from this". You can put for 10 minutes in the microwave, if form allows. But in the oven tasty, the batter crunchy, slightly foliated and very tasty soaked in meat juice. The potatoes can be slightly pre - "to padaryti", and you can already cut 3 minutes in the microwave to warm up. Then a miss will not be exact! In one word, experiment. A lot depends on your stove and the potatoes. The smell is already beginning to run together the most impatient family members.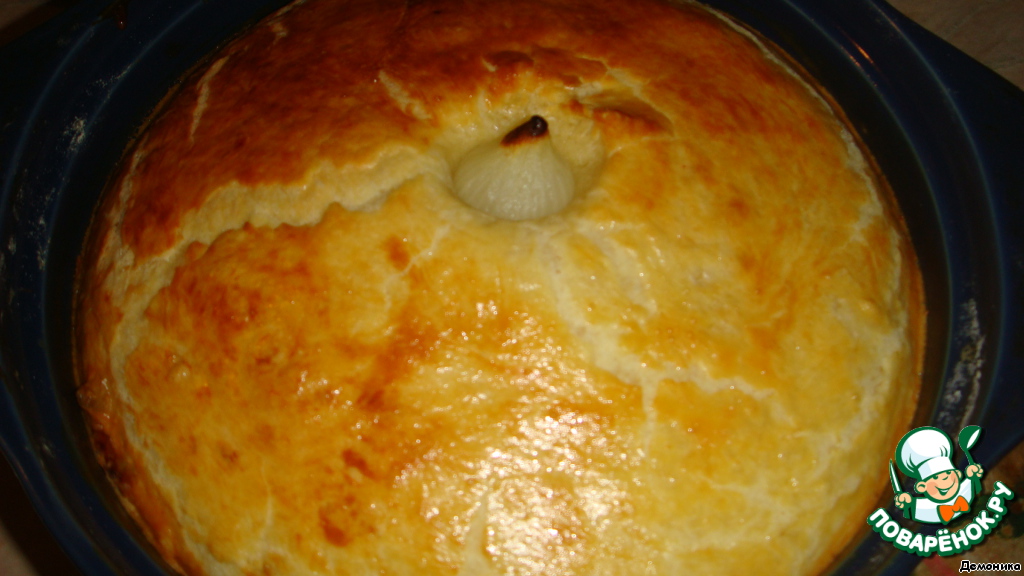 Finally, our cake is ready - the fresh-faced, mouth-watering, delicious-smelling. And yet, very satisfying. And here's a problem. Theoretically, it needs about 15 minutes to stand that does not leak juice when cut. But practically... we Have it did not stand never. Cut immediately and taken away, eat, burning. And only 20 minutes later, glancing sadly at the empty pan, they say: we told you what to do two pies. Prepare, you will not regret! Bon appetit to You and Your family!