Description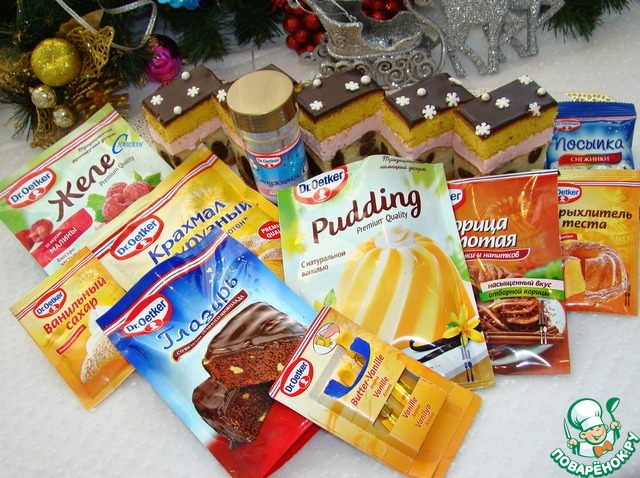 Cake is a confection, popular in Western Ukraine and Poland, is very similar to the cake but usually bake it in a rectangular shape. Very characteristic is the portion feed cake, and in this case amazing cut. It is bright, colorful and intricate, with a variety of layers, fillings and creams. In addition, it really is holiday baking. In Ukraine, bake pie for weddings, and different, with various fillings and creams. Thanks to its bright appearance and various taste cake has every right to take a place on the Christmas table!
Ingredients
150 g

75 g

50 g

1 piece

1 piece

0.5 tsp

1 pack

1 Tbsp

100 g

100 g

100 g

1 pack

4 piece

1 tsp

400 g

150 g

200 g

4 piece

1.5 pack

250 ml

1 Tbsp

0.5 pack

1 pack

100 g

1 pack

2 pack
Cooking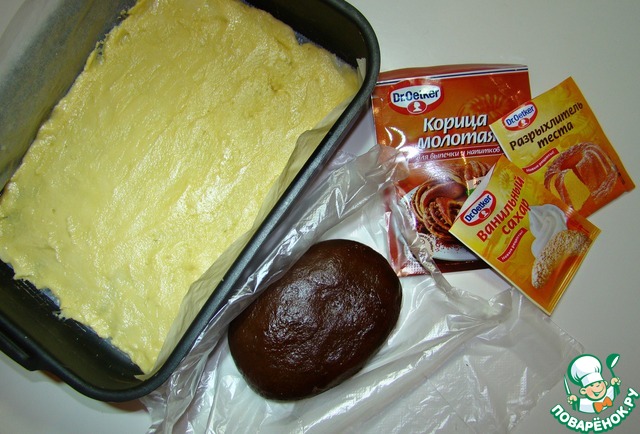 Make the dough 1: softened butter vzbit with sugar powder. Continuing to whisk, alternately add the egg yolk and the egg. Gradually add flour with baking powder and vanilla sugar, stir with a spoon. Divide the dough into 2 parts. One portion of the dough put in shape, covered with baking paper and greased. Flatten with your hands greased with vegetable oil. And put in a preheated 170-180 *C oven for 15-20 minutes (until light Golden brown). In the second part of the dough add the cocoa. For the "game flavors" in the dark dough and I added cinnamon. Dough knead well, wrap in cling film and put in the freezer.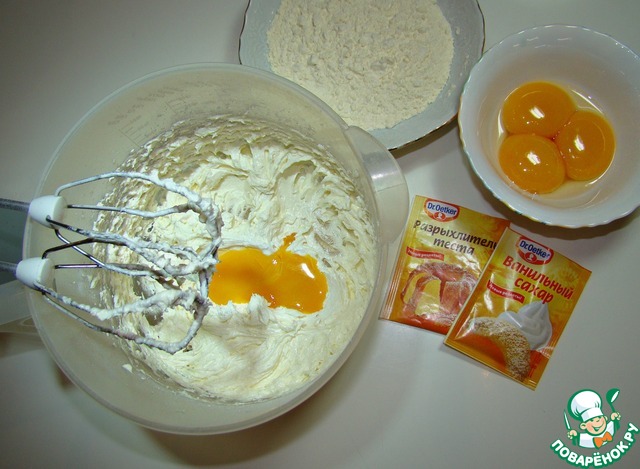 Biscuit dough 2: beat with a mixer softened butter with powdered sugar, add one egg yolks, still whisking. Add in a few receptions flour mixed with baking powder and vanilla sugar. Mix well.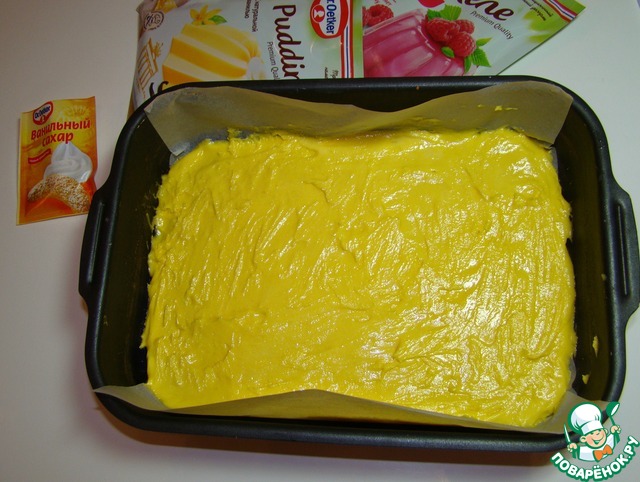 Put into a form, pre-covered with baking paper, greased. Bake at 170 - 180* degrees for 30-35 minutes. The finished cake to cool.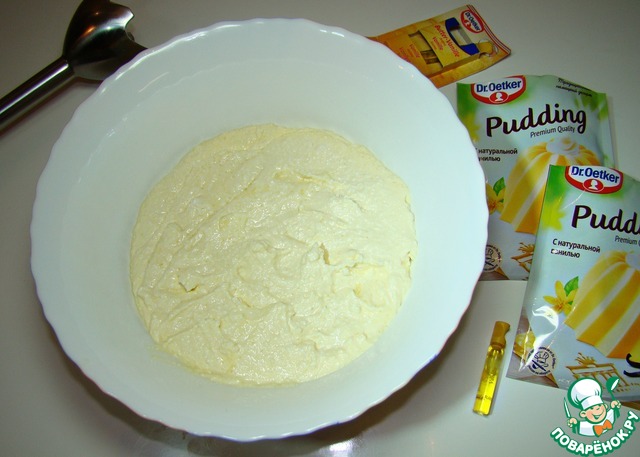 Cook cottage cheese. To do this, separate the yolks from the whites. Beat the cottage cheese in a blender with powdered sugar, sour cream, egg yolks and vanilla pudding. For flavor I added a few drops of vanilla flavoring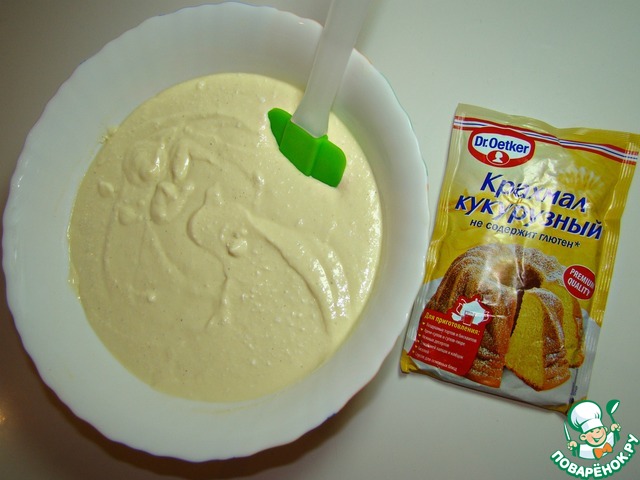 Proteins vzbit in a solid foam. Add parts to the curd mass and gently stir with a spatula. For the density of cottage cheese mixture I added a tablespoon of corn starch.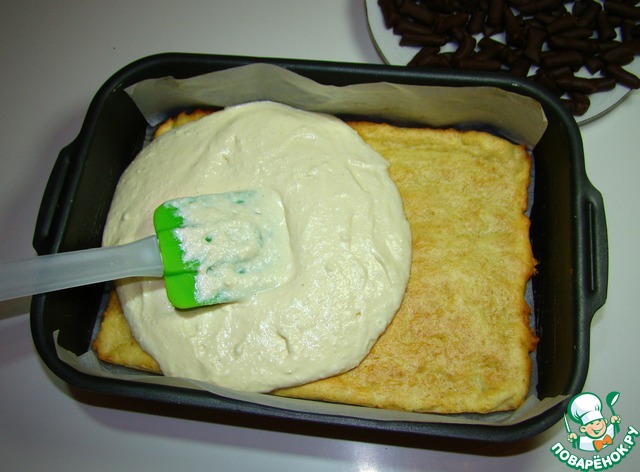 The form to lay baking paper, put 1 Korzh ready from test no. 1. From top to distribute the cheese mass.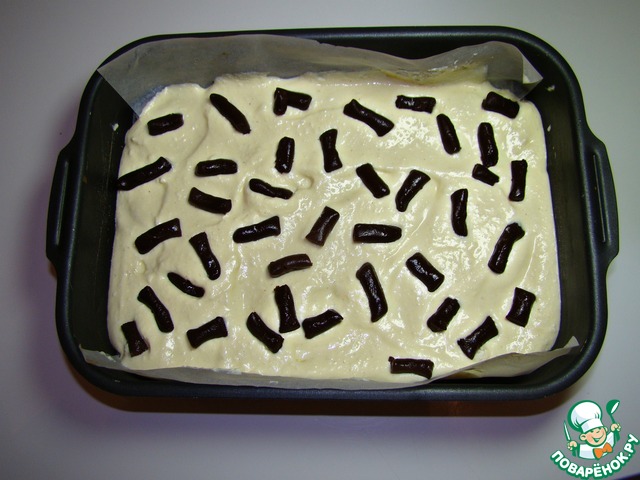 The dark part of the test to get out of the freezer and to make him or small balls or roll into a sausage and then cut into small pieces. and spread evenly over the curd, on top of covering the next portion of the curd mass...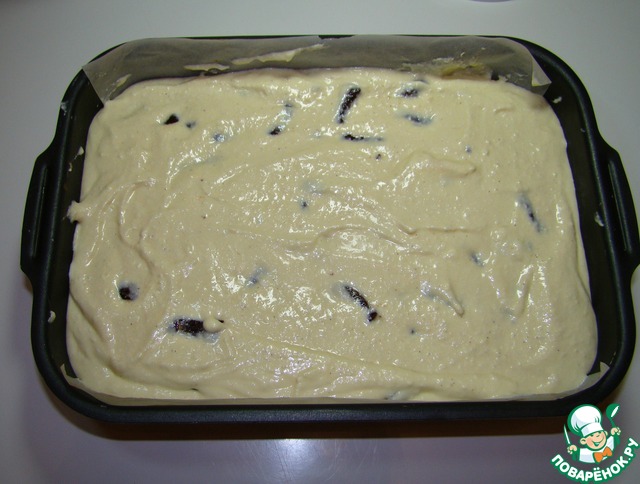 Or portions of dark dough gently mix with cottage cheese and pour on top of cake dough No. 1. Bake in a preheated 165 -170* oven for 50 minutes. The finished cake cool completely.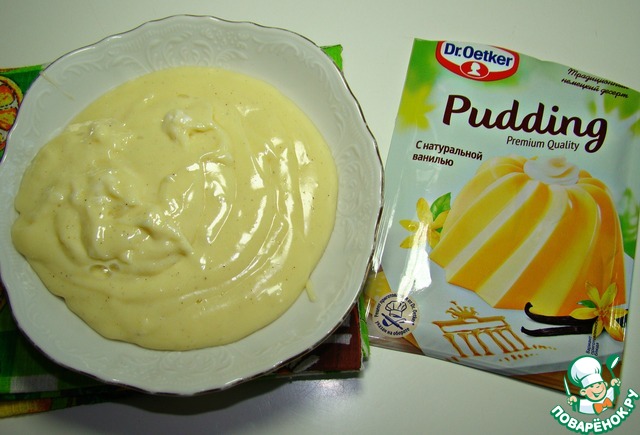 Prepare the cream: place the remaining pudding to dissolve in 1/3 Cup of cold milk. In another part of the milk, add sugar, bring to boil and pour in the hot milk diluted pudding. Stir and cook, stirring constantly until thick. To put the pudding into another bowl, cover with cling film "contact" and allow to cool to room temperature.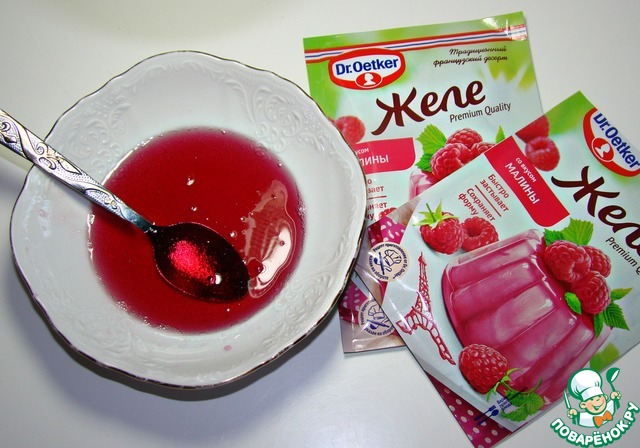 Jelly pour in 1/3 Cup of hot water, stir until dissolved. Allow to cool to room temperature.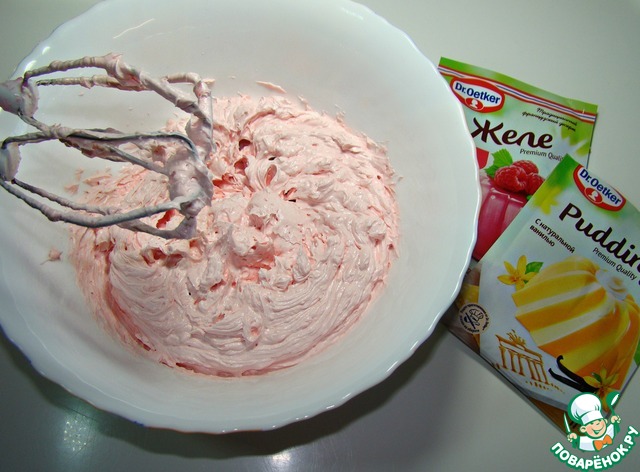 Softened butter beat with a mixer, gradually adding pudding, cold jelly, until fluffy state. Spread pudding a lot on chilled cheese cake, flatten. Cover with biscuit dough No. 2. refrigerate for a few hours.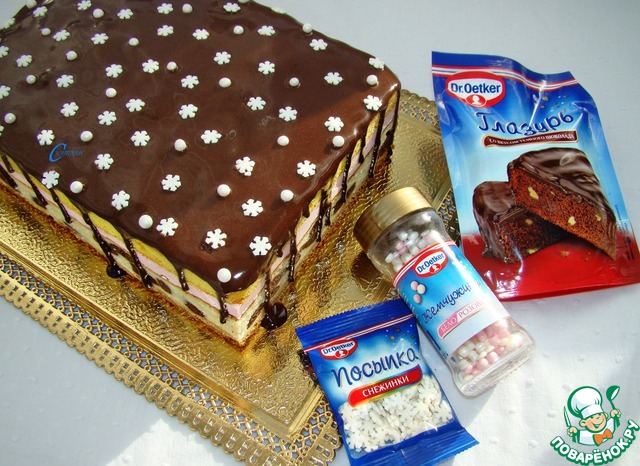 Heat in a water bath (according to the instructions on the package), chocolate icing. Evenly cover the cake and decorate with decorative powder according to your taste.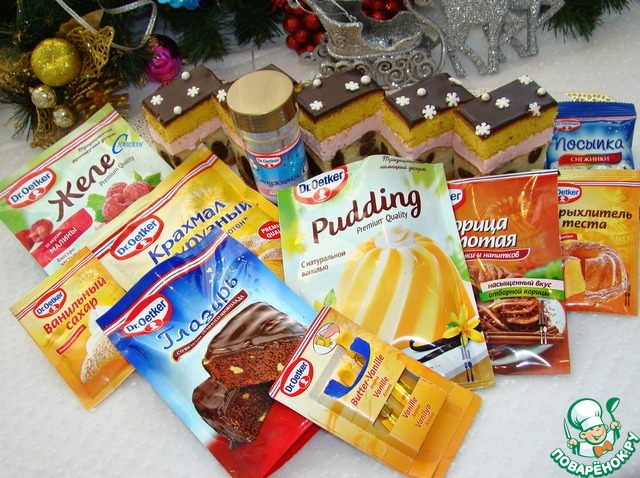 The whole "cast" involved in the creation of the project called "Whispers of the nuns".