Description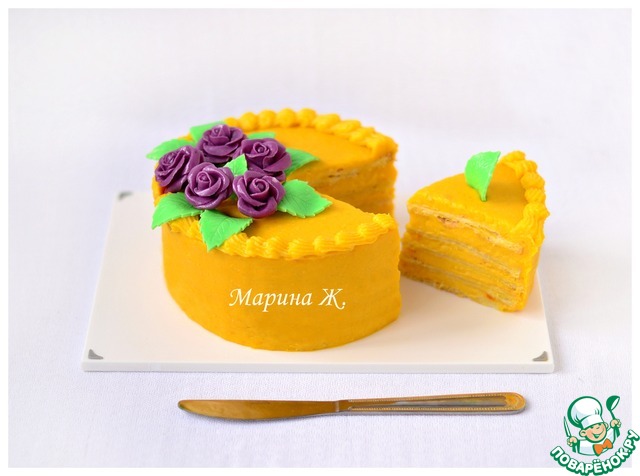 Millefeuille is one of the most popular desserts in the world. It is easy to prepare, easy to use, but impressive dessert. Very tender, tasty, melt in your mouth. It seems incredibly complicated, it is actually quite simple.
Ingredients
500 ml

2 g

2 piece

1 piece

100 g

30 g

30 g

500 g

370 g

25 ml

10 g

250 g

110 g

30 g

1 g

1 piece

130 g

130 g
Cooking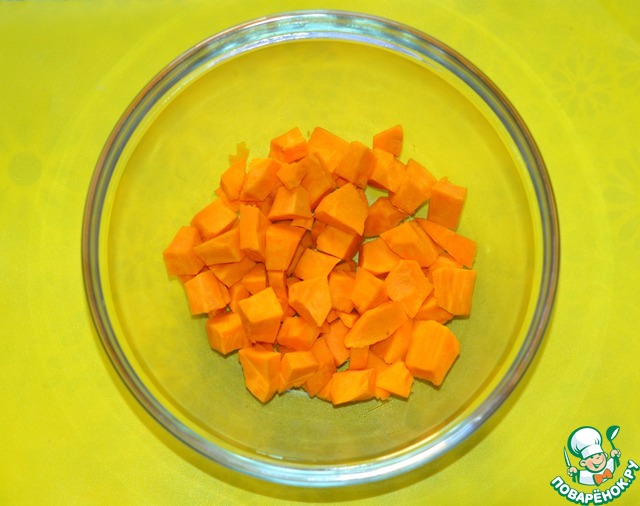 Cook pumpkin jam. Pumpkin cut into small cubes.
Add sugar.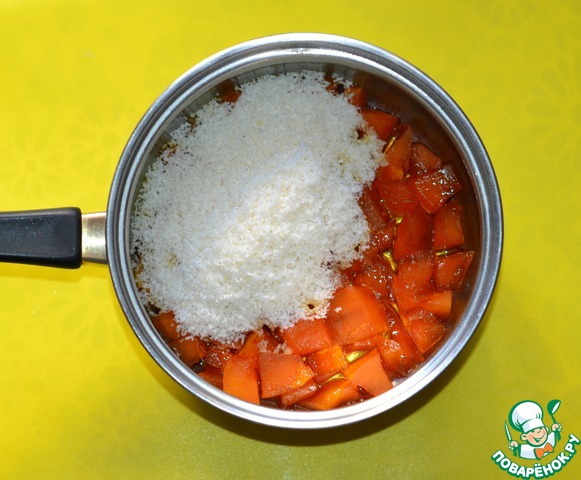 Cook on low heat for about 30 minutes the Pumpkin should be soft. Add the coconut flakes. Simmer with the lid closed for another 10 minutes. At the end add vanilla.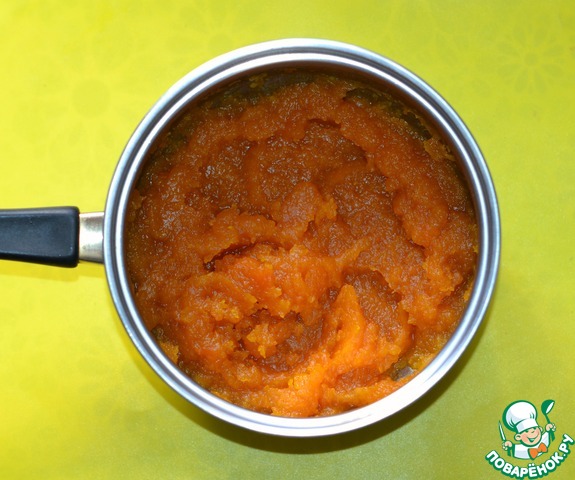 Beat mixture with a blender until smooth.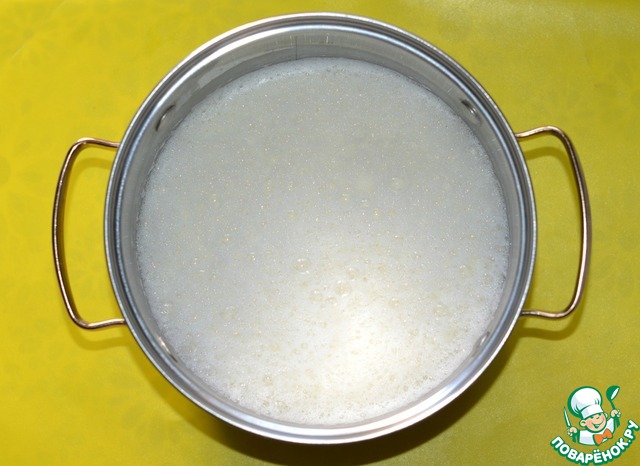 Prepare the custard. - Pour in half the milk sugars. To heat up. - The egg yolks and 1 egg beat with the rest of the sugar, flour and starch. Whisk until smooth. Pour half of hot milk with sugar. Mix well. I did it with a mixer. - Pour the remaining hot milk and mix again. It is important that the mass was homogeneous, without lumps. Cook over medium heat, stirring constantly whisk to avoid burning and lump formation. As soon as the cream thickens, remove it from heat. Cover with cling film and let it cool down completely.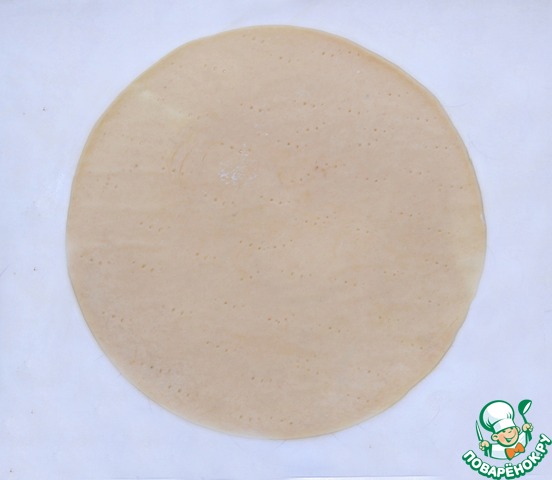 The puff pastry you can use ready store, but you can prepare at home, depending on desire and time you have. Prepare the puff pastry. - Sift flour with salt. - Melt the butter (70 g), add warm water (25 ml). Pour in the flour. Mix, but do not knead until smooth. Roll the dough into a ball, wrap in cling film and refrigerate for 20-30 minutes On a baking paper roll out 300 g of butter in a 20X30 rectangle. Roll out between two sheets of paper. Put into the refrigerator for 20 minutes roll the Dough into a rectangle 35Х25. Put the chilled butter on top. The top edge of the dough to wrap to the middle, bottom wrap (put) top (little book). Roll in one direction with the help of a rolling pin into a rectangle 70Х20 and put into the fridge for 20 min.. the Dough again roll out into a rectangle 70Х20. The ends of the rectangle are folded to the middle. Then again, to connect the ends. Wrap in cling film and refrigerate for 20 minutes. All do the same again. THE PUFF PASTRY IS READY! - Puff pastry roll out to a thickness of about 3-4 mm, Cut out circles of desired size. Prick them with a fork.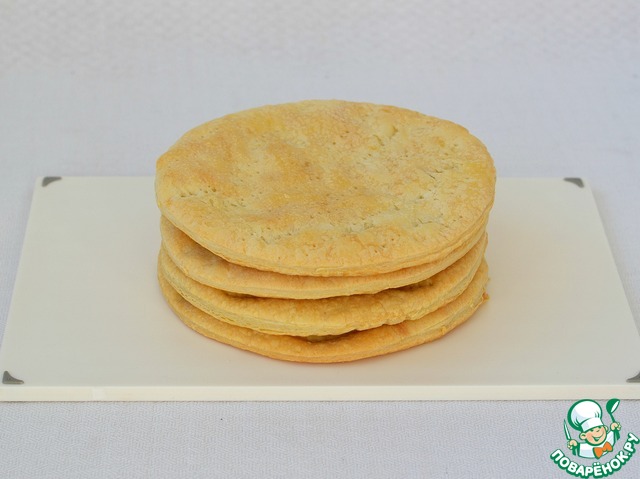 Bake at 180 degrees until slightly Golden. About 20 min.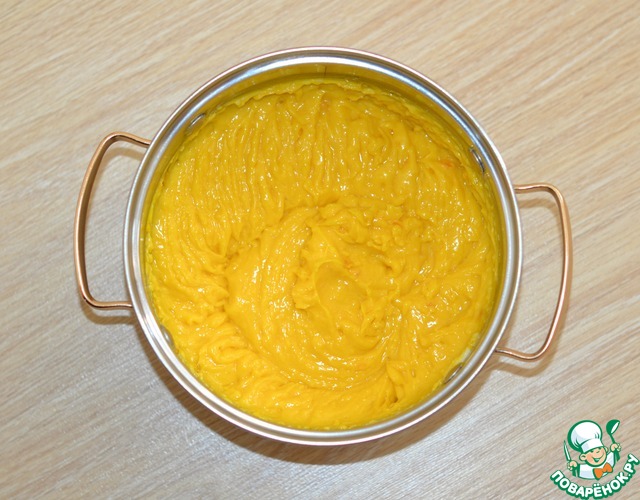 Prepare pumpkin cream. Custard beat with a mixer until smooth, add the pumpkin jam and softened butter. Beat again until smooth. The cream itself is very delicious, can be served as a separate dessert.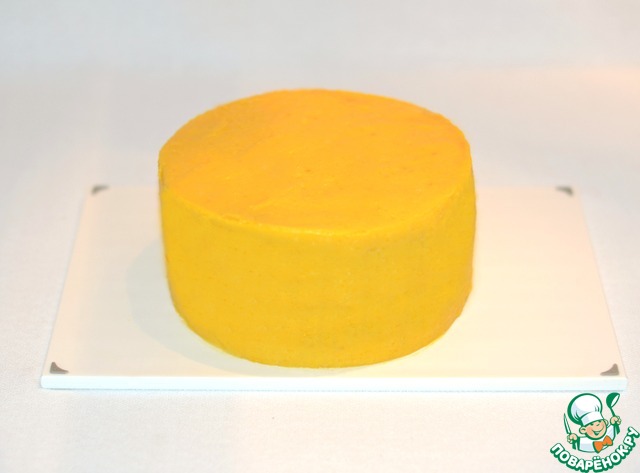 Cakes of puff pastry to spread it on pumpkin cream.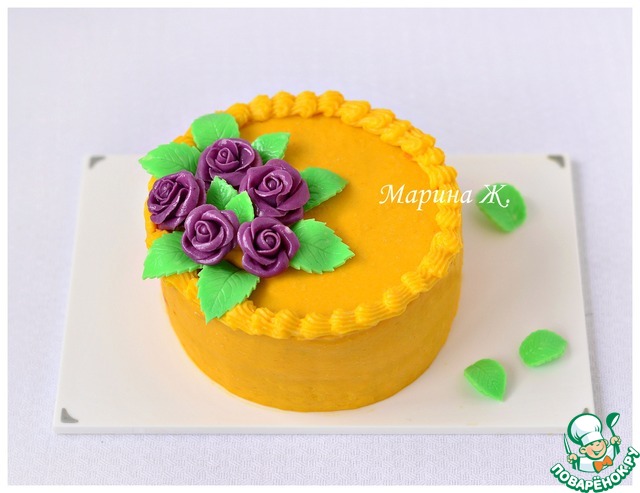 Decorate as desired. I made a Lacy rim of this custard and decorated with flowers from the home of mastic. You can just sprinkle with crumbs of puff pastry.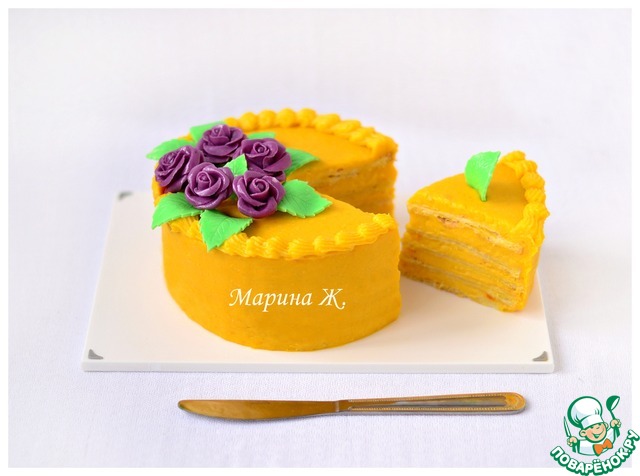 Bon appetit!