Description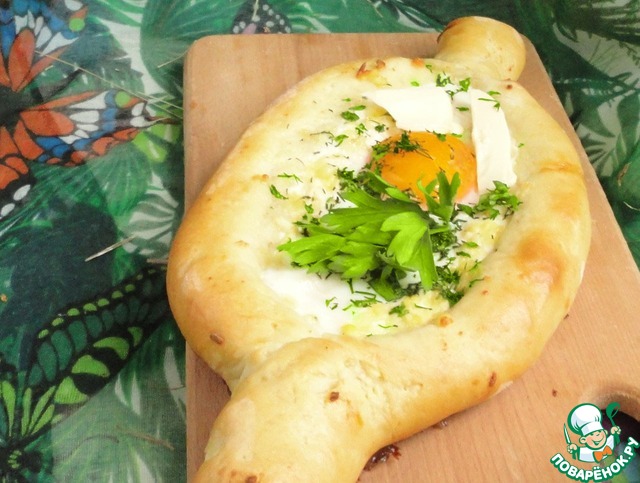 With the details and nuances. Well, I got to 200 on prescription. As jubilee decided to share my favorite "video agarskiy" love this Georgian dish. I haven't lived in the Caucasus, have never tried this dish in the "local" performance, but this recipe was several years from different sources. Most of the things I podcherpnul my favorite program "spice". The result is just gorgeous. Dish, of course, far from diet, but do not forget that this "cake" is not a snack, and a full dish, which requires no additional (well, except that a glass of dry red wine), it is sometimes possible to arrange such a feast of the abdomen. Well and to girls from Georgia - all comments and other little things that I don't know, take the review with enthusiasm.
Ingredients
150 ml

150 ml

6 cup

6 Tbsp

10 g

1 tsp

3 tsp

150 g

150 g

7 piece
//= Yii::t('app', 'Total calories: ') . $recipe['ingredients']['total_calories'] ?>
Cooking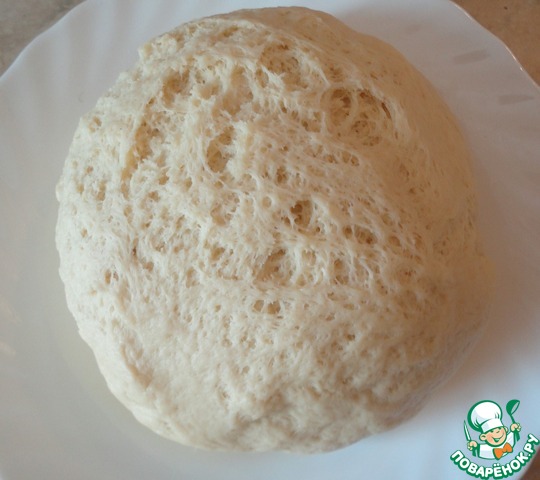 First about the test. The recipe for this dough coverlets I learned from the aforementioned transfer of "spice". The presenter said that specially called to their friends in Georgia, and there he was told that if there is no yogurt, the dough is made on what is in the house: yogurt, milk or just water. Matsoni is, roughly speaking, Caucasian sour yogurt. And it's perfect for the test. Plan learn how to cook it, but so far only bought. Well, because in Ukraine this product is, to put it mildly circulated, and to find not always. If you can find or make their own then test yogurt must be diluted 1:1 with water. If yogurt is not, then take the kefir or yogurt. Another option is milk. Well, if there's no milk - take water. In fact, the recipe people, therefore variation is not prohibited. The dough, of course important, but still, it is important that the dressing. So, let's proceed. I prepared the dough in the breadmaker, but you can manually. Liquid (diluted yoghurt, kefir, yogurt, milk, water) should be four times smaller than flour. Ie for 1.5 cups (300 ml) of fluid take 6 cups of flour. On this number we take 6 tbsp butter, 1 tsp salt, 3 tsp of sugar and 10 grams of dry yeast. If you prepare the dough in the breadmaker, then lay the products according to the instructions. In my breadmaker, first pour the liquid, add salt and sugar. Butter cut into flakes and add, then flour and yeast. Put the program "dough". If you are preparing hand - mix all the ingredients, knead and leave to go for about an hour. The dough comes out "greasy" to the touch and cold.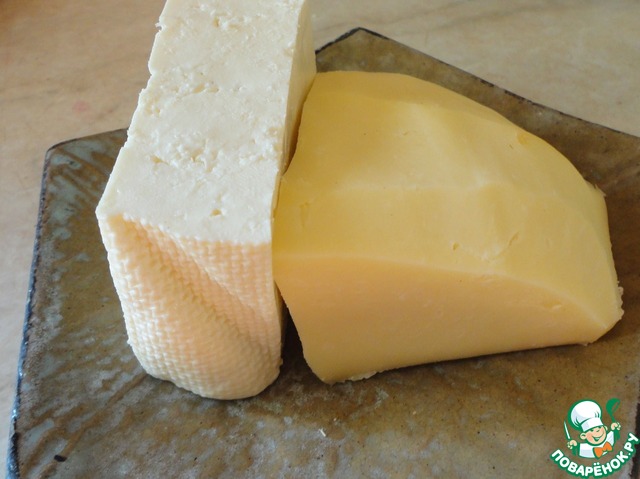 Now about cheese. For khachapuri Suluguni usually take. This cheese melts very well and lasts, but in sportswear it is important that the stuffing was possible to pick up a piece of bread, and just melted Suluguni cheese will drain. That is why in the filling, add cheese and BOILED eggs. This is another important secret, which not everyone knows. Proportions: 1 part pork, 1 part cheese and 2 parts boiled eggs. Suluguni will give malleability, cheese - form (if you can call it that), and eggs tenderness.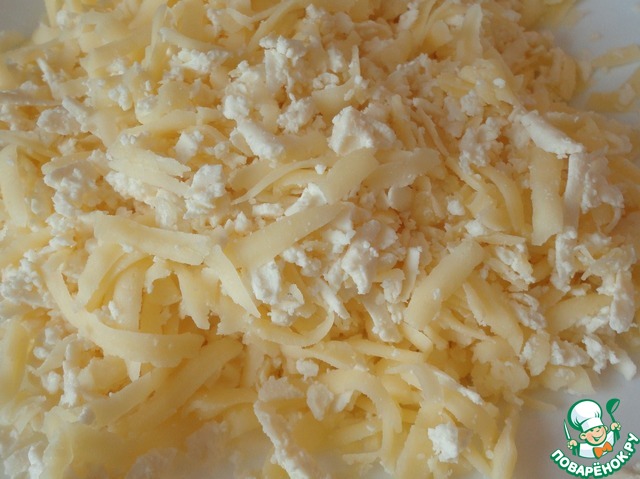 Cheese grate on a coarse grater. Approximately 50 g and put aside (you will later understand why).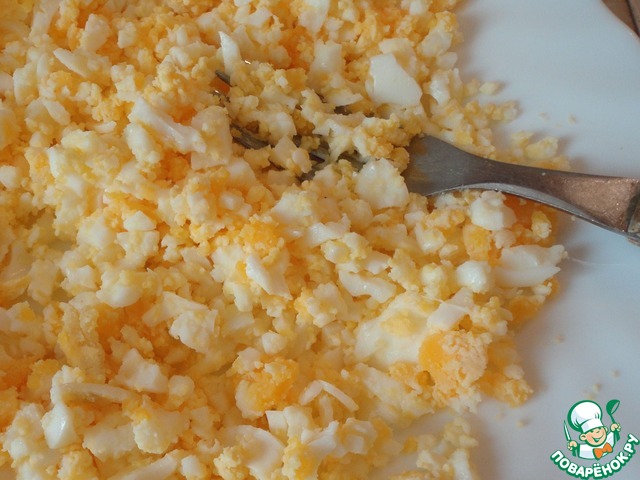 Three boiled eggs peel and finely chop. Eggs mixed with cheese (remember, part of a mixture of cheese put aside). Mix eggs and cheese; divide into 4 pieces and roll each into a ball.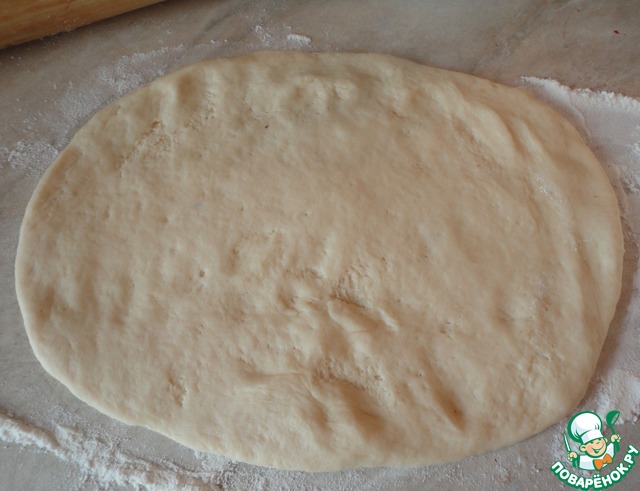 Divide the dough into 4 parts. Roll out an oval with a thickness of about 7 mm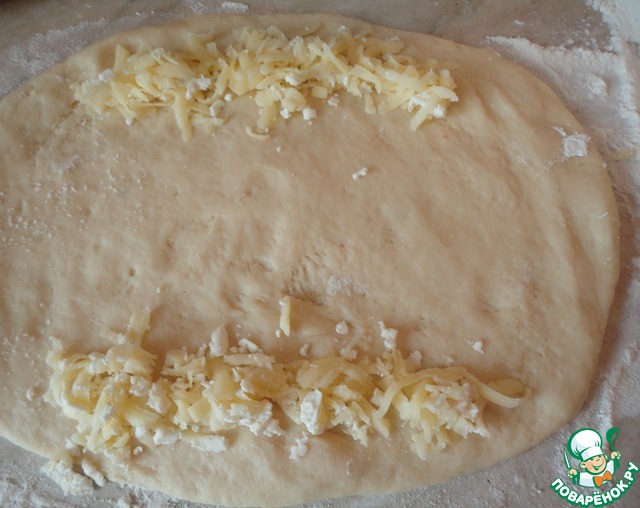 With two large sides of the oval pours the delayed cheese.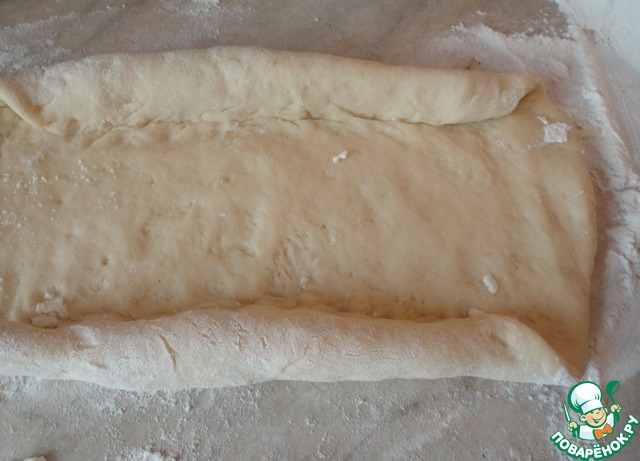 Wrap the edges so that cheese was on the inside of the bumpers. Good "seal" (so to speak) the edges of the dough so that the cheese remained in the sides in the baking process.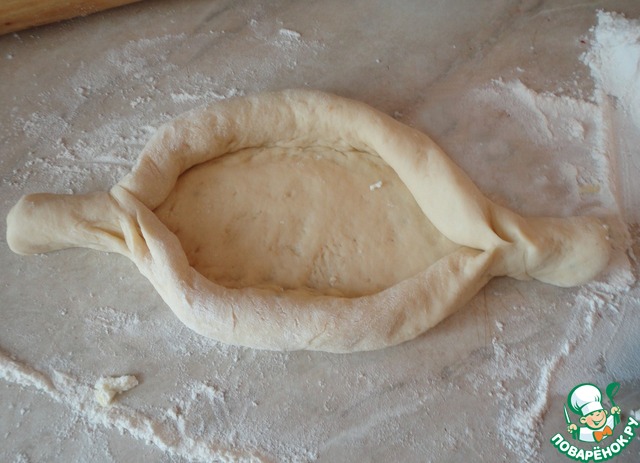 Forming a "boat", making a rather long "poop" from both sides. Later will tell you what this region needed.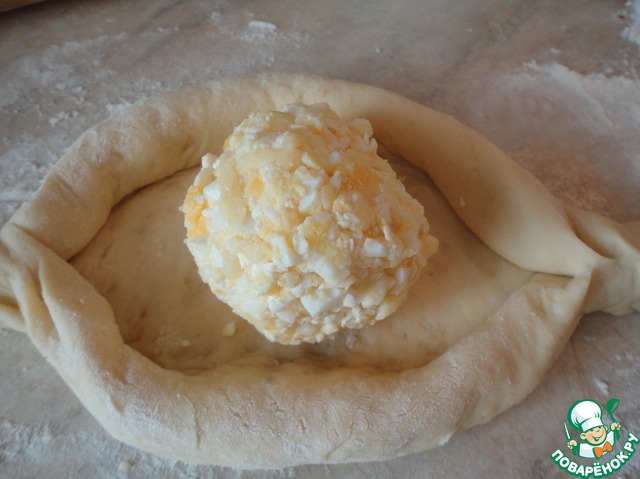 Spread the filling.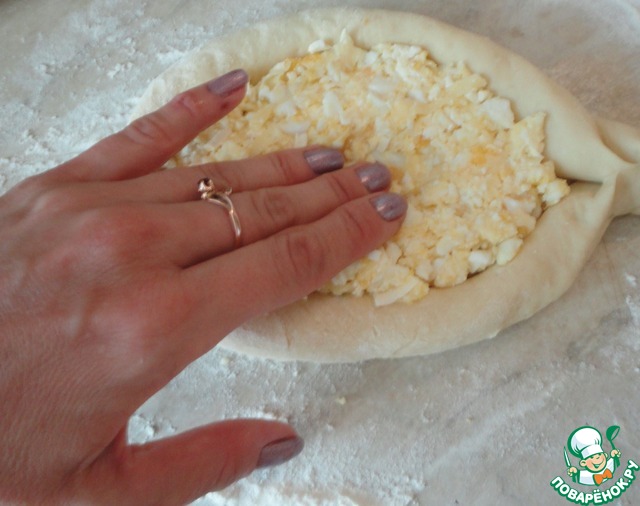 Distributed by "boat"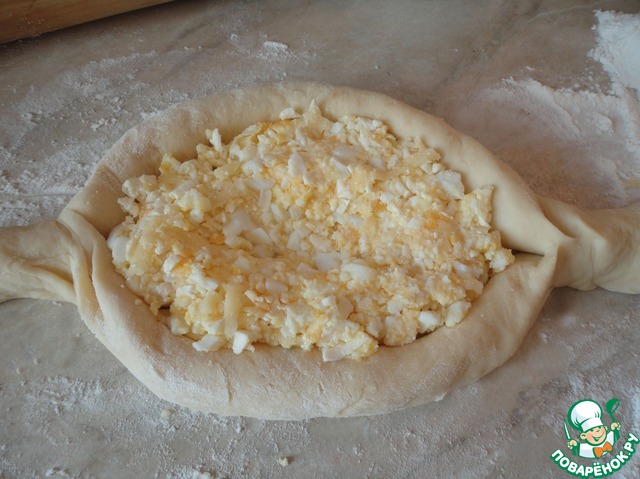 And now two more very important points. In order to have in the end, turned "kebab", not "Open khachapuri and fried eggs next", you need first, in the filling and make a hole. It should be wide enough to fit the egg and does not leak. By the way, if we use clean stone in the oven is deepening just disappear, so the option of filling that I offer - we can say perfect. Secondly be SURE before sending in the oven give the keel a time for 15 minutes. Need it to our boat and then in the oven not "twisted".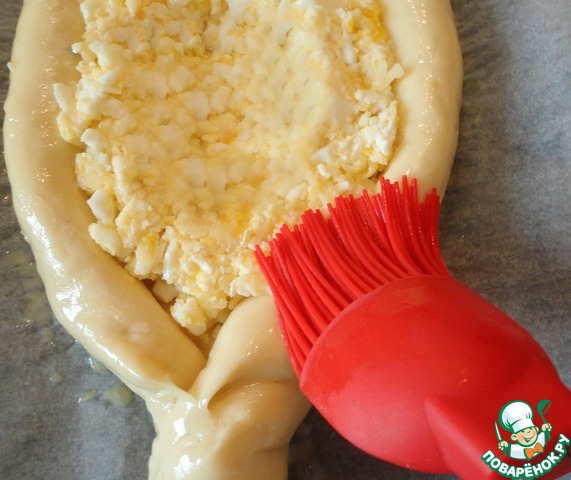 We spread our pumps zastenny with parchment paper a baking sheet (give rasstoyatsya 15 minutes, as I already wrote above). I have 1 pan 2 are placed such khachapuri. Ie 4 khachapuri was prepared in two stages. Before baking, you can coat the dough with any favorite "romanization" :) I Have a mixture of yolk and milk with a pinch of salt. Sent in a preheated 220-250 degree oven for 10-15 minutes.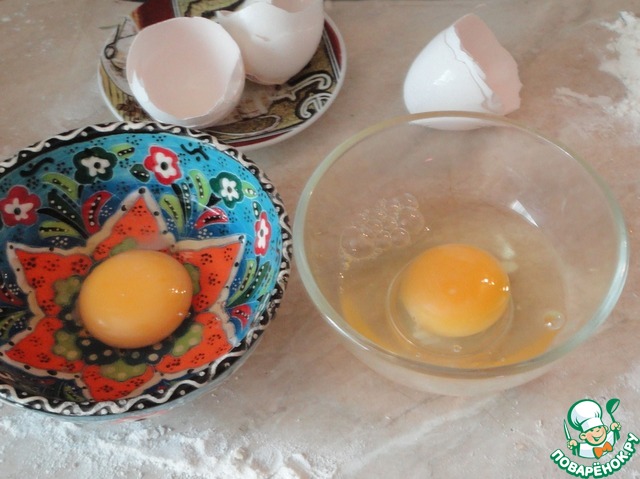 When baking khachapuri, suggest to break the eggs in a separate container. So their then it will be easier to pour out on our boats.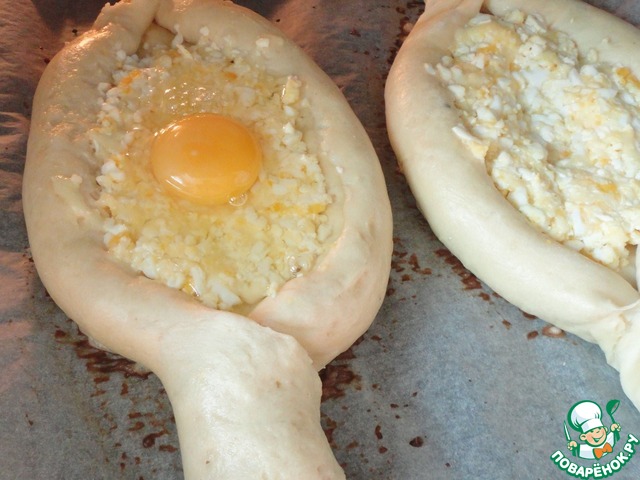 Now in a deepening gently pour one egg. Put into the oven for another 5-7 minutes - until the moment when "clutch" protein.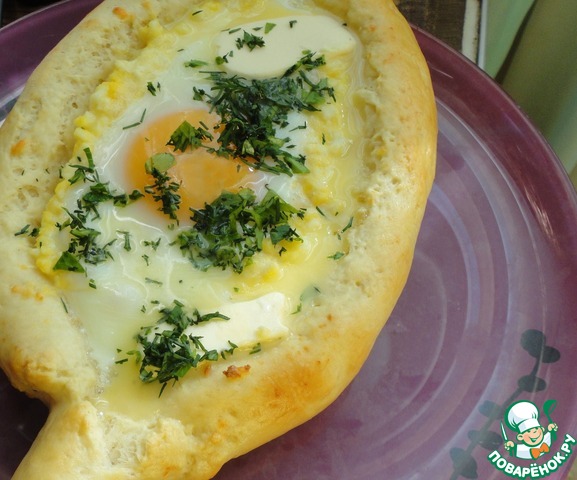 We take out our khachapuri, put on each a piece of butter, sprinkle with herbs. And serve immediately!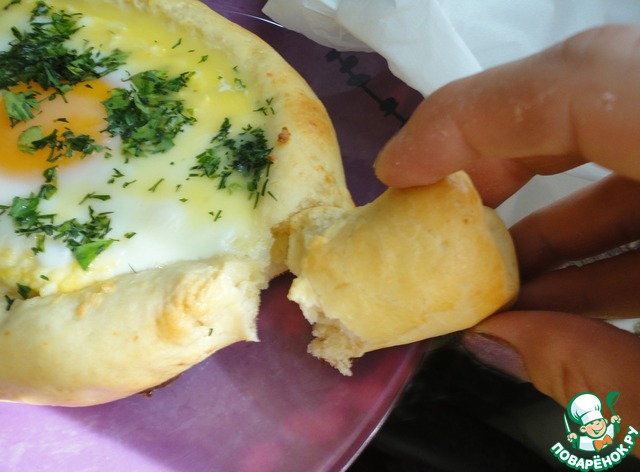 Now how to eat it. Breaks off "aft" of our boats.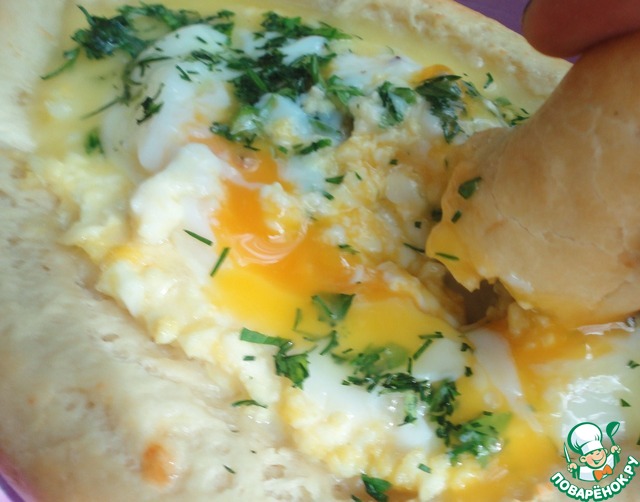 Quick and firm motion, mix the filling.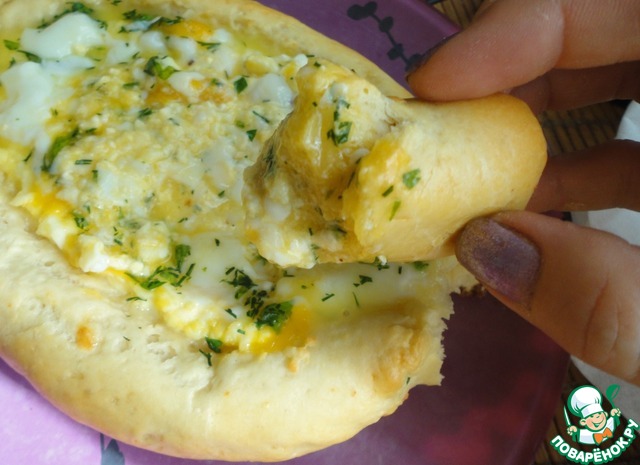 Next "podzemlje" filling in "bread" - to eat and enjoy. I do not advise to eat it all at once. As it cools down the taste changes somewhat. Perhaps the cooled version (20 minutes) will appeal more.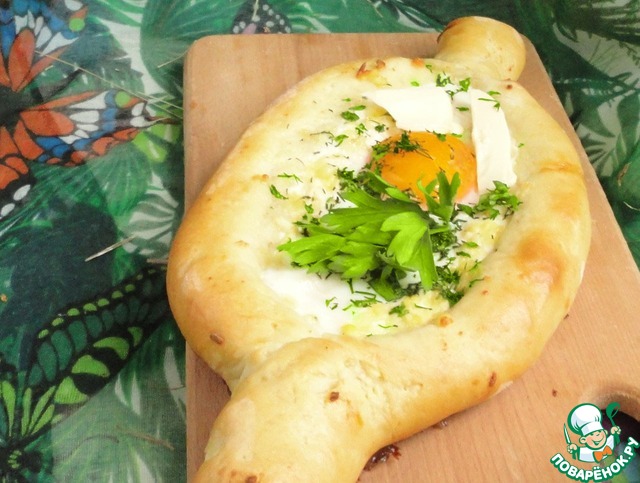 I hope those who decide to read all the details and to cook this dish - you will not be disappointed. And yet this dish can be cooked for a romantic dinner by boat twice and smashing into it two eggs. One on each side. Then you can eat this "cake" together: one on each side. Bon appetit!