Description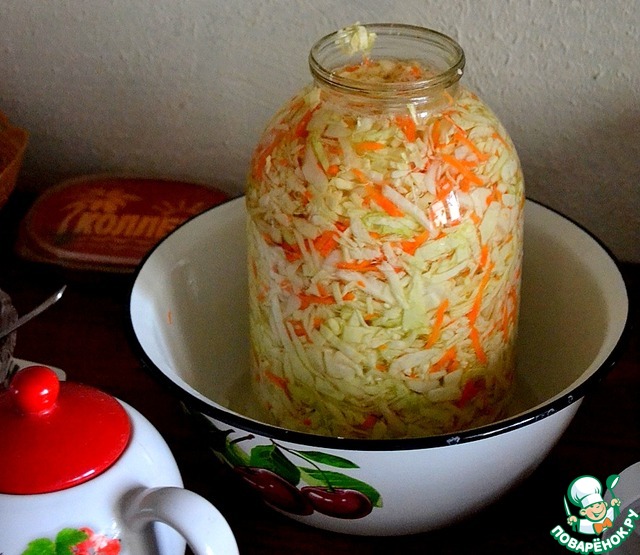 Do not swear, experienced cooks. I want to share with the inexperienced. Didn't even think that she may be surprised such a simple way of cooking our favorite winter meals. Was amazed at the result. This crisp, juicy, perfect in terms of salt-sugar cabbage I tried only once. The cabbage matured to the peak of the Goodies in oak barrels, but with some secret ingredients-herbs. And I have accepted that this will never try. But here it is! From the glass jar for 3 days - a miracle! For a moment - in my cooking pantry - 54 recipe for the cabbage fermentation. Half honestly tested. There are family recipes which were prepared by the mother and mother in law all my life, there are delicious ways of fermentation from her sister. And that, believe me - to cook now I will be the only way. All fall Kvasha for fun families on this basic method. Shared with friends - they call gratitude. There are certainly mistress, who will tell you - preparing your whole life that way. I would be glad if someone this recipe will become a favorite for me as well.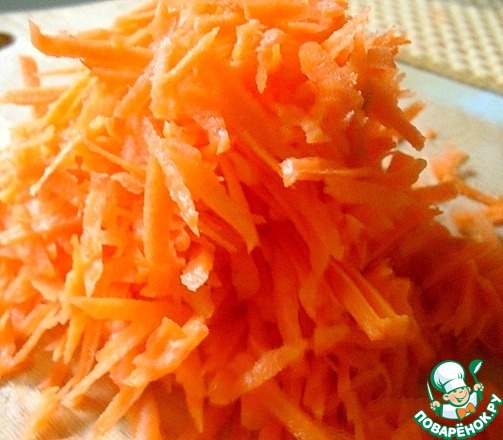 RUB on a coarse grater carrots, All stir triturated with his hands and stamps - fold in a glass jar. Put the jar in a deep bowl Pour the cooled brine - boil 2 liters of water with 3 tablespoons salt Fill so that the brine is poured over the top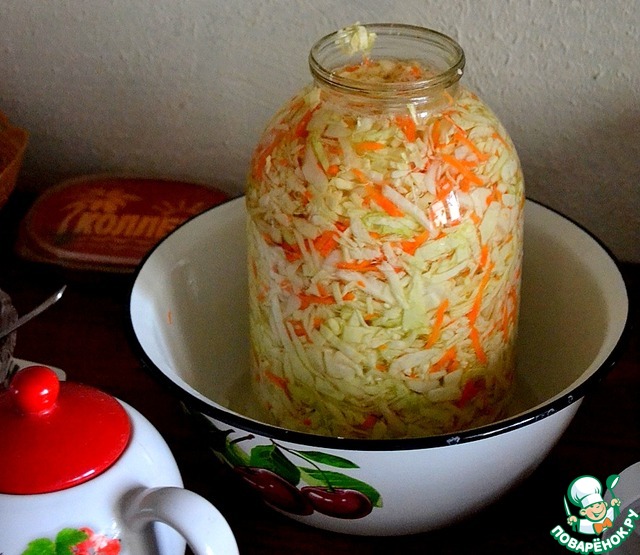 The Bank is open 2 days. From time to time long sharp knife to the bottom of the cabbage should be cut through to release the air. If this is not done, the cabbage will taste bitter On the third day drain off the brine: put the jar spec. cover with holes (for conservation) and poured the brine in a bowl. Holes can be cut with ordinary knife in a nylon cover. Convenient. In the thus fused brine put sugar - 2 tbsp, it quickly dissolves, and pour the cabbage, once again and for a brine with sugar. Close the jar and put on a day in the refrigerator. All! Delicious, juicy, firm, crunchy, vitamin-rich cabbage is ready. It is possible to eat, watering vegetable oil, you can make bulb onions, can be put in a countless number of appetizers, salads, vinaigrettes. It is a perfect base for fillings in pies, dumplings. Delicious brine - a storehouse of vitamins and minerals. It is very useful to drink to all who have problems with the digestive tract and skin hair. This is basic - basic the easiest way. To taste before pouring the brine, you can add mustard seeds, coriander, cumin, dill, slices of chili, Apple slices, berries viburnum, Rowan, red or black currant. I've tried putting dried Basil, mint, rosemary, Bay leaf. But the basic recipe is my favorite.