Description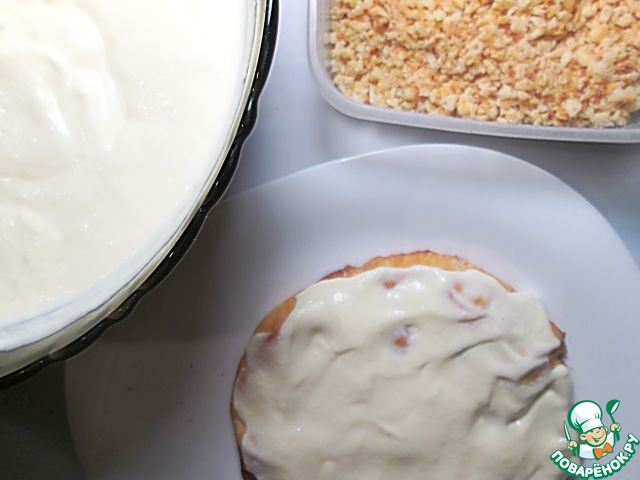 This is probably the most beautiful "Napoleon&a mp;quot; from all that I cooked. The highest))) And, in my opinion, one of the best cakes that you can apply for a festive table. Recognizable taste and form of the traditional "Napoleon& amp;quot; amazingly combined with unusual and new to this cake by the presence in the cream cheese. In General, if you want to impress your loved ones and guests into the heart, be sure to try to cook this "Napoleon&a mp;quot;!
Ingredients
500 g

700 g

200 g

6 piece

1.5 tsp

1 l

500 g

200 g

3 g

400 g

4 piece

3 Tbsp
Cooking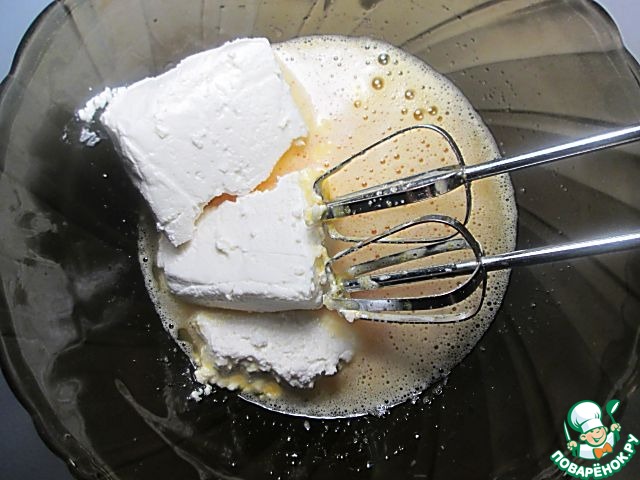 I found this recipe in one cooking magazine, but then it turned out that its author, A. Seleznev, he printed one of his books. So, whisk eggs with sugar and salt to dissolve it. Add cheese, whisk again until smooth. I do not advise to use liquid cheese, is best suited dense, without grains, in rectangular bundles.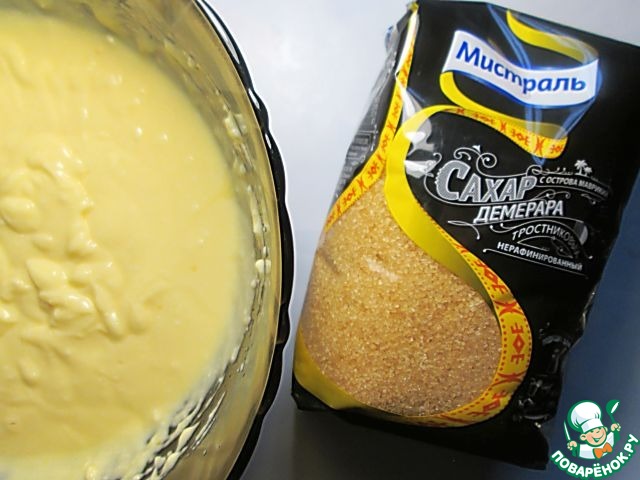 Soda repay vinegar, mix with the dough.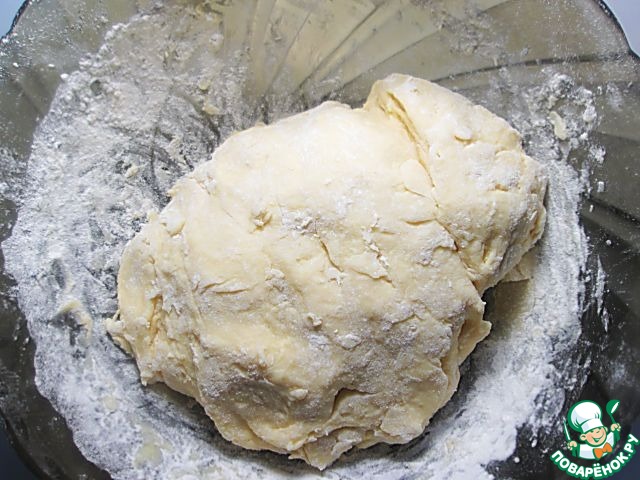 Pieces sift into the dough flour. The dough should not be hard. As soon as it ceases to stick to hands, add more flour and put the dough for 5 minutes in the refrigerator.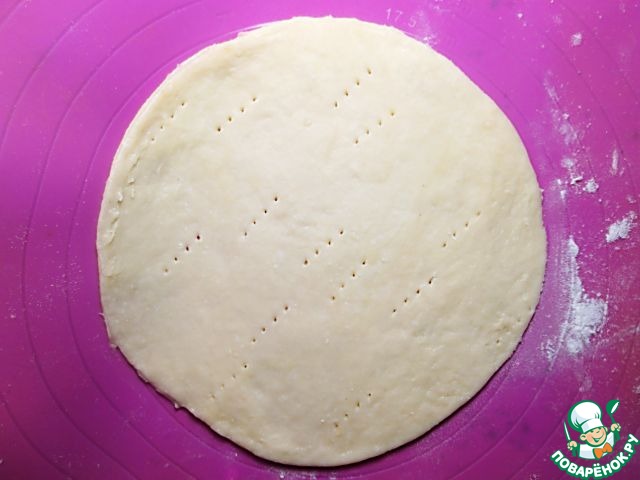 Divide the dough into 15 parts. Roll each into a circle with a diameter of 22 cm, the edges align with a suitable diameter of the plates, trimming until set aside, you can bake them separately then. To prevent any huge dough bubbles while baking, can often prick the dough with a fork. Cook each cake at 190-200 degrees Celsius until Browning. In the last turn to the stronger Browning bake scapular test. Interestingly, the cheese in the finished cakes is not felt, it is difficult to guess that he is there at all.))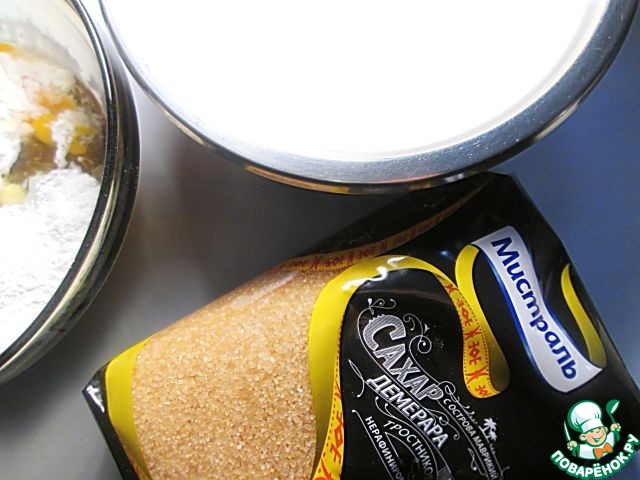 Mix in a bowl the sugar, vanilla, cornstarch and eggs until smooth. Milk heat.
To milk, stirring with a whisk, pour in the egg mixture and over low heat, without ceasing to stir, bring to a boil but do not boil. The cream should thicken to much. Starch I took the corn, but, of course, can use potato. Cover the container with a cream lid and let cool it to room temperature.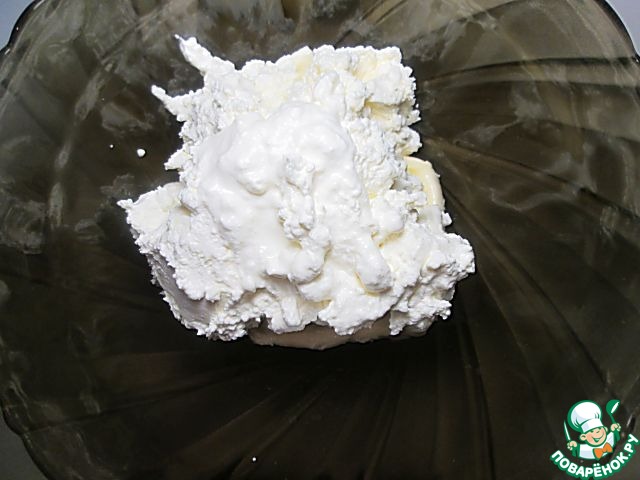 Butter and cream cheese at room temperature beat with a mixer until smooth. The recipe for the cream recommended to use "Philadelphia", but, in my opinion, the best cheese for this cake is "Mascarpone". If creamy cheeses or prices for them in the place where you live, the situation is not very good, can like I, this time, to make their own "cheese" from sour cream. To do this, take 20-25% high-quality sour cream, put it on a piece of thick cloth, put the cloth in a colander or sieve and put the sieve over some vessel. It will slowly but surely drain about 1/2-1/3 of the original weight of the cream. That will not turn into a serum can be safely used instead of cheese. This homemade "cream cheese" is supposed to be very dense, with subtle acidity and a rich creamy taste. In my opinion, "Mascarpone" here he is not lost.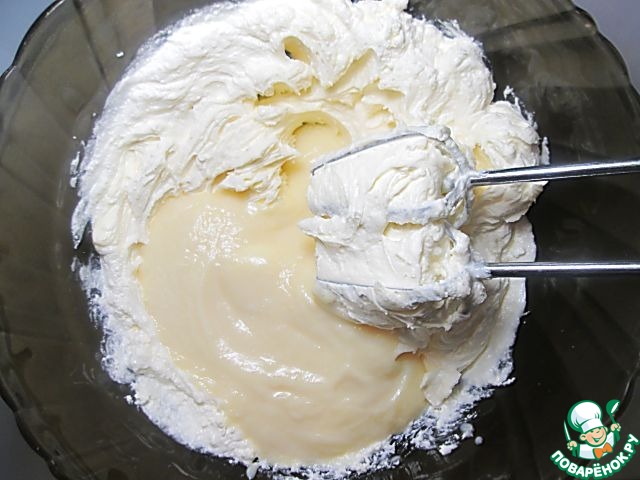 Cream and cream cheese in small portions, add the custard, whisking for a few seconds with a mixer after each use.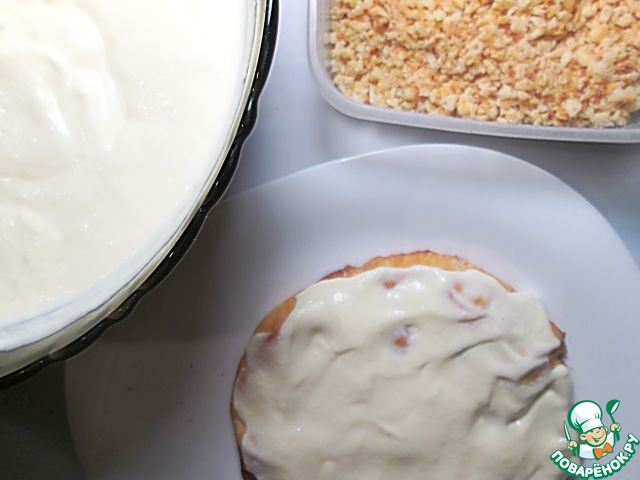 1-2 layers and icons of the test grind into crumbs. Over each cake plenty of cream, fold them up, smother the remnants of the cream cake on the outside and sprinkle it with crumbs from cakes. Put the cake in the fridge overnight to soak.