Description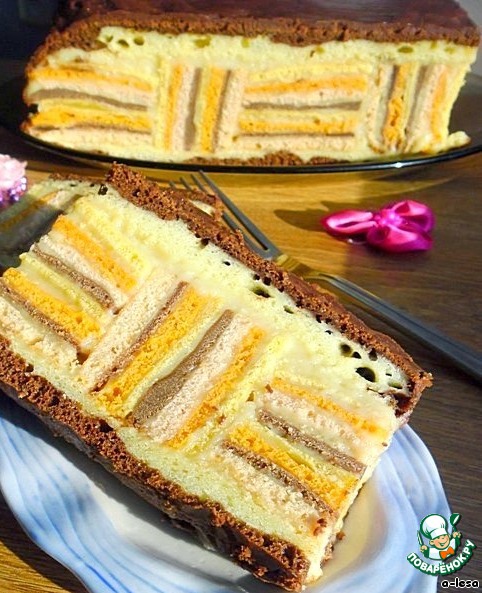 Cake - baking, which is common in the West of Ukraine. Looks very nice on the table, tasty and very original. If I could is a draw, then anyone can! Sorry for the photo quality, was prepared to put in the diary (prepared in the evening), and the result so impressed that dares to put on the home.
Ingredients
260 g

225 g

5 piece

450 g

0.5 cup

200 g

2 Tbsp

3 tsp

100 g

3 Tbsp

3 Tbsp

2 Tbsp

4 Tbsp

0.5 piece
//= Yii::t('app', 'Total calories: ') . $recipe['ingredients']['total_calories'] ?>
Cooking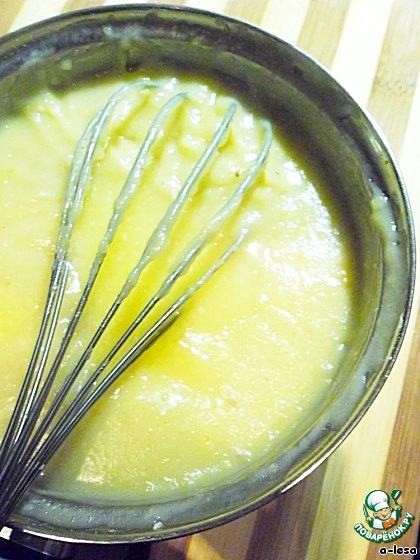 First prepare the cream, I did the recipe Nina barska http://www.povarenok .ru/recipes/show/95 556/ only added more butter. Leave to cool. The original recipe recommended cooking the cream mixture to the pudding.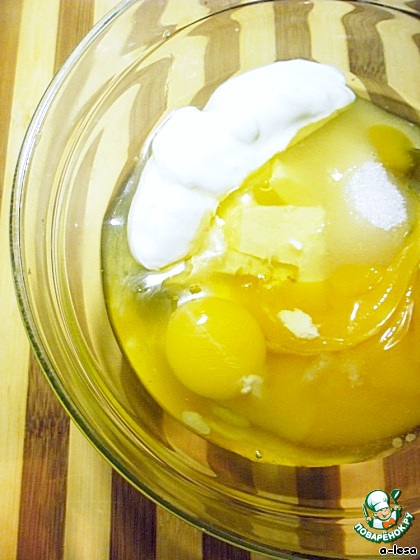 Prepare the dough No. 1: 60 g of butter 75 g of sugar 3 eggs 2 tbsp honey 2 tbsp sour cream 2 tsp. baking powder stir Thoroughly, until smooth.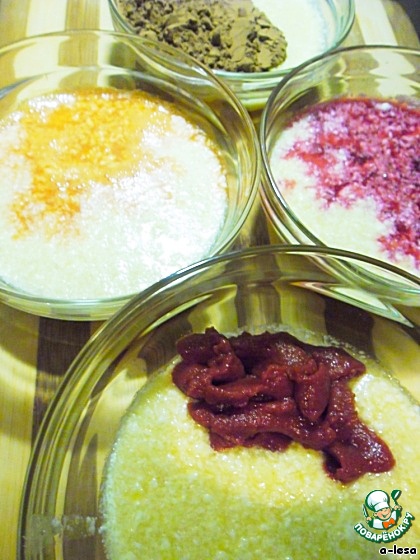 Divide into 4 pieces and add to the dye, of course, you can use any colors, I prefer natural: 1st part - add 2-3 tbsp beetroot juice + 75 g flour 2-nd part - add 2-3 tbsp carrot juice + 75 g flour in the 3rd set - add 2 tbsp tomato paste + 75 g flour 4-th part - add 2 tbsp of cocoa powder + 75 g flour
If difficult to stir, add 1-2 tbsp of milk, the texture should be creamy. Turns out 4 of the multi-colored test.
On paper for baking, to draw a rectangle around 16х21 (like the size of a postage envelope A5), is the optimal size for this amount of dough. Paper I'm no oil, ready cake well behind.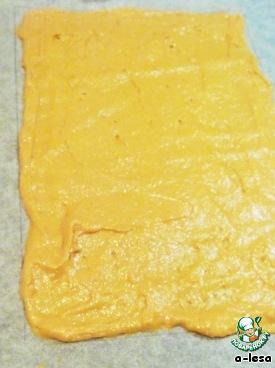 Alternately, lay out 1/2 of the dough of each color and bake cakes. You should get 8 cakes 4 colours (two brown, two pink, two orange, two yellow). Of course, it is better to use several lengths of parchment paper until one in the oven, spread the second. Put the dough on the paper with a knife (with rounded tip), but can be anything.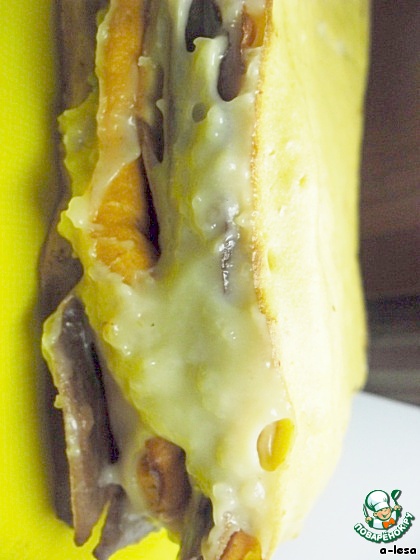 Cool the cake and smeared with cream. To spread so that the layers of the same color did not repeat.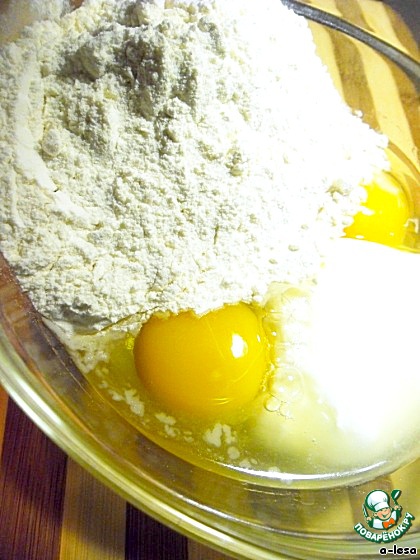 Prepare the dough number 2: 2 eggs 75 g sugar 75 g sour cream 1 tsp. baking powder 1 Cup. flour lemon peel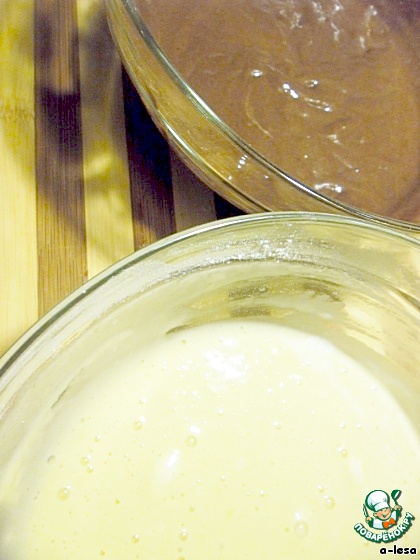 Divided into two parts, one to add 2 tbsp cocoa to the second part add vanilla and 1-2 tbsp milk. Stir until smooth, creamy consistency. From this dough we will bake neophema two colored cake.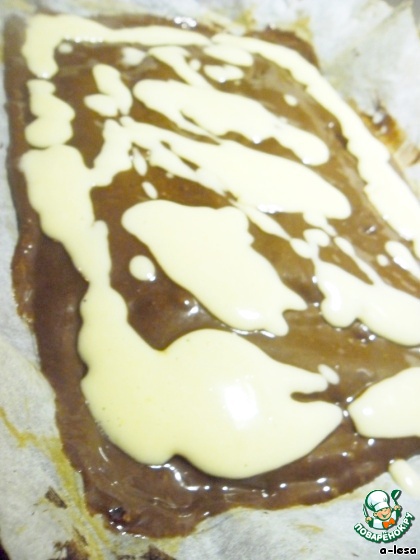 On the baking sheet to paint the stencil the same size as the previous cakes. Put first the dark dough, it is thicker on top of it to spread the light dough, it is more liquid, so I laid out ladle. That is, the layer will be from two-tone.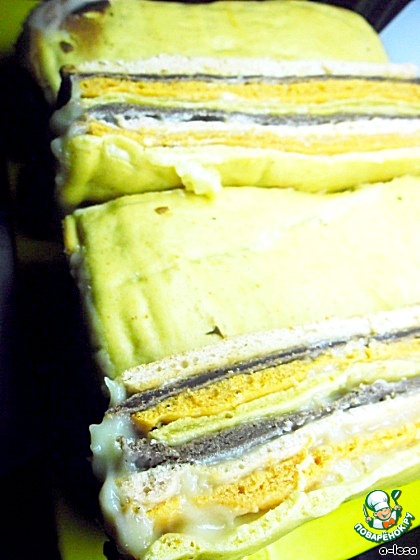 Colored skin needs to cool off (I was put on the balcony, there was now very cold), cut our billet 4-5 pieces crosswise (or lengthwise).
To prepare a releasable form (I have, so I appropriately-sized box lined with foil), to put on the bottom one black and white cake, brush with cream, sprinkle colored billet as pictured - one part right, the second slice up next - again, exactly, next - cut up all the joints generously smeared with cream. Top to lubricate the entire "design" cream and put on top of the second black-and-white cake. The top cream is not grease anymore. Put in the cold.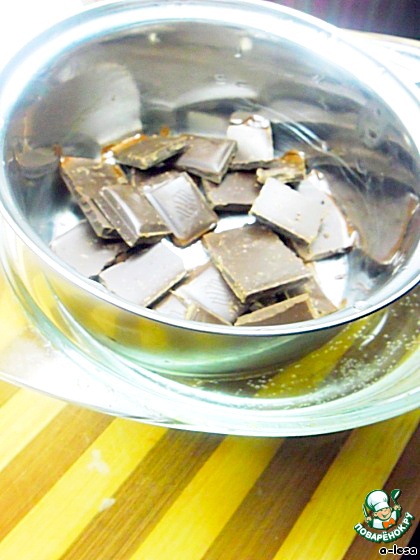 Prepare the glaze (in the total amount of ingredients components glaze taken into account). 100 g dark chocolate dissolve in a water bath.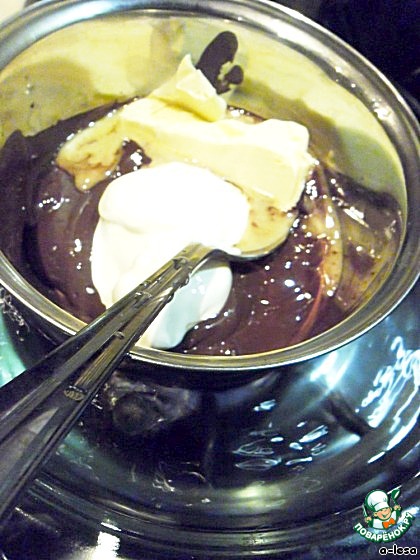 Add 50 g butter and 50 g of sour cream. Stir the glaze ready.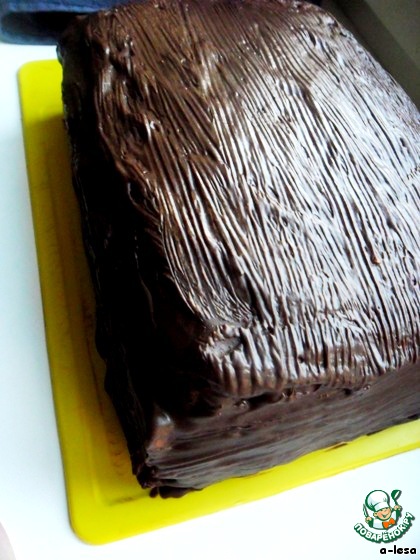 When the cake has cooled down sufficiently and keeps the shape, to get out of shape and brush with glaze. Leave to soak for 6-8 hours (or overnight).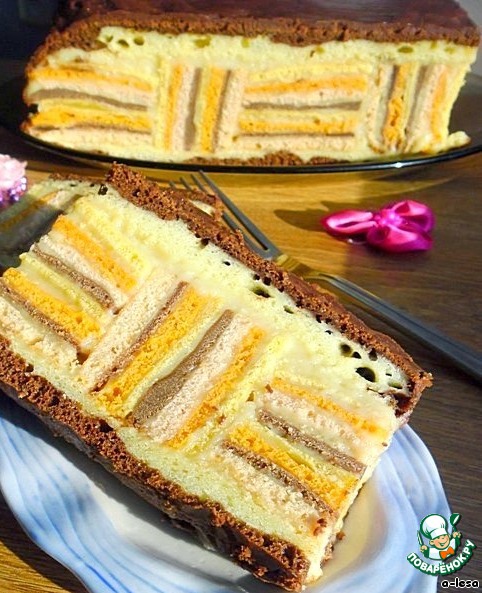 Slice carefully! The cut must reflect our beauty, which we laid out in a checkerboard pattern. Bon appetit!