Description
... inventing along with Filatova and hours.
Ingredients
1638 g

2 piece

1.5 cup

0.5 piece

2 piece

0.25 piece

7 piece

7 piece

1 piece

1 cup

1 Tbsp
//= Yii::t('app', 'Total calories: ') . $recipe['ingredients']['total_calories'] ?>
Cooking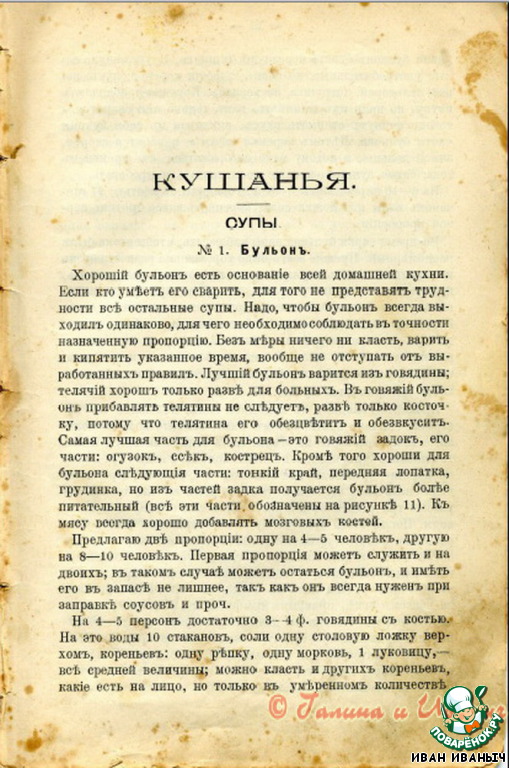 Here. And again the villager. Because this soup is not that other, as one of the greatest achievements of mankind. I'm saying it responsibly. So I present to you his invention in collaboration with Elena Ivanovna molokhovets and Faith (?) Filatova. Times Solyanka soup, without the broth we can not do. Well, judge for yourself, what kind of soup without the broth? Huh? So.... Let's look to Ms. Filatova. I advise you to read these few pages, you will not regret. Chesslovo!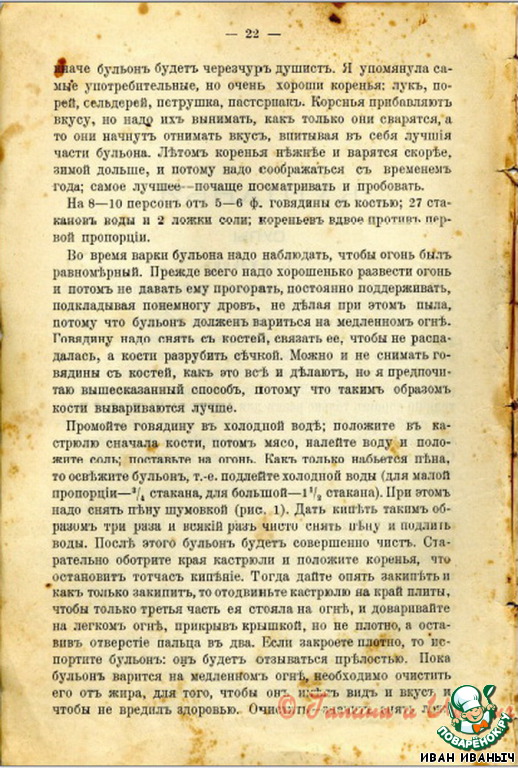 ...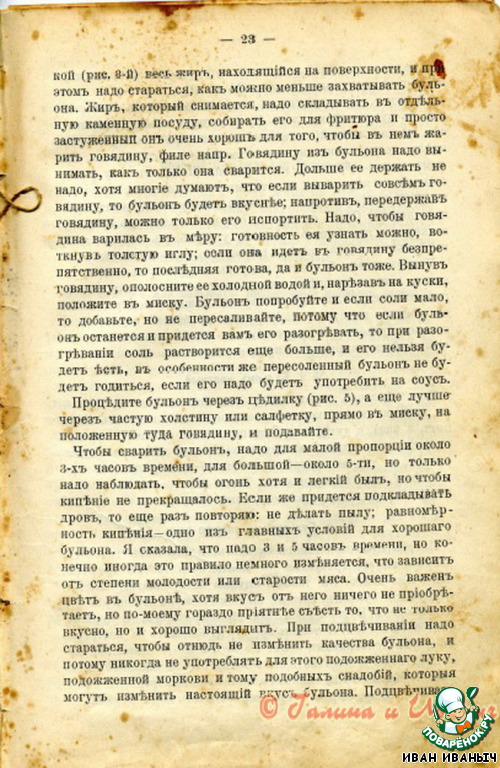 ...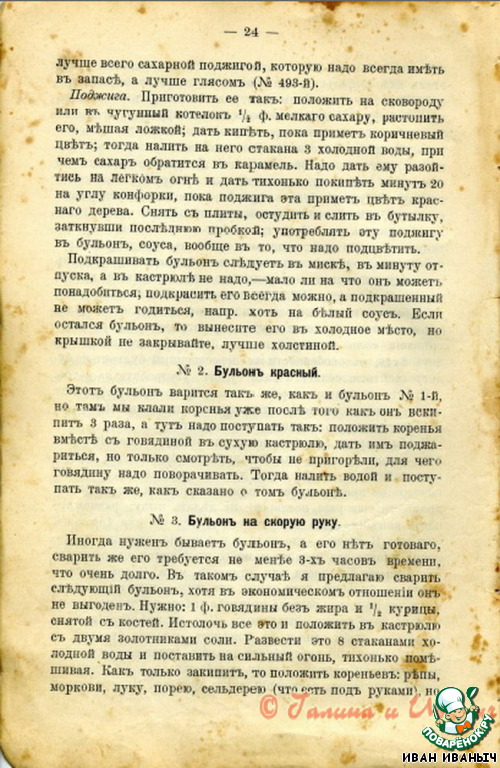 ...

So, as said Mrs. Filatova, "... Good broth is the Foundation of all home cooking..."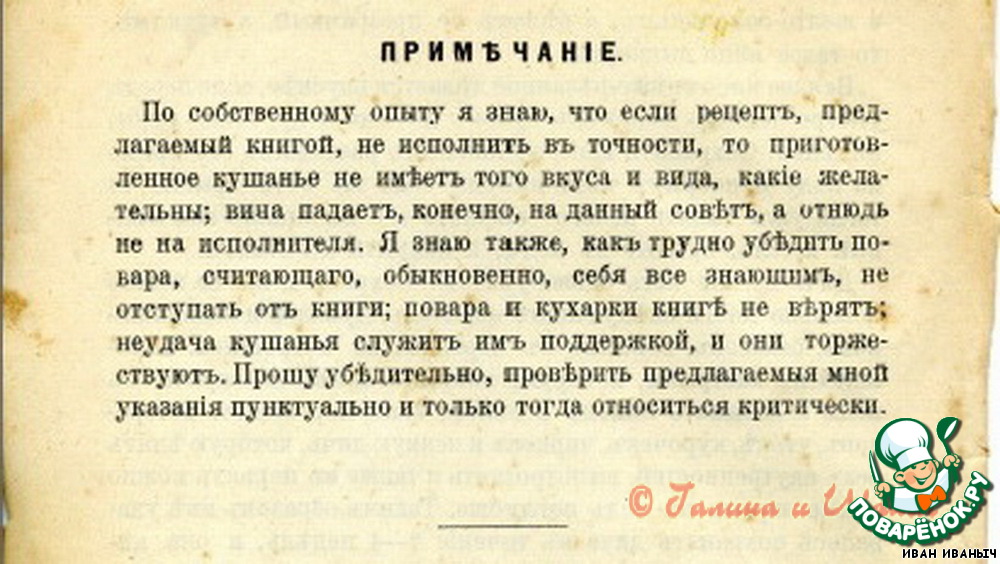 So we will prepare. Good. Which is the basis!!! BUT!!! Pay attention to the comment that Ms. Filatova did not fail to do.

And the recipe in the original read...

...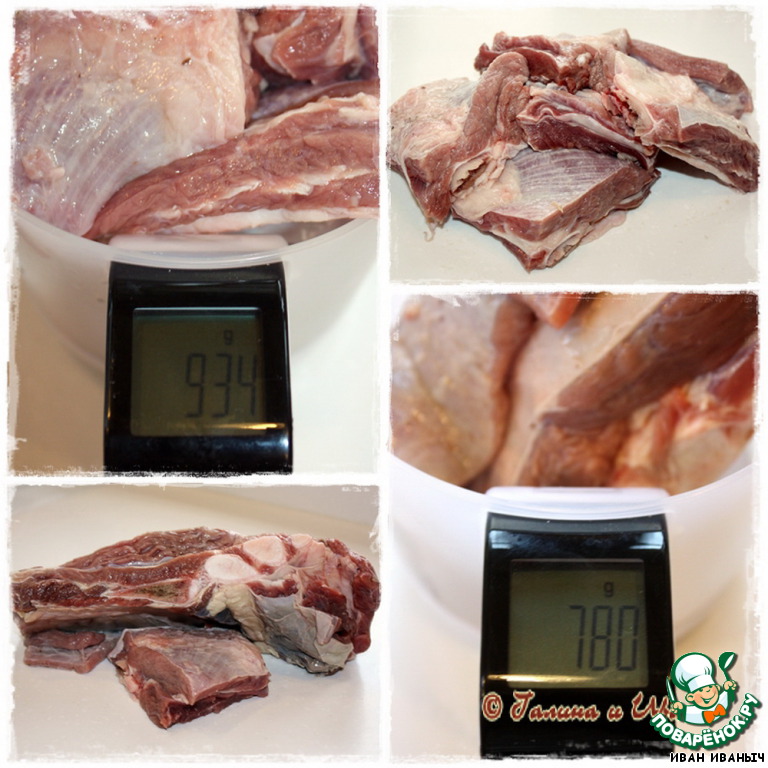 Three four pounds this is how we can learn easily: 1 pound = 32 lots = 96 spools = 409.5 grams. 4 pounds = 1638 grams. And, if it was said in the pages of imperishable works "Best broth cooked from beef..." then the beef and take. A piece of brisket and ribs a bit. And, looking ahead, the remaining covenants, try to execute exactly.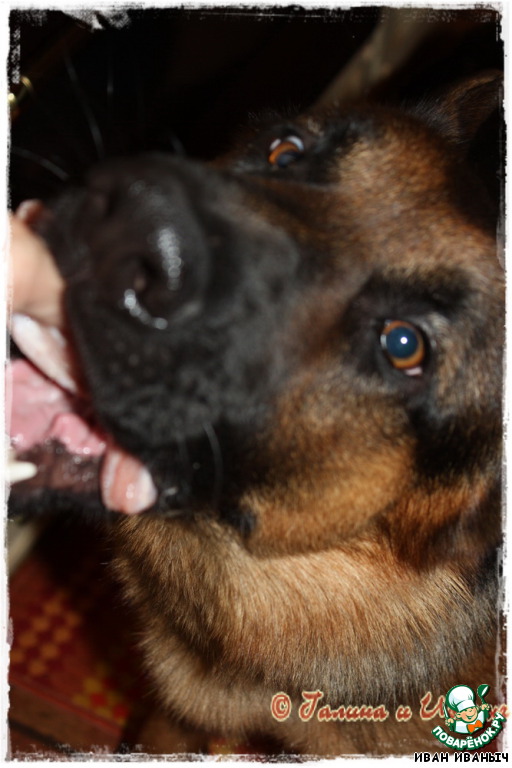 A little more work, but what can you do? So, Pitule good share got.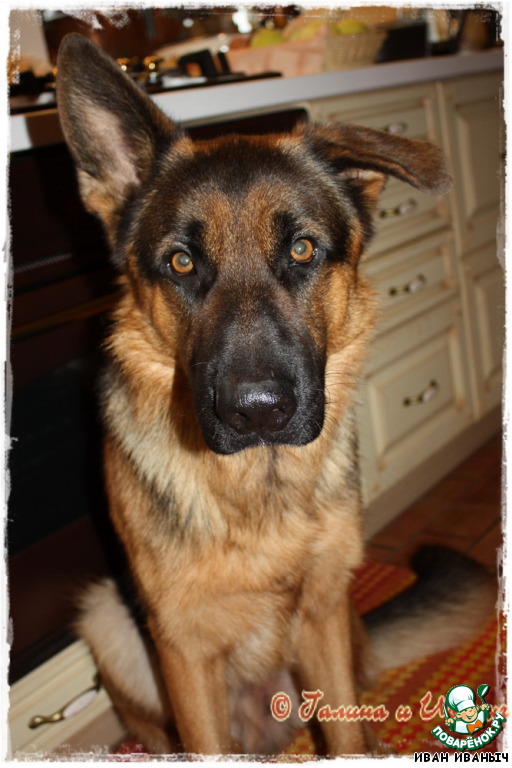 But he still claims that I'm wrong and that it is necessary to do so, as bequeathed.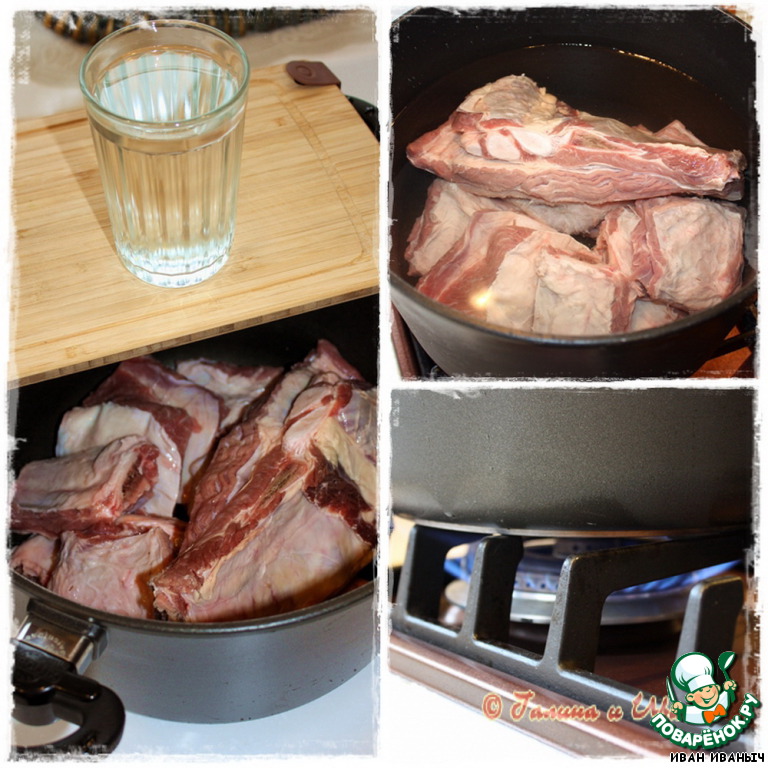 In General, breaking a bit of a Testament. Perhaps (and where without it?) don't mess this up. Fill the jerky fresh well water and put the pot on our fire. Let's make the fire strong.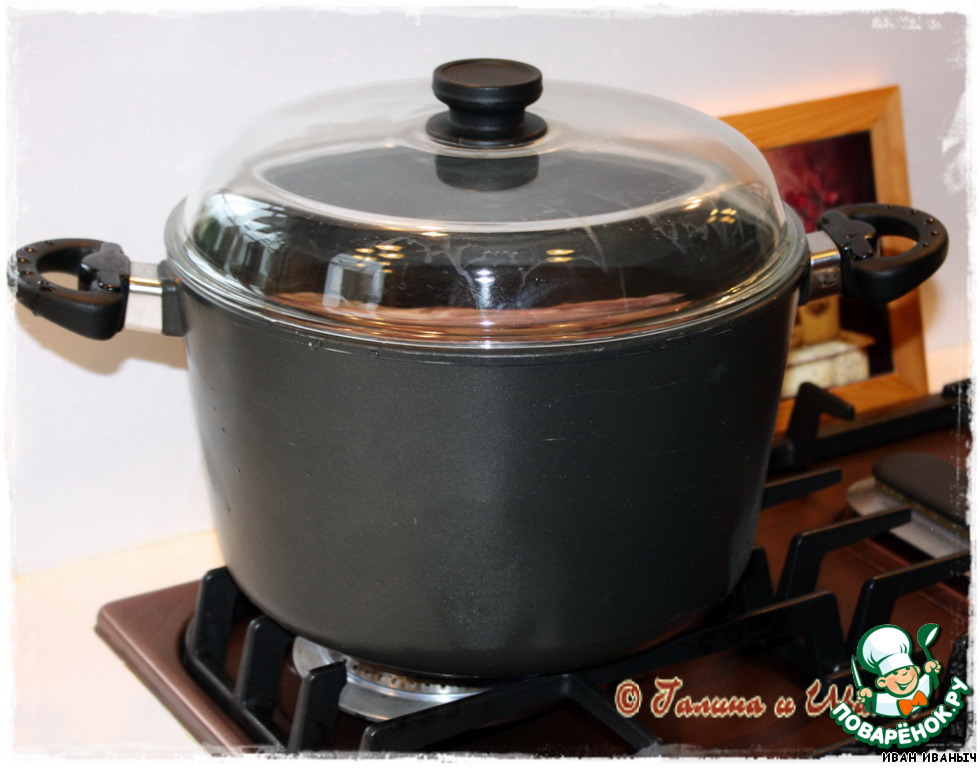 Cover the pan and wait until ... "almost boil".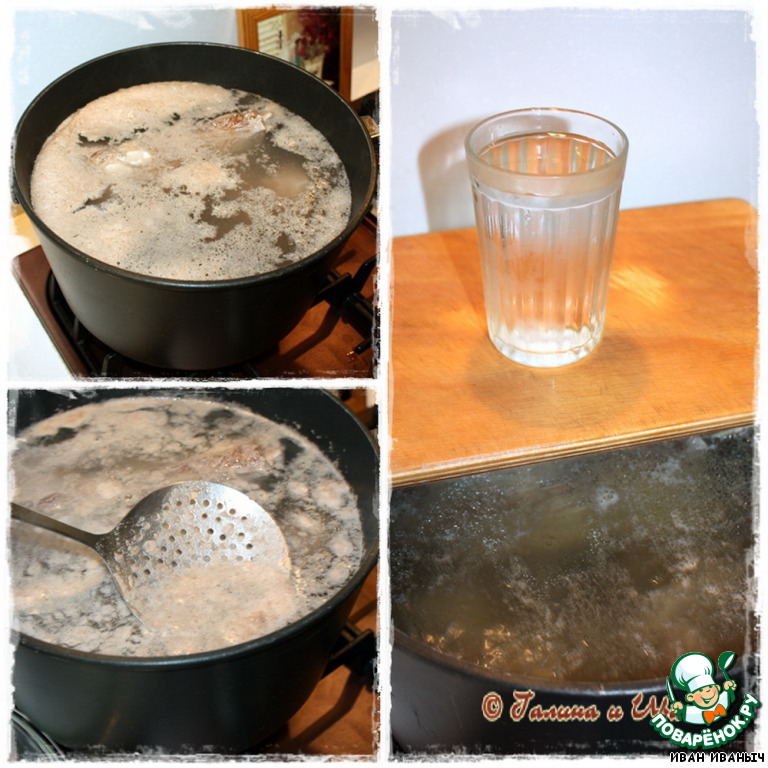 Once this condition happens, you will begin to stand out foam. We immediately removed and disposed of. Ruthlessly!!! And add a little water. Bit. Cup.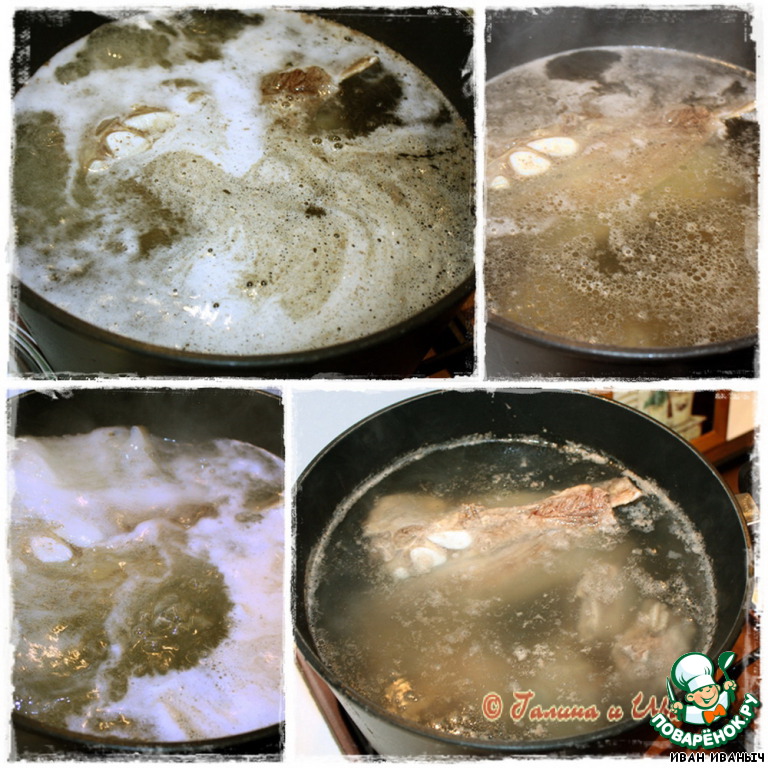 And two more times this procedure is repeat. Removing the foam and adding a little water. The broth will be almost transparent and clean.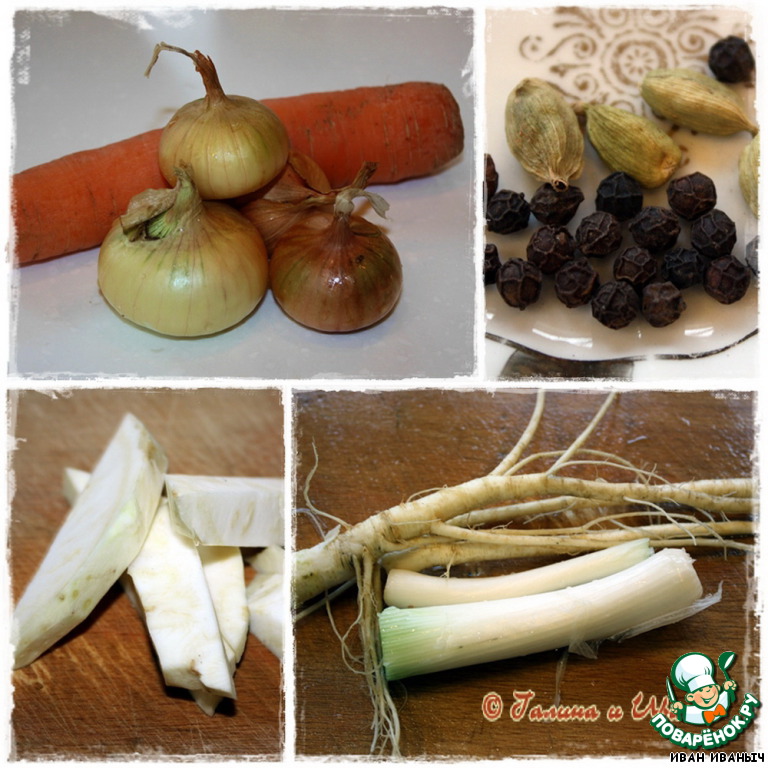 Then take the carrots, the onions (they were small, so I had to take a few), I took four things, Paratico, calderata and small – small petrushechka. Remember that Ms. Filatova says about roots? Excess ruin the broth. Here we are without the bigotry and took a little of everything. And spices – spices... you see, not too overdone.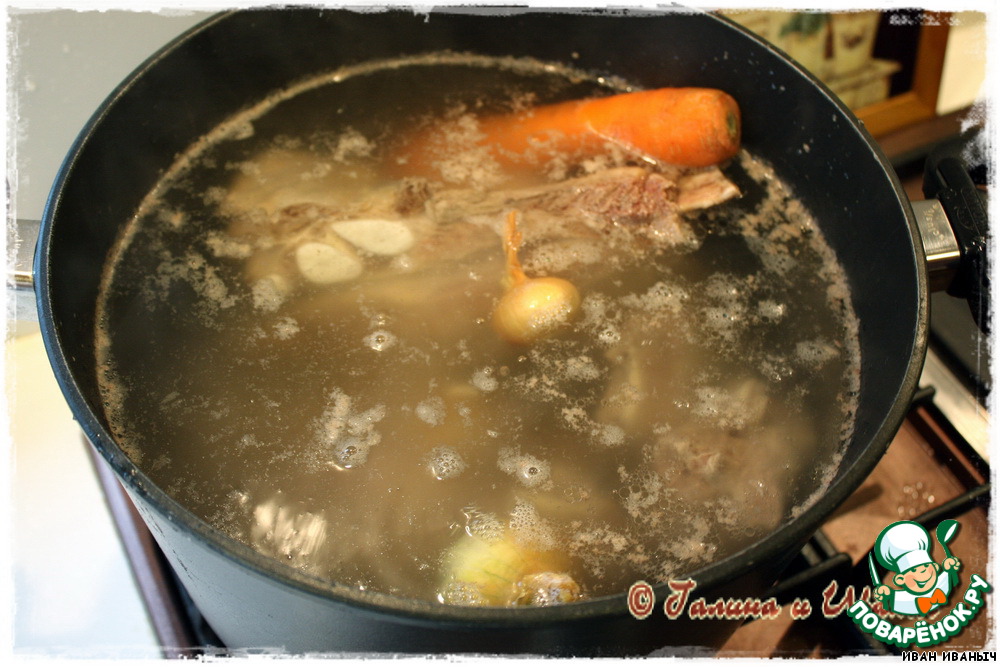 And all these wonders are loaded in the pot.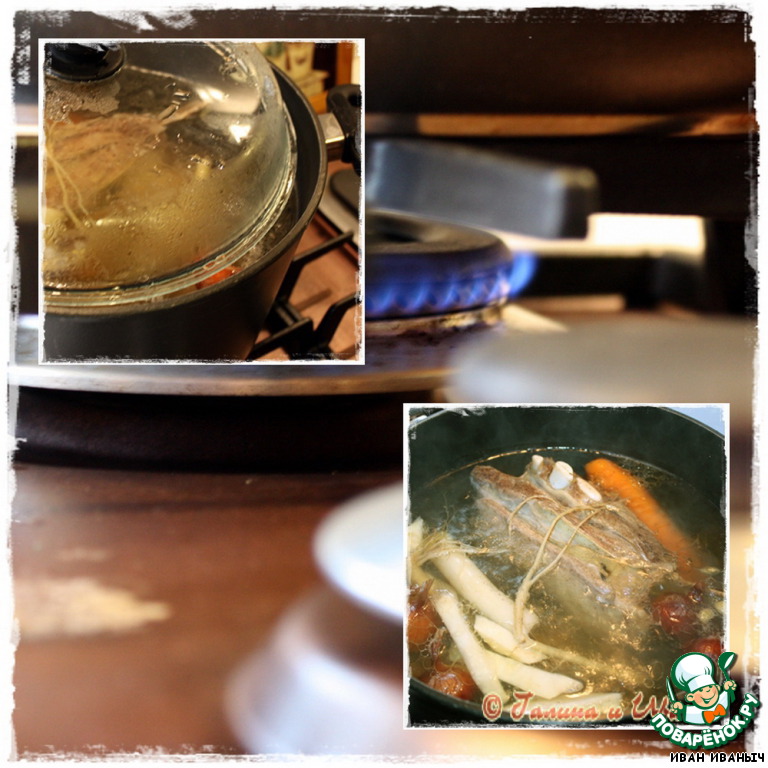 And the fire under the pot decreases to a minimum. And leave the broth a little poboljsati. Even more than poba... and languish. (Oh, my natural laziness to heat the oven in the scrap)....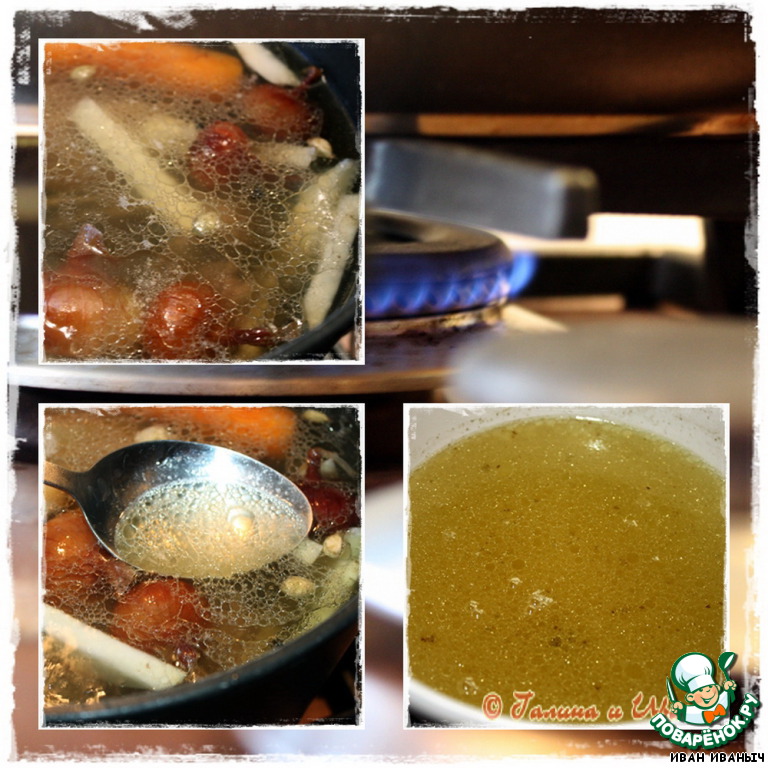 Cooking the broth. And on the surface fat is formed. Why Yes, who cares - Mrs. Filatova read, and I fat will be removed, and a separate Prosecco salt on it. Keep doing will, in the process in the future. He told us Oh!!! As useful.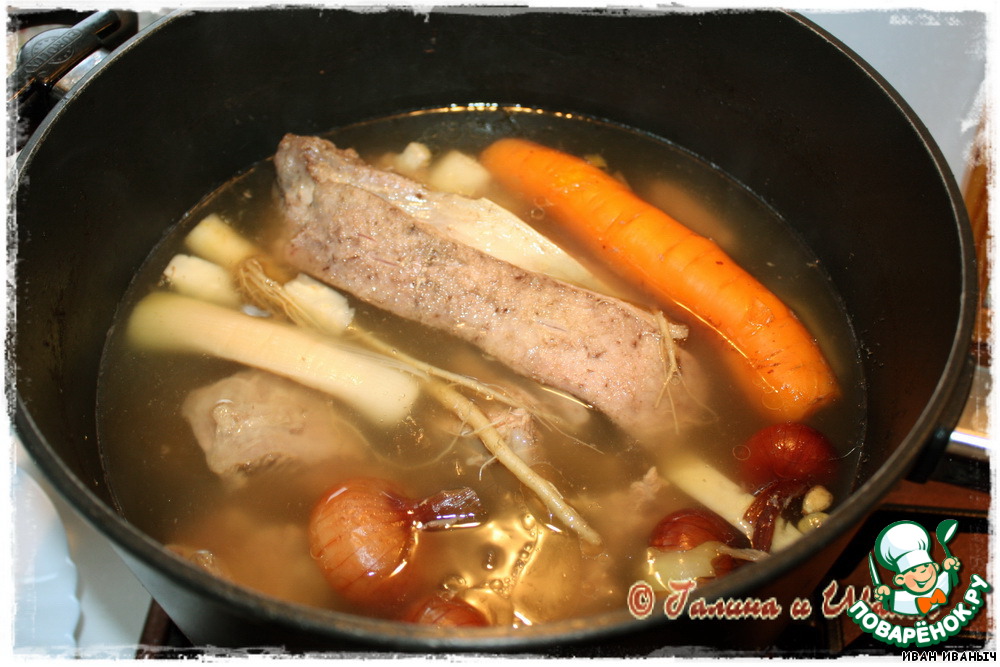 And here at the end of the third hour, as willed, I have a picture here.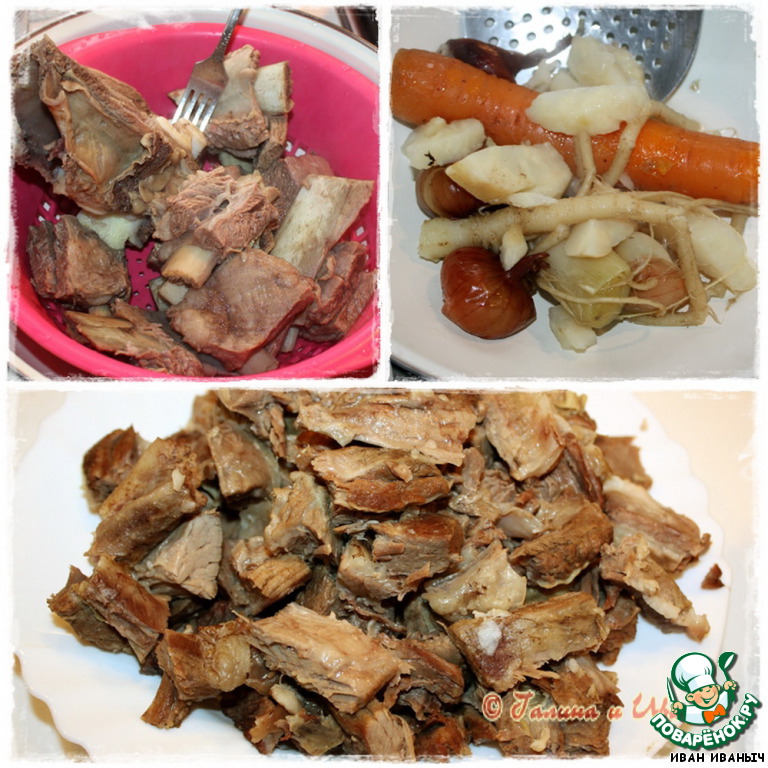 Remove the meat from the pot and roots. Roots boiled in the trash, and finely chop meat. And also still in the sidelines.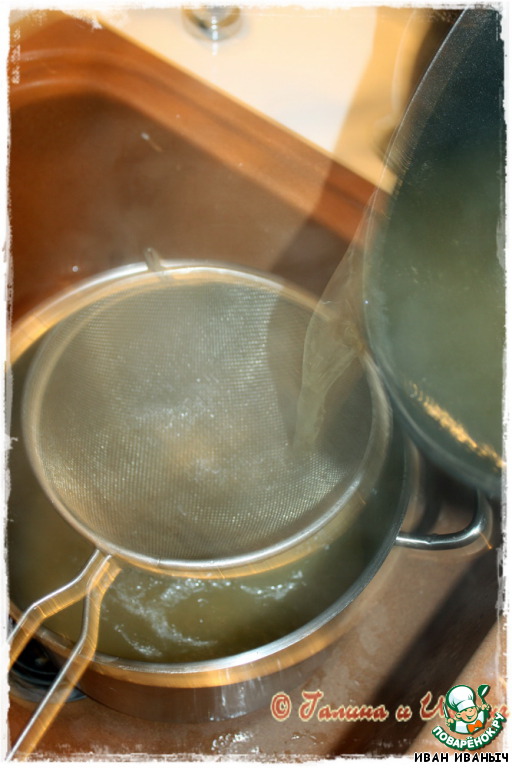 And the broth carefully drain and cool put.

And we go..., here is I type in collaboration will perform. In the further process. Will not just broth to create a CONSOMMÉ!!! That's it! Turning to the source.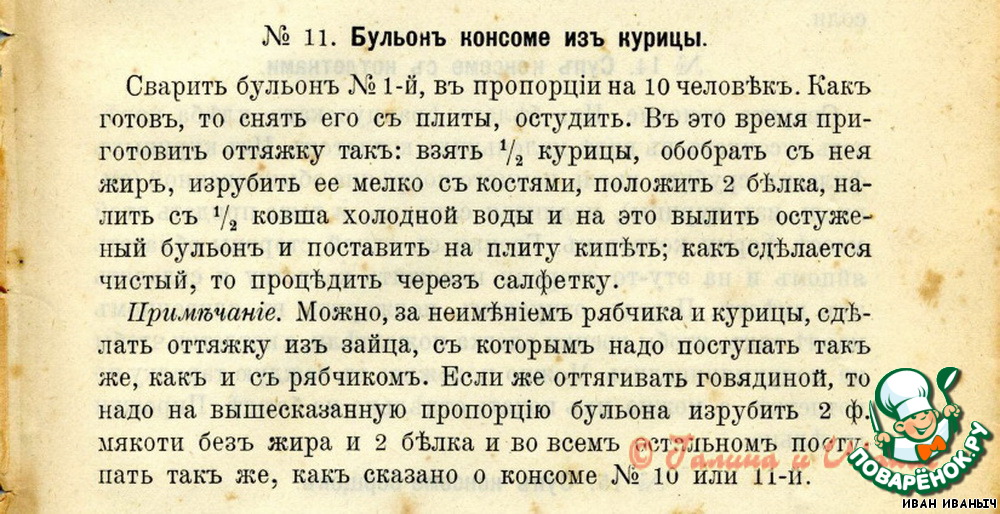 Grouse or other wild birds, sorry, was not found in the bins, so we get fresh chicken. Natural, not store-bought. In vain, eh, live in the village, sorry for naturalism. So what should we do on such instructions.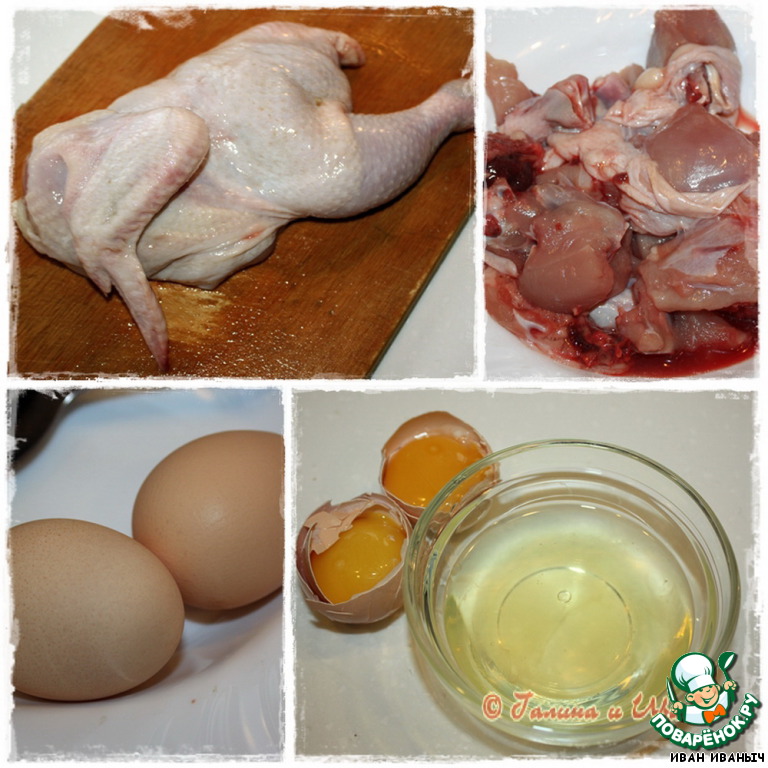 Take half the chicken and chop it. Fat is not removed, it is not there. Young and tender chicken. And extract protein from two home again the eggs.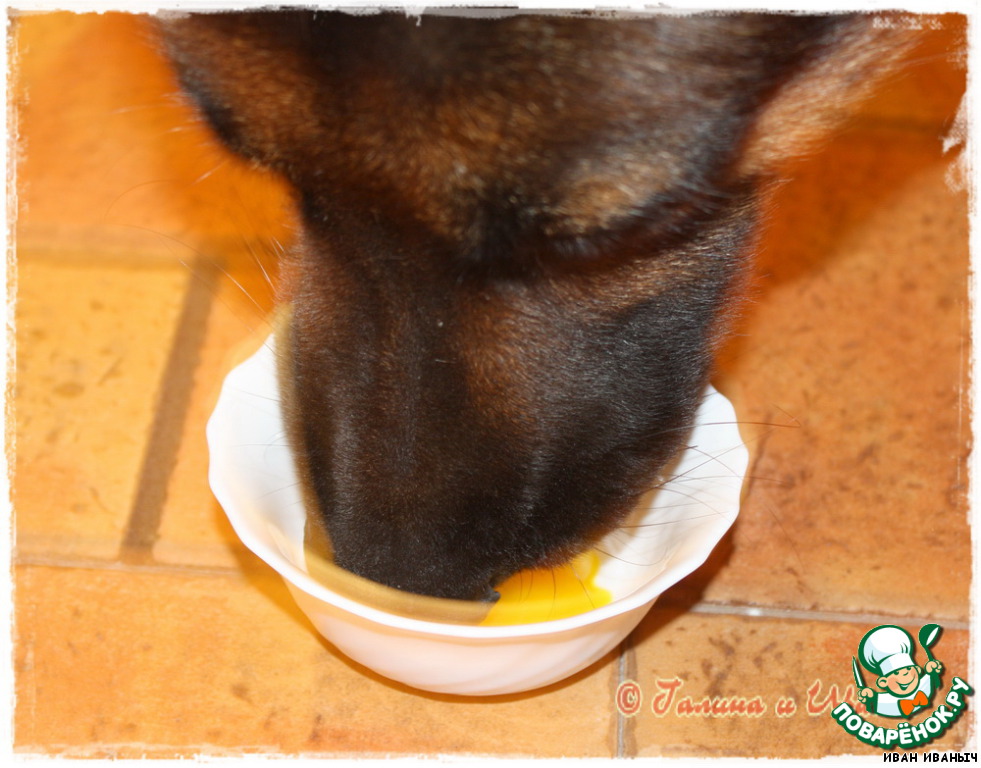 And the yolk? As Junior assistant to me why? He helps the best!!!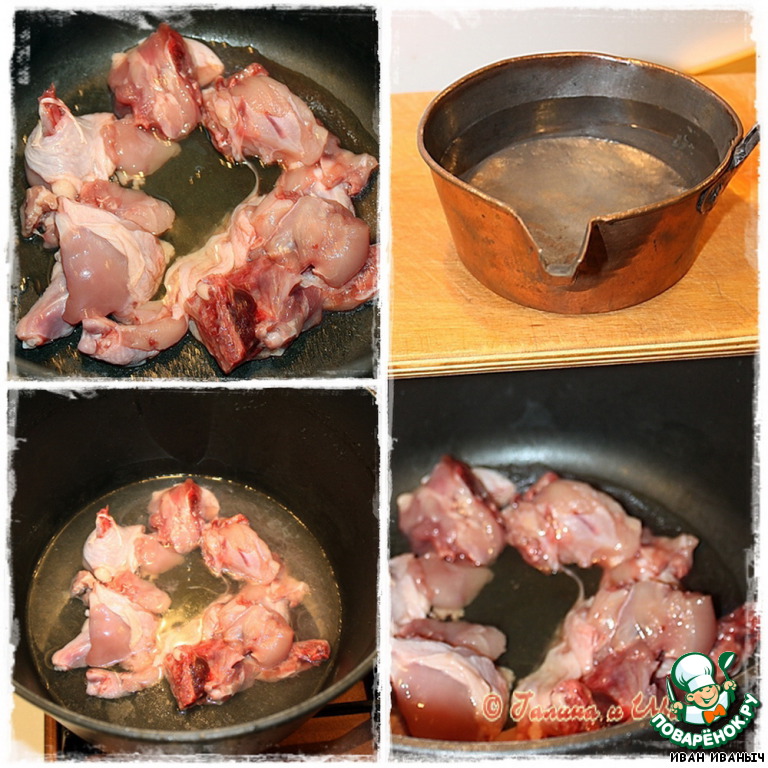 Put chopped chicken into a saucepan, there also send protein and 0.5 the bucket of cold water.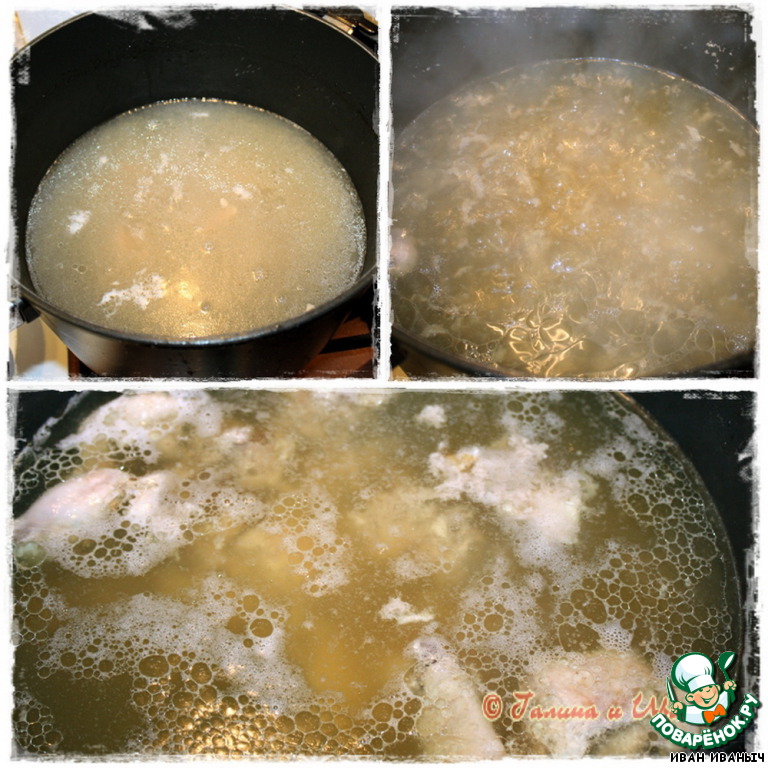 Then cover everything with the broth that is already pretty cold, and set on fire. Wait until boils, diminish the fire, and fifteen minutes boil for a bit. Until it becomes transparent.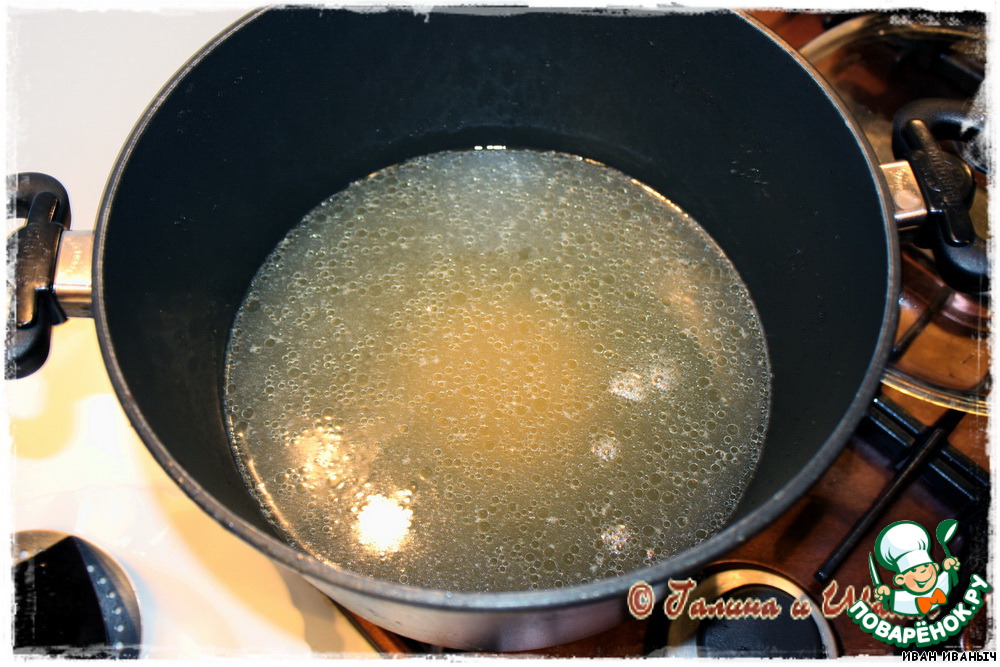 See what clean was. And transparent. So what? So, consomme turned out! Then it is the broth good to drain. Let them stand up. For the time being.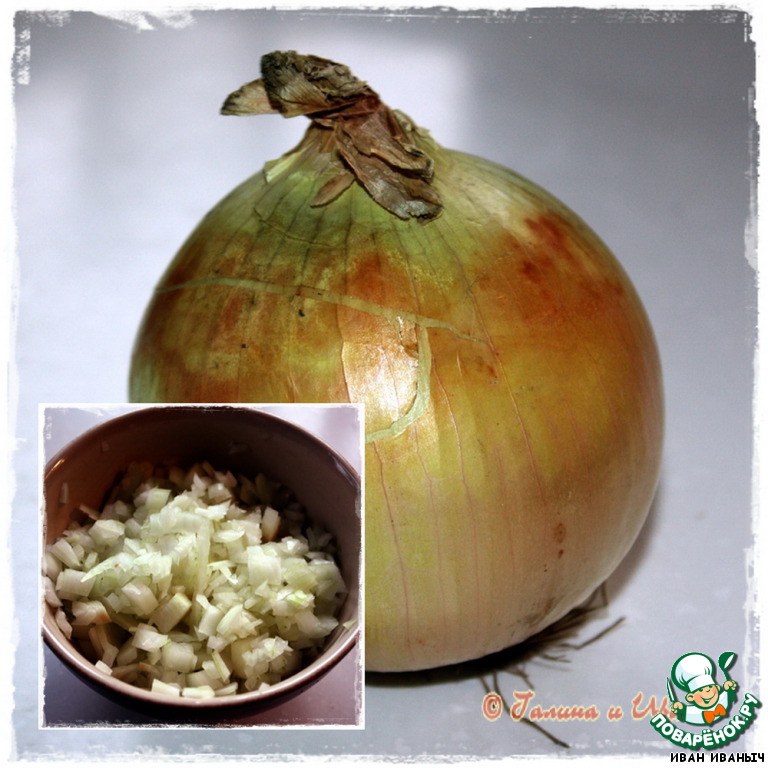 As we begin to prepare solanaceous gas station. Already the precepts Elena Ivanovna molokhovets. In accordance with the already known recipe No. 59. Bow. Peel and finely chop!!!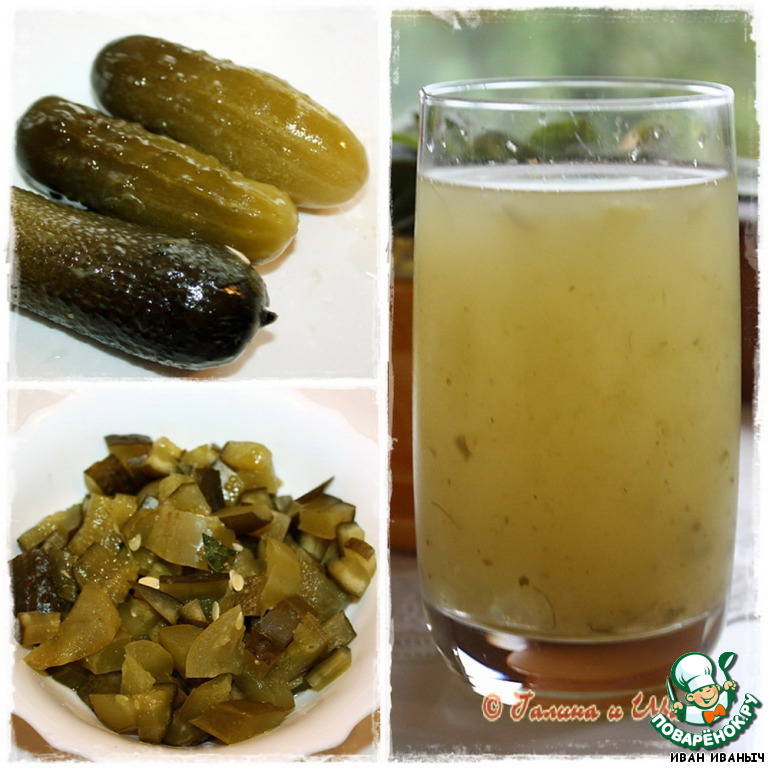 Cucumbers salty. Definitely cask. So with garlic and leaves of all sorts, Yes, dill is fragrant, but greencom will derachim! Cucumbers need to choose larger. And the brine will need. From the same cucumbers. Cup and a half. And again. This is a personal opinion, but proven. Pickles and brine are asking the basis of taste villager. So they must choose carefully and thoroughly. It really is very important. It is possible to clean them. I did not. Natural laziness, already mentioned, will not go away.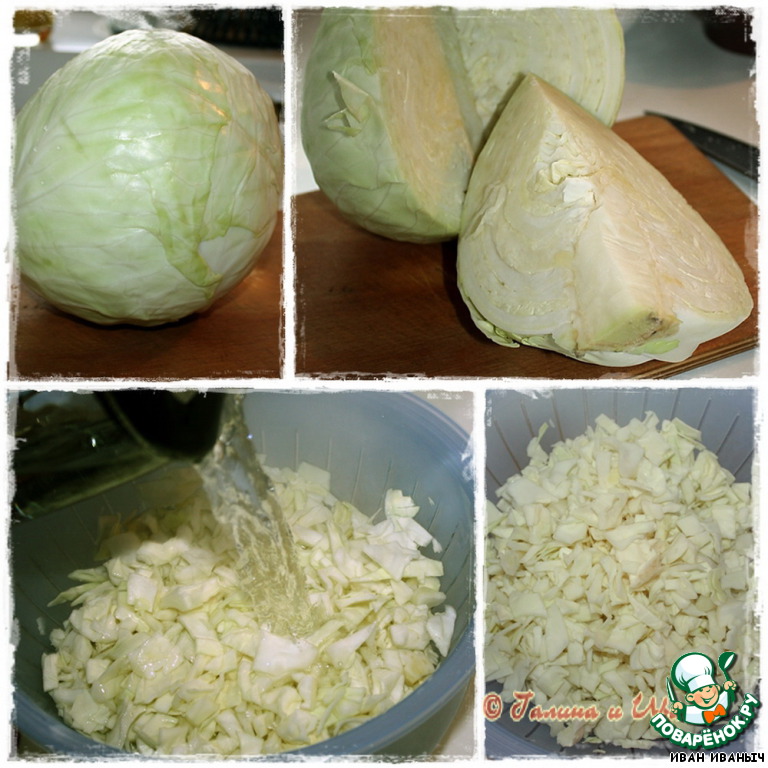 Cabbage with a quarter of kochalka. Cut finely and pour over boiling water necessary.
Fungi. Helena Roerich in the recipe about them said a lot, but, alas, though time and mushroom and was not fresh. Took the mixture out of the freezer last year. It is necessary to wash carefully and place in a strainer, let the water drain out the junk.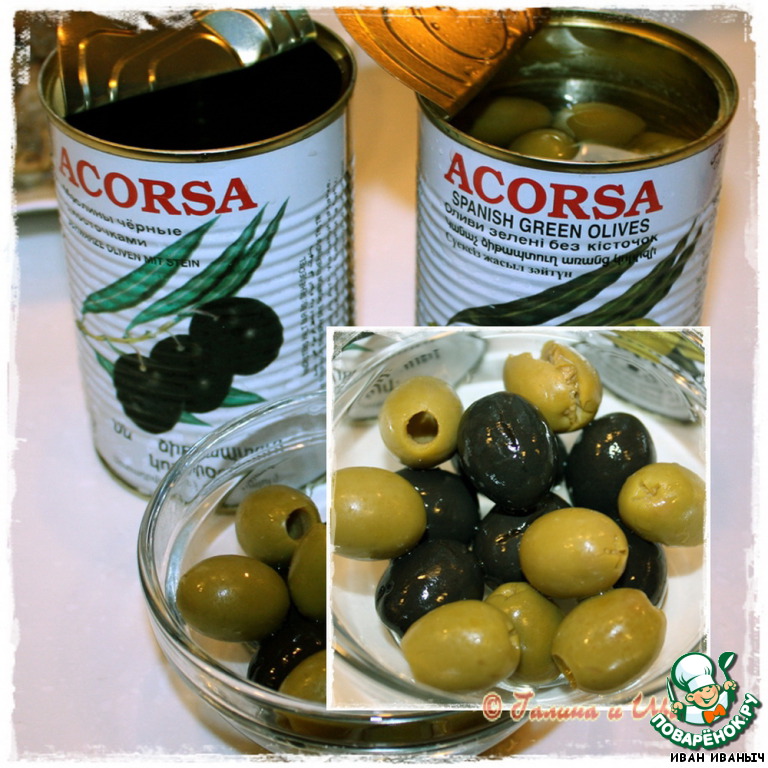 Alibozek with mashinkami pieces six or seven pick.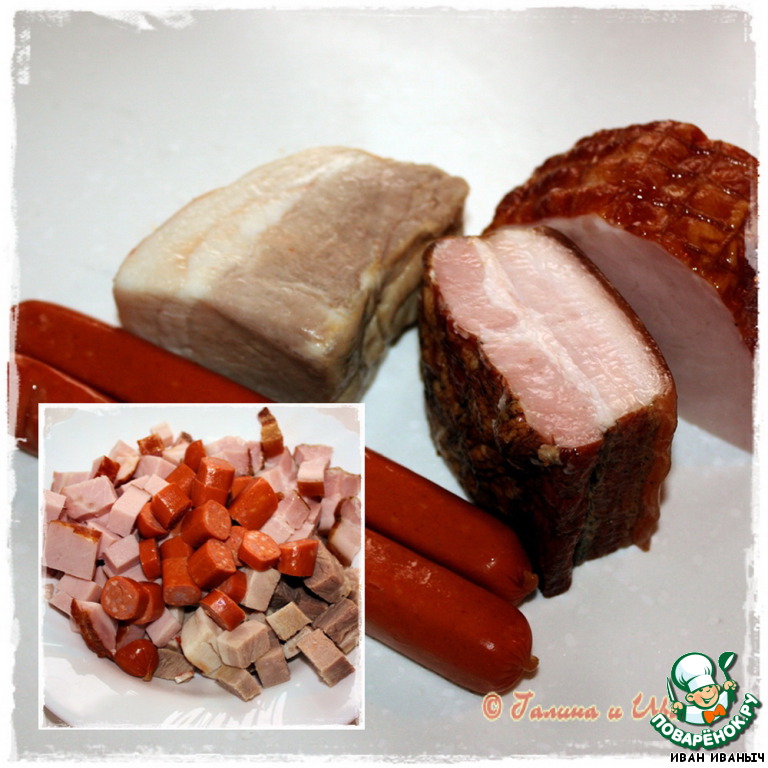 And any kopciuszek. Grodinsky, kornecki, buganini and a couple of sausages. I took Hungarian. Hot. Well, carbonatic piece. And cut it all into cubes small.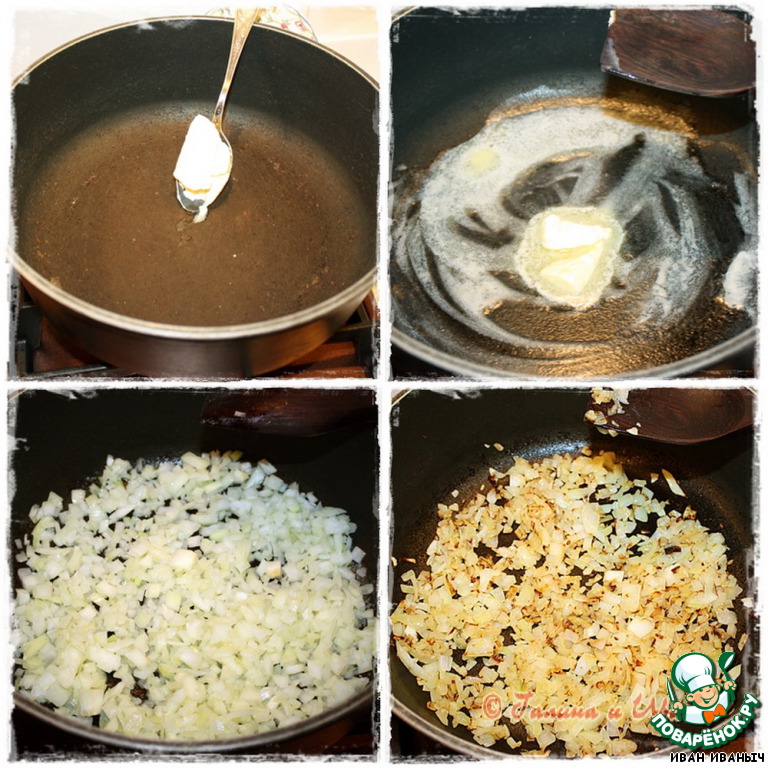 Oh, and then.... In a large cast iron skillet melt a tablespoon of fresh butter and fry the onions that we cooked.
Then add a tablespoon of flour and also fry. Together with the onion.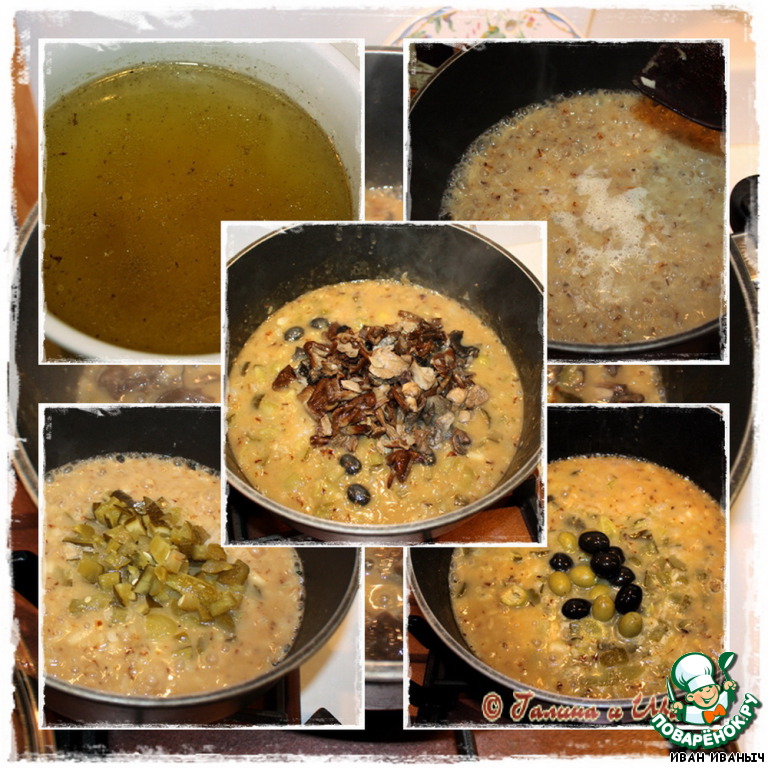 And then in order. First, the broth, the same with fat. As soon as the chains in motion, add the cucumbers, olives and mushrooms.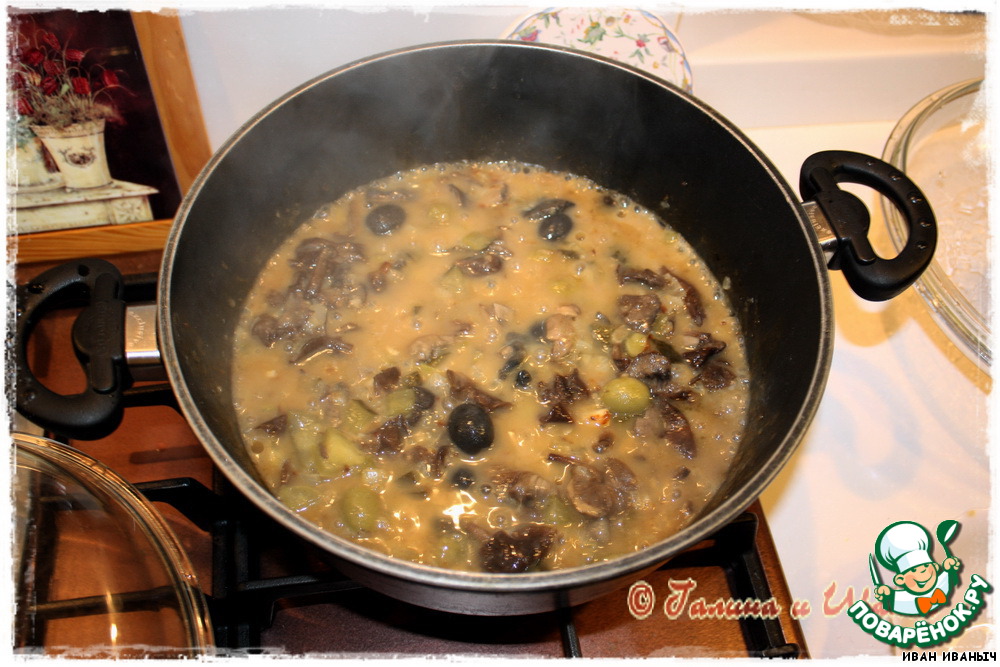 And stew. Not very long, but we should all roasted. Not until fully cooked, but still....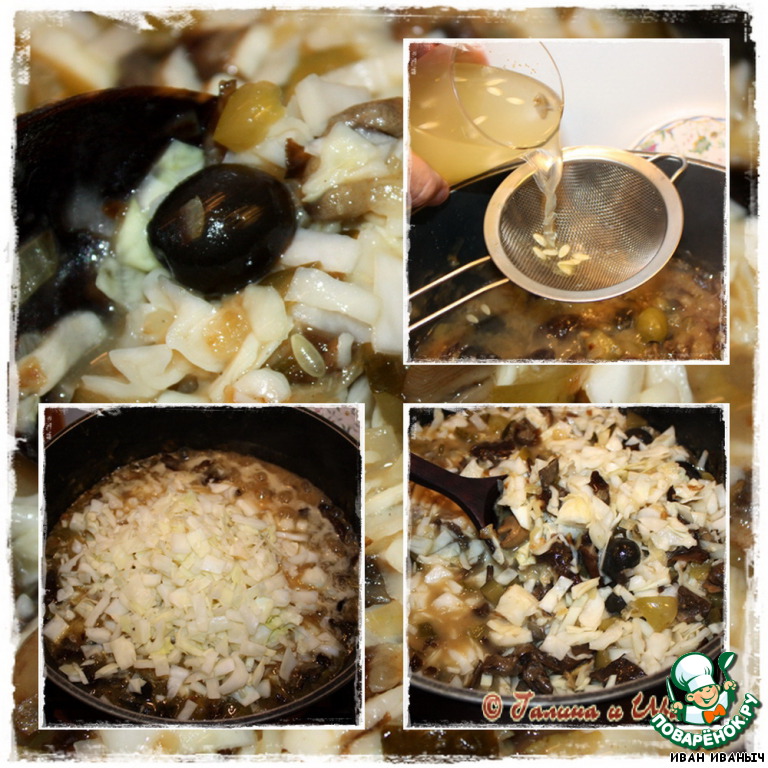 Then strain into the pan the prepared brine, again wait for the gurgling and place there the cabbage. And then ... "wooden spoon... stir... bottom... bottom Vverh Vverh..."© And continue to simmer.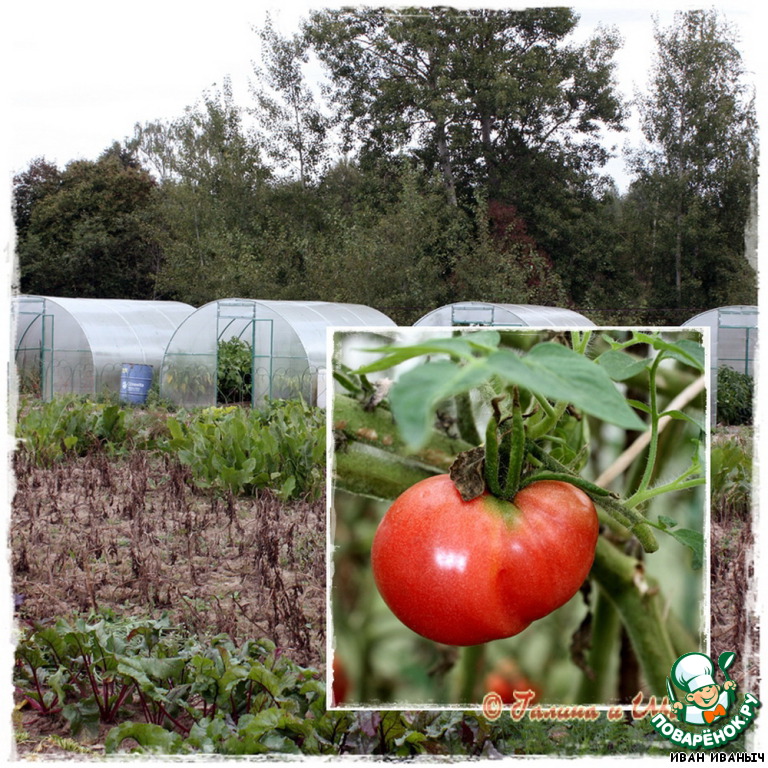 And again, you make small additions. Tomato. Again, from my garden.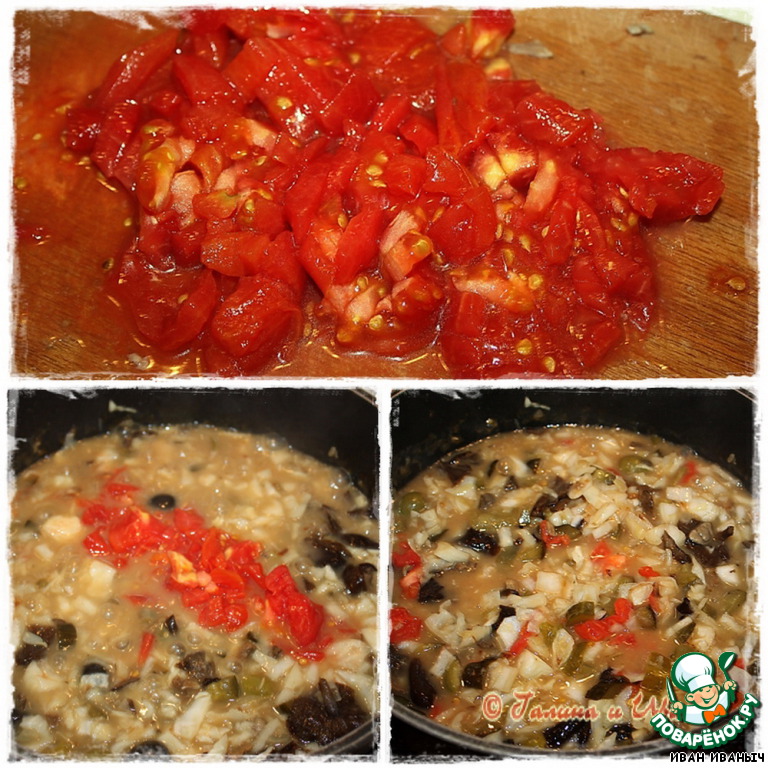 Here all have long known. Gonna cut your will abdalim with boiling water, peel and chop small. And then in the pan. And stir!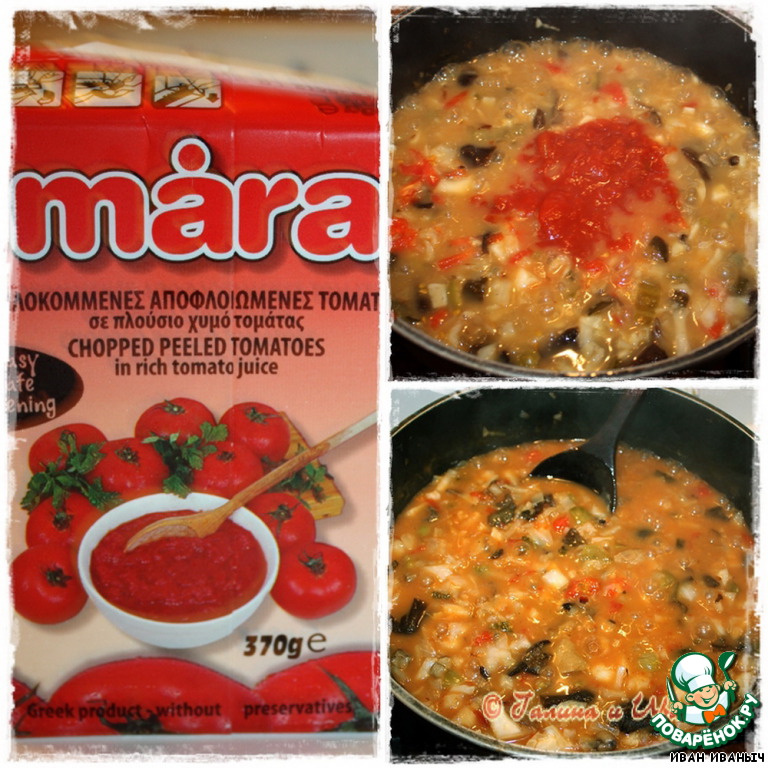 But this was not reason enough. And has been in the fridge a little tomato canned in its own juice. Also it in the pan and stir.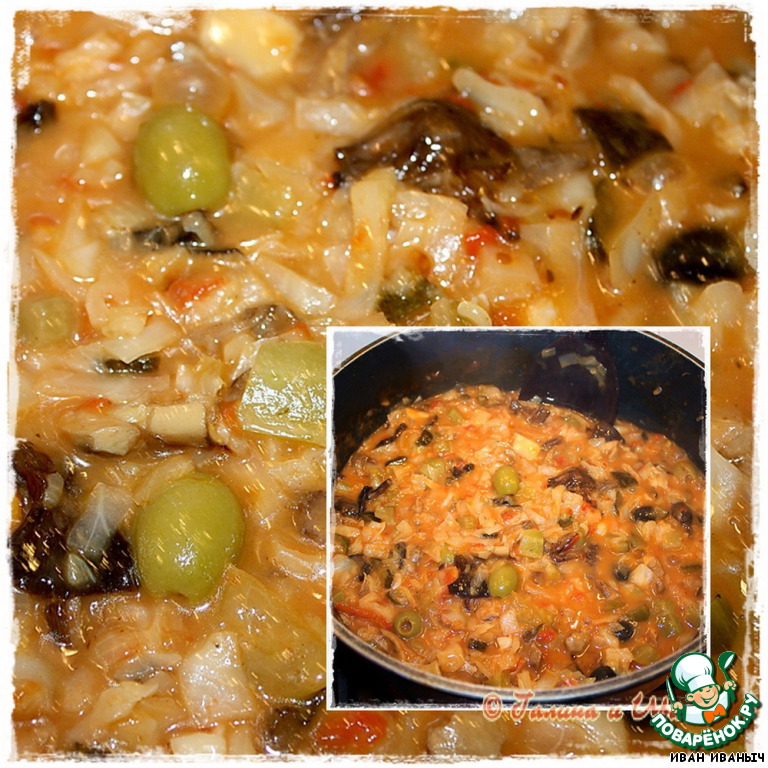 And stew. Until the cabbage becomes soft, i.e., is almost ready.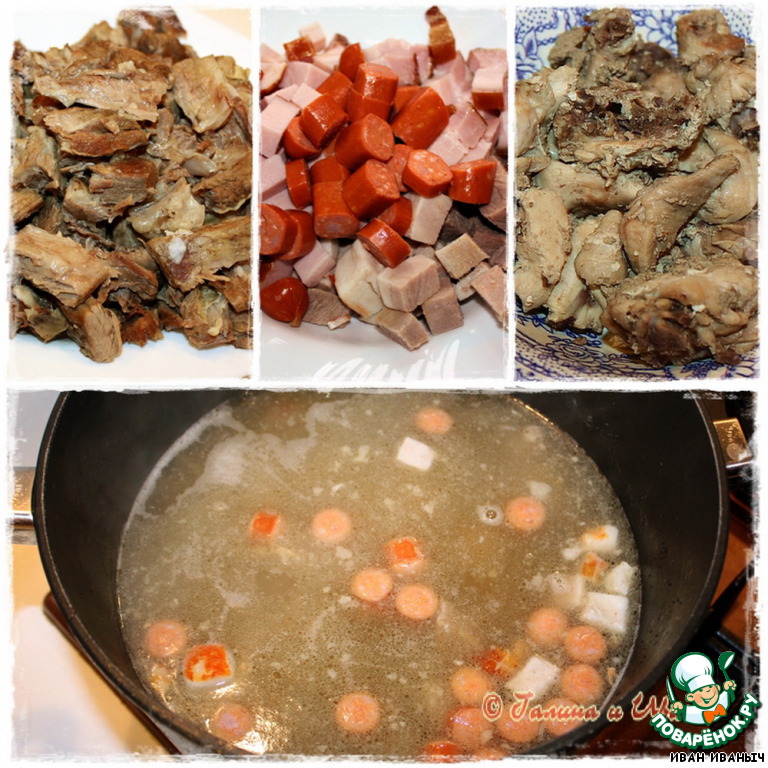 And while the fueling squared away.... Cold billets are sent in a pot with broth and set it on fire. Let it simmer slowly. And then let it cook gently for a bit. Just fifteen minutes and needed.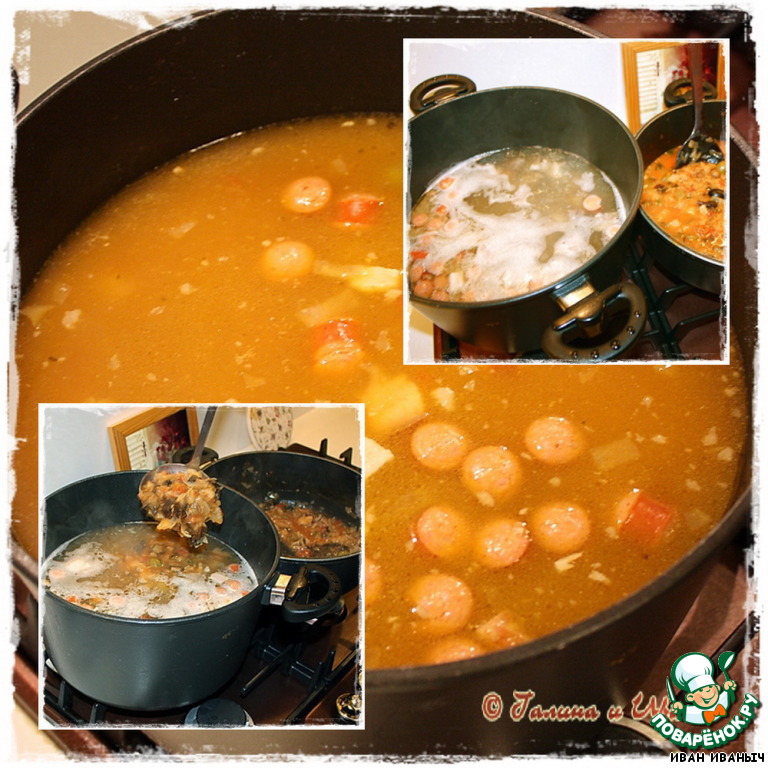 And as soon as the dressing will isometsa, then put it in a pan. And mix well.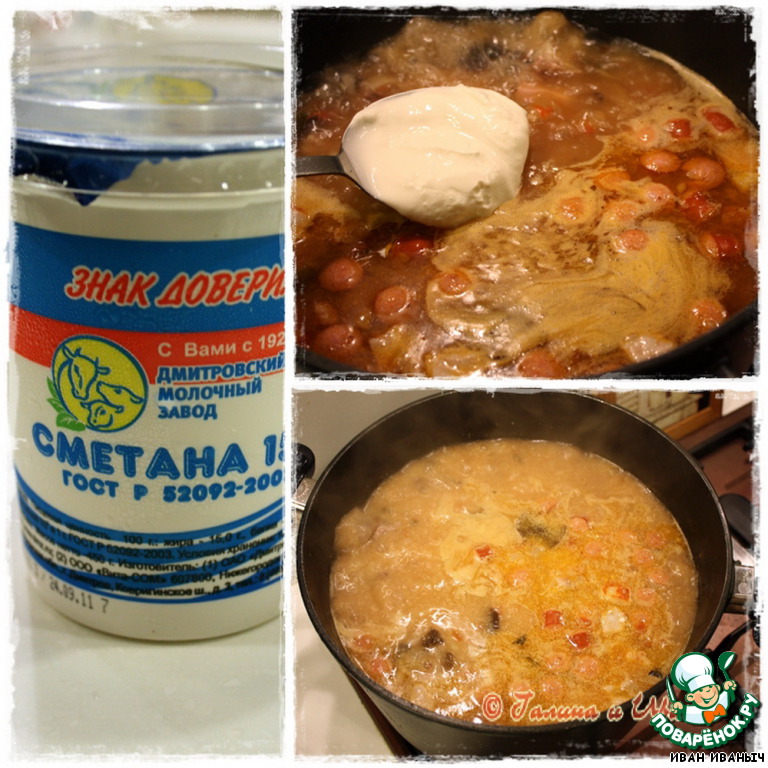 Boil? Ten minutes will cook, and then... sour cream, about a Cup. And stir. Then put the lid on the smallest fire then five minutes and remove from the heat and cover it. Let stand up and let him sweat, only without any heat, remember. At least a half-hour soak. Although... unlikely....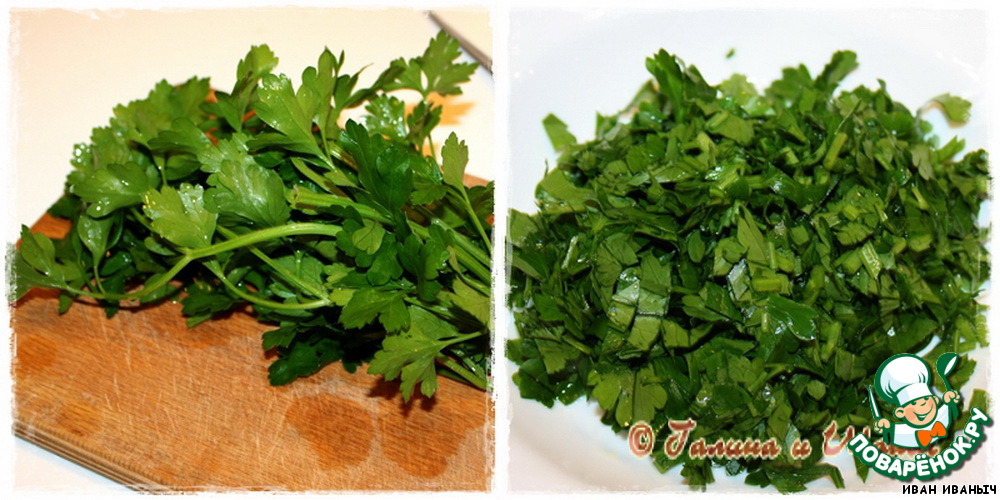 Meanwhile, greenfinches finely crumble and lemon prepare.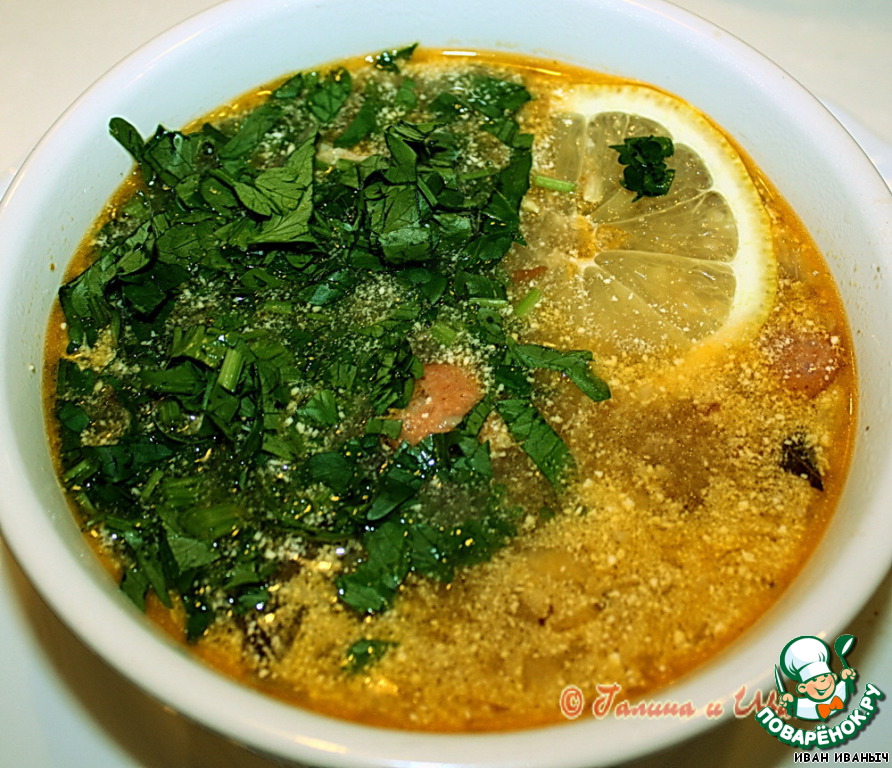 Well, that's all! Pour into a bowl, throw greenfinches, but who and what he loves. The lemon is very recommend. You will not regret.
Well ... a little bread and juice ... can't hurt – I swear!!! Angel you for a meal!